Belgian Cyclo-cross Championships - CN
Hamme Zogge, Belgium, January 6-7, 2007
2006 Results Results Past winners
Wellens wins good old mud fight
Niels Albert extends his U23 title
By Brecht Decaluwé
Bart Wellens celebrates
Photo ©: Luc Claessen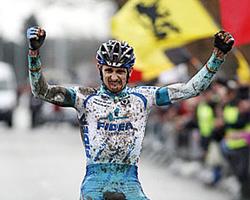 Last week's typical Belgian weather near Hamme-Zogge forced the riders to run more than they are used to. Before the start, UCI-leader Sven Nys (Rabobank) said that he felt this wasn't a cyclo-cross course at all. "This is something for cross country runners, not for cyclists!" said Nys.
His main rival Bart Wellens (Fidea) didn't stop smiling before the start because he felt the circumstances were really special. "It shouldn't be like this every week, but the conditions will deliver a spectacle, and the strongest rider will win, although I don't know if I'll say the same thing after the race," Wellens joked. The rider from Vorselaar had a bad start, but by the end of the second lap, he joined Nys in front.
During the fifth of only six laps, Nys' front wheel got stuck in the mud giving Wellens the ideal opportunity to launch an attack. The gap was immediately 15 seconds and whatever Nys tried, he couldn't come back on Wellens who, bursting with energy, reclaimed the national jersey he already grabbed in 2004.
"I had a bad start, but when I got back to Nys, I felt stronger than him. I waited on some mistakes from him, and when he crashed I didn't wait for him to come back and went full on," Wellens said. "I suffered a lot during the last lap and almost didn't dare to look back. Some spectators were jeering but I think most people will be happy to see all jerseys back in cyclo-cross," the new Belgian champion explained on Ka2-TV.
Nys couldn't get back up to Wellens and said he wasn't too disappointed with this loss. "I did what I could, but Wellens ran much better than I did," Nys explained. "I crashed in a stupid way when I touched a lapped rider's back wheel [TV images showed he didn't touch the bike from Guy Bertels (Demerspurters)]. There are more races coming up, so I look forward to them," Nys said.
Nys crashed
Photo ©: Luc Claessen

A surprising face at second place was young Klaas Vantornout (Fidea) who ultimately overtook Nys. "This is completely unexpected! I felt alright and this course suits me but still…" Vantornout couldn't believe what he had done.. "This is a crown on my season and a dream that comes true," said Vantornout, who took another big step forward this season said.
World champion Erwin Vervecken (Fidea) has been unable to pull off a great season and he continued his bad string of races with a disappointing fifth place on a course that should suit him perfectly. The retiring Peter Van Santvliet (Fidea) made the success from Fidea complete by winning the amateur title. "Hopefully I can show the jersey during races," the 37-year-old said.
Right before the elite riders dabbled through the mud, Niels Albert (Palmans) defended his U-23 Belgian title. "It wasn't that hard to win here, but this course forces you to dig deep," Albert said, "the best runners are automatically moving to the front." Albert was asked whether he shouldn't be competing with the big guys as he should be able to reach that level. "Maybe next year as the course suits me better then," Albert replied.
How it unfolded
Niels Albert
Photo ©: Luc Claessen

The young wolves managed the hole shot with Klaas Vantornout, Kevin Pauwels, Wesley Vanderlinden, and Bart Aernouts. Bart Wellens suffered a bad start while Pauwels continued in front on his own. Halfway through the first lap, Sven Nys moved forward and overtook Pauwels with Sven Vanthourenhout, Erwin Vervecken, Wellens, Vantornout and Jan Soetens not too far behind. At the end of each lap, riders had to run through a few hundred metres of mud where Vervecken and Wellens could demonstrate their excellent running skills. After one lap, Wellens was riding 12 seconds behind Nys, and Tom Vannoppen abandoned the race.
Three Fidea riders were riding together behind Nys: Vantornout, Vervecken, and Wellens; but helping each other wasn't possible today. By the end of the second lap, Wellens joined Nys in the lead with Vervecken at eight seconds, and Vantornout at 10 seconds. Aernouts, Vanthourenhout, and Van Santvliet (first non-professional rider) were one minute down on Nys and Wellens; four men would battle for the jersey. Wellens took the initiative during the third lap, but Nys stood tall; Vervecken and Vantornout got distanced at 15 seconds by the coup-de-force of Wellens. With three laps to go, the tandem Wellens-Nys was 26 seconds ahead of Vervecken-Vantornout.
The race turned out to become a classic duel between arch rivals Nys and Wellens. A crash from Nys. while trying to overtake Guy Bertels, granted Wellens a nice gap of 15 seconds. Vantornout and Vervecken were back 45 seconds by the end of the fourth lap, with their lap times increasing. Nys tried everything to come back, but by the end of the long running sections, the gap was close to a half a minute. Vantornout was one minute down on Wellens. Vervecken came in fourth at almost two minutes, and Vanthourenhout passed the world champion going into the ultimate lap.
Nys kept losing ground while Wellens literary ran to the national title. Vantornout managed to overtake a disappointed Nys to grab silver. Nys has some work to do to prepare himself for the worlds given that he was also overtaken by Vanthourenhout. Peter Van Santvliet (Fidea) finished sixth and grabbed the national amateur title. Aernouts, David Willemsens, Soetens, and Arne Daelmans completed the top10.
Photography
For a thumbnail gallery of these images, click here
Images by Luc Claessen/www.ctm-images.com
Results
Day 1 - January 6: Juniors, Novices, Masters B & C

Juniors

1 Jim Aernouts               40.05
2 Stef Boden                  0.50
3 Vincent Baestaens           1.07
4 Joeri Adams                 1.14
5 Sven Verboven               1.52
6 Kristof Scheirs             2.13
7 Kevin Eeckhout              2.40
8 Stijn Mortelmans            3.02
9 Tim Debusschere             3.24
10 Nick De Proost             3.29
11 Dries Ingels               3.34
12 Kaell Pizzy                3.44
13 Simon Geets                    
14 Sylvester Sioen            4.24
15 Sven Beelen                4.44
16 Kenneth Bultynck           5.00
17 Vincent Meyvis                 
18 Jarno Van de Casteele      5.05
19 Michiel Dieleman           5.07
20 Sander Elen                5.15
21 Dany Lacroix               5.21
22 Jens Gys                   5.37
23 Kristof Cop                5.53
24 Jonathan Bervoets          5.56
25 Peter Verstockt            5.59
26 Bart Hermans               6.16
27 Kim Goethals               6.31
28 Kenneth Mariën             6.40
29 Yannick Pauwels            6.50
30 Matthias Onghena           7.02
31 Kevin Van Synghel          7.15
32 Thomas Gysbrechts          7.24
33 Kenneth De Kerf                
34 Stijn Van Driessche        7.37
35 Dimitri Stevens            8.14
36 Kenny Maes                 8.30
37 Lorenzo Messine            8.34
38 Mike Vreys                 8.48
39 Ben Remijsen               9.20
40 Stijn Van Geyte            9.27
41 Zeb Willems                9.29
42 Bert Vermeiren            10.11
43 Sam Van Hemelen           10.27

One lap down

44 Hendrik Van den Bossche op     
45 Floris Fagoo                   
46 Dimi Diels                     
47 Sam Van Uytvange               
48 Klaas Louwagie                 
49 Joachim Janssens               
50 Vincent Van Hooste             
51 Jordan Becquet                 

Two laps down

52 Michael De Meyer op            
 
Beginners

1 Sean De Bie                29.56
2 Gerry Druyts                1.12
3 Angelo De Clercq            1.37
4 Guillaume Van Keirsbulck    2.12
5 Zico Waeytens               2.28
6 Robin Poelvoorde            2.47
7 Vinnie Braet                2.51
8 Xandro Meurisse             3.00
9 Robin De Cnodder            3.12
10 Wietse Bosmans                 
11 Zeb Veestraeten            3.17
12 Sieën Veestraeten              
13 Matthias Bossuyt               
14 Niels Wytinck              3.35
15 Valentijn Van de Velde         
16 Niels Koyen                    
17 Thomas Verbeek                 
18 James Laureys              3.50
19 Christophe Ysenbaardt          
20 Hendrik Sweeck             4.18
21 Senne Lemmens              4.41
22 Raf Risbourg                   
23 Frederik Geerts            5.10
24 Dieter Eyskens             5.35
25 Gert-Jan Opsomer               
26 Tim Wellens                5.42
27 Ritchie Denolf                 
28 Niels Meeusen              6.00
29 Jelle Cant                 6.29
30 Michael Peeters            6.40
31 Bert Noterman                  
32 Bart De Vocht                  
33 Maxim Danckers             7.05
34 Bart De Bondt              7.20
35 Jens Adams                     
36 Andy Wagemans                  
37 Jelle Dejonghe             7.35
38 Dylan Teuns                    
39 Karl Peeters               7.50
40 Thomas Van Overbeke        7.59
41 Laudelino Lammens          8.14
42 Robin Laureyns                 
43 Jens Costers               8.40
44 Koen Vandeput                  
45 Sonny Volders              9.00
46 Simon Declercq                 
47 Matthias Siracusa              
48 Kristof Van den Eynde          
49 Rutger La Haye                 
50 Kevin Reynders             9.25
51 Tijs Van Aert                  
52 Elias Hoop                     
53 Nick Van den Eynde             
54 Matthias Vermeire              
55 Rinze De Proost                
56 Jordy Van Staeyen         10.00
57 Jeffrey Mellemans         10.40
58 Jordan Aerts                   

One lap down

59 Jelle Storms op                
60 Toni Geeraerts                 
61 Matthias Coucquyt              
62 Joris Tips                     
63 Ingmar Uytdewilligen           
64 Niels Van Gysegem              
65 Wim Allary                     
 
Masters B

1 Mario Lammens              36.44
2 Hans Wuyts                  0.03
3 Marc Druyts                 0.44
4 Dirk Mertens                1.09
5 Dirk Gebruers               1.13
6 Eric Gys                    1.16
7 Mark Verloo                 1.19
8 Peter Ballet                2.16
9 Patrick Sluyts              2.34
10 Erik Teck                  2.51
11 Danny Verhestraeten        3.17
12 Frans Ceulemans            4.03
13 Johan Vanderaerden         4.30
14 René Swinnen               4.41
15 Wim Krieckemans            4.52
16 Alex Van Acker             4.58
17 Alfons Schuttes                
18 Patrick Neufcourt          5.18
19 Herman Cop                 5.26
20 Ronny Lambrechts           6.03
21 Mark Meys                  6.52
22 Ghislain Vanbruaene        7.15
23 Rudy Bloemmen              7.34
24 Jos Verdeyen               8.42

One lap down

25 Lucien Van Wambeke op          
26 Luc Ruys                       
27 Johan Meeus                    
28 Leopold Vermeiren              
29 Ronny Goethals                 
30 Luc De Poorter                 
31 Pascal Dysserinck              
32 Eric De Graef                  

Two laps down

33 Patrick Wagemans op            
34 Mark Vanloffelt                
 
Masters C

1 Ronald De Scheemaeker      38.15
2 Luc Huysveld                0.20
3 François Mertens            0.31
4 Pierrot Potargent           1.09
5 José De Clercq              1.12
6 Jos Sas                     2.04
7 Ludo Van Tichelt                
8 Robert De Vos               2.10
9 Daniel Van Oosterwijck      2.36
10 Romaan Boelens             3.37
11 Jan Guido Geudens          3.46
12 Etienne Van de Velde       4.20
13 Eddy Cobbaut               4.40
14 Luc Vanrokeghem            4.57
15 Chris Geerts               5.06
16 Martin De Cock             5.08
17 Luc Van Wesenbeeck         5.15
18 Dirk Van Sinay             5.17
19 William Govaert            5.54
20 Edward Lievens             6.23
21 Willy Minnen               7.14
22 Leo De Busser              8.27
23 Guy Ceuppens               9.06
24 Romain Tuteleers          10.30

One lap down

25 Florent Van Eyken op           
26 Johan Govaerts                 
27 Eric Dhondt                    
28 Adrien De Cnuydt               
29 Nico Wijnen                    
30 Alex Spruyt                    
31 Eric Weylandt                  
32 Albert Bertels                 
33 Laurent De Vos                 
34 Jackie De Meester              
35 Marcel Geerts                  
36 Roland Hurtecant                                     

Courtesy of Mark Van Landeghem
Day 2 - January 7: Elite/U23 Men, Elite Women, Junior Women, Masters A, Amateurs
Elite Men
 
1 Bart Wellens              59.50
2 Klaas Vantornout           1.11
3 Sven Nys                   1.24
4 Sven Vanthourenhout        2.01
5 Erwin Vervecken            3.32
6 Peter Van Santvliet*       4.26
7 Bart Aernouts              4.51
8 David Willemsens*          5.26
9 Jan Soetens                5.50
10 Arne Daelmans*            6.38
11 Wesley Van der Linden     6.50
12 Stijn  Penne              7.06
13 Jan Verstraeten           8.00
14 Bjorn Rondelez            8.21
15 Jom  Van der  Veken       8.45
16 Tom De Kort               9.08
17 Nico Clarysse             9.55
18 Mike Thielemans          10.20
19 Philippe Gilbert         10.35
20 Gerry Werckx             10.45
21 Christophe Roodhooft     11.05
22 Nicky David              11.07
23 Bert De Wispelaere       11.35

One lap down

24 Steven De  Caluwe             
25 Steve Gruwier                 
26 Bjorn  Traen                  
27 Geert Van  Crombruggen        
28 Tom  Pynaert                  
29 Geert Wellens                 
30 Stefan  Nerinckx              
31 Ken Smets                     
32 Wim Maes                      
33 Frederick Vandevivere         
34 Pascal Raes                   
35 Geert Mijngheer               
36 Jo  Naert                     
37 Steven De Schoesitter         
38 René Mertens                  
39 Guy Bertels                   
40 Roy Janssens                  
41 Freddy De Meester
* Indicates non-professional division            
 
Under 23
 
1 Niels Albert              51.24
2 Rob Peeters                2.10
3 Dieter Vanthourenhout      2.53
4 Tom  Van den Bosch         3.13
5 Quentin Bertholet          3.21
6 Dries Dewit                3.45
7 Dave De Cleyn              4.00
8 Kenneth Van Compernolle    4.16
9 Stijn Huys                 4.47
10 Kay Van den Brande        4.42
11 Dennis Vanendert         
12 Thomas Vernaeckt          5.31
13 Tom Meeusen               6.13
14 Kenny Geluykens           6.32
15 Kevin Cant                6.46
16 Maxim Debusschere         6.59
17 Jan Van  Dael          
18 Davy De Scheemaeker           
19 Wim Leemans               7.55
20 Bart  Verschueren         8.22
21 Dries Govaerts            9.48

One lap down

22 Jan Van  Zeebroeck            
23 Gianni Denolf                 
22 Gregory Franckaert            
25 Kristof Zegers                
26 Jo  Pirotte                   
27 Wim Thijs                     
28 Thomas Boeckx                 
29 Ward Demets                   
30 Nivard Van Acker              
31 Matthias Onghena              
32 Dries Pauwels                 
33 Kristof Luyten                

Two laps down

34 Koen Boelens                  
35 Rob Vangenechten              
36 Steven Schol                  
37 Hans Van den Bogaert          
38 Tim Milis                     
39 Pieter Reekmans.              
 
Elite women
 
1 Loes Sels                 41.19
2 Katrien Aerts              0.27
3 Hilde Quintens             1.02
4 Joyce Vanderbeken          2.23
5 Ludivine Henrion           2.49
6 Kathy Ingels               2.52
7 Katrien Pauwels            4.44
8 Anja Nobus                 5.13
9 Gertie Willems             7.37
10 Mélissa Flagothier        9.20
11 Sharon Defoor            11.37
12 Limke Peeters            14.07

One lap down

13 Sofie De Nys                  
14 Sandie Verriest               
 
Junior Women
 
1 Sanne Cant                28.23
2 Ilse Vanderkinderen        1.07
3 Kelly Druyts               1.31
4 Maaike Polspoel            1.50
5 Anne Arnouts               2.14
6 Veronique Staes            3.00
7 Katrien Vermeiren          6.59
8 Karen Verhestraeten        7.29
9 Kim Van Renterghem        10.35
10 Sarah Vloemans           15.30

One lap down

11 Sarah Lieksn                  
12 Katia Verstraete              
 
Amateurs
 
1 Koen Diels                47.39
2 Andy Van der Plaetsen      1.08
3 Gert Bevers                1.44
4 Thomas Ingels              2.23
5 Nico Van Assche            3.13
6 Tim Goris                  3.23
7 Christophe Vandevivere     4.18
8 Jan Gevers                 5.48
9 Jurgen Van Wambeke         5.53

One lap down

10 Kris Maes op                  
11 Bart Dubin                    
12 Tim Vreys                     
13 Kenneth Speltinck             
14 Sven Bolyn                    
15 Davy De Taeye                 
 
Masters A
 
1 Wim Jansen                44.17
2 Timmy Maes                 0.32
3 Marnik Snoeck              1.12
4 Ivan Smet                  1.45
5 Nico Schroyen              1.57
6 Axel Naessens              2.27
7 Sven Raeymakers            2.29
8 Kris De Nys                2.35
9 Kris Ceulemans             4.12
10 Friedrich Sels            4.40
11 Ward Huybrechts           5.08
12 Jos Van Looy              5.30
13 Gunther Helsen            5.39
14 Davy Paeshuyse            5.50
15 Françis Penders           5.53
16 Nico Bogaert              6.10
17 Jelle Vets                    
18 Lino Colombo              7.23

One lap down

19 Glenn Boeckx                  
20 Wim De Witte                  
21 Bert Mellaerts                
22 Kristof Vanderheyden          
23 Dirk Veldeman                 
24 Kurt Cnudde                   
25 Jurgen Standaert              
26 Koen Van Gysel                
27 Rik De Groote                 
28 Gerrit Segers                 
29 Joachim Michels               
30 Barry Vissers                 
31 Wim Vermeiren                 
32 Carlo Allaert                 
33 Bert Nijs  

Courtesy of Mark Van Landeghem                     

Past winners
Men

2006 Sven Nys (Rabobankk)   
2005 Sven Nys (Rabobank) 
2004 Bart Wellens (Spaar Select)
2003 Sven Nys (Rabobank)
2002 Mario De Clercq (Domo-Farm Frites)
2001 Mario De Clercq (Domo-Farm Frites)
2000 Sven Nys (Rabobank)

Espoirs/U23

2006 Niels Albert (Palmans-Sapim-Collstrop)
2005 Jan Soetens
2004 Wesley Van der Linden
2003 Wesley Van der Linden (Brakel)
2002 Wim Jacobs
2001 Sven Vanthourenhout

Women

2006 Hilde Quintens
2005 Veerle Ingels (Vlaanderen - Capri Sonne - T Interim) 
2004 Anja Nobus
2003 Hilde Quintens (Lummen)
2002 Anja Nobus
2001 Kathleen Vermeiren

Juniors

2006 Dennis Vanendert
2005 Pieter Vanspeybroeck (Ruiselede) 
2004 Niels Albert
2003 Dieter Vanthourenhout (Wingene)
2002 Kevin Pauwels
2001 Geert Wellens

Novices

2006 Sean De Bie 
2005 Joeri Adams (Minderhout) 
2004 Tom Meeusen
2003 Pieter Vanspeybrouck (Ruiselede)
2002 Niels Albert

Past winners by Mario Stiehl, www.world-of-cycling.com