Cyclo-cross news & racing roundup, December 18, 2008
Edited by Laura Weislo
Welcome to our regular roundup of what's happening in cyclo-cross. Feel free to send feedback, news and releases to mtb@cyclingnews.com.
Trebon triumphs in Kansas City
By Laura Weislo in Kansas City, Missouri
Ryan Trebon (Kona) claims victory
Photo ©: Mitch Clinton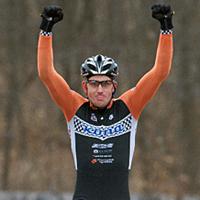 Ryan Trebon (Kona) took his second US cyclo-cross championship in a thrilling battle over Jamey Driscoll (Cannondale/Cyclocrossworld) and Jonathan Page (Planet Bike) in Kansas City on Sunday.
Trebon won the title in 2006, but last year crashed head-first with an oncoming rider who crossed over the course marker. This year he had no such problems, and after a few laps of marking his competition, Trebon chose just the right time to launch his move and held a solid lead for the last half of the race against one of the strongest fields in USA championship history.
In bitterly cold but dry conditions, Trebon rode a clean race and was able to power through to take the victory without incident.
"This was just a grind all the way up the hill - it wasn't easy - but it worked out well for the type of effort I'm able to do," Trebon explained. "My ears are frozen, my feet are frozen, my hands are frozen - it was a tough day."
The win was remarkable in that Trebon fell ill just a few days before the race. "I was so happy, I felt so good on Wednesday, then I started feeling a little sick then I was like, 'aw, you gotta be kidding me'," Trebon said. "I had to rest out my cold. I started feeling better yesterday. It certainly wasn't easy."
Compton takes jersey number five
By Laura Weislo in Kansas City, Missouri
Katie Compton (Spike Shooter) wins
Photo ©: Dave McElwaine

Katie Compton (Spike) added to her collection of stars and stripes jersey in Kansas City, Missouri this weekend with a characteristically dominating ride over Georgia Gould (Luna) and Rachel Lloyd (California Giant Berry). While all of the earlier fields enjoyed relatively warm temperatures, the marquee events of the USA Cycling Cyclo-cross National Championships were contested in bitterly cold and windy conditions.
Arctic air descended upon the Tiffany Springs Park course, dropping the balmy early morning temperatures well below the freezing mark and sending riders dashing back to their camps to put on extra layers of warm clothing. The women's race got off to a quick start thanks to the efforts of Rebecca Wellons (Ridley Factory Team), who got the hole shot and forced the pace for the early part of the lap before being passed by Compton.
With a long and draining climb up the grassy slope to the top of an embankment, Compton split the group with a steady, powerful effort. One bobble by Georgia Gould (Luna) on the S-turns at the top gave Compton the opportunity to break clear from the other contenders, and once she gained a handful of seconds on a chasing group with Gould, Rachel Lloyd (California Giant Berry), Amy Dombrowski (Velo Bella - Kona) and Laura Van Gilder (C3-Sollay), there was no bringing her back.
"I was a little slow on the chicane at the top, and that was where the gap opened up," explained Gould. "As soon as [Compton] saw she had a gap she turned it up."
Compton took the title for the fifth consecutive year, equalling the record of Alison Dunlap. With tears streaming down her face not from joy or the emotion of winning, but rather from the stinging cold, Compton was relieved to have come through the race without incident to take the win. "It was hard - when it's this cold you can't feel your fingers to brake and shift, so I'm really happy to have had a clean race and not crash and shift and brake at the right times," Compton said.
Both Compton and Gould will now head to Europe to contest the World Cup in Belgium in preparation for the World Championships in Hoogerheide, Netherlands at the end of January.
Also see the full race report, results and photos.
Gould to make European 'cross debut
Georgia Gould (Luna Women's MTB)
Photo ©: Dave McElwaine

For the first time in her career, Georgia Gould will prepare for the cyclo-cross world championships by heading to Europe to take in the December World Cup races. Normally, after a long season traveling to mountain bike World Cups, Gould ends her season after the cyclo-cross championships in order to rest up for the upcoming season.
This year, despite having competed in the Olympics in Beijing as well as an intensive season leading up to the August event, Gould opted to extend her 'cross racing through the worlds at the end of January.
"I put it off the last few years because I was focused on the Olympics and the mountain bike. I really wanted to go, but I was being conservative, trying not to spread myself too thin. This year I said 'off-season, schmoff-season - I'm not going to sit around and get slow, I want to keep racing!' There are a lot of Americans going over there, so I'm looking forward to finally being part of that crew."
Nys extends GvA lead
Sven Nys celebrates
Photo ©: Cyclingnews

Belgian champion Sven Nys extended his lead in the Gazet van Antwerpen Trophy series by claiming the fourth round in Essen, near Antwerp in freezing temperatures. Nys took the win ahead of Zdenek Stybar (Fidea) with a last lap attack that detached his breakaway companion.
Nys took his first victory in Essen ten years ago, and has now won there five times (1998, 2002 and 2006-2008). "I started focusing on this race when I started focusing on the GvA-trophy, as this is a key race ahead of the busy Christmas weeks ahead," Nys said to Sporza. "It's important to perform well here in order to enter those weeks without too much stress. That's also why I decided to attack in the second lap, so I could grab some points at the intermediate bonus sprint."
Nys now leads the series by 20 points ahead of Bart Wellens, who crashed during the second lap and struggled in for sixth place. Rabobank's Bart Aernouts is third while Lars Boom and Kevin Pauwels are tied for fourth.
Also see the full results, report and photos.
Pauwels takes his first elite win
By Brecht Decaluwé
Kevin Pauwels wins a close race
Photo ©: Cyclingnews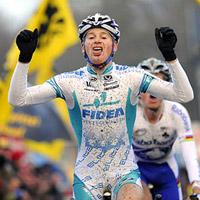 Kevin Pauwels took his first elite victory in the C1 race in Overijse on Sunday. The Fidea Cycling Team rider, a former world champion in the junior and U23 categories, won in the 'mother of all classics'. by exploiting the rivalry between Sven Nys and Lars Boom in a tactical last lap.
"This is fantastic," 24-year-old Pauwels said, "especially because it was ages ago since I actually won a race so this feels great."
Belgian champion Sven Nys was alone in the lead during the first half of the race but was joined by Pauwels and the world champion Boom. The three leaders waged a tactical battle in the last laps that allowed the return of Boom's team-mate Bart Aernouts.
In the last lap Boom attacked in the descent from the Tenotsberg, without luck, before trying again on the climb through the meadow, again without luck. In the final kilometer Pauwels took over the lead from Boom and powered to the finish line with a small gap over Boom and Nys.
"For a moment I thought I would grab an easy victory, but then two guys with great legs managed to come back so I had to adjust my tactics," Nys admitted. "It was a great spectacle and I don't think anybody could get away on his own in the end so tactics decided the winner today."
US championship to stay in December, for now
By Laura Weislo
Medals and jerseys await the new champions.
Photo ©: Maurice Hessel

Rumors of a plan to move the US cyclo-cross championships to January by 2011 may be premature, Cyclingnews learned this week. The sport's governing body in the USA announced last week that the championships will remain in December in 2009, but rumors abounded in Kansas City that the date would be pushed back to January, in line with the rest of the 'cross world, for the 2010-2011 season.
USA Cycling's Andrea Smith denied that such a plan was in the works. She said that the UCI regulations state that national championships take place in January, but that the United States has received an exception to that rule.
Cyclo-cross race promoters see a move to January as a way to extend the US season, which, except for some small local races, ends after nationals. This year 39 events in the US gained UCI status with two more across the border in Canada, and overlapping dates have hurt attendance at some races.
US Gran Prix of Cyclo-cross organizer Joan Hanscom said the topic came up at the meeting of UCI race promoters in Kansas City on Friday night. "Steve Johnson canvassed the group to see how we all felt about moving Nat's to a January date and the response was very positive. The general thinking in the room was that it could open up some additional dates on the calendar - which is already getting too crowded with conflicting events. While certainly not a done deal it is something that is being given serious consideration."
But riders like Katie Compton, who split their time between Europe and the USA, are uncertain as to the benefits of a January championship.
"It's a hard choice to make whether to move nat's to January or leave them in December," said Compton. "Either way, I have to come back to the US for the race whether that is in December or in January. It all depends on how the World Cup schedule is. I actually like having our nationals out of the way so once January is here, I can focus on worlds.
"Having nationals [in December] will let people know earlier whether they qualified for worlds or not. I do see the benefits of having nationals in January and would be happy to see the US 'cross season last a little longer, but it is hard for all the non-elite categories to continue to train through the holidays and also spend the money to travel afterwards."
Punch-ups mar elite men's race
By Laura Weislo
Adam Myerson (Cycle-Smart/Van Dessel)
Photo ©: Dave McElwaine

The elite men's race of the USA Cyclo-cross National Championships was marred by a scuffle between two racers vying for position on the first lap. 34-year-old Jonathan Baker reportedly punched Adam Myerson (36) after the two were involved in a crash on the descent just after the mid-point of the lap. A second incident between unruly fans and supporters of Jonathan Page occurred after the race. The Myerson/Baker incident could result in at least one of the riders receiving disciplinary action by USA Cycling, while local police were called in to handle the post-race scuffle.
Myerson described how the incident with Baker unfolded. "We were just reconnecting to the front group on the descent, and were both still in around 10th or 11th spot," he told Cyclingnews. "Baker had just passed me at the top of the hill, and then crashed in the turn on the descent in front of me, and I T-boned him."
As the two riders tried to get back up to resume racing they found their bikes were tangled together, and in the adrenaline-fueled moment tensions rose. "I absolutely told Baker he was an asshole. ... I was muttering to myself as much as I was yelling at him as I was trying to untangle our bikes. His response to me was that I was an asshole, or something to that effect, for crashing into him while he was on the ground."
"Then Baker jumped up, his rear wheel was hooked in my handlebars. He kept pulling his bike away and pulling my bike with him, while I was trying to pull his wheel out of my bars. That's where much of the yelling was happening."
Some witness reports said that Myerson pushed Baker, but Myerson denied this. "I finally was able to pull his wheel back enough to unhook us, but he was also pulling the other way. When I pushed our bikes apart and let go of his wheel, he took a step backwards with his bike. I only ever had his wheel in my hand. I never touched him, or pushed him."
Jonathan Baker (Vitamin Cottage)
Photo ©: Dave McElwaine

"I was putting my bike down on the ground and getting ready to get back on when he dropped his bike, took a few steps toward me winding up, and punched me in the head as I was turning away from him to remount. Obviously I had my helmet on and it didn't cause any damage, but I was pretty shocked.
"I put down my first instinct to tackle him and simply responded with 'Are you crazy? You're going to get suspended!'," Myerson said.
When contacted, Baker refused to comment on the incident.
Myerson finished the race in 32nd place, while Baker is listed as "did not place" on the official results. When Myerson went to report the incident, he said, "USAC [the officials, ed.] had already taken it up on their own, and I corroborated what had been reported when they asked me."
USA Cycling's Andrea Smith explained that it was up to the chief race referees to report the incident to USA Cycling, and once that is completed the normal procedure will take place to investigate the incident before any disciplinary action can be taken.
This was the second time Myerson has been a victim of violence at a race. In 2000, he was struck in the head by Scott Mercer after a local criterium and had to undergo surgery to repair a fractured skull. Mercer was given a one-year suspension.
Page supporters tussle with hecklers
Did cold temps freeze the brain's inhibition centers?
Photo ©: Dave McElwaine

The second incident involved inebriated fans who began heckling third place Jonathan Page during his post-race interview. Page supporters reportedly approached the hecklers to ask them to stop and the confrontation became physical. The shirtless hecklers were said to be local to the area, but Page clarified that St. Louis native Brad Huff, who was seen sporting the same lack of insulating clothing in the bitter cold, was not among the men involved in the fight.
"While I was interviewing at the finish line, two obnoxious fans were booing and yelling obscene things at me," Page said on his web site, thejonathanpage.com. "They then proceeded to punch Cori's [Page's wife -ed.] brother and throw him into a bunch of Richard Sachs bikes that were lying on the ground after Cori's brother asked them to at least have some respect and stop booing. It was just two locals who got too lubricated and cold and it got out of hand."
"All three landed on my 14 bicycles which were ready to be loaded for New England," Richard Sachs told Cyclingnews. "I was there when the cop interviewed the two and they admit they did what they were said to have done, and thought Cori's brother was wrong for intruding on their right to free speech!"
Tsujiura powers to his seventh title
By Kei Tsuji
Keiichi Tsujiura (Team Bridgestone Anchor)
Photo ©: Kei Tsuji

Keiichi Tsujiura (Team Bridgestone Anchor) achieved an unprecedented seventh straight victory at the 14th Japanese Cyclo-cross Championship event. The Iida, Nagano course held on a river bank was flat, but largely muddy with some puddles of rainwater.
It was Tsujiura who led the race soon after the start and a pack of four riders formed. Tsujiura had trouble with his muddy pedal on the second lap and paced down while two Suwako riders, Masanori Kosaka and Atsushi Maruyama, led the pack. After the defending champion changed his bike no one could keep up his overwhelming pace.
While the battle for the second position was heating up between the veteran Kosaka and Seigo Yamamoto (Kai Racing), Tsujiura crossed the finish line without breaking stride.
"I'm totally happy to achieve the seventh victory," he said. "But at the same time, I regret the fact that no one could stop it. I hope more riders participate to raise the national level."
Tight collegiate racing ends in tie-breaker
By Andrea Smith, USA Cycling
Carla Swart's win gave Lees McRae the team title
Photo ©: Mitch Clinton

The USA Cycling Collegiate Cyclo-cross team and individual titles were awarded in two categories - Division I (D1) and. With a tie amongst the top two schools in D1, Fort Lewis College and Lees-McRae College, the team title came down to the highest placing of the day by an individual rider from that institution. That meant Carla Swart's (Lees-McRae) gold-medal performance in the women's race broke the tie and handed the Bobcats the win over their Colorado rivals.
Swart, now a collegiate national champion in all four disciplines, was closely shadowed by last year's second-place-finisher Amanda Miller (Colorado State University). Ultimately Miller had to settle for another silver, finishing in front of Lindsey Wilson's Ashley James who grabbed the bronze. Fort Lewis' top finisher, Teal Stetson Lea was fourth.
The D1 men's race saw Will Dugan (University of Vermont) surge from the back row to pull on his first stars and stripes jersey. Dugan was able to hold off the reigning collegiate cross country mountain bike national champion, Benjamin Sonntag (Fort Lewis College) and his partner in an early race break, Eric Thompson (Lees-McRae College) to win the national title.
The D1 team podium wrapped up with Lindsey Wilson College in third, Colorado State University in fourth and Indiana's Marian College in fifth. In Division 2, Appalachian State, with a balanced attack from both men and women, was able to take home the team title by just ten points over the United States Military Academy. The Massachusetts Institute of Technology finished third while Western Washington University was fourth.
USA Cycling Mountain Bike Development Team member and former collegiate mountain bike national champion Colin Cares (Colorado College) took home the D2 men's title over Mesa State's Kevin Mullervy and Steve Fisher of Western Washington University. Former collegiate road champ Devon Haskell (University of Chicago) earned the D2 women's title in commanding fashion while MIT's Katherine Harris grabbed the silver.
Recent Cyclo-cross results
Upcoming UCI races
December: 19 Scheldecross, Antwerpen (Bel) C2 ME/WE
December: 21 Coupe du Monde UCI / UCI World Cup, Nommay (Fra) CDM ME/WE
December: 22 GP Montferland, Zeddam (Ned) C2 ME/MU/MJ/WE
December: 26 Internationales Radquer Dagmersellen, Dagmersellen (Swi) C2 ME/WE
December: 26 Grand Prix DAF Grand Garage Engel, Differdange (Lux) C2 ME
December: 26 Coupe du Monde UCI / UCI World Cup, Heusden-Zolder (Bel) CDM ME/MU/MJ/WE
December: 27 Sylvestercyclo-cross, Torhout (Bel) C2 ME
December: 28 Superprestige Diegem, Diegem (Bel) C1 ME/MU/MJ
December: 29 Noordzeecross, Middelkerke (Bel) C1 ME
December: 30 Azencross / Cross des as, Loenhout / Wuustwezel (Bel) C1 ME/MU/MJ/WE
December: 31 GP 5 Sterne Region, Beromünster (Swi) C2
(All rights reserved/Copyright Future Publishing (Overseas) Limited 2008)