US Cyclo-cross Championships - CN
Kansas City, Missouri, USA, December 11-14, 2008
Balmy weather on tap for nats?
By Laura Weislo
Tim Johnson with an exuberant salute in 2007
Photo ©: Mitch Clinton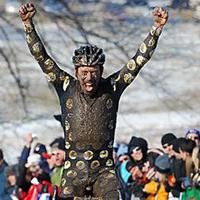 Racers praying for wet, muddy and technically challenging conditions at the USA Cycling Cyclo-cross National Championships in Kansas City, Missouri might be disappointed this year. With relatively warm temperatures and no major precipitation in the forecast, the course may end up being harder and faster than last year.
"We had a little bit of ice and snow that have made the course a bit wet," said organiser Bill Marshall on Wednesday, "but by Sunday it could be 60 degrees [F], and all the racing leading up to then should actually dry the course out." However, the first two days of racing should provide plenty of opportunity for getting dirty as the accumulated snow melts.
But this is the midwestern US, an area well known for its unpredictable conditions and the forecast changed overnight to colder temperatures and a possibility of sleet or snow. Still, warm overnight temperatures could dry the course out.
For Sunday's elite men's race, a hard, fast course could play into the hands of the Cannondale-Cyclocrossworld duo of reigning champion Tim Johnson and Jeremy Powers, who neutralized 2007 champion Ryan Trebon in similar conditions at the USGP Portland Cup last Saturday.
After taking home the USGP series title last Sunday, Johnson said defending his US championship title is going to be difficult. "I have to try and have the race of the season there and see if I can defend my title. It's gonna be brutal. Ryan had a great race and he showed he's on form, he showed he can ride in the mud, he showed he can fly - he's one of the best riders in the world, and so is Todd [Wells]. So when Jonathan [Page] comes over, Jeremy and I are going to have a big fight on our hands."
Ryan Trebon and Jeremy Powers
Photo ©: Mitch Clinton

Powers and Johnson have shown that they can be a formidable team, having racked up 13 wins between them so far this season. Trebon and Powers are equal with seven victories each, while Wells has four. These four riders have been responsible for the podiums of the majority of North American cyclo-cross races this year and have all of the national titles for the past eight years between them, so it's safe to say the odds are favoring the stars and stripes going into one of their hands.
The wild card entry is going to be Page, who hasn't won a race since September - but he's also been racing in Europe, albeit with little luck. Page has had dismal autumns leading up to Nationals before, and it hasn't stopped him from winning the race three years in a row (2002-2004).
Trebon's third place in Portland last Saturday belied his form, which he demonstrated on Sunday with a commanding win over Wells and Johnson in slick, soupy, greasy mud. He prevailed in dry conditions in the 2006 championships over Page and Johnson with nary a speck of mud sullying his orange Kona kit, so he's shown he can be versatile as long as he doesn't meet the dropped riders head-on like last year.
Compton looks to tie record
Katie Compton (Spike) wins
Photo ©: Cyclingnews.com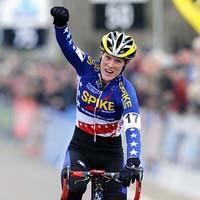 Katie Compton has been the name in women's cyclo-cross in the US for the past four years, and will be looking to tie Alison Dunlap's record of five national titles in a row this year. She'll be going up against Luna's Georgia Gould, the NRC series leader, Rachel Lloyd (California Giant Berry) who took third overall in the USGP series, and the newest name in US 'cross - Laura Van Gilder.
Compton is undoubtedly a rider who has shown that she is one of the best in the world, having won three career UCI World Cup races and taken silver at last year's World Championships. But she's also shown vulnerability, falling victim to a mysterious ailment which causes her legs to cramp up unexpectedly. Compton told Cyclingnews that she hopes the problem is solved.
"I'm feeling good. I'm really looking forward to racing and getting excited for the weekend," she said. "I'm looking forward to a tough race against Georgia. It's always fun racing against her and she always makes me work that much harder and I love that. After last weekend, it looks like Rachel Lloyd is riding really well and Sue Butler as well. I think it will be an exciting race for the women, too. I'm sure I'm not the only one wishing for cold and mud."
Compton just returned from a successful European campaign, where she won the Koksijde World Cup and the Superprestige race in Gavere. "My win in Koksijde definitely gives me more confidence going into nationals, but racing in the US is different than Europe. The courses are different and competition is different. We have some steep competition here so I'm expecting to have a hard race this weekend. I've learned a ton racing in Europe and that is going really well so far, but it is different over there and things I learn there don't always carry over to racing here."
After racing in Europe, where courses are generally more challenging, Compton is hoping the weather will cooperate to make the race harder. "I hope it's crappy so the course is more technical. After checking out the video, the course looks pretty easy, so anything that will make it more challenging and difficult is a bonus."
Gould hasn't raced against Compton since the triple-race weekend in Ohio in October, where Compton took the win every day, but she has been getting good training from her teammate Katerina Nash, who has pushed her to perform at her best. "I am lucky to have a teammate that I can battle with all season! And sometimes you need a good kick-in-the-pants to get you fired up for the next race," she wrote on her web site.
Espoirs and Juniors
Junior champion Zach McDonald
Photo ©: Mitch Clinton

The under-23 and junior men are expected to have hotly contested, close-fought races for the national title. Last year's under-23 champion Bjorn Selander was not showing great form in Portland, and will have to hang on and hope for a sprint against the likes of USGP series winner Nick Weighall, 2007 junior world silver medalist Danny Summerhill, and Euro 'cross camp veterans Mitchell Peterson and Adam McGrath.
The juniors race will be a spectacular battle between defending champion Luke Keough, who took the last weekend off in order to be well rested and ready. While he was idle, Zach McDonald won his fourth USGP contest in a row, and was looking forward to Kansas City.
"Luke's going to be nice and rested, so he'll be coming out strong. There's a lot of guys should be up there, it's going to depend a lot on the course and how guys are feeling. You just gotta hope you're feeling good and go from there," said McDonald.
Gavin Mannion, the son of an Irish pro, also showed strong form and aside from an untimely flat tire, was the only rider able to challenge McDonald on the weekend. The predicted dry conditions could play into the hands of the former US criterium champion who has a strong finishing kick.
Other names to watch are Eric Emsky, Connor O'Leary and Robin Eckmann.