US Cyclo-cross Championships - CN
Kansas City, Missouri, USA, December 11-14, 2008
Main Page Results Overall standings Live report Previous Race Next Race
Stage 14 - December 14: Elite Women
Compton strikes to make it five
By Laura Weislo in Kansas City, Missouri
Katie Compton (Spike)
Photo ©: Mitch Clinton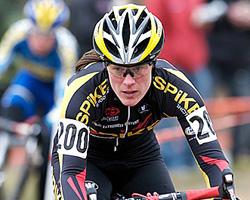 Katie Compton (Spike Shooter) blew through the US national championship cyclo-cross course to snatch her fifth consecutive title on Sunday. In-form Georgia Gould (Luna) swapped her bronze of last season for silver this year while Rachel Lloyd (California Giant Berry Farms) rounded out the podium.
The race began as temperatures plummeted and riders struggled to stay warm in below-freezing wind chills. Compton waited until halfway through the first lap to make her move, but when she decided to pour on the gas, no one could come close to matching her. She steadily put time into Gould and took home the title with 45 seconds to spare.
Compton said her fifth title wasn't an easy win, despite her commanding lead. "It always feels really good to win - it gets harder every year, but it's always good to win a championship. Georgia is definitely riding strong, so I tried to keep the power on and keep pushing through it, hoping not to make any mistakes."
Warm weather overnight helped dry out the course, providing perfect conditions for traction in the many tight turns.
"It was so sticky out there it was hard to make a mistake," said Compton, explaining that she had an incident-free race. "I was kind of hoping for some rain to make it a little more interesting, but it was good. It was fast, hard - that uphill lasted longer than I thought it would. I definitely got a good workout in today."
A strong cold front moved through just hours before the start of the elite races, pushing away the warm temperatures enjoyed by the early morning racers. By the time the women took to the course, wind chills were well below freezing.
Georgia Gould (Luna Women's MTB)
Photo ©: Dave McElwaine

"It was hard - when it's this cold you can't feel your fingers to brake and shift, so I'm really happy to have had a clean race and not crash and shift and brake at the right times," added Compton.
Gould was pleased to climb one step higher on the podium, and for the first time in her career will prepare for the cyclo-cross world championships by heading to Europe to take in the December World Cup races - something she had been wanting to do in previous years.
"I put it off the last few years because I was focused on the Olympics and the mountain bike. I really wanted to go, but I was being conservative, trying not to spread myself too thin. This year I said 'off-season, schmoff-season - I'm not going to sit around and get slow, I want to keep racing!'
"There are a lot of Americans going over there, so I'm looking forward to finally being part of that crew.
Gould knew she would have a tough fight with Compton, who returned from Europe after winning the World Cup in Koksijde. Gould was second wheel as Compton dragged a group of six up the hill on the first lap.
Rachael Lloyd (California Giant Berry)
Photo ©: Dave McElwaine

"I was a little slow on the chicane at the top, and that was where the gap opened up. I think [Compton] was being pretty conservative at the start because I was riding behind her on the climb thinking, 'there's no way she's going to go this slow for the entire race'," Gould explained.
"Then I thought, 'maybe I should go around her!', but I decided to sit behind and see how that would work out. As soon as she saw she had a gap she turned it up - she was definitely riding faster after that."
"I just tried to do my best the whole time - I try to leave it all out on the course."
Gould found herself chasing with Lloyd, who announced that this would be her last national championship race. "I had a good race today - I'm happy how I rode," said Lloyd. "I got sick right after Portland and I was really bummed because I felt really good there.
"I was hoping to have some of that form today, but then I got sick. But I'm happy with how it went. It was really hard with the cold. My fingers froze at the beginning, and it was really hard to shift."
Amy Dombroski (Velo Bella)
Photo ©: Mitch Clinton

Lloyd began to make up a little ground on Gould halfway through the race, and after being as much as 15 seconds back closed to less than ten seconds on the last lap. "I warmed up a bit and I started closing in on Georgia, but on the last stairs I mis-jumped on the bike and hit the ground and all the time I had gained, I lost. I just couldn't catch her, she was riding really well."
The podium was completed by Laura Van Gilder, riding her first season of cyclo-cross after racking up over 300 career wins on the road. After riding for much of the race with U23 champion Amy Dombrowski and 30-34 age group winner Maureen Bruno Roy, Van Gilder easily won the sprint against Dombrowski.
"I thought the course was especially hard with that climb - it was quite long compared to the races I've done this year. I had to judge my efforts appropriately so I could get in a good group.
"When I was with Amy and Mo, I knew I was in a good group. Amy put in a major attack on the hill on the last lap, and I was able to hang with her. I had a couple of bobbles on the hill, but I fought back to be with them, and chose a place that I thought would help me for the sprint. I'm really pleased!"
Behind Bruno Roy, another new face in the cyclo-cross world came in a strong seventh place. Meredith Miller (California Giant Berry Farms) started well back in the fifth row due to a lack of UCI points.
"Everyone who was riding in front of me started on the first row. I really wanted to get a podium here, but I just couldn't close that gap," said Miller. "I had so much fun, I will definitely come back next year and try to improve upon this finish!"
How it unfolded
Brad Huff was on hand to suport
Photo ©: Mitch Clinton
A field of 80 riders took to the start at 12:30PM central time as the howling winds of a Canadian Clipper blew in icy cold air from the north pole. When the gun blew, Rebecca Wellons (Ridley) took the hole shot, towing an elite group of women off the pavement and onto the hard-packed mud.
A crash in the second turn took down Sue Butler and Deidre Winfield, but did little to disrupt the other favourites who were already jockeying for position behind Wellons. As the racers began the long, steady climb to the mid-point of the course, Compton took over and upped the pace, pulling out an elite group with Gould, Lloyd, Dombrowsi, Van Gilder and Bruno Roy.
"I had a pretty good start, but I like to be a little conservative," Gould explained why she was sixth wheel coming onto the grass. "I knew there was plenty of time to move up, so I just wanted to be near the front - on the climb there was plenty of room to pass.
"Someone kind of chopped me in the first corner, but I tried to stay calm. It's definitely better to be a little conservative in those first corners."
Mo Bruno-Roy (MM Racing) climbing out
Photo ©: Dave McElwaine

By the time the group emerged from the first lap, Compton had already opened up a 15-second lead on Gould, while Lloyd was another ten seconds behind. Dombrowski and Van Gilder chased, just eight seconds back in fourth and fifth, while Bruno Roy was making up ground.
With a lack of mud to force mistakes of mechanicals, little changed over the rest of the race, except for the gaps between riders widening. Compton was able to cruise through to her fifth championship in a row, and is now looking forward to a strong North American presence at the World Championships in Hoogerheide, The Netherlands at the end of January.
"Obviously Hanka [Kupfernagel] and Daphny [Van den Brand] are always really strong, and Marianne Vos is signed up for the next world cup. Worlds are in her home country so I can guarantee she's been riding well. I will have to have good legs and bring my 'A game' for that."
Compton was happy that Gould would be joining her in Europe this year. "Georgia is riding really well, she's a great bike handler, and as long as she has a good day a top five is possible. We're definitely moving up and giving the Europeans a run for their money."
Photography
For a thumbnail gallery of these images, click here
Images by Mitch Clinton/www.clintonphoto.com
Images by Dave McElwaine/www.trailwatch.net
Images by Maurice Hessel
Results
1 Katherine Compton (Spike Shooter)                      37.05
2 Georgia Gould (Luna Women's MTB Team)                   0.45
3 Rachel Lloyd (California Giant Berry Farms/S)           0.55
4 Laura Van Gilder (c3 Sollay)                            2.07
5 Amy Dombroski (Velo Bella - Kona)                           
6 Maureen Bruno Roy (MM Racing p/b Seven Cycles)              
7 Meredith Miller (California Giant Berry Farms/S)        2.52
8 Deidre Winfield (Velo Bella)                            2.58
9 Susan Butler (MonavieCannondale.com)                    3.27
10 Kelli Emmett (Giant Bicycles)                          3.48
11 Kathy Sherwin (Velo Bella - Kona)                          
12 Rhonda Mazza (Vanilla/Team S&M)                            
13 Wendy Williams (River City Bicycle Team)                   
14 Devon Haskell (University of Chicago)                      
15 Kristin Wentworth (Planet Bike)                        4.13
16 Kari Studley (Velo Bella / Kona)                       4.25
17 Sarah Kerlin (HRS/ Rock Lobster)                       4.37
18 Emily Van Meter (River City Bicycle Team)                  
19 Josie Jacques-Maynes (Specialized/KMC pb Cal Giant)    4.47
20 Coryn Rivera (Team Redline)                            4.53
21 Anna Milkowski (Gear Works-Spinarts)                       
22 Anna Young (Planet Bike)                               5.31
23 Kristi Berg (Redline Bicycles)                         5.40
24 Kaitlin Antonneau (Nova/IsCorp)                            
25 Rebecca Wellons (Ridley Factory Team)                      
26 Sydney Brown (Midwest Cycling Community)                   
27 Amy Wallace (RGM WATCHES - RICHARD SACHS -)            6.09
28 Kris Walker (kriegcycling.com)                             
29 Andrea Smith (Minuteman Road Club)                         
30 Linda Sone (Ridley Factory Team)                           
31 Carolyn Popovic (CICLE / Bear Valley Bikes)                
32 Cris Rothfuss (NEBC/Cycle Loft/Devonshire Den)         6.34
33 Sally Annis (NEBC/CycleLoft/Devonshire Dent)               
34 Colleen Flaherty (Veloce)                                  
35 Elizabeth Shogren (Sobe Cannondale)                        
36 Kimberly Flynn (Vantaggio/ Specialized Pro wom)            
37 Melanie Swartz (Velo Bella - Kona)                         
38 Cara Applegate (BMW-Bianchi)                               
39 Kristin Gavin (Temple University)                          
40 Lindsey Bishop (Mafia Racing/Felt)                         
41 Melissa Schultz (Cycle Sports/Trumer Pils)             7.13
42 Deb Sweeney Whitmore (BMW Bianchi)                     7.21
43 Samantha Schneider (IS CORP)                           7.32
44 Lauren Costantini (GBL-GBD)                                
45 Kathy Sarvary (Mid State Cycling Club)                 7.56
46 Maria Stewart (University of Minnesota)                    
47 Lora Heckman (Peloton Cycles - Specialized)                
48 Brenda Moczygemba (Tough Girl / Contessa)                  
49 Anne Schwartz (Flying Rhino Cycling Club)                  
50 Marne Smiley (Zias Cycle)                                  
51 Linda Cooper (Great Plains Cycling Club)                   
52 Mary Pat Jones (Blue Competition Cycles)                   
53 Corey Coogan (Ridley Factory Team)                         
54 Kate Scheider (Mafia Racing)                           8.45
55 Jennifer Herrell (SKC)                                     
56 Catherine Walberg (KCCX/Verge)                             
57 Michele Bliss (Rocky Mounts - Izze Racing)                 
58 Beverly Chaney (Roaring Mouse Cycles)                  9.15
59 Beth Lyndon-Griffith (Hagens Berman Cycling)               
60 Kendall Ryan (Team C.I.C.L.E)                          9.24
One lap behind
61 Heidi Von Teitenberg (C3-Sollay.com)                       
62 Dorothy Wong (Team C.I.C.L.E./Voler/Jamis)                 
63 Robin Williams (University of Iowa)                        
64 Michelle Jensen (FreeState Cycling Team)                   
65 Susan Prieto (Blue Sky Velo)                               
66 Kristen Bowers (Atomic Race Team)                          
67 Rachel Cieslewicz (Monavie/Cannondale)                     
68 Christina Tamilio (Minuteman Road Club)                    
69 Christie Pleiss (Team C.I.C.L.E)                           
70 Catherine Johnson (OrganicAthlete p/b VegNews Mag)         
71 Lynn Bush (Tough Girl / Contessa)                          
72 Laura Mizener (NA)                                         
73 Lianna Miller (Dirt Rag/Swobo)                             
DNS  Shannon Gibson (VeloBella-Kona)                          
DNS  Samantha Williams (Sorella Cycling/BVM Engineerin)       
DNS  Anne Grofvert (Bicilibre)                                
DNS  Sue Semaszczuk (Athletes By Design (ABD))                
DNS  Marissa Axell (Roaring Mouse Cycles)                     
DNS  Lana Atchley (Bailey Bikes)                              
DNS  Beth Mason (C3-Sollay.com)                               
DNS  Megan Myrick (ColoBikeLaw.com)                           
DNS  Samantha Dery (NEBC ? Cycle Loft/ Devonshire)            
DNS  Alie Kenzer (RGM WATCHES - RICHARD SACHS -)              
DNS  Heidi Kanayan (Team CICLE.org/ Velo Bella)               
DNS  Kelly Benjamin (Cheerwine Pro Cycling)                   
DNS  Christine Roettger (Team Revolution)                     
DNS  Carrie Cash Wootten (Team Revolution)                    
DNS  Maria Benson (Outspokin')                                
DNF  Annajean Dallaire (SoBe-Cannondale)                      
DNF  Lisa Strong (Tough Girl/Scott)                           
DNF  Amanda Miller (Mesa Cycles Racing Team)                  
DNF  Arley Kemmerer (Hub Racing)                              
DNF  Julie Kuliecza (ALAN North America Cycling)              
DNF  Haley Beann (Boulder Cyclesport)                         
DNF  Leah Sanda (NA)                                          
DNF  Robin Farina (Cheerwine Cycling)