Japanese Cyclo-cross Championship - NE
Iida, Japan, December 14, 2008
2007 Results Results Past winners
Tsujiura powers to his seventh title
By Kei Tsuji
Keiichi Tsujiura (Team Bridgestone Anchor)
Photo ©: Kei Tsuji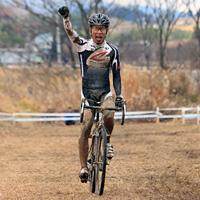 Keiichi Tsujiura (Team Bridgestone Anchor) achieved an unprecedented seventh straight victory at the 14th Japanese Cyclo-cross Championship event. The Iida, Nagano course held on a river bank was flat, but largely muddy with some puddles of rainwater.
It was Tsujiura who led the race soon after the start and a pack of four riders formed. Tsujiura had trouble with his muddy pedal on the second lap and paced down while two Suwako riders, Masanori Kosaka and Atsushi Maruyama, led the pack. After the defending champion changed his bike no one could keep up his overwhelming pace.
While the battle for the second position was heating between the veteran Kosaka and Seigo Yamamoto (Kai Racing), Tsujiura crossed the finish line, without breaking stride.
"I'm totally happy to achieve the seventh victory," he said. "But at the same time, I regret the fact that no one could stop it. I hope more riders participate to raise the national level."
The men's U23 champion jersey went to Yu Takenouchi (Trek) who finished fourth.
Ayako Toyooka (Team Ayako Toyooka) again conquered the women's race, taking her fourth white national champion jersey.
The two champions are now going to Europe to participate in the World Cup races.
Photography
For a thumbnail gallery of these images, click here
Images by Kei Tsuji
Results
Elite Men

1 Keiichi Tsujiura (Jpn) Team Bridgestone Anchor     1.06.14
2 Masanori Kosaka (Jpn) Suwako Racing Team              1.02
3 Seigo Yamamoto (Jpn) Kai Racing Team                  1.14
4 Yu Takenouchi (Jpn) Trek                              1.25
5 Hikaru Kosaka (Jpn) Suwako Racing Team                2.48
6 Atsushi Maruyama (Jpn) Suwako Racing Team             3.17
7 Kazuya Nakayama (Jpn) Suwako Racing Team              4.33
8 Ryouhei Komori (Jpn) Daihatsu Bonnechance Iida        5.03 
9 Shinya Ikemoto (Jpn) Wakokiki Tamura Club             5.41
10 Katsunori Irie (Jpn) Shimano Drinking                6.02
11 Mitsuru Ohara (Jpn) Aisan Sabokura                   6.39
12 Shintaro Nakama (Jpn) Team Ridley Japan              6.45
13 Yudai Izawa (Jpn) Bee Club                           6.49
14 Masashi Matsui (Jpn) Shimano Drinking               

Elite Women

1 Ayako Toyooka (Jpn) Team Ayako Toyooka               44.15
2 Michiko Shimura (Jpn) Lavenir Azumino                 0.44
3 Masumi Sakai (Jpn) Testach Racing                     1.14
4 Ikumi Tajika (Jpn) God Hill                           5.27
5 Yukari Nakamura (Jpn) Nakagawa as.k' design           6.52
6 Tomoka Iwata (Jpn) Kitakuwata High School             8.33
7 Waka Takeda (Jpn) Arai Muraca                         8.55