Cyclo-cross news & racing round-up for October 7, 2006
Edited by Steve Medcroft
Welcome to our regular roundup of what's happening in cyclo-cross. Feel free to send feedback, news and gossip to mtb@cyclingnews.com
Crank Brothers US Gran Prix of Cyclocross kicks off Saturday
Lyne Bessette in 2005
Photo ©: Steve Medcroft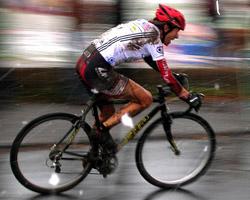 The 2006 Crank Brothers U.S. Gran Prix of Cyclocross will kick off its national series on the legendary fields of Stage Fort Park in Gloucester, Mass. on October 7-8 with two days of world class racing at the Gran Prix of Gloucester presented by SemEquip.
A true New England cyclocross classic, the Gran Prix of Gloucester guarantees great courses and unpredictable weather, all in one of the country's true hot beds of cyclocross. These two days of intense racing are hosted at Gloucester's Stage Fort Park -- voted one of the top venues for its challenging course, dramatic waterfront location and event organization in a recent VeloNews poll. New for 2006 will be a kid's race held on Sunday sponsored by Essex County Velo.
"We're excited to once again host two stops of the U.S. Gran Prix of Cyclocross series," said Paul Boudreau, Race Director, Gran Prix of Gloucester. "Being a part of the series for the past two seasons has helped the Gloucester 'cross events meet and exceed its goals of bringing world-class racing to New England."
The Gran Prix of Gloucester races are part of the Crank Brothers US Gran Prix of Cyclocross --the premier cyclocross series in the United States. The six race series attracts the best racers from across North America who compete for the series overall championship and an automatic USA Cycling world championship berth.
Expected in the race are a growing number of elite-level domestic racers out for a winter workout. In the men's field, Todd Wells (GT) will wear the the stars and stripes as the current national champ. He''l be up against 2005 USGP series champion Barry Wicks (Kona), roadie and three-time USGP 'dross race winner Tim Johnson (Cannondale/cyclocrossworld.com), 2004 USGP series winner Ryan Trebon (Kona), mountain bike short track super stud Adam Craig (Giant) and former USPRO champion Mark McCormack (Clif Bar) among others.
In women's events, expect to see Canadian and 2005 USGP series winner and retired roadie Lyne Bessette (CyclocrossWorld.com/SRAM), tqo-time US National Champion Katie Compton (Spike Professional - who will be racing her first full elite season of cross - see related interview), Wendy Simms (Kona), US MTB national champion Georgia Gould (Luna), stalwart 'crosser Anne Knapp (Kona) and regional breakout rider Maureen Bruno-Roy (Independent Fabrication/Wheelworks) among others.
Check back on Cyclingnews for full results, photos and race reports from Gloucester.
World Cup remains domain of Sven Nys
By Brecht Decaluwé
Sven Nys continued his supremacy in the world cup competition with a win in Aigle, Switzerland. The first round for the world cup on a muddy course was dominated by the Belgians Bart Wellens and Sven Nys. World champion Erwin Vervecken was third, colouring the podium completely in Belgian black-yellow-red.
Nys was very happy with his win: "It wasn't an easy victory," he said. "I had to fight until the end, but that allows me to enjoy the win even more than usual." Last week the Belgian champion was bothered by a few crashes and little injuries. "It was difficult to know how strong I was. If I gain some more percentages, then I'll be really happy."
Bart Wellens was the dark horse of the race as he was suspended in September for his karate-kick during last season. Together with Nys, he was the strongest rider in the race; that way he surprised many people. "It could've been even better as I felt I was in control of the race. When I wanted to attack during the last lap, I had a flat tyre."
It was bad luck for Wellens who wasn't able to sprint for the victory in Aigle. The rider from the Fidea team expects that he'll be able to match Sven Nys this year. "We'll see this movie of the race a lot this year!" he commented.
Behind the Belgians Italian Enrico Franzoi and French Francis Mourey – both combining cyclo cross with road racing - showed they're ready for a good season with a strong fifth and sixth place. The disappointment of the day was Belgian Sven Vanthourenhout who was riding very strongly in the previous races in September. American Jonathan Page, who was also riding well in September couldn't start in Aigle as he crashed during training on the technical course; a dislocated shoulder will keep him away from the bike for a few days.
See full results for the Aigle World Cup
Record Crowds, Big Win for Andy Jacques-Maynes
Andy Jacques Maynes (California Giant Strawberry)
Photo ©: Hyun Lee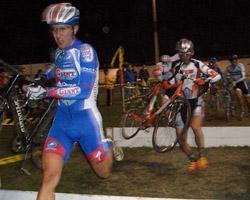 Record crowds, record beer consumption and a surprise winner were the most talked about moments at the 2006 Clif Bar/Hagens Berman Starcrossed Cyclocross race this year. A total of about 2500 spectators packed into Redmond Washington's Marymoor Park to see some great bicycle racing. The Women's race was taken by Canadian National Champion Wendy Simms who overcame a three-way battle for the win.
The men's main event was fast, painful, and exciting and it certainly did not disappoint the rowdy pumped up crowds who had been feasting on Pabst Blue Ribbon in the beer garden all day long. Just a few laps into the race a select group of men pulled away from the rest of the field to form the lead freight train that would never look back. This select group included Andy Jacques-Maynes, Carl Decker, Jonny Sundt, Chris Mcgovern, Dan Neyens, Morgan Schmitt, Geoff Kabush, and Russell Stevenson. Stevenson pinned it from the start with Kabush, Sundt, Decker, and Jacques-Maynes taking short lived attacks and flyers.
The surprising move of the day was by 21 year old Dan Neyens of the Hagens Berman Cyclocross Team who was able to get a significant gap quickly but a late race bobble ended this excellent move. With a few laps to go Decker moved up with an eye on a late charge but Jacques-Maynes had other ideas and was able to keep the wily Decker at bay and take the win. Kabush would finish third, Chris Mcgovern fourth, and the resurgent Sundt would finish 5th after spending three long days setting up for the event.
For full results, photos and a the complete race report from Star Crossed cyclo-cross, click here.
Bessette cruises, Trebon works in Southampton
Mackenzie Dickey (bicycle alley), Maureen Bruno Roy (Independent Fabrications), Christine Vardaros (Lotto-Belisol Ladie steam),
Photo ©: Marco Quesada

Lynn Bessette (Cyclocrossworld.com) and Ryan Trebon (Kona) took victory in the first races of their season, but each of them had different paths to get there.
Fifteen women contested the 2.5 kilometer Southampton course, but it was all Bessette from the opening gun. She was never challenged, as she built up a lead of a minute to win wire to wire. The challenges were to be found early on in the best of the rest, as Christine Vardaros (Lotto-Belisol Ladiesteam), Maureen Bruno-Roy (Independent Fabrications), and Mackenzie Dickey starting trading positions trying to chase down Bessette. Vardaros eventually went clear of the trio and Bruno made a vailant effort to catch back on but couldn't do so and had to settle for third.
Southampton turned on spectacular
Photo ©: Marco Quesada

Unlike the women's race, the men found a group of riders that couldn't get rid of each other, despite several mechanical failures and crashes. After the first lap a group of seven formed the front, including Kona stars Trebon and Barry Wicks, Tim Johnson (Cannondale/Cyclocrossworld.com), defending champion Mark McCormack (Clif Bar), Jesse Anthony (Clif Bar), Matt White (Fiordifrutta), and Ben Jacques-Maynes (Cyclocrossworld.com). Despite Trebon dropping his chain and Wicks crashing in the woods, the seven could not break the rubber band holding them together.
Finally half-way through the race Trebon was able to bust the front group up while taking only Johnson with him. McCormack had the hard task of trying to make the bridge with Wicks in tow not willing to do anything towards the effort. The rest of the race saw Trebon and Johnson right on each other right to the finish, with Trebon using his height to his advantage at the end with a final kick that Johnson could not match. McCormack was eventually able to fend off Wicks but was relegated to the final spot on the podium for the day.
For full results and photos from Whitmore's Super Cross Cup #1, click here. See also Whitmore's Super Cross Cup #2.
Global cyclo-cross racing round-up
The cyclo-cross bikes of Interbike
by Mark Zalewski, North American Editor in Bootleg Canyon, Nevada
Geoff Kabush got his new cross bike
Photo ©: Mark Zalewski

The two-day warm-up to Interbike, know casually by most as 'dirt demo,' was the usual ruckus of dirt, bikes and more dirt. Companies brought out their newest wares for dealers and other industry people alike to spin around for a few minutes. The biggest representation this year was by Cannondale, who is forgoing a traditional Interbike booth and spending the money on the demo days. Cannondale's Scott Struve told Cyclingnews that it just makes more sense for them this year, as they are following the model of other companies that bring dealers to their own site to unveil new product lines outside of the busy days of Interbike. "We have 230 bikes out here," he said. "That is what the dealers really want to do, ride the bikes."
One noticeable difference this year compared to the recent past was the presence of cyclocross bikes. Many vendors had cross machines available for testing, including Scott USA, Felt, Blue and Raleigh. Raleigh's ride is billed as an introductory model at just US$1,200. Norm Krisher, Raleigh's marketing coordinator said that the idea was to offer the best frame and fork possible and make the rest upgradable to lower the initial cost. "We are really trying to design it to be an affordable bike that can be used for things other than cross racing. We wanted to get the best frame and fork possible and make it completely upgradable. You can race it right out of the box or make changes to the components."
On the higher end of the spectrum is Geoff Kabush's new Van Dessel -- painted in bright orange to match his Maxxis team kit. Kabush was not loaning his bike out for test rides as he just got it himself today. "I just put the bar tape on and got the position dialed in," he said. Kabush also said that he had some input in the design process. "I had a bit on input on the dimensions because I am a little large -- I got the top tube lengthened by a centimeter so it fits me better. Other than that it is stock geometry. It's the nicest cross bike I have ever had."
For the complete look at the cyclo-cross bikes of Interbike, click here.
Beacon Cross rescheduled
Round #3 of the Verge MAC Cyclocross Series, the UCI C2 "Beacon Cyclocross" has been rescheduled for Sunday October 29, 2006 – one day later than it's previously published date.
According to event promoter Wade Hess, "Due to an event at the Bridgeton City Zoo I have been force to change the date of the Beacon Cross Race. If I did not change the race date, then the race course would have been drastically changed. So -- the new race date is Sunday Oct 29. Nothing else has changed but the date; the race course will still be the same as it has been for the past 2 years. It's still a MAC race and it's still a UCI race."
Georgia Cyclocross Series
The Georgia Cross Series announced its full calendar last week with a slate of seven races. "Last year was one of our biggest years and we plan to build on that success again this year" said series director Shey Lindner. "Racer turnout grew by 20% in 2005 and support from our sponsors has dramatically increased this year." Racing begins October 15th in Conyers, GA.
Georgia Cyclocross Series schedule:
October 15, 2006 - Conyers
October 22, 2006 - Augusta
October 29, 2006 – Fort Yargo
November 5, 2006 - Monroe
November 12, 2006 - Marietta
December 3, 2006 – Macon, State Championships
December 10, 2006 - Jackson, Series Finale
Chicago Cyclocross Series dates announced
(Chicago, Illinois - September 25, 2006) - The Chicago Cyclocross Racing series starts Sunday, October 15 and runs through Sunday, December 3. The first race of the series of will be presented by North Branch Cycling Club of Chicago, Illinois and sponsored by Main Street Bicycles of Carpentersville, Illinois and is to be held at Carpenter Park in Carpentersville, Illinois.
Chicago Cyclocross Series schedule:
Sunday, October 15, Carpenter Park, Chicago
Saturday, November 4 - Campton Cross, St. Charles
Sunday, November 12 - Jackson Park, Chicago
Sunday, December 3 - Montrose Park, Chicago
Velo Bella - Kona for 2006/07
Ann Fitzsimmons
Photo ©: Russ and Nancy Wright

The Velo Bella - Kona women are back for another year of flinging dirt and spreading mayhem across the cyclocross circuit. And, now they've gone bi -coastal. For the third year in a row, the nation's largest all female cyclocross team will spread the Bella vibe around the Crank Brother's US Grand Prix of Cyclocross, US Cyclocross Nationals and at over 60 local races across the US.
"Velo Bella is dedicated to providing a place for women to ride their bikes, race their bikes, and above all, get muddy in a skinsuit," said Team Co Founder, Sabine Dukes. "With continued membership growth across the US, we felt it necessary to create a bi-coastal cyclocross team to mentor and inspire our members wherever they are. That and there just isn't enough mud here in California."
The 2006 Elite Velo Bella-Kona Cyclocross Team will consist of ten riders from around the United States. Sarah Kerlin (Capitola, CA) was the 2004 US National Cyclocross Champion in the 30-34 agre group, and 2004 US National Team member. Barbara Howe (Larkspur, CA) has won numerous UCI races here in the US and was a National Team Member in 2004 and 2005. Ann Fitzsimmons (Morgan Hill, CA) rose through the Velo Bella ranks as a beginner a few years ago to place 12th at the 2005 US National Cyclocross Championships. Team veterans Erin Kassoy (Palo Alto, CA), Shannon Holden (Spokane, WA) and developmental racer Marian Jamison (Reno, NV) complete the West Coast squad.
The East Coast squad is led by Anna Milkowski (New Haven, CT), who placed highly at UCI road and cyclocross races, including taking 11th at the 2005 US National Cyclocross Championships. Melanie Swartz (Reston, VA) is a rising star in the Mid-Atlantic region and ranked sixth in US for UCI points in cyclocross during 2005. Veteran Bella Jennifer Tilley (Lawrence, Kansas), Dee Dee Winfield (Charlottesville, VA) and developmental racer Stephanie White (2004 US Junior National Champion, 15-18) from Bedford, NH complete the eastern squad.
Sonic cyclo-cross team for 2006/07
The Sonic cyclocross squad announced its roster for its fifth season of competition this week as well as the launch of a new, four-member U23 program.
Matt Shriver, who finished 10th overall in the 2005 USGP series, returns for 2006. Brent Bookwalter will once again parlay his road fitness into a mixed cyclocross and collegiate mountainbike racing schedule for the fall. In 2005, Bookwalter won the Collegiate Men's cyclocross national championship and then one hour later was a player in the race for the U23 national title, eventually finishing third. Chris McGovern and Andy Applegate round out the Sonic squad.
The Sonic U23 program is comprised of David Fleischauer, a member of the 2003 US national team, Luke Brechwald, Joey Rodgerson, and Tela Crane.
Previous News Next News
(All rights reserved/Copyright Knapp Communications Pty Limited 2005)