Kinetic Systems - Tailwind Cyclo-cross #2 - C2
Waterford, Michigan, USA, September 24, 2006
2005 Results Results Past winners
Boulder cyclo-cross riders open season with wins
Muddy and wet course conditions
Photo ©: Bryan Mitchell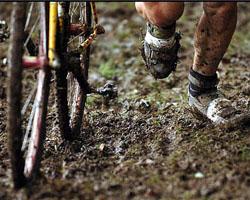 Boulder-based Primus Mootry/Harshman Wealth Management Team racer Jonathan Baker opened the U.S. Cyclocross season in big style this weekend winning a pair of races held in central Michigan. Baker, 32 of Boulder, won the Kinetic Systems Cyclocross race held Saturday in Davisburg Mich. then turned around Sunday and repeated in the second day of racing in the same location. Baker was joined in the winner's circle Saturday by teammate Zach Grabowski, 19 of Lafayette, who finished first in the Under 23 category for younger riders. Grabowski was unable to finish the race Sunday because of a mechanical difficulty.
Because both races were part of the international cyclocross calendar both riders gain valuable points which determine starting line position at the upcoming US Gran Prix of Cyclocross race in Gloucester Mass October 7 and 8. While starting line position may seem relatively unimportant the stakes are high since the overall U.S Gran Prix of Cyclocross winner gains an automatic berth on the U.S. team for the World Championships to be held January in Belgium
Baker commented on his great start to the season by saying, "I really wanted to open my season strong so that I can get an automatic selection to the world's team rather than depend on a coach's selection like 2005. This way I can make solid plans and prepare rather than wait until the moment to learn I'm selected." Baker attended last season's World Championships after his selection by coaches based on steady top results during the September through December domestic season.
After the New England races, the U.S. Gran Prix of Cyclocross continues through the fall with two Front Range stops in Longmont and Boulder in early November before moving to the west coast. Baker and Grabowski's sponsor, the Primus Mootry/Harshman Wealth Management.Denver Boulder Courier team is also the organizing group of the Boulder Cup race scheduled November 5th in South Boulder's Harlow Platts Park behind Fairview High School.
Photography
For a thumbnail gallery of these images, click here
Images by Bryan Mitchell/www.mountainbikephotographer.com
Results
Elite Men

1 Jonathan Baker (Harshman Wealth Mgmt/Primus Mootry)          1.01.39
2 Tristan Schouten (Trek/VW Michelin)                             1.38
3 Brandon Dwight (Boulder Cycle Sport)                            2.02
4 Brent Prenzlow (Celo Pacific/Salsa)                             2.20
5 Andy Jacques-Maynes (Calif Giant Strawberries)                  2.35
6 Doug Swanson (Grandstay)                                        2.49
7 Molly Cameron (Vanilla Bicycles!)                               3.04
8 Nathan Chown (Cyclissimo/Kona Canada)                           3.04
9 Ian Brown (River City Bicycles/Tonic Fab)                       5.02
10 Charlie Storm (Inland Construction)                            5.25
11 Jeff Weinert (Cane Creek)                                      5.43
12 John Behrens (Celo Pacific)                                    5.54
13 Jonathan Card (Cane Creek/Caboto Velo)                         6.14
14 Michael Wissink (Specialized)                                  6.19
15 Andy Applegate (Sonic)                                         6.38
16 Jeremy Walker (Cane Creek/Caboto Velo Club)                    1 lap
17 Kyle Douglas (3 Rox Racing/Scott)
18 Nathan Rice (Big Shark/Ridley)
19 Ryan Rish (Alan Factory)
20 Phil Noble (Bio Wheels)
21 Kyle Jacobson (Beans & Barley/One Percent More Racing)
22 Harry Anderson (Skihut - Duluth)
23 Tyler Johnson (Louis Garneau)                                  2 laps
24 John Degele (Inland Construction/Btd)                          3 laps
25 Robert Foshag (Cane Creek)
26 Shawn Adams (Alan Factory)
27 Tucker Olander (Hot Tubes)
28 Don Galligher (Chiropower)                                     4 laps
29 Chris Strout (The Pony Shop)
30 Josh Johnson (Big Shark Racing)
31 Michael Simonson (Oxford, Mi)                                  5 laps
32  Mc Clounie (Wolverine Sports Club)
33 Scott Kelly (Hamilton, On)
34 Kevin Hazzard (Independant)
35 Matt Curin (Lilly/Bike Wave)                                   7 laps
DNF Zak Grabowski (Primus Mootry)
DNF Shawn Harshman (Harshman Wealth/Primus Mootry)
DNF Ryan Myers (Chiropower)

Elite Women

1 Tara Ross (Cheerwine)                                           38.20
2 Brigette Stoick (River City Cycles)                              0.41
3 Rachael Steele (Saturn of Toledo/Shell)                          4.44
4 Jamie Galambos (Saturn of Toledo/Shell)                          4.55
5 Cara McCauley (Cheerwine)                                        5.42
6 Lisa Most (Wissahickon)                                          6.01
7 Pam Hinton (Columbia Bike Club)                                  6.07
8 Karen Watson (McMaster University)                               6.11
9 Tammy Ebersole (Evolution Racing)                                6.57
10 Anne Schwartz (Flying Rhino Cycling Club)                       8.55
10 Renée Shcroeder (Wolverine Sports Club)                         8.59
11 Lisa Meils (Essex Brass)                                        9.04

Junior Men

1 Jimmy MacDonald (Alan Factory Team)                            37.48
2 Rafael Kronenberg (Sunrise Sports Cycling Team)                 4.57
3 Tony Wieczorek (Sunrise Sports Cycling Team)                    6.56
4 Jimmy Rietman (Shelby TWP, Mi)                                  7.52

Past winners
Elite Men

2005 Jeremy Powers (Jelly Belly Pro Cycling Team)

Elite Women

2005 Ann Schwartz (Flying Rhino CC)