Introduction to Track Racing - What's a Wheelrace? - Introduction to Six Day racing
Tasmanian Christmas Carnivals
Tasmania, December 23, 2006 - January 20, 2007
Hobart Carnival - January 7, 2006
Johnson defies age to claim Hobart Wheelrace
By Rod Morris
Stephen Rossendell wins the keirin
Photo ©: Lynne Ryan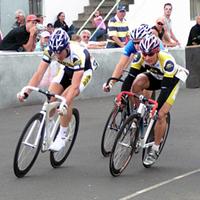 Being on the wrong side of 30 didn't stop local rider Jason Johnson from claiming the 25th annual Hobart Wheelrace at Newtown today. A self confessed "battler" Johnson won the 2000 metre title with a perfectly timed final sprint, beating fellow middlemarker David Oliver and fast finishing scratchman Stephen Rossendell. It was the second major wheel for the Hobart based Praties Cycling Team after Legana's Tim Walker won the famed Burnie Wheel on New Year's Day.
Johnson has been starved of success in the major wheelraces over the years, but his previous wins have included the 2001 Devonport Oval Wheel and 2002 Mersey Valley - Devonport CC Wheel. He has also finished second (2002) and third (2003) in the St Helens Wheelrace. "This feels great, I don't win too many wheelraces and to get one on my home track, particularly in the year the club is celebrating its 25th anniversary makes it feel a little more special," Johnson said.
Johnson was a comfortable qualifier in his heat, finishing second to front marker Brenden Sutton of Devonport. In the final, Johnson started on 120 metres, alongside Oliver, while Devonport youngster Matthew Kent, veterans Jamie Perry and Steve Martini were off 130 metres and quickly formed a strong group. Rossendell and American Jame Carney were the carnival's only scratchmen and had enough "stepping stones" along the way to reel in the "fronties" but ran out of race distance when it counted the most.
Jason Johnson
Photo ©: Lynne Ryan

Earlier in the day, Devonport's John Rayner returned to the lead in Cycling Tasmania's Rider-of-the-Season award when he won the 1000 metre Lightning Handicap ahead of Kaiden Homan and Jason Johnson. With only two track carnivals remaining for the Tasmanian summer, the award will go right to the wire with any one of about 14 riders still in with a chance of winning.
Carney won his third Hobart A Grade Scratch Race this century after getting the perfect lead-out from Daniel Cutting and had enough sprint left to beat Rossendell. Scottsdale's Ben Grenda was an impressive third.
Carney also won the Invitation Derby while Rossendell claimed the Invitation Keirin and Launceston's Tom Robinson won the A Grade Points Score, courtesy of winning the double-points final sprint.
Launceston's Alitta Laskey was in great touch in the female section of racing, winning the Hobart Wheel 1000 metre Handicap double.
Laura McCaughey and Janelle Smith won the A & B Grade scratch races respectively while the winners of the junior wheelraces included Callan Walker (U17), Jacob Fielding (U15) and Andrew Hinkley (U13).
Next week's carnival will be held at the Devonport Oval and conducted by the Mersey Valley - Devonport Cycling Club. Tom Robinson is the defending wheelrace champion.
Photography
Photography
For a thumbnail gallery of these images, click here
Images by Lynne Ryan
Results

Men
 
1000m handicap
 
1 John Rayner            
2 Kaiden Homan           
3 Jason Johnson          
4 Aaron Jones            
 
2000m wheelrace
 
1 Jason Johnson          
2 David Oliver           
3 Stephen Rossendell     
4 Kaiden Homan           
 
A grade scratch race
 
1 Jame Carney            
2 Stephen Rossendell     
3 Ben Grenda             
4 Tom Robinson           
 
B grade scratch race
 
1 David Oliver           
2 Jamie Perry            
3 Justin McMullen        
4 Steve Martini          
 
A grade elimination
 
1 Stephen Rossendell     
2 Daniel Cutting         
3 Tim Walker             
4 Jason Bellchambers     
 
B grade elimination
 
1 Steve Martini          
2 Jamie Perry            
3 Alex Benson            
4 Matthew Kent           
 
A grade points score
 
1 Tom Robinson           
2 Clay Murfett           
3 Jason Johnson          
4 Stephen Rossendell     
 
Invitation derby
 
1 Jame Carney            
2 Ben Grenda             
3 Jason Bellchambers     
4 Alex Benson            
 
Invitation keirin
 
1 Stephen Rossendell     
2 Jame Carney            
3 John Rayner            
4 Tom Robinson           
 
Women
 
1000m handicap
 
1 Alitta Laskey          
2 Andrea Heron           
3 Janelle Smith          
4 Sophie Kelly           
 
2000m wheelrace
 
1 Alitta Laskey          
2 Sophie Kelly           
3 Andrea Heron           
4 Janelle Smith          
 
A grade scratch race
 
1 Laura McCaughey        
2 Amy Cure               
3 Emma Heynes            
4 Erica Allar            
 
B grade scratch race
 
1 Janelle Smith          
2 Emma Smith             
3 Tarrisha Jones         
4 Andrea Heron           
 
Under 17
 
1000m handicap
 
1 Daniel Homan           
2 Callan Walker          
3 Isaac Doust            
4 Jason Bounday          
 
2000m wheelrace
 
1 Callan Walker          
2 Daniel Homan           
3 Sam Brett              
4 Ed Robinson            
 
A grade scratch
 
1 Peter Loft             
2 Ed Robinson            
3 Luke Ockerby           
4 David Lyons            
 
Under 15
 
1000m handicap
 
1 Stephen Heppel         
2 Jacob Fielding         
3 Jake Laskey            
4 Kodey West             
 
2000m wheelrace
 
1 Jacob Fielding         
2 Kodey West             
3 Ria Doust              
4 Stephen Heppel         
 
Scratch race
 
1 Jacob Fielding         
2 Stephen Heppel         
3 Kodey West             
4 Jake Laskey            
 
Under 13
 
1000m handicap
 
1 Danieka West           
2 Andrew Hinkley         
3 Nathan Hinkley         
4 Alex Allison           
 
1000m wheelrace
 
1 Andrew Hinkley         
2 Alex Allison           
3 Danieka West           
4 Nathan Hinkley         
 
Scratch race
 
1 Nathan Hinkley         
2 Andrew Hinkley         
3 Alex Allison           
4 Danieka West