Introduction to Track Racing - What's a Wheelrace? - Introduction to Six Day racing
Tasmanian Christmas Carnivals
Tasmania, December 26, 2005 - January 1, 2006
Tassie time at Christmas time
By Anthony Tan
Beside the seaside - Burnie's West Park Oval basks in the summer sunshine.
Photo ©: Shane Goss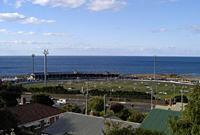 With over 400 years of combined history behind them and the 2006 Commonwealth Games just three months away, this year's National Grid Tasmanian Christmas Carnivals Series will again be one of Australian cycling's most popular summer fixtures.
The series of events - the main centres being Latrobe, Launceston, Devonport and Burnie - is organised by the Sports Carnivals Association of Tasmania (SCAT), and for the first time, will form part of the Cycling Australia Rankings Series (STAR). The Latrobe, Devonport, Launceston and Burnie Carnivals will carry category 1 ranking points and the Rosebery, Hobart and St Helens Carnivals category 2 ranking points. There will be three categories of events: sprint, endurance and wheelrace.
Ben Kersten flying
Photo ©: Shane Goss

American Jame Carney
Photo ©: Shane Goss

Louise Yaxley
Photo ©: Shane Goss
In addition to securing the support of long-term partner National Grid (formally Basslink) as the principle naming rights sponsor, along with the state government's continuing support, several new sponsorship agreements will provide financial stability and strengthen the Tasmanian Carnival Series over the next three years. This year, separate three-year sponsorship agreements with B&E Limited, Healthcare Insurance, WHK Pinnacle and Fairbrother Pty Ltd. were inked, with all four major sponsors being locally-owned companies.
For the 2005-06 series, SCAT has signed numerous local and international talent. Australian stars Shane Kelly, Ben Kersten, Jessie McClean, Tiffany Cromwell and Belinda Goss will match their muscle against German Christian Lademann, Americans Jame Carney, Bobby Lea, Mike Friedman, Josh Kerkhoff and Elliott Gaunt, Canadians Jenny Trew and Chris Reid, Scotsmen Evan Oliphant, James McCallum, Kate Cullen, and Katrina Hair and Isle of Man cyclist Mark Kelly.
Australian women's national team member and Tasmanian Louise Yaxley, still recovering from the tragic accident that resulted in the death of Amy Gillett in Germany last July, will act as ambassador for the Christmas carnivals. It's also expected that SCAT will assist the Amy Gillett Foundation, which has been established to provide support for the rehabilitation of Amy's injured team mates, to fund and administer a scholarship program for young female cyclists, and to support and promote projects aimed at road safety awareness amongst cyclists and motorists.
Top junior riders to compete
SCAT has also announced that two of Australia's premier junior cyclists from Western Australia will race at this year's National Grid Tasmanian Christmas Carnivals.
Recently-crowned Australian junior track cyclist of the year Scott Sunderland, who at 17 was placed in over 16 national and state events in 2005 will join Australian junior road cyclist of the year Cameron Meyer to compete at the carnivals. Meyer is the current under 19 Madison champion of Australia and already has several national and international medal placings in track endurance and road events. Organisers believe both riders will provide even more quality to the already strong cycling programme over the Christmas Carnival series.
Tickets on sale
Tickets for the each of the events can be purchased at www.tascarnivals.com. Tickets cost $15 per adult per carnival, $42 for four carnivals, or $52.50 for all five carnivals.
Further reading - special features on the Tasmanian Carnivals by Gerard Knapp
Inside the carnivals - part 1 and part 2. Fixed-gear track racing remains the drawcard at Tasmania's Christmas Carnivals, but can they maintain their long tradition and stay relevant in 2005 and beyond?
Team America takes the far track: A posse of American riders made the big trip south for warmer weather and hot racing in Tasmania. Gerard Knapp reports on their southern sojourn
An interview with Liz Williams, December 29, 2004: The Ulmer influence builds track cycling in NZ
The Launceston Classic: How two local riders brought their dream to life. This story won the 2003 Cycling Australia Print Media award.
The program
2005
2006
Photography