Introduction to Track Racing - What's a Wheelrace? - Introduction to Six Day racing
Tasmanian Christmas Carnivals
Tasmania, December 23, 2006 - January 20, 2007
Devonport Carnival, December 29-30 - Day 2
Main Results Complete event results
Devonport Athletic Club 69th Annual Christmas Carnival
By John Michael Flynn at Devonport, Tasmania
Kersten Wins the Devonport Wheel
Ben Kersten takes out another Devonport Wheelrace Final
Photo ©: Shane Goss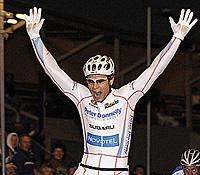 Notwithstanding a stellar list of champions dating back to 1937, the victorious performance of Ben Kersten tonight will surely go down as one of the greatest in the rich history of the Devonport Wheel Race.
In one of those "bottle forever" moments at the Tasmanian Christmas Carnivals, the Commonwealth Games Champion set sail from the scratch mark, and fought his way through a sea of wheels over the three thousand metre distance, before catching the stiff breeze howling off Bass Strait and sailing to the finish like a maxi yacht on a spinnaker run.
To continue the yachting analogies (it is that time of year in Tasmania), fellow scratchmen Stephen Rossendell, Jame Carney, and Cameron Meyer worked like grinders under the watch of a veteran skipper as Kersten built on their momentum and timed his run home with absolute perfection.
"Yeah unbelievable, shocking conditions, that makes or breaks it, was an unbelievable job from the scratch markers, very grateful," Kersten said as he claimed the $4500 first prize. "In this weather you've really gotta work together and come up with ideas and help each other out, otherwise we're all on our own."
What a night for racing
Situated on the beachfront, adjacent to the wild waters of Bass Strait, a stiff breeze built throughout the afternoon at the Devonport Oval - home to one of the world's oldest and most celebrated wheel races. Come nightfall, the breeze continued to stiffen, and the wind-chill factor made for icy conditions on the exposed outdoor track as riders lined up for the final of the Matthews Constructions Devonport Wheel Race.
Commonwealth Games Champion Ben Kersten found himself in good company on the scratch mark, with American Jame Carney, Tasmanian Stephen Rossendell and Western Australian ace Cameron Meyer all progressing through the heats.
When the gun fired, the tactics became clearer. The next backmarker in line waited for the scratch group – Jack Bobridge acting as the phase one burn as rocket ship Kersten lifted off.
"Yeah, the more the merrier when we're chasing that much of a gap," Kersten later revealed. "Was a big gap from him [Bobridge] to the rest of the guys, he took a while to get going but when he got going he was good."
The front-markers could almost hear Ben Kersten
Photo ©: Shane Goss

What followed was a treat for true cycling enthusiasts. It was a display of precision riding, in a breeze bordering on gale force, where just the thought of riding at such close quarters, is difficult to fathom. One by one the scratchmarkers took turns, then faded – the final big effort by Cameron Meyer to drive Kersten onto the group of frontmarkers, simply breathtaking.
"Cam Meyer, unbelievable turn, he just bided his time and timed it perfectly, a true professional there," Kersten said as he paid tribute to Meyer's work. "I was a bit panicky for a while, he knew his own form and waited and brought me up, it was a bit hectic in the back straight."
Once onto back end of the bunch, Kersten wasted no time advancing to the front, and launching his sprint on the final turn.
"It was much earlier than I wanted to go and I don't want to leave anything to chance here, so I just went for it," the Devonport Wheel Race Champion said.
There was also a pat on the back from Kersten to the much maligned race handicapper, whose groupings, on this occasion, helped turn the race into a true spectacle.
"I've gone from being on my own to being in a real quality field and that's how a handicap should be, right on the line," Kersten said. "That's what the crowd wants to see and that's what we're doing."
Minor placings in the feature event went to Canberra's Joel Stewart and Devonport cyclist Daniel Jamieson – both riders continuing to improve as the Tasmanian Christmas Carnivals progress.
"Through that last 200, when Ben Kersten flashed past it was pretty obvious, then I was trying to go with him as fast as you can, he leaves a good wake," Stewart said.
Jamieson, who started off a mark of 210 metres, also unable to match the pace of Kersten. "I was looking for the win, but Ben just come past and I was on the wheel," Jamieson said. "He's a really strong bloke."
Howard backs up to win scratch race
De-javu from night one as Leigh Howard scores in the Men's A' Grade
Photo ©: Shane Goss

In a repeat of last night's Devonport performance, Victoria's junior world champion Leigh Howard rode a smart tactical race to win the Derrico Cycles A Grade scratch race over 8000 metres.
After being part of one early move in the 17 lap race, Howard waited for his world championship teams pursuit partner Travis Meyer to gap the field at the seven laps to go mark, before riding across. A game of cat and mouse followed, as Meyer tried to shake Howard off his wheel.
"My strengths are to attack and his strengths are the bunch sprint," I knew he'd try and grab second wheel in the finish," Meyer said. "That's why I tried to attack him about 5 laps out."
Howard held on, predictably winning the final sprint.
Ring-In rumours as smokey wins women's wheel
A happy Keira Hernandez after victory in the C.J.Broun
Photo ©: Shane Goss

The name Keira Hernandez might not have been known to the race handicapper before tonight's final, but it certainly won't be forgotten in any hurry after the Devonport cyclist scored the upset of the night in the C.J.Broun P/L 2000 Metre Women's Wheel Race.
Unless their night vision was exceptional, it's unlikely the scratchmarkers Belinda Goss and Laura McCaughey would even have seen the winner of the Devonport Women's Wheel, and New South Wales track star Sky-Lee Armstrong certainly missed it, raising her arms in triumph at the finish line, only to find that she'd finished third.
Hernandez turned up to the race the ultimate smokey, and with no local form to speak of, started off a mark of 300 metres in the final of the women's wheel race. Working with fellow front marker Belinda Mason, the rather sizeable lead never came under any threat.
"I got a really good handicap, cause no-one knows me," Hernandez admitted post race. "It's great, a year ago it was my goal to win this."
Hernandez, apparently, took up cycling seriously while spending eighteen months in the United States, and scored some impressive results in road time trials, before suffering a tendonitis injury to her knee.
"I haven't done any sprint work or any track training so it was good," Hernandez said. "I said to Belinda [Mason], 'We'll go hard, we've got nothing to lose.'"
And it was a not so insignificant amount to gain, as the race winner walked away with $300 Australian dollars.
Goss gets one for TIS
Grace Sulzberger (L) and Sky-Lee Armstrong
Photo ©: Shane Goss

It's been a long time coming, but finally a performance of note from a Tasmanian Institute of Sport Cyclist at the Tasmanian Christmas Carnivals. Belinda Goss, who made the podium at the recent National Criterium Championships in Brisbane, struck paydirt in the A Grade women's scratch race.
Western Australian Sarah Kent, one of the 'have a go' riders at the carnival, was the early pace setter in the event and was largely responsible for establishing a breakaway group which included such likely suspects as Goss and Sky-Lee Armstrong.
When Tasmanian Laura McCaughey bridged across to the leaders with two laps to go, it was obvious the winner would come from one of the group. Goss was the eventual victor over a fast finishing McCaughey in the downwind sprint.
"It's always nice to get TIS on the podium to show that they're sponsoring the right riders," Goss said.
Better luck for Bendigo boys
Earlier, 17 year-old Glenn O'Shea turned around yesterday's nightmare for the visiting Bendigo cyclists with a victory in the Synectic 2000 metre handicap final. O'Shea took advantage in a field devoid of any genuine scratch markers.
With hometown hero Mark Jamieson out of the Devonport carnival due to sickness, and one of yesterday's form riders Nathan Clarke also not riding, it was shaping as another lonely night at chilly Devonport for Commonwealth Games gold medallist Ben Kersten.
Racing alone off scratch in the heats of the Synectic 2000 Metre handicap, Kersten appeared strong, but was unable to catch the frontmarkers. The result marked a turnaround for the Bendigo visitors, who yesterday lost one of their in-form riders Josh Gundry, who fell on the Devonport track and broke a collarbone.
Tomorrow the Christmas Carnival Series heads to Burnie for a criterium race, followed by a full day of track racing on New Year's Day.
Photography
For a thumbnail gallery of these images, click here
Images by Shane Goss/www.licoricegallery.com
Results

Matthews Constructions Devonport Wheel Race Final – 3000 Metres
 
1 Ben Kersten                                                           
2 Joel Stewart                                                          
3 Daniel Jamieson                                                       
 
Derrico Cycles A Grade Scratch Race – 8000 Metres
 
1 Leigh Howard                                                          
2 Travis Meyer                                                          
3 Joel Leonard                                                          
 
C.J.Broun P/L Women's Wheel Race Final 2000 Metres
 
1 Keira Hernandez                                                2.30.20
2 Belinda Mason                                                         
3 Sky-Lee Armstrong                                                     
4 Harriet Kossman                                                       
5 Belinda Goss                                                          
 
C.J.Broun P/L A Grade Women's Scratch Race
 
1 Belinda Goss                                                   5.22.53
2 Laura McCaughey                                                       
3 Sky-lee Armstrong                                                     
4 Monique Hanley                                                        
 
Synectic 2000 Metre Handicap Final
 
1 Glenn O'Shea                                                   2.14.80
2 Justin Tomlinson                                                      
3 Jamie Crass                                                           
4 Andrew Dolan