Introduction to Track Racing - What's a Wheelrace? - Introduction to Six Day racing
Tasmanian Christmas Carnivals
Tasmania, December 23, 2006 - January 20, 2007
Devonport Carnival December 29-30 - Day 1
Magnificent afternoon at the Devonport Oval
By John Michael Flynn in Devonport
Kersten Ends the agony with victory in the Mersey Wheel
A delighted Ben Kersten after getting a result for the scratchies
Photo ©: Shane Goss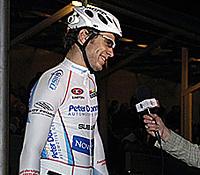 This evening, Commonwealth Games kilo champion Ben Kersten ended the agony of a frustrating first three days at the Nationalgrid Tasmanian Christmas Carnivals with his first wheel race victory for the series at Devonport. The win coincided with a change in handicapping procedures, grouping together more of the scratchmarkers in the heats, to give Kersten a realistic shot at reaching the finals.
"I said the scratchmarkers weren't going so bad all along and we needed some support," Kersten said. "We got that tonight and I think we're all very grateful that people changed their minds and gave us a hand."
How it unfolded
The marquee rider at the Christmas Carnivals found himself with plenty of company off the scratchmark, with Leigh Howard, Joel Leonard and Jame Carney all starting in the same heat. With their help, Kersten bridged across to the main pack of front-markers, then played the crowd pleaser, trying to chase down runaway front-marker Alistair Loutit.
That mission was unsuccessful, but Kersten had already done enough to qualify for the Wheelrace final. Howard finished third in the heat and was on track to feature in the final, before being relegated in a protest.
In the wheelrace decider, Kersten lived up to the expectations of the thousand strong Devonport crowd, letting Nathan Clarke do much of the work off the scratch mark before launching himself in the bell lap. The Commonwealth Champion just getting home over Clarke in a nail biting finish.
"Sprinting's what I do. I didn't have to do any turns, I knew the kick was there," Kersten said post race.
"I've been trying in every race I've been in, I've copped a lot of criticism saying because the results aren't there and everyone's saying your form's off and all of that, and I've been racing every day but today seems to suit me a lot better."
Clarke was unlucky not to come away with a better result - at one stage appearing to have the race in his keep. "I thought maybe, I was hoping I was going to cross the line first there but unfortunately Ben had me on the line," Clarke said. "The form seems to be getting better every day, that's good, it's been a tough week."
"About bloody time" Leigh Howard wins the scratch race
Leigh Howard from Victoria takes out the men's A' Grade Scratch Race
Photo ©: Shane Goss

After all the talk over handicaps, it was the men's scratch race which provided some of the best entertainment on the night. A close race throughout, a stiff headwind in the back straight – coming directly off Bass Strait – ensured any breakaway moves would have to be top class to get away from the bunch.
Western Australia's Meyer brothers tried the usual shock tactics, but it was their World Championship team-mate Leigh Howard who prevailed. Howard made it into the move of the night – a breakaway with Cameron Meyer and Scotsman Evan Oliphant with six laps to go. Well accustomed to holding each other's wheels, the junior teams pursuit buddies hung together until the end.
That man, Ben Kersten gave it 100% to bridge across to the breakaway in the final lap, but with Howard winding up for a last-lap lap sprint, it was simply a case of... look out! The speedy Victorian finally claimed his first major win for the carnival.
"It's about bloody time," 17 year-old Howard told Cyclingnews. "I've had good form through the whole carnival it's just been a bit unfortunate through some of the racing so it's good to come out on top in this one race. To come out and beat him [Cameron Meyer] in that last straight was fantastic."
Williams/Barendilla feature in Lightning finals
Liz Williams (centre) holds off Laura McCaughey (L)
Photo ©: Shane Goss

New Zealander Liz Williams and Western Australian Carlo Barendilla provided the early highlights on the fourth day of racing at the Tasmanian Christmas Track Cycling Carnivals.
On a windy, but otherwise magnificent afternoon at the Devonport Oval, Barendilla snuck home over the top of Commonwealth Games Kilo Champion Ben Kersten, with a beautifully timed downwind sprint in the men's Lightning Handicap final.
"Yeah it was unreal, I've been coming here for four years; to get a win is unbelievable," the smiling Barendilla said. "I think I got him by maybe a tyre width it was great."
Kersten admitted to making a rare error of judgement with his sprint. "Yeah a silly mistake," Kersten admitted. "I looked one way and didn't see anybody and he was on the other side."
Double feature for Lightning Liz
New Zealand visitor Liz Williams rode a tactically perfect race in the women's Lightning Handicap, surprising scratch marker Laura McCaughey, with a jump into the breeze along the back straight.
"I thought whoever's going to win has got to be in front at that corner and it was me," Williams said. "I was waiting for her [McCaughey] to come up on my hip. I just didn't see her and I won."
Williams backed up to win the women's scratch race, the carnival turning into rich pickings for the New Zealander visitor.
"My coach talked to me before and said, it's not the strongest person who wins a race, it's the smartest," Williams said. "Yeah, it [the prize money] is covering a few costs actually, a few more to go, but I think I've nearly broken even."
With her endurance form continuing to improve, Williams is growing in confidence for the up-coming Bay Criterium Series, where she will take to the streets of Melbourne and Geelong against Australia's best female road cyclists.
Photography
For a thumbnail gallery of these images, click here
Images by Shane Goss/www.licoricegallery.com
Results
Toll Tasmania Mersey Wheel Race 4 Laps
 
1 Ben Kersten                                                      2.15.48
2 Nathan Clarke                                                           
3 Daniel Jamieson                                                         
4 Robinson                                                                
5 Bellchamers                                                             
6 Tomlinson                                                               
 
Mitsubishi / Mazda Devonport A Grade Scratch Race 16000 Metres
 
1 Leigh Howard                                                            
2 Cameron Meyer                                                           
3 Ben Kersten                                                             
 
Midas Car Care Systems Lightning Handicap Final
 
1 Carlo Barendilla                                                 1.06.64
2 Ben Kersten                                                             
3 Thomas. Palmer                                                          
4 Adrian Hanson                                                           
 
C.J.Broun P/L Women's Lightning Handicap
 
1 Liz Williams                                                     1.14.20
2 Laura McCaughey                                                         
3 Kirsty Broun                                                            
 
C.J.Broun A Grade Women's Scratch Race
 
1 Liz Williams                                                     5.12.18
2 Sky-Lee Armstrong                                                       
3 Kate De Paoli                                                           
4 Laura McCaughey