Introduction to Track Racing - What's a Wheelrace? - Introduction to Six Day racing - UCI codes
Results & reports from the USA
Promoters wishing to submit results should send them to Cyclingnews
Asheville Training Series
Asheville, July 15, 2003
A real good night
By Chris Kamm
Nancy Daigler leads the Women's field
Photo: © Asheville Velodrome Group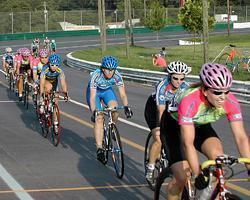 It had to happen sooner or later... that it would not rain that is.Installment number seven of the series resumed with larger than usual fields in the youth events, due to the participation of kids from the community-at-large added to the usual suspects of racer's progeny. In particular, a field of eight in the under 10 years old produced a blanket finish in their one-lapper.
The Fixed Gear enthusiasts continue to swell in ranks, and a milestone was reached whereby the field was split into A and B classes. Both halves of the draw preferred the resulting conditions, and the lower half in particular enjoyed not chasing around the Fletcher Arrow. Doug Graul won the new class followed by Scott Rousseau and the True B herself, Janet 'Wild Side' Trubey. In the A group, Kyle Valenta joined the fray as new track record holder for the flying one lap. He animated the racing all night, but The Arrow and Frodo assumed their usual positions at the top while Kyle finished third on points after the three events.
Nancy Daigler lapped the field again in the Women's event, and Wes Dickson notched another win over the B Grade guys and gals. In the distaff, The Dagger was accompanied by teammate Tanya Nestvogel, and Robin Pace patrolled the field for a sweep by Team Prestige Subaru. Dickson did his work single-handedly, as has been the custom all season.
In the Masters, Slim Shady ran the show. Clark Hollins scored another fine second place and Paul Wood was third. And now, (drum roll) in the absence of threatening weather, the A racers were sent off with expectations of completing all 60 laps (30 km). Gentleman Joe Coddington wears the number one, and he made things interesting by sitting out the first third of the race. Garrett Wonders amassed an early lead, and kept scoring well, even after Joey turned on the gas. This produced quite a tussle as the Cane Creek team nudged Joey into the lead prior to the final sprint. Everything was up for grabs until Darby Harris spoiled the script by slipping away at the end. By taking the ten points out of circulation, he insured Coddington's well-deserved win. Wonders finished second and Jacob McGahey quietly rode to the show spot.
Dramatis Personae
Brian Pierce: The Arrow
Blair Hobgood: Frodo
Nancy Daigler: The Dagger
Janet Trubey: Wild Side, Turbo, True B, etc.
Joey Coddington: Gentleman Joe
Scott Duncan: Slim Shady
Thanks again to The Asheville Parks and Recreation Department, and all our sponsors:
Hearns Cycling and Fitness
Asheville Bicycle Racing Club
Liberty Bicycles
Asheville Family Health Center
Dr. Stephen Miller, DDS
Cane Creek Cycling Components
Mission St. Joseph's Health System
Photos
Images by Asheville Velodrome Group
Results

Fixed Gear Nightly Results
 
A Race
 
8 Lap Scratch
 
1 Brian Pierce
2 Blair Hobgood
3 Nancy Daigler
4 Kyle Valenta
5 Don Lux
 
6 Lap Point a Lap
 
1 Brian Pierce
2 Kyle Valenta
3 Blair Hobgood
4 Nancy Daigler
5 Don Lux
 
15 Lap Points Race
 
1 Brian Pierce
2 Blair Hobgood
3 Nancy Daigler
4 Kyle Valenta
5 Don Lux
 
B Race
 
6 Lap Scratch
 
1 Doug Graul
2 Scott Rousseau
3 Victor Moore
4 Steve Miller
5 Janet Trubey
 
6 Lap Snowball
 
1 Doug Graul
2 Mike Smith
3 Janey Trubey
4 Victor Moore
5 Steve Miller
 
12 Lap Points Race
 
1 Scott Rousseau
2 Janey Trubey
3 Doug Graul
4 Mike Smith
5 Victor Moore
 
Year Total Omnium Points
 
1 Blair Hobgood                    30 pts
2 Brian Pierce                     30
3 Nancy Daigler                    11
4 Marc Mullinax                    10
5 Mike Koerschner                   9
6 Mike Despeaux                     9
7 Don Lux                           8
8 Scott Langford                    7
9 Doug Graul                        7
10 Janet Trubey                     6
11 Andy Applegate                   5
12 Mike Smith                       5
13 Bill McBee                       4
14 Young Young                      4
15 Jim McMillan                     4
16 Kyle Valenta                     4
17 Wendy Coin                       4
18 Paul Battenfeld                  3
19 Scott Rousseau                   3
20 George Riedesel                  2
21 Rostand Smith                    2
22 Bob Oast                         2
23 Steve Miller                     2
24 Kevin Bray                       2
25 Victor Moore                     2
26 Scott Galloway                   1
27 Matt Martin                      1
 
Category "A" 60 Lap Points Race
 
1 Joey Coddington                  37 pts
2 Garrett Wonders                  23
3 Jacob McGahey                    20
4 Darby Harris                     15
5 Kyle Valenta                     12
6 Scott Duncan                     10
7 Dave Hensley                      5
8 # 31                              5
9 Bob Wright                        5
10 Scott Langford                   3
11 Matt Martin                      3
12 Paul Wood                        3
13 # 3                              1
14 Dean Lyons                       1
 
Year Total Omnium Points
 
1 Joey Coddington                  19
2 Randy Parker                     14
3 Scott Duncan                      5
4 Austin Walker                     5
5 Chris Sheppard                    5
6 Jacob McGahey                     5
7 Garrett Wonders                   5
8 Martin Lawing                     3
9 Kent Williams                     3
10 Scott Langford                   2
11 Darby Harris                     2
12 Colin Izzard                     1
13 Richard Dunn                     1
14 Dave Hensley                     1
15 Kyle Valenta                     1
 
Category "B" 30 Lap Points Race Nightly Results
 
1 Wes Dickson                      16
2 Allison Hardy                    13
3 Scott Lowrey                     13
4 David Forkner                    10
5 Scott Rousseau                    9
6 Cris Bifaro                       8
7 Ray VonDohlen                     4
8 Andrew Hager                      3
9 Scott Sheppard                    1
 
Year Total Omnium Points
 
1 Wes Dickson                      33
2 David Forkner                    12
3 Cara McCauley                     8
4 Marc Mullinax                     8
5 Phil Wikoff                       5
6 Allison Hardy                     5
7 Ray VonDohlen                     4
8 Scott Rousseau                    4
9 Cris Bifaro                       3
10 Scott Lowrey                     3
11 Mark Scholtz                     2
12 Jamie Arnold                     1
13 Jon Wolfe                        1
14 Robin Pace                       1
 
Master's (40+) 35 Lap Points Race Nightly Results
 
1 Scott Duncan                     29
2 Clark Hollins                    12
3 Paul Wood                        11
4 Kent Williams                     8
5 Scott Lowrey                      8
6 Art Schuster                      8
7 Michael Davisdon                  7
8 Dean Lyons                        5
 
Year Total Omnium Points
 
1 Randy Parker                     21
2 Scott Dunacn                     12
3 Clark Hollins                    11
4 Dean Lyons                        7
5 Paul Wood                         7
6 Richard Dunn                      6
7 Kent Williams                     5
8 Art Schuster                      2
9 Scott Lowrey                      1
 
Women's 25 Lap Points Race Nightly Results
 
1 Nancy Daigler                    17
2 Tanya Nestvogel                  11
3 Robin Pace                       17
4 Deborah Elliot                   10
5 Anne Bolyea                       2
 
Year Total Omnium Points
 
1 Nancy Daigler                    28
2 Patricia Pinner                  13
3 Robin Pace                       13
4 Tanya Nestvogel                  12
5 Cara MacCauley                   10
6 Monica Koerschner                 5
7 Deborah Elliot                    3
8 Jessee Karriker                   2
9 Anne Bolyea                       2
10 Monica Curwen                    1
11 Wendy Coin                       1