On Test: Enigma Eulogy, June 12, 2007
Mona Lisa Smile
The Enigma Eulogy
Photo ©: Ben Atkins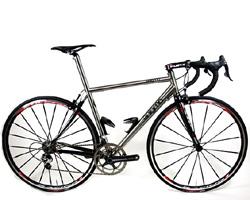 Enigma is a new name to the bike scene, but with most of the operation being salvaged from the ashes of the sadly demised Omega Cycle Works, there is over 25 years experience in building some of the finest frames that Britain has to offer. At the top of its entirely titanium range sits the Eulogy, a striking looking frame that Enigma boasts is the "ultimate road racing machine". Cyclingnews' Ben Atkins takes one on an extended test to see if there is any substance to this enigmatic claim.
Like steel, titanium is favoured by many because of its unique flexibility and 'snappiness', which can make for a more forgiving and livelier ride. Titanium is also much lighter than steel, though, and has the obvious advantage of being almost completely impervious to corrosion. A less desirable side effect of this, however, is that a poorly tuned titanium frame can flex too much or in the wrong directions, robbing a rider of power when climbing or sprinting - where it matters most.
The task that the guys at Enigma have set themselves with the Eulogy is to produce a frame that retains all of the positive characteristics of their favoured material, while also being stiff enough to satisfy the most powerful of riders. In fact, part of the input into this design rationale was a challenge from local rider Sean Yates to make a titanium frame "as stiff as possible". As it turns out, Yates knows a thing or two about how a performance bicycle should ride; he is a former Tour de France stage winner and also currently serves as directeur sportif for the Discovery Channel team.
Eulogy delivered
Is there anything more tactile in cycling
Photo ©: Ben Atkins

Bespoke titanium dropouts
Photo ©: Ben Atkins

The integrated seatpost
Photo ©: Ben Atkins

The Eulogy's head tube
Photo ©: Ben Atkins

Tidy welds
Photo ©: Ben Atkins

Fulcrum Racing 1's rear hub
Photo ©: Ben Atkins

Enigma's titanium frames are made from EST
Photo ©: Ben Atkins

Wishbone seat stays bond neatly
Photo ©: Ben Atkins

Similarly, the carbon chain stays are bonded
Photo ©: Ben Atkins
Minimalist, stylish graphics
Photo ©: Ben Atkins

The Look HSC5 fork
Photo ©: Ben Atkins

When Look says, "Full Carbon"
Photo ©: Ben Atkins

In many ways, the Eulogy is very much like any other "traditional" titanium frame: the welds are all very tidy, the finish is - like most others - a bare brushed metal, but aside from this there are a number of things that set this apart from the crowd.
Firstly, Enigma equips the Eulogy with carbon fibre seat and chain stays, which have long been a popular choice in many frames to alter the ride characteristics. In this case, Enigma takes advantage of carbon fibre's unique tenability to allow flexibility in one direction, while enforcing stiffness in others - something not so easily done with metals.
The second, and most striking, thing about the Eulogy is that unique pseudo-integrated seatpost, something rarely seen in titanium machines. While some will argue they are more of a fashion statement than anything else, integrated seatposts are becoming ever more popular with carbon frames; the typically larger cross-section carries most of the stiffness of the seat tube right up to the saddle, and frames can (in theory) be lighter as it removes the need for a separate post and clamp. In this case, however, the Eulogy's extended seat tube reinforces the stiffness of the frame, but because it still requires a conventional clamp (and abbreviated post), it actually makes things a bit heavier.
To further stiffen the mildly compact front triangle, the down tube is vertically ovalised at the head tube and horizontally where it joins the Enigma Elliptic bottom bracket shell. Our test bike was a size Medium, with a 55cm top tube (horizontal), a 73° seat tube angle, and a 72.5° head tube angle. A set of short-as-possible 407mm chain stays and a relatively short 43mm fork rake combine with those measurements and angles to make a very racy wheelbase of 978mm.
The rest of the frame oozes build quality: the tidy welding has been matched by great attention to detail including the bespoke titanium cable stops and rear dropouts; the front mech cable is routed neatly through the middle of the short titanium tube that the chain stays are bonded to; and the minimalist decals are beautifully subtle and understated.
Set up
The Eulogy usually comes with Reynolds Ouzo Pro fork, but our test bike was fitted with the lighter Look HSC5, which is 100% carbon right down to the.dropouts and available as a no-cost option from Enigma. Component-wise, the UK-based company has gone almost completely Italian and fitted a Campagnolo Record groupset, including the stunning new Ultra-Torque carbon chainset and Skeleton brake calipers. The one deviation from the complete Record package was the Enigma Evolution integrated headset which features polished titanium hardware and cartridge bearings.
The wheelset completes the Italian theme in the shape of a pair of Fulcrum Racing 1 clinchers shod with Vittoria Diamante Pro Light tyres, and fixed to the frame with a set of Enigma's own bespoke skewers - featuring titanium axles and aluminium hardware, these things weigh in at just 38g per pair!
The rest of the bike's finishing kit consisted of a matching ITM Visia Carbon bar and stem set, a Reynolds Ouzo Pro seatpost - cut to down to a length allowed by the extended seat tube and held in place by a titanium clamp - and a Selle Italia SLR Kit Carbon saddle.
Ride quality? Quality ride!
From the first pedal strokes, it became pretty clear that the goal to make it as stiff as possible had been well achieved. This stiffness coupled with its aggressive geometry gave the Eulogy a really racy feel, almost forcing me to sprint out of every corner, attack every climb and push the limits on every technical descent.
Despite the extreme rigidity of the whole setup, I decided to take the Eulogy with me on a trip to Flanders, where I was to ride on the 140km course of the cycletourist version of the Ronde. In spite of its 'casual' nature, this route includes several of the race course's cobbled sections as well as most of the climbs. I took the bike with a certain trepidation - as it was such a direct and aggressive ride, I was fully prepared for it to punish me for daring to take it to such rough road surfaces.
Despite my fears, the HSC5 forks and carbon stays teamed up with the oversized titanium main triangle to absorb more of the vibration than I was expecting. I knew its stiffness would really come into its own on the short steep climbs, but what I wasn't expecting this amount of damping. This is not the most comfortable bike I've ever taken to Belgium, but by no means did I end up regretting the decision. At this point, I should mention that cobble riding is not a mandatory part of bike tests, but if people will give them to me to do in the spring…
Surprisingly, the radical decision to make the frame heavier with an integrated seat post paid off in virtually every other respect. The extended tube adds a measurable amount of stiffness to an area that sometimes suffers from flex in compact frames (somehow without overly affecting comfort), and its ability to turn heads on group rides can't be ignored. As with any integrated frame, though, the ability to pack the bike up in a standard travel case is questionable at best.
Aside from the frame, the rest of the package performed to, and beyond expectations. This was my first experience of the new Campagnolo Record with its Ultra-Torque external bearing bottom bracket system, and I was not disappointed as it performed as beautifully as it looked. In fact, the old cliché that "Campagnolo makes beautiful components that work, and Shimano makes components that work beautifully" is becoming less and less clear as they have both managed to catch up to each other. The shifting on the newest generation Record still features that satisfying 'clunk', but the action is arguably more clinical than ever.
The Fulcrum Racing 1 wheels also did their job incredibly well. When climbing, they maintained their shape with no perceptible flex and, at speed (especially when descending) the aero spokes and medium profile efficiently cut through the wind. Yet despite their low weight they were still strong enough to cope with Flemish cobbles without any concerns over their strength.
However, the same solid outer rim wall that likely imparts the wheelset with that strength and rigidity is also the source for my sole complaint. There is no need for rim tape, but the sharp edges remaining around the valve holes can easily damage unsuspecting inner tubes. Even before I had ridden the bike, I suffered a puncture while pumping the tyres up due to this issue, but it can be easily remedied by judicious use of some emery paper, or simply applying some tape to the edges of the hole.
Conclusion
Simply put, this is an excellent bike. Somehow, with the combination of the two materials and the intelligent use of tube profiles, Enigma has created a frame that is both rigid in the areas it needs to be but also reasonably compliant, affording a level of comfort that I didn't initially expect. This is an out-and-out race bike, but whether it's flying around the local criterium circuit or taking on the Etape, the Eulogy will likely perform exceptionally well in either environment.
Weight: 7.110kg (15.67lbs) (without pedals)
Price: £3785 (£1485 frame only)
Pros: Super stiff, great attention to detail, aggressive race geometry, surprisingly good ride quality
Cons: Integrated seat post adds weight and difficulty when travelling, sharp valve holes on wheels
Cyclingnews rating:


More info: www.enigmabikes.com
Photography
For a thumbnail gallery of these images, click here
Images by Ben Atkins/Cyclingnews.com
Frame: Compact Geometry EST titanium frameset with full carbon rear triangle and integrated seatpost
Available sizes: S, M (as tested), L (custom sizes available)
Fork: Look HSC5
Headset: Enigma Evolution titanium
Stem: ITM Visia Carbon
Handlebars: ITM Visia Carbon
Tape/grips: Cinelli Cork
Front brake: Campagnolo Record Skeleton
Rear brake: Campagnolo Record Skeleton
Brake levers: Campagnolo Record
Front derailleur: Campagnolo Record carbon
Rear derailleur: Campagnolo Record carbon


Shift levers: Campagnolo Record carbon
Cassette: Campagnolo Record, 12-25T
Chain: Campagnolo Record
Crankset: Campagnolo Record carbon Ultra-Torque, 53/39T
Bottom bracket: Campagnolo Record Ultra-Torque
Wheelset: Fulcrum Racing 1
Front tire: Vittoria Diamante Pro Light, 700x23
Rear tire: Vittoria Diamante Pro Light, 700x23
Saddle: Selle Italia SLR Kit Carbon
Seat post: Reynolds Ouzo Pro (cut to length)