Results and Reports from Australia
Promoters wishing to submit results should send them to cyclingnews
Randwick Botany Cycling Club
Heffron Park, October 12, 2002
Smart First Win In D Grade
By Tony Horneman
Over 60 senior and junior riders registered for the weekly Randwick Botany Cycling Club criterium races at Heffron Park on Saturday.
A-Grade
Photo: © RBCC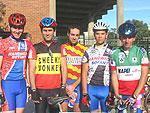 Randwick Botany's Matthew Lucas suffered a rear tyre puncture 10km from the end of the 7-rider A-Grade 36km race. Having a lap out, Lucas borrowed a rear wheel from an U17 rider. He re-joined the race to discover the borrowed wheel had a restricted junior gear cluster. With legs spinning a little quicker than usual, Lucas managed to stay with the A-Grade bunch and power home to win in a time of 53min 32sec and average speed of 40.8kph. Randwick Botany riders filled the first four places, with Clive Hammerson second, Aaron Castles third and Robert Cater fourth. George Pappas from the Dulwich Hill club finished fifth.
B-Grade sprint
Photo: © RBCC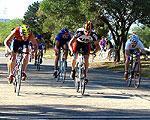 The finish of the 14-rider B-Grade 32km event was a challenging to judge for race Commissaires and judges Helen Vella and Joanne Buckton. Only half a wheel separated Michael Bolt (Bicisport) and Craig Dempsey (Eastern Suburbs) at the finish line. Bolt recorded a time of 52min 32sec and an average speed of 37kph. Third to finish was Simon Kenny (Sydney) followed by Randwick Botany riders David Jackson and Keegan Aitchison.
A 200m breakaway late in the race by Randwick Botany riders Wayne Goold and Thomas Murdoch was the highlight of the 17-rider C-Grade 28km event. The main bunch tried hard to work their way back, but only Greg Fisher from the Waratah Veterans Club was able to bridge the gap. All riders were in the final straight for the sprint to the line with Fisher claiming first place in a time of 47min 35sec and an average speed of 35.7kph. Second was Warren McDonald and third Wayne Goold.
In his first podium finish in his short cycling career, Randwick Botany's Greg Smart scored first place in the D-Grade 20km race. Smart's time was 34min 55sec with an average speed of 34.7kph. He shared the podium with Carlos Ghisolfi, from the St George Club who finished second. Ghisolfi was a member of the 1956 Italian Olympic Cycling Team in Melbourne. Third place went to Melissa Clarence.
Eleven junior riders competed in five time trial and handicap events. U17 Robert Cater final broke the 1-lap 3-minute barrier, recording a time of 2min 58sec in the first lap of a 5-lap 10km time trial. Other junior times are recorded at the end of this report.
Coverage of local cycling results can be heard on Sydney's Eastside Radio 89.7FM "GAME ON" program, hosted by Brad Cooke, each Saturday morning from 10am to 11am.
Randwick Botany Cycling Club conducts racing at Heffron Park, Maroubra NSW each Saturday throughout the year. Juniors start at 1.00pm and Seniors 2.30pm. For more information please contact the club secretary Helen Vella on 02 9667 3307 or email secretary@randwickbotanycc.com or website www.randwickbotanycc.com.
Results
A Grade, 36km
 
1 Matthew Lucas(Randwick Botany CC)                      53.32 (40.8kph)
2 Clive Hammerson (Randwick Botany CC)
3 Aaron Castles (Randwick Botany CC)
4 Robert Cater (Randwick Botany CC)
5 George Pappas (Dulwich Hill)
 
B Grade, 32km
 
1 Michael Bolt (Bicisport)                               52.32 (37kph)
2 Craig Dempsey (Eastern Suburbs)
3 Simon Kenny (Sydney)
4 David Jackson (Randwick Botany CC)
5 Keegan Aitchison (Randwick Botany CC)
 
C Grade, 28km
 
1 Greg Fisher (Waratah)                                  47.35 (35.7kph)
2 Warren McDonald (Randwick Botany CC)
3 Wayne Goold (Randwick Botany CC)
 
D Grade, 20km 
 
1 Greg Smart (Randwick Botany CC)                        34.55 (34.7kph)
2 Carlos Ghisolfi (St George)
3 Melissa Clarence (Randwick Botany CC)
 
E Grade, 14km
 
1 Kevin Malcolm (Randwick Botany CC), 33.54, 25kph
2 Kevin Blanchfield (Randwick Botany CC)
 
U17 Time Trail 10km
 
1 Robert Cater (Randwick Botany CC)                      16.10
2 Thomas Murdoch (Randwick Botany CC)                     2.27
3 Belinda Angwin (Randwick Botany CC)                     2.56
 
U15 Time Trail 8km
 
1 Mark Woodhouse (Randwick Botany CC)                    15.06
2 Tyron Bicknall (Randwick Botany CC)                     0.04
 
U13 Time Trail 6km
 
1 Luke Davison (Southern Cross) (Randwick Botany CC)     11.27
2 Tamas Bykerk (Randwick Botany CC)                       0.45
 
U11 Time Trial 4km
 
1 Jack Bennett (Bankstown Sports)                         8.02
2 Andriano Maradini (Randwick Botany CC)                  0.26
3 Sam Buckland (Randwick Botany CC)                       0.45
 
Junior Handicap 8km
 
1 Jack Bennett (Bankstown Sports)
2 Andriano Maradini (Randwick Botany CC)
3 Sam Buckland (Randwick Botany CC)