Results and Reports for June 22-28, 2002
Australia
Promoters wishing to submit results should send them to cyclingnews
Randwick Botany Cycling Club
Heffron Park, Maroubra, June 29, 2002
A not-so-pleasant Saturday afternoon
Report courtesy Tony Horneman
Stuik gets stuck into it
Photo: © Tony Horneman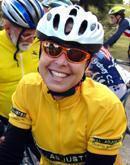 Only the keenest cyclists registered for the Randwick Botany Cycling Club 20km Handicap race at Heffron Park on Saturday, June 29. Almost gale force southerly winds, passing showers and temperatures not much more that 10-degrees celsius set the scene for a challenging race.
The 7-rider D Grade bunch set off first with new club members Emma Stuik and Ben Still riding strongly. Stuik is a keen triathlete and has joined the Randwick Botany club to improve her criterium racing skills. Ben Still broke away and rode solo for 12km until caught by the bunch. The 9-rider C Grade group stayed together until caught by A and B Grade at the 10km point.
In A Grade, Randwick Botany's Shaun Higgerson along with Liam Kelly and Stuart Campbell, both from the Eastern Suburbs club, broke away on the second lap and worked together to quickly catch the other grades. In the final sprint to the line into a stiff headwind, Kelly crossed first, 10 metres ahead of Higgerson with Campbell finishing third 30 metres behind. The race time was 32.58. The faster rider was also Kelly recording a personal time of 28.58 at an average 41.8km/h.
Randwick Botany Cycling Club conducts racing at Heffron Park, Maroubra NSW each Saturday throughout the year. Juniors start at 1.00pm and Seniors 2.30pm. For more information please contact the club secretary Helen Vella on 02 9667 3307 or website www.randwickbotanycc.com.
Results
Seniors

Handicap, 20km
 
1 Liam Kelly (Eastern Suburbs)                  32.58
2 Shaun Higgerson
3 Stewart Campbell (Eastern Suburbs)
 
Fastest: Liam Kelly                             28.58 (41.8km/h)
 
1st B Grade rider: Michael Bolt (Bicisport)     32.20 (37.5km/h)
1st C Grade rider: Keegan Aitchison             34.48 (34.8km/h)
1st D Grade rider: Ben Still                    34.59 (34.7km/h)