Results and Reports for June 15 - 21, 2002
Australia
Promoters wishing to submit results should send them to cyclingnews
Randwick Botany Cycling Club
Heffron Park, Maroubra, June 15, 2002
Cater Shines At Heffron Park
Report by Tony Horneman
Shining star
Photo: © Tony Horneman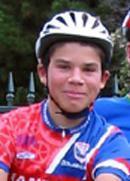 In what can only be described as a remarkable effort, Randwick Botany junior U17 rider Robert Cater managed a 400m breakaway on the last lap of the 36km A Grade events at Heffron Park on Saturday 15 June 2002. Cater cruised home to the applause of spectators, officials and other riders in a time of 59min 53sec and an average speed of 36.4kmh in windy conditions. Earlier in the race Cater attacked with 10km to go but George Pappas from Dulwich Hill club bridged the gap and took the 7-rider elite bunch with him. Then U19 Chris Jenkins made a solo break and stayed away for 6km. At the start of the last lap the bunch caught Jenkins and were all together before Cater blasted off the front with 1000m to go to take the win. Second place went to David Watkinson from the Manly Warringah club in his first A Grade race. Jenkins finished third.
Jerzy Sowa from T.K. Masters Gizycko club in northeast Poland won the 12-rider 32km B Grade event in a time of 51min 38sec and an average speed higher than A Grade at 37.6kmh. Second place getter was Sam Haeata followed by Warrick Goldsmith.
Twenty-three riders lined up for the 28km C Grade race, which saw some tactical racing in the windy conditions. The bunch slowed to almost a walking pace into the wind, forcing the stronger riders to the front. With a tailwind down the straight, speeds of 60kph where recorded as rider attempted to break up the bunch. New Randwick Botany club member Robert Allen proved too strong in the final wind assisted sprint, winning in a time of 47min 42sec. Club Communications Officer Tony Horneman came in second with U19 rider Chris Young third. Fourth place getter was Mark Davies.
Twenty D Graders competed in the 20km event, which was won by Liam Fletcher in a time of 35min 40sec and an average speed of 34kmh. Newcomer Richard Manners was second with U19 David Jenkins-Flint third.
Randwick Botany Junior Development Officer Peter Zala conducted two junior events for 10 junior riders. The best time in the 6km Time Trial was recorded by Andrew Young 10min 55sec, second best was Keegan Aitchison 10min 58sec and Pita Vea 11min 22sec. The Junior Scratch Race ran for 15 minutes plus 1 lap and was won by Liam Fletcher. Second was Keegan Aitchison with Mark Woodhouse third.
Randwick Botany Cycling Club conducts racing at Heffron Park, Maroubra NSW each Saturday throughout the year. Juniors start at 1.00pm and Seniors 2.30pm. For more information please contact the club secretary Helen Vella on 02 9667 3307 or website www.randwickbotanycc.com.
Results
Seniors

A Grade, 36km
 
1 Robert Cater, 59.53, 36.4kmh
2 David Watkinson (Manly Warringah)
3 Chris Jenkins
 
B Grade, 32km
 
1 Jerzy Sowa, (T.K. Masters Gizycko Poland), 51.38, 37.6kmh
2 Sam Haeata
3 Warrick Goldsmith
 
C Grade, 28km
 
1 Robert Allen, 47.42, 35.6kmh
2 Tony Horneman
3 Chris Young
4 Mark Davies
 
D Grade, 20km
 
1 Liam Fletcher, 35.40, 34.0kmh
2 Richard Manners
3 David Jenkins-Flint 

Juniors

Time Trial, 6km
 
1 Andrew Young, 10.55
2 Keegan Aitchison, 10.58
3 Pita Vea, 11.22
 
Scratch Race, 15min plus 1-lap
 
1 Liam Fletcher
2 Keegan Aitchison
3 Mark Woodhouse