Results and Reports from Australia
Promoters wishing to submit results should send them to cyclingnews
Randwick Botany CC
Heffron Park, August 31, 2002
Consistent Fleur Jolley is Rider of the Week
By Tony Horneman
Winners/grinners
Photo: © Tony Horneman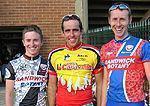 Eighty junior and senior riders registered for the weekly Randwick Botany Cycling Club criterium events at Heffron Park on Saturday 31 August 2002.
In his first A-Grade race, Randwick Botany's Joseph Sorby lined up with 11 other riders for a 36km race. "I was dropped at the half way mark" Sorby said after the race. "But there are bigger and better things to come" he added. Caravello rider Anthony Spurgeon took out the event in a time of 54min 43sec at and average speed of nearly 40kph. Second was Randwick Botany's Matthew Lucas with and impressive third place to junior star Chris Jenkins.
Twenty-four B-Graders battled it out for 32km with Randwick Botany's Patrick Jones triumphant in a time of 51min 25sec at an average speed of 37.7kph. Second was John MacKenzie (Eastern Suburbs) and Garry Oliver (Manly Warringah) third.
Randwick Botany's Wayne Goold and Richard Manners broke away early in the 28km C-Grade race. Manners returned to the 16-rider bunch leaving Goold on his own for 5 laps. Visiting Sutherland Cycling Club riders Paula Rettenmaeir, Martin Snowdon, Jim Eades, Mick De Luca and John Brennan mixed it with the local riders. In the bunch sprint, Randwick Botany's Tony Caruana finished first in a time of 48min 35sec at an average speed of 34.9kph. Eades was second with Shaun Ballesty third.
Consistent performances over recent weeks culminated in a first place for Fleur Jolley from the Eastern Suburbs Club in the 20-rider D Grade 20km event. There were plenty of attacks during the race but all were chased down successfully. This resulted in an average speed for the race of 34.8kph, about the same as the C Grade average speed. Jolley made a successful break with 8km to go. Randwick Botany's Paul Baker and Andrew Young (Eastern Suburbs) tried to bridge the gap but Jolley proved too strong and finished first in a time of 34min 47sec, 20m ahead of Baker and Young.
The E Grade event was contested over 16km with final placing Norman Jew first 32min 01sec, Julia Guinan and Kevin Blanchfield.
Junior riders competed in time trails and handicap events earlier in the day. Times and placing can be found at the end of this report.
Commissaire Helen Vella nominated Fleur Jolley from the Eastern Suburbs Cycling Club as the Eastside Radio 89.7FM / Wooly Wheels - Rider of the Week, for her performance in D Grade. Coverage of local cycling results can be heard on Eastside Radio 89.7FM "GAME ON" program, hosted by Brad Cooke, each Saturday morning from 10am to 11am.
Randwick Botany Cycling Club conducts racing at Heffron Park, Maroubra NSW each Saturday throughout the year. Juniors start at 1.00pm and Seniors 2.30pm. For more information please contact the club secretary Helen Vella on 02 9667 3307 or website www.randwickbotanycc.com.
Results
A Grade 36km
 
1 Anthony Spurgeon (Caravello)              54.43 (39.7kph)
2 Matthew Lucas (Randwick Botany CC)
3 Chris Jenkins(Randwick Botany CC)
 
B Grade 32km
 
1 Patrick Jones(Randwick Botany CC)         51.25 (37.7kph)
2 John MacKenzie (Eastern Suburbs)
3 Garry Oliver (Manly Warringah)
 
C Grade 28km
 
1 Tony Caruana (Randwick Botany CC)         48.35 (34.9kph)
2 Jim Eades (Sutherland)
3 Shaun Ballesty (Randwick Botany CC)
 
D Grade 20km
 
1 Fleur Jolley (Eastern Suburbs)            34.47 (34.8kph)
2 Paul Baker (Randwick Botany CC)
3 Andrew Young (Randwick Botany CC)
 
E Grade 16km
 
1 Norman Jew (Randwick Botany CC)           32.01 (30.3kph)
2 Julia Guinan (Randwick Botany CC)
3 Kevin Blanchfield (Randwick Botany CC)
 
U17 Time Trail 6km
 
1 Geraldine Ford (Randwick Botany CC)       12.19
 
U15 Time Trial 6km
 
1 Pita Vea (Randwick Botany CC)             10.36
2 Andrew Young (Randwick Botany CC)          0.24
3 Charlotte Cotes (Randwick Botany CC)       1.22
 
U13 Time Trail 6km
 
1 Luke Davison (Southern Cross)             12.00
2 Max Gueniev (Randwick Botany CC)           0.44
 
U11 Time Trial 4km
 
1 Andriano Maradini (Randwick Botany CC)     8.48
2 Sam Buckland (Randwick Botany CC)          0.46
 
Junior Handicap 6km
 
1 Andrew Young (Randwick Botany CC)
2 Pita Vea (Randwick Botany CC)
3 Luke Davison (Southern Cross)
4 Andriano Maradini (Randwick Botany CC)