Results and Reports for April 21-21, 2002
Australia
Promoters wishing to submit results should send them to cyclingnews
Randwick Botany Cycling Club
Maroubra, April 21, 2002
New Randwick Botany Elite Uniform Unveiled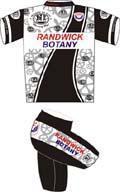 New Team Strip
Photo: © Randwick Botany CC
The new elite Randwick Botany Cycling Club uniform was unveiled after club racing at Heffron Park on Saturday 20 April 2002. Sponsored by The Newington Inn, Petersham, the eye-catching black and white skin suit, jerseys and knicks were presented to Randwick Botany elite U17 junior riders Brittany Orr, Robyn Stanning, Robert Cater and U19 rider Chris Jenkins. The new uniforms, which are based on the standard red, white and blue club design, can be seen at upcoming junior open events.
In club racing results, the 7-rider A Grade event over 36km was won by U19 rider Chris Jenkins in a time of 55min 12sec. This is the first A Grade win for Jenkins. Second place went to Aaron Castles with George Pappas from the Dulwich Hill club finishing third. Clive Hammerson suffered a puncture with 4 laps to go but was able to borrow a bike and continue in the race. Hammerson pulled a foot in the sprint and finished out of the placings. Strong performances from Mark Robertson and George Pappas kept the average speed close to 40kph, but the stunning first-time A Grade victory by Jenkins was the highlight of the dayÕs racing.
Joseph Sorby took out the 38km B Grade race by only centimetres ahead of Simon Kenny from the Sydney Cycling Club. This was the first win for Sorby in B Grade and demonstrates his continued improvement through the lower grade over the past 6 months. John Buckton was placed third in an exciting bunch sprint.
In an evenly matched 30km C Grade event, over 20 riders jockeyed for a good position leading into the final sprint. With riders 6-abreast across the track over the final 100m and traveling at nearly 60kph made judging place getters a difficult task. First home was Peter Craig in a time of 48min 54sec. Second was Paul Malzard and third Shaun Ballesty.
In his first race at Heffron Park, Waratah Veterans rider Andrew Swan found the 2km circuit demanding and the racing challenging with frequent variations in pace. Tony Aitchison and Ron Sproule maintained a healthy 34kph average speed for the 16-rider bunch. In the final sprint Warren McDonald was placed first in a time of 48min 24sec with Melissa Clarence from the Dulwich Hill club second and Ron Sproule third. The E Grade placings after 16km was Norman Jew 36min 30sec, Julia Guinan and Kevin Blanchfield.
Four junior events where conducted before the senior racing. U17 Thomas Murdoch recorded a time of 13min 46sec in the 8km time trial. The U15 Time Trial over 6km was won by Andrew Young 10min 50sec, followed by Belinda Angwin 11min 40sec and Mark Woodhouse 12min 39sec.
Times in the U11 Time Trial over 4km was Adriano Maradini 8min 56sec and Nicolas Mellick 10min 20sec. In the all-in 5-lap 10km Junior Points Race, riders had to earn points by crossing the start-finish line in the first 3 places at the end of each lap. Final points were Thomas Murdoch 13, Mark Woodhouse 10, Andrew Young 5 and Adriano Maradini 5.
Randwick Botany Cycling Club conducts racing at Heffron Park, Maroubra NSW each Saturday throughout the year. Juniors start at 1.00pm and Seniors 2.30pm. For more information please contact the club secretary Helen Vella on 02 9667 3307 or website www.randwickbotanycc.com.
Results
A Grade - 36km
 
1 Chris Jenkins               55.12
2 Aaron Castles
3 George Pappas (Dulwich Hill CC)
 
B Grade - 38km
 
1 Joseph Sorby                58.28
2 Simon Kenny (Sydney CC)
3 John Buckton
 
C Grade - 30km
1 Peter Craig                 48.54
2 Paul Malzard
3 Shaun Ballesty
 
D Grade - 20km
 
1 Warren McDonald             48.24
2 Melissa Clarence (Dulwich Hill)
3 Ron Sproule
 
E Grade - 16km
 
1 Norman Jew                  36.30
2 Julia Guinan
3 Kevin Blanchfield
 
Juniors
 
U17 Time Trial - 8km
 
1 Thomas Murdoch              13.46
 
U15 Time Trial - 6km
 
1 Andrew Young                10.50
2 Belinda Angwin              11.40
3 Mark Woodhouse              12.39 
 
U11 Time Trial - 4km
 
1 Adriano Maradini             8.56
2 Nicolas Mellick             10.20
 
Junior Points Race - 10km
 
1 Thomas Murdoch              13
2 Mark Woodhouse              10
3 Andrew Young                 5
4 Adriano Maradini             5