75th World Championships - CM
Varese, Italy, September 23-28, 2008
Main Page Results Race Details Live report Previous Race
Race 6 - September 28: Men's road race - 15 laps, 260.25km
Ballan crowned new King of Italy
Cunego second as Italy goes 1-2; Breschel third for Denmark
By Ben Atkins in Varese, with additional reporting from Gregor Brown, Daniel Friebe and Hedwig Kröner
Alessandro Ballan wins at home!
Photo ©: AFP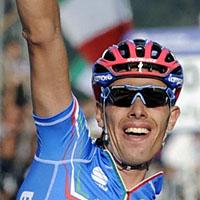 Italian Alessandro Ballan became the new World champion thanks to a solo attack from a select group in the closing stages of the 260.25km race. The 2007 Ronde van Vlaanderen winner jumped clear inside the final three kilometres in the streets of Varese to finish three seconds clear of the rest. His teammate Damiano Cunego won the sprint for the silver medal and Denmark's Matti Breschel took the bronze with third place.
The group from which Ballan had ultimately attacked was formed when Italian team-mate Davide Rebellin attacked a larger selection on the final climb of the Salita dei Ronchi with just over five kilometres to go. After a series of attacks by the other riders, Ballan countered on the flatter section in the streets of central Varese. He managed to use the same power that won him that Ronde victory last year to good effect and quickly built up a gap over the pursuers.
With teammates Cunego and Rebellin blocking the chasers behind him, Ballan was able to build a sufficient cushion to be able to sit up and celebrate his victory. Cunego won the sprint for the silver medal and Denmark's Breschel took with third place and bronze. Olympic silver medallist Rebellin came in fifth, just ahead of Ukrainian Andriy Grivko.
"Definitely [a dream come true]," said Ballan after his victory. "I did not expect this; I knew I was going strong, but to win the worlds is always difficult. We all started the race for Paolo [Bettini], we ended up three in that move."
With defending champion Bettini going for an unprecedented third victory in succession – and having announced his intention to retire after the race – the Italian plan was to work for him. "Last night we did not have a second strategy," Ballan explained, "the plan was for Paolo and it was never to be like this. He was going very well, but he had all of Spain and the other nations [marking him]."
"I have to say thanks to Paolo," he added.
"I dedicate this to all my fans, all who believed in me, my father [who died when he was a teenager -ed.], who was not here to see me," he said as he kissed his wife Daniela and older daughter Stella. "I hope he can see me from above. Also, to my baby who was recently born – her name is Azzurra – born a month and a half ago."
"I would say that it is a great result [for me] and prestigious," said silver medallist Cunego afterwards. "I am happy for Ballan; like me, he is one that is there from February to October. We were three [in the group] and we had to make the race; we did well. It is great for all of Italy, and, yes, I am happy for my place. There are still a lot of years ahead of me."
Ballan – a smiling world champion
Photo ©: AFP

"It was too strong for me," said bronze medallist Breschel, who had to fight against the combined forces of the Italians in the final group. "In the finale it was too hard with Ballan, Cunego and Rebellin – all three the strongest riders in the group. I had to take care of myself and I was hoping to have a sprint, but it was not easy today."
"On the last lap everyone was attacking," he continued. "I saw Ballan's attack, he went with a lot of speed. I did all I could... My teammate Chris-Anker [Sörensen] tried to help me close the gap to Ballan."
In fourth place – but only third Italian – Rebellin was happy with the Italian team's performance, but less so of his own, and that of some of the team's equipment. "We had a problem with the ear pieces," he explained to Cyclingnews, "and I could not hear very well, but I knew that we had 50 seconds. We were in there and we had a certain guarantee – Ale [Ballan], Damiano [Cunego] and me. I told them to give it a go on the climb, and for Ale to try on the false flat and it went well... Today I was not very brilliant."
Andriy Grivko (Ukraine) was one of the more active riders in the closing stages, but was unable to compete with the numerical superiority of the Italian in the final selection. "I was the one of my team who got into the group," he told Cyclingnews,. "I decided to try for the sprint because I did not feel so great; I worked for second or third position. The Italians dominated. It is too bad for the others, but maybe they were all tired too."
German champion Fabian Wegmann finished in fifth place in the group behind Ballan. He also found that the presence of three Italians in the closing stages was too much for him without any teammates of his own. "It was not a pure race of attrition," he said to Cyclingnews. "You had to attack constantly to be in front. It was always the same riders in the moves: Ballan, Cunego, Rebellin... they were always attacking in the last four laps and I was always with them, too. And that's how the race ended. They were really the strongest.
"Sure, if you jump with every attack then maybe you pay for it in the end," he continued. "For me, it didn't work out, but the seventh place is not that bad, is it! I can be satisfied, I think."
Despite having Cunego and Rebellin not contributing to the chase, the German still tried to catch the lone leader in the approach to the finish, but was ultimately unsuccessful. "The last three kilometres," he said, "I gave it all to bridge up to Ballan. Even if we didn't catch him, I thought that maybe in the last curve, I could come into a good position to finish with a medal. But the sprint wasn't very fast, the way we came out of that curve. In the end, I ended up seventh."
Bettini rolls to the start.
Photo ©: AFP

Nick Nuyens finished ninth – the best of a strong looking Belgian team. Despite making the final selection though, he was not satisfied with the way the finish went for himself. "I felt good on the climbs," he said. "Maybe we could have done better [than to finish ninth- ed.], but I was still there at the right moment."
"In the sprint, I got sandwiched," continued the Belgian. "I wasn't very well placed. Still, it doesn't really matter - finishing fifth or ninth makes no difference. Overall, I can't be really satisfied, though."
In twelfth place – last of the front group – Thomas Lövkvist of Sweden was exhausted after such a long race, but was satisfied with having made the final selection of the race. "I think everybody was just really, really tired," he said, "including me; I was completely knackered. I got all that I could out of my legs today.
"I finished twelfth," he continued, "I maybe could have been tenth – but not much better. I'm happy that I was at least in the front group and that I did a good ride. I guess it was one of the best one-day races I've ridden, because it was a tough course. You couldn't get into a rhythm - it was just braking, cornering, and it was difficult to get any speed. The feed-zone was also in a stupid place, and that didn't help you get any momentum."
The Spanish team had looked very strong as the race entered its closing stages, but found themselves outnumbered by the Italians, only managing to place Joaquím Rodriguez in the front group. This was much to the chagrin of three-time champion Oscar Freire who had been riding for an unprecedented fifth title.
"Italy rode a good race," he said afterwards, "but we [the Spanish team]... we were not at top level. It was important to us to not initiate breaks, but if a break went, we had to be in it. Valverde should have been in that group with Rebellin, Ballan and Cunego. But he wasn't.
"We did a very bad race," he continued. "Valverde should have been in front. Cunego, Rebellin and Ballan should not have been left to jump without him. Then, behind, nobody was pulling anymore.
Feed time for the field
Photo ©: Sirotti

"I felt good," he added, "but sometimes races are like this, just very tactical. Today was like that. Italy was simply the best team."
Giro d'Italia and Vuelta a España winner Alberto Contador could have been a key teammate to Freire, but in the closing stages found that he didn't have the strength today that has won him two Grand Tours this year. "The Italians started to attack hard," he said, "and they opened up a gap. Maybe I paid too much for my efforts. I didn't have the legs to follow at that moment."
Despite Nuyens' ninth place and presence in the lead group, the race did not go according to plan for the Belgian team; that is according to 2005 champion Tom Boonen. "It was okay that Greg Van Avermaet went in the move," he told Cyclingnews, "but then some of our guys starting going up one by one. In ten seconds the race was over for me. There was a [pre-race] agreement that everyone would ride for me. These guys should not have done that. I lost my chance for the race; if they were there we could have brought back the move."
Tiredness was also a factor for US rider Steve Cozza, who nevertheless finished in 23rd position, and best of a team which lacked most of the country's top riders. "It went okay," he said to Cyclingnews. "I'm pretty f***ed. I've never done a race so long, so I'm just glad I finished. The race was great, though. I got in with the second group!"
France's Sylvain Chavanel had looked strong as the race approached its climax, but found that, like many others that the Italian tactics were unstoppable and he missed the decisive split when it came. "The Italians played it well," he told Cyclingnews. "They were the strongest today. Ballan's one hell of a rider, who's already won some really big races. He's a great champion. He really took advantage of some favourable circumstances today - all of the big-names got caught out and finished with me, four minutes down.
"We should have reacted earlier," he said. "I'm a bit disappointed, because I felt good. The tactic was to wait as long as possible, until the last lap. But then as soon as Ballan's group went away, I knew it was all over, because everyone was looking at each other. In the main group it was just like a lap of honour for Bettini."
Stefan Schumacher worked hard but could not get in to the right move
Photo ©: Sirotti

Outgoing World champion Paolo Bettini of Italy finished in the main group some minutes later, he paid tribute to his team-mate who succeeds him in the rainbow jersey. "We were ready to make a big fight," he said, "like we like to do… Ballan is one that seldom wins, but when he wins he selects the right days.
"I knew that we had won," he said, "when I heard the roar of crowds along the road – Varese exploded – I knew we had first and second."
Bettini, in the knowledge that this was his last race, spent much of the last lap saying his goodbyes to many of his friends in the peloton. "I enjoyed every moment of the final kilometres," he said, "I took it all in."
Italian team director Franco Ballerini has now won the World championships in four of the seven years since he took on the post in 2002. He played tribute to his team, and justified his selection, which had drawn criticism as it omitted several big names.
"We kept going forward with our strategy and we also mixed the cards," the two-time winner of Paris-Roubaix said of his team's race. "At the end it worked out great. If you want to fight a war you have to have warriors who know how to fight a war."
How it unfolded
The day's break en route to TV glory
Photo ©: Sirotti

205 riders took the start under almost unblemished blue skies in the Mapei Cycling Stadium at the Varese hippodrome. The only rider listed as not starting was US rider Levi Leipheimer, but he'd announced this a few days before.
The break of the day was formed on the very first of the 15 laps when Oleg Chuzhda (Ukraine), Richard Ochoa (Venezuela) and Christian Poos (Luxembourg) broke clear. Between them they managed to build a lead of 17:43 by the end of lap six as the lethargic peloton allowed them their leave.
Into the seventh lap the Italian team moved to the front and began to steadily reduce the lead, mostly through the efforts of Marzio Bruseghin.
The trio were caught with four laps to go, with Chuzhda holding out the longest, by which time a series of attacks from a number of riders began to force a selection in the front of the peloton.
An attack from Alessandro Ballan forced a number of splits in the front of the fast diminishing main group. Most of the Italian and Spanish favourites made it into this group, but there was no team taking control and a steady stream of riders were able to join from behind.
A small group including Davide Rebellin and Damiano Cunego of Italy, and Joaquin Rodriguez of Spain succeeded in forcing a gap with just over two laps to go. A chase from the Belgian team ­ still working for 2005 champion Tom Boonen ­ pulled them back quickly.
Damiano Cunego was watchful and ended the day in second
Photo ©: Sirotti

As the pace increased on the penultimate lap, further attacks involving Ballan and Rodriguez caused yet more riders to be jettisoned out of the back of the peloton. As they took the bell a six-man group consisting of Ballan, Rodriguez, Thomas Lövkvist (Sweden), Fabian Wegmann (Germany), Matti Breschel (Denmark) and Greg Van Avermaet (Belgium) were 16 seconds clear of a chasing group and 28 clear of the main field containing defending Champion Paolo Bettini (Italy).
More and more riders managed to join the front group, including two Italians Davide Rebellin and Damiano Cunego, Andriy Grivko (Ukraine), Christian Pfannberger (Austria), Robert Gesink (Netherlands) and Nick Nuyens (Belgium). The remainder of the peloton recognised that their race was over and sat up.
On the final climb of the Ronchi, an attack from Rebellin pulled a small group clear that included Cunego and Ballan with Breschel, Rodriguez and Pfannberger. After a series of unsuccessful attacks, Ballan made his move with around two kilometres to go on the flatter section of the course in downtown Varese. With two teammates blocking in the group he was able to quickly build a lead.
Ballan passed under the one kilometre to go banner with a seemingly unassailable lead, but continued to ride until the finish line was in sight where he had plenty of time to celebrate his victory. Three seconds behind him Cunego won the sprint for the silver medal with Breschel taking third and Rebellin fourth.
Outgoing champion Paolo Bettini ­ who retires after this race ­ crossed the line in the main pack 4:53 back celebrating his teammate's victory.
Photography
For a thumbnail gallery of these images, click here
Images by Riccardo Scanferla
Images by Roberto Bettini/www.bettiniphoto.net
Images by AFP Photo
Images by Sirotti/www.sirotti.it
Results
1 Alessandro Ballan (Italy)                 6.37.30 (39.283 km/h)
2 Damiano Cunego (Italy)                       0.03
3 Matti Breschel (Denmark)                         
4 Davide Rebellin (Italy)                          
5 Andriy Grivko (Ukraine)                          
6 Joaquin Rodriguez Oliver (Spain)                 
7 Fabian Wegmann (Germany)                         
8 Christian Pfannberger (Austria)                  
9 Nick Nuyens (Belgium)                            
10 Robert Gesink (Netherlands)                     
11 Jurgen Van Goolen (Belgium)                     
12 Thomas Lövkvist (Sweden)                        
13 Chris Sørensen (Denmark)                    0.06
14 Assan Bazayev (Kazakhstan)                  0.58
15 Philippe Gilbert (Belgium)                      
16 Kristjan Fajt (Slovenia)                    1.01
17 Greg Van Avermaet (Belgium)                     
18 Gorazd Stangelj (Slovenia)                      
19 Jérôme Pineau (France)                      1.13
20 Vladimir Karpets (Russian Federation)           
21 Sergio Paulinho (Portugal)                      
22 Samuel Sanchez Gonzalez (Spain)             1.22
23 Steven Cozza (United States Of America)     1.40
24 Hrvoje Miholjevic (Croatia)                     
25 Rubens Bertogliati (Switzerland)            2.14
26 Amaël Moinard (France)                          
27 Alexandre Bazhenov (Russian Federation)     3.24
28 Paolo Bettini (Italy)                       4.53
29 Erik Zabel (Germany)                            
30 Matteo Tosatto (Italy)                          
31 Dmitriy Muravyev (Kazakhstan)                   
32 Alexander Efimkin (Russian Federation)          
33 Michael Barry (Canada)                          
34 Thomas Rohregger (Austria)                      
35 Julian Dean (New Zealand)                       
36 Janek Tombak (Estonia)                          
37 Alejandro Valverde Belmonte (Spain)             
38 Tom Boonen (Belgium)                            
39 Oscar Freire Gomez (Spain)                      
40 Gustav Larsson (Sweden)                         
41 Frank Schleck (Luxembourg)                      
41 Sergey Lagutin (Uzbekistan)                     
43 Karsten Kroon (Netherlands)                     
44 Alexandr Kolobnev (Russian Federation)          
45 Nuno Ribeiro (Portugal)                         
46 John Gadret (France)                            
47 Stefan Schumacher (Germany)                     
48 Janez Brajkovic (Slovenia)                      
49 Russell Downing (Great Britain)                 
50 Oliver Zaugg (Switzerland)                      
51 Roman Kreuziger (Czech Republic)                
52 Nicolas Vogondy (France)                        
53 Sylvain Chavanel (France)                       
54 Mikhaylo Khalilov (Ukraine)                     
55 Matthew Lloyd (Australia)                       
56 Vladimir Gusev (Russian Federation)             
57 Lars Petter Nordhaug (Norway)               5.20
58 José Mendes (Portugal)                      8.15
59 Aleksejs Saramotins (Latvia)               10.33
60 Félix Rafael Cardenas Ravelo (Colombia)         
61 Kjell Carlström (Finland)                       
62 Marcus Ljungqvist (Sweden)                      
63 Tyler Farrar (United States Of America)         
64 Borut Bozic (Slovenia)                          
65 Frank Hoj (Denmark)                             
66 Maarten Tjallingii (Netherlands)                
67 Roman Klimov (Russian Federation)          10.54
68 Hubert Krys (Poland)                            
69 Peter Kusztor (Hungary)                         
70 Carlos José Ochoa (Venezuela)                   
71 Geoffroy Lequatre (France)                      
72 Leonardo Duque (Colombia)                       
73 José Rujano Guillen (Venezuela)                 
74 Oleg Chuzhda (Ukraine)                          
75 Olegs Melehs (Latvia)                      11.01
76 Lucas Euser (United States Of America)     22.49
77 Yukiya Arashiro (Japan)                    22.50
DNS Levi Leipheimer (United States Of America)     
DNF Juan Manuel Garate Cepa (Spain)                
DNF Kevin De Weert (Belgium)                       
DNF Christopher Froome (Great Britain)             
DNF Gerald Ciolek (Germany)                        
DNF Kazuo Inoue (Japan)                            
DNF Stefan Histrov (Bulgaria)                      
DNF Juan Pablo Dotti (Argentina)                   
DNF Nebojsa Jovanovic (Serbia)                     
DNF Alexsandr Dyachenko (Kazakhstan)               
DNF Stefan Rucker (Austria)                        
DNF Volodymyr Zagorodny (Ukraine)                  
DNF Grégory Rast (Switzerland)                     
DNF Stijn Devolder (Belgium)                       
DNF Bram Tankink (Netherlands)                     
DNF Mario Aerts (Belgium)                          
DNF Yaroslav Popovych (Ukraine)                    
DNF Benjamin Noval Gonzalez (Spain)                
DNF Marzio Bruseghin (Italy)                       
DNF Andrea Tonti (Italy)                           
DNF Andy Schleck (Luxembourg)                      
DNF Alberto Contador Velasco (Spain)               
DNF Christophe Le Mevel (France)                   
DNF Ezequiel Mosquera Miguez (Spain)               
DNF Danilo Wyss (Switzerland)                      
DNF Andreas Dietziker (Switzerland)                
DNF Christian Knees (Germany)                      
DNF Michael Rogers (Australia)                     
DNF Martin Velits (Slovakia)                       
DNF Luca Paolini (Italy)                           
DNF André Greipel (Germany)                        
DNF Robert Mcewen (Australia)                      
DNF Nikita Eskov (Russian Federation)              
DNF David Loosli (Switzerland)                     
DNF Rein Taaramae (Estonia)                        
DNF Jackson Rodriguez Ortiz (Venezuela)            
DNF Philip Deignan (Ireland)                       
DNF Daryl Impey (South Africa)                     
DNF Nelson Victorino (Portugal)                    
DNF Przemyslaw Niemiec (Poland)                    
DNF Christian Meier (Canada)                       
DNF Steven De Jongh (Netherlands)                  
DNF Marc De Maar (Netherlands)                     
DNF Koos Moerenhout (Netherlands)                  
DNF William Walker (Australia)                     
DNF Zolt Der (Serbia)                              
DNF Sebastian Lang (Germany)                       
DNF Tom Stamsnijder (Netherlands)                  
DNF Marcus Burghardt (Germany)                     
DNF Vladimir Miholjevic (Croatia)                  
DNF Edvald Boasson Hagen (Norway)                  
DNF Anders Lund (Denmark)                          
DNF Trent Lowe (Australia)                         
DNF Martin Mares (Czech Republic)                  
DNF Sandy Casar (France)                           
DNF Maxime Monfort (Belgium)                       
DNF Stève Fogen (Luxembourg)                       
DNF Juan Mauricio Soler Hernandez (Colombia)       
DNF Simon Gerrans (Australia)                      
DNF Allan Davis (Australia)                        
DNF Christian Poos (Luxembourg)                    
DNF Richard Ochoa Quintero (Venezuela)             
DNF Peter Velits (Slovakia)                        
DNF Thomas Frei (Switzerland)                      
DNF Matej Stare (Slovenia)                         
DNF Matija Kvasina (Croatia)                       
DNF Gabriele Bosisio (Italy)                       
DNF Evgeny Petrov (Russian Federation)             
DNF Dominique Rollin (Canada)                      
DNF Hidenori Nodera (Japan)                        
DNF Adam Hansen (Australia)                        
DNF Frantisek Rabon (Czech Republic)               
DNF Christoff Van Heerden (South Africa)           
DNF Jempy Drucker (Luxembourg)                     
DNF Jakob Fuglsang (Denmark)                       
DNF Maciej Bodnar (Poland)                         
DNF Richard Mascaranas (Uruguay)                   
DNF Vincenzo Centrone (Luxembourg)                 
DNF Muradjan Khalmuratov (Uzbekistan)              
DNF Matthew Goss (Australia)                       
DNF Lars Ytting Bak (Denmark)                      
DNF David Millar (Great Britain)                   
DNF Benoît Joachim (Luxembourg)                    
DNF Manuel Eduardo Medina Marino (Venezuela)       
DNF Sebastian Langeveld (Netherlands)              
DNF Luis Leon Sanchez Gil (Spain)                  
DNF Ignatas Konovalovas (Lithuania)                
DNF Kevin Evans (South Africa)                     
DNF Thomas Geraint (Great Britain)                 
DNF Stephen Cummings (Great Britain)               
DNF Martin Elmiger (Switzerland)                   
DNF Rodger Aiken (Ireland)                         
DNF David Zabriskie (United States Of America)     
DNF Stéphane Auge (France)                         
DNF Franklin Chacon Colmenares (Venezuela)         
DNF Markus Zberg (Switzerland)                     
DNF Dariusz Baranowski (Poland)                    
DNF Grega Bole (Slovenia)                          
DNF Rida Cador (Hungary)                           
DNF Gergely Ivanics (Hungary)                      
DNF Laurent Didier (Luxembourg)                    
DNF Darren Lill (South Africa)                     
DNF Brent Bookwalter (United States Of America)    
DNF Gerardo Luis Fernandez (Argentina)             
DNF Yavheni Hutarovich (Belarus)                   
DNF Ruslan Podgornyy (Ukraine)                     
DNF Maros Kovac (Slovakia)                         
DNF Erki Pütsep (Estonia)                          
DNF Kurt-Asle Arvesen (Norway)                     
DNF Glen Alan Chadwick (New Zealand)               
DNF Ricardo Mestre (Portugal)                      
DNF Henry Mendez Raabe (Costa Rica)                
DNF Luis Fernando Macias Hernandez (Mexico)        
DNF Normunds Lasis (Latvia)                        
DNF Robert Hunter (South Africa)                   
DNF Matti Helminen (Finland)                       
DNF Boris Shpilevsky (Russian Federation)          
DNF Krasimir Vasilev (Bulgaria)                    
DNF Dragan Spasic (Serbia)                         
DNF Ian Stannard (Great Britain)                   
DNF Claude Wolter (Luxembourg)                     
DNF David George (South Africa)                    
DNF Markus Fothen (Germany)                        
DNF Tiago Machado (Portugal)                       
DNF Nicolas Roche (Ireland)                        
DNF Vladimir Tuychiev (Uzbekistan)                 
DNF Lukasz Bodnar (Poland)                         
DNF Marek Rutkiewicz (Poland)                      
DNF Adil Jelloul (Morocco)