Tales from the peloton, September 23, 2008
Will Eddy receive a warm welcome?
Arguably cycling's biggest star ever, Eddy Merckx has a few skeletons in the closet, some of which still haunt him to this day. Les Woodland explores one of those and the effect it has on his reception at the world championships.
A sobbing Eddy Merckx
Photo ©: AFP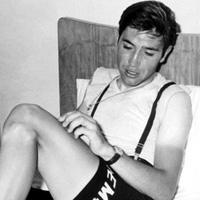 I wonder if they'll ask Eddy Merckx to stay away from the world championship. He wasn't welcome last time because of his less than blameless history, and Italians have even more reason to remember that saints have feet of clay.
Why? Because it was in the Giro that he was caught for doping and wept and sulked until - almost - he got out of it.
The scene: a hotel room on June 2, 1969. It was a Monday morning in Savona and the previous day in the Giro d'Italia, from Parma, the stage had been won by an Italian, Roberto Ballini. Merckx was unbothered because his pink leader's jersey was unchallenged - he had an advantage of a minute and 14 seconds.
For the tenth time, Merckx had filled a bottle for the doctor. Then he'd received a fresh jersey on the rostrum before talking to journalists and riding off to room 11 of the Excelsior hotel. A man called Cavelli conducted the drug test. He watched as the machine drew a line on a drum of graph paper. And he watched doubly closely when a twitch suggested a positive sample. Testing then was less dependable at the time, and suspect samples were re-tested by a different doctor. Professor Genovese was at his lab before seven the next morning, and his second opinion confirmed the first.
Race officials, then riders and finally journalists got wind of a big fish in the net. But nobody knew. Merckx had slept through it all, had his breakfast, pulled on the pink jersey then packed his case. Then Defillipis, the head of the race jury, walked into the Hotel Excelsior, asked to see Merckx's team manager, Vincenzo Giacotto, and broke the news.
"No point in going to the start," Giacotto told Merckx. "You've been disqualified. Traces of fencamfamine."
Fencamfamine was an amphetamine widely used in the peloton as Ritolin, Reactivan and Eubitol.
Faema's Eddy Merckx
Photo ©: AFP

Merckx and Giacotto were stunned. It was Merckx's agent, a former track rider called Jean van Buggenhout, who did the arm-waving to get rid of reporters and photographers. Behind him, Merckx was sobbing. He sobbed and sobbed so that pictures of his sobbing reached newspapers all over Europe. "I've passed every drugs test I have ever taken," he pleaded. "There's never been a hint of a positive. This is a plot to discredit me…" although nobody said who or how. Skulduggery gave the story another push.
Merckx wasn't another pug-faced Belgian. Merckx was handsome, tall with deep soft eyes and "dark, chiselled beauty", as one editor put it. And because of that, it was inconceivable he could be as bad as the others.
The organiser, Vincenzo Torriani, delayed the stage half an hour to persuade the Italian federation to let Merckx start. The president, Adriano Rodoni wasn't at his desk. Since nobody else could give the say-so, the Giro set off - with Felice Gimondi declining to wear the jersey he had inherited - and left Merckx weeping. Gimondi had himself been thrown out of the Giro the previous year for the same offence, thereby giving the overall victory to Merckx.
"I've never seen sporting opinion so inflamed," wrote Marcel De Leener from Belgium. "Even members of parliament have got themselves involved in the affair; the Opposition has questioned the minister of public health in the Lower Chamber, the Cabinet is in an uproar, the Foreign Minister has questioned his opposite number in Italy. In the streets, in factories, in offices, in public transport, they talk of little else."
The Palace sent the king's aircraft to bring Merckx home. Italy stuck by its suspension but the Belgians refused to agree and it took four hours for the professional section of the UCI to quash his sentence. It was a masterpiece of diplomacy and, "let us be frank, of hypocrisy too", reported Cycling.
A return to the Giro
Photo ©: AFP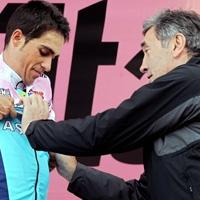 Merckx got the thumbs up because he'd never been caught before. As, indeed, is true of anybody else caught for the first time. The hearing praised the Italians and accepted the evidence. So it confirmed the drugs test. And it said the Italians were right to suspend Merckx, so it confirmed the penalty. But on the other hand, well, it was Merckx, wasn't it?
That set off a new argument. There were those who felt Merckx should have received nothing, those who believed he should have got a great deal more, and those who saw a cynical exercise to let him ride the Tour de France. The president of the Fédération Internationale du Cyclisme Professional was Félix Lévitan. Lévitan also happened to be organiser of the Tour de France.
The one advance was that cycling decided to have one set of procedures across the world and a standard list of banned drugs. Until then, riders could be suspended in one country for what was accepted in another. Merckx rode the Tour and won it for the first of five times. The headlines spoke of revenge, although for what was never clear because he had been found guilty. Although to this day, he insists he was innocent, that it was a plot.
In March 2007, he said: "In that era, the tests weren't really reliable and I was never able to defend myself. They went on to the second analysis during the night without a single member of my team being present. At that time, tests were often carried out in a doping bus, which was against the rules, but they didn't give me time [to protest]. And the test samples vanished. I volunteered to give another sample, in front of a lawyer and three journalists. We sent everything to Professor Lodi, who found nothing wrong with it. This was only a sample for a counter-test and it had no legal standing, but if it had found me positive then Faema would have fired me.
"Even now, the whole business is a weight on my shoulders. Whenever a journalist speaks to me, he invariably mentions Savona."
Photography
For a thumbnail gallery of these images, click here
Images by AFP Photo