75th World Championships - CM
Varese, Italy, September 23-28, 2008
Bettini battles for historic triple on home soil
By Gregor Brown
Italy's Paolo Bettini, 34, battles for historic triple on home soil
Photo ©: Cyclingnews.com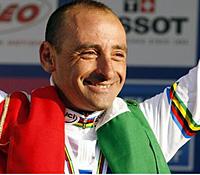 The 2008 World Championships presents Paolo Bettini the chance to make history – a never before seen three consecutive world titles. Better yet, the Italian winner in Salzburg (2006) and Stuttgart (2007) has the chance to take the rainbow jersey on home soil. Lombardia's Varese hosts the battle, the 75th edition of the World Championships beginning on September 23 with the U23 time trial and culminating with the men's road race on September 28.
The 34 year-old defending champion from La California, Livorno, is already part of an elite group of repeat winners, which includes Greg LeMond, Gianni Bugno, Freddy Maertens, Georges Ronsse, Briek Schotte and Rik Van Looy. But he will be savouring the chance to trump Alfredo Binda, Eddy Merckx, Rik Van Steenbergen and Oscar Freire, the only other triple winners, by taking his titles three years in a row.
Freire, on the other hand, will be looking to become the only rider in history to win four world championships, and he's got a strong and unified Spanish team behind him – one that includes (soon to be) triple Grand Tour champion Alberto Contador, Olympic champion Samuel Sanchez, and three-time world championship podium finisher Alejandro Valverde.
The course, however, will more than likely favour Bettini due to its similarity to the last two editions.
Based in northern Italia, Varese will host the start and finish of all six world title events from its Mapei Cycling Stadium, which is a specially converted horse track. The time trails for under-23, women and men categories will use varying routes out of the stadium and the road races for the same three categories will all use a 17.35-kilometre parcours.
The course in Varese has 237 metres of climbing over the 17.35-kilometre circuit which the men will complete 15 times, for a total of 3,555 metres over 260.25 kilometres. The big features are the kilometre-long Montello (topping out at kilometre 1.69, averaging 6.5%) and the 3.13-kilometre Ronchi (kilometre 13.79, 4.5%).
German Jens Voigt triumphed the last time the circuit was used, in the Giro d'Italia's stage 18, when the finish was placed closer to the top of Ronchi on Via Sacco. This time the riders will face an extra three kilometres – predominantly flat – before arriving to the line.
The Montello and Ronchi are tough and riders will feel their repetitions by the end of the day. However, the placement of the start/finish line will favour a rider with a quick finish and give a disadvantage to any gap made via an attack on the Ronchi. Pundits will place their bets on the fast finisher to gallop ahead of any small finishing group that arrives together at the horse track.
The favourites
Cyclingnews' tip, Spain's Alejandro Valverde
Photo ©: Cyclingnews.com
Recent Vuelta a España stage wins proved Bettini is on form and full of grinta. He took his second stage win the afternoon after Quick Step confirmed it did not need his double world champion status in its ranks.
"The Vuelta showed me that Bettini is ready and has the cards to play. The doubts that were there are gone now," said Italian team director sportif, Franco Ballerini. However, 'Il Grillo Livornese' knows his competitors will be waiting with knives in their teeth. He felt their aggression, especially from Spain's armada, at the Olympics.
"Amongst the Belgians I have the most faith in [Greg] Van Avermaet," Bettini assessed of his rivals, in an interview with La Gazzetta dello Sport. "[Oscar] Freire is always dangerous: it is already two years now that I have been saying that he can win Varese. [Alejandro] Valverde will be third, but you can't let him out of your sights. ... [Philippe] Gilbert, [Nick] Nuyens and [Sylvain] Chavanel will be very strong."
Cyclingnews thinks his top rivals will come from Spain's Alejandro Valverde, Belgium's Philippe Gilbert, France's Sylvain Chavanel and Germany's Stefan Schumacher. The course is perfect for Valverde, and teammate Sánchez will be ready to repay him for his Olympic Gold. Both Gilbert and Chavanel are on gold rush years, and they will try to push season 2008 an extra 260 kilometres.
Schumacher had quiet Vuelta a España following his dominant Tour de France. He finished third last year on his home course and knows the foreign parcours well. "I know the course; I am not just going there at random. I think it is difficult ... and it will be similar guys like in Stuttgart last year," he said.
Germany's Stefan Schumacher placed third in 2007
Photo ©: Sirotti

Outside picks for the 2008 Worlds are Bettini's teammates, Davide Rebellin and Luca Paolini, Spaniards Joaquím Rodríguez and Samuel Sánchez, Luxemburgers Fränk Schleck and Luxembourg Kim Kirchen, Belgians Greg Van Avermaet and Nick Nuyens, Russian Vladimir Gusev and USA's Levi Leipheimer.
Both Spain and Italy have teams with depth. The former has the Olympic Champion Sánchez, Alberto Contador and three-time World Champion Freire. The latter doesn't think the course is as selective as the past two years. "I don't see a specific point on the course that will decide the race," said Freire. "It depends on the weather. If it rains it will be really hard. On this course, I see it difficult for one rider to arrive solo. I think a group of 30 or 40 riders can arrive at the finish. Of course, there is always a chance that someone like Bettini attacks and ends ahead of everyone else..."
The time trial
Michael Rogers of Australia is on the record track
Photo ©: Rob Jones

The time trial course bears little in common with the road course, except for the start and finish in the Mapei stadium. The 43.7-kilometre loop around Lago di Varese will start with a short climb up Via Manin, then a flat run round, a 75-metre rise up Buguggiate and a gradual incline all the way back to the finish – 192 metres of total climbing.
The hot pick would be Swiss Fabian Cancellara, but the winner of the last two world titles and this summer's Olympics justifiably decided to ended his season early and spend time with his family. The absence will allow Australia's Michael Rogers a better chance to make history with a fourth gold medal.
Rogers, 28, will face strong competition from USA's Levi Leipheimer and David Zabriskie, Netherlands' Stef Clement, Spain's Alberto Contador and Iván Gutiérrez and Britain's David Millar.
Click here for a look at who is leading the charge amongst the women