24th Tour de l'Aude - 2.2
France, May 16-25, 2008
Main Page Results Overall standings Previous Stage Next Stage
Stage 2 - May 18: Port La Nouvelle – Port La Nouvelle (TTT), 27 km
Flying Dutchwomen take Netherlands style victory
Strong High Road ride puts Arndt into yellow
By Ben Atkins in Port La Nouvelle
Judith Arndt leads the High Road team,
Photo ©: CJ Farquharson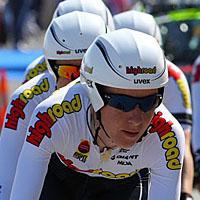 The Netherlands national team has taken victory on a blustery day in the seaside town of Port La Nouvelle in conditions that must have made them feel right at home. Starting eleventh of the eighteen teams – by virtue of their relatively lowly position in the team standings – the Dutch women set a time of 35:44.89 for the 27km, taking just over a minute out of the previous best time set by the United States.
They then had to hold their breath while the more fancied teams like Equipe Nürnberger Versicherung and Team High Road finished their rides. In the end it could hardly be closer, as Nürnberger Versicherung came in just eight seconds behind the Netherlands. High Road – defending the race the team won last year as T-Mobile – was slightly faster than its great German rivals, but still six seconds shy of the Dutch.
For Dutch national time trial champion – and World scratch race champion – Ellen Van Dijk, it was good compensation for missing out on Friday's prologue so narrowly. "A bit [surprised]," she told Cyclingnews of the Netherlands narrow defeat of favourites High Road, "but I expected that we had a good team, but I didn't know what we could do against all these top teams. We have four good time triallists, and the other girls were also good."
The Netherlands team is made up of women who normally ride for different teams, but this didn't seem to be a problem and they managed to gel together as a team. "That's a bit different," she continued, "but when you have four good riders it's not too hard to ride good as a team, because everyone can ride good individually. We rode the lap this morning and it was good so we got used to each other very well."
The strong winds of today's race were reminiscent of those experienced by the Dutch riders in their home country, which obviously didn't do the team's chances any harm. "Yeah, that was good," joked Van Dijk. "They say it was flat, but I didn't think it was flat!
The Dutch team was overjoyed
Photo ©: CJ Farquharson

"Yeah, the wind is good for the Dutch," she laughed, "we are used to the wind, and it was not so very uphill, so that's also good for us. It was only six seconds, but it was enough!"
Mirjam Melchers-Van Poppel is the leading Dutch rider on the overall classification. She too was a little surprised to have beaten the High Road team, and after a bad day yesterday is now more optimistic about the coming stages of the Tour. "Before the start," she told Cyclingnews, "I think High Road was one of our favourites, together with Nürnberger, but I thing we took a minute on the US, and I think that must be pretty good.
"Before we didn't have any idea how things [would go]," she said of the mix of riders from different teams in the Dutch squad. "Individually we are pretty good time triallists in the group, but you never know how that works out together. I was impressed and I think everybody did [her] job.
"Yesterday was definitely an off day, I don't know, it was not my day. But there's still one week to go and Tuesday we have another hard stage in the Pyrenees so I hope to make some time [up]."
Second place may have been less than the High Road team was expecting, but it was enough to put team captain Judith Arndt in the leader's yellow jersey. Despite being disappointed to have missed out on victory so narrowly, she remained her usual philosophical self. "It's not like you wish something and it happens," she said, "there are some other people and they can pedal. I think we did great in getting second. I think we did good."
Now that she has the yellow jersey that she held until the final stages last year, Arndt will certainly look to hold it right to the end this time: "We will try," she said, "and I think everybody is strong enough and everybody is committed. so I have a good feeling"
Suzanne De Goede on the front
Photo ©: CJ Farquharson

Reflecting on one aspect of their defeat, Arndt regretted that the glory of getting yellow had all been bestowed on her rather than the team that had helped her get it. "I'm sad,"; she explained, "because when you win a team time trial then everybody can go on the podium, and this is a good chance for every girl that they get on the podium, but I think second was great."
Arndt's High Road team-mate Linda Villumsen was equally philosophical about the narrow defeat by the Netherlands team. "Not disappointing," she told Cyclingnews, "I think we did a good job, and coming second - Holland has a really strong team – they have half the Flexpoint team and they're really strong so it was good."
As defending champions of the team time trial, it would have been nice for the High Road team to have successfully defended the race. "In this view it's a bit sad," she said, "but we did okay, it was good for us, somebody was better so we have to accept that."
"I think this year we [will] keep the jersey to the end," she added defiantly.
Nürnberger Versicherung captain Trixie Worrack was very upbeat about her team's third place performance. "It was pretty hard and windy, but I think it was good," she told Cyclingnews as she was warming down. "That's pretty good," she said, about the narrow deficit to High Road, Nürnberger Versicherung's big German rival.
After being part of the winning break yesterday, Worrack is now poised just twelve seconds behind yellow jersey Arndt. "That doesn't matter – the time – I think we made a big step from last year," she continued, "so it was pretty close."
"It's a long way to go," she added on the subject of the teams overall ambitions. We will see in the next days I think. We have three girls for the overall, so one will be in front!" she laughed.
Claudia Hausler is one of those three riders to which Worrack was referring, and is the current holder of the pink jersey for best young rider. "It's always nice when you win something, so of course I'm happy, and of course I want to defend it.
"I think it's more important to look for the general," she continued on the subject of preotection from her team, "together with Trixie and me, we can play together and look what's possible, that's more important."
Katherine Carroll leads the USA team
Photo ©: CJ Farquharson

"It's tough," said two-time winner Amber Neben of her United States national team's performance, "because in a team time trial it's really important to have chemistry together, and with this group of girls – we've never ridden as a group together – and having never done that, we actually did a good job. We were a bit broken at times; but we were rolling at other times too and everybody did awesome.
"I'm really proud of them," she added, "They rode hard; they rode their hearts out.
On the prospect of Nerben taking a third Tour de l'Aude title, she was defiant and optimistic. "I never give up," she laughed, "It's not over until it's over!"
Carla Ryan has been the surprise package of the race so far, and the Australian team's performance keeps her in contention for a good place overall. Unlike many of the other national teams though, she saw the inclusion of riders from the elite peloton as a positive thing for Australia's performance. "We're very fortunate, he explained, "to have such strong girls in our team racing for us, in Katie Mactier – who won the prologue the other day – and both Nicki Egyed and Lorain Graham from [Vrienden van het Platteland] so we're very lucky to have a solid team here today."
"The pink jersey [for best young rider] would be lovely," she continued, "I'm not too far away [from Claudia Hausler (Nürnberger Versicherung)] – like I say, just have to take one day at a time. Being up there on GC, just try and finish as best I can."
Despite the windy conditions on the coast presenting a lot of bike handling issues, there was only one crash during the entire race: Still inside the first few kilometres the Webcor Builders team had a coming together that caused Rebecca Much to come down. She was unhurt, but it disrupted the team considerably and the much-fancied team finished out of contention, over a minute down on the winners.
Nicole Cooke opened up a gap on the other two
Photo ©: CJ Farquharson

The unpredictable nature of the wind also presented the teams with equipment choice issues. Most teams opted for shallower section front wheels than normal to avoid dangerous and blustery crosswinds from pushing riders off line. Many also opted to eschew the almost ubiquitous rear disc, including the entire Great Britain team – save for team captain Nicole Cooke. Team Swift – who started first and after yesterday's stage have no overall contenders in the race – elected to stay safe and all six riders used their usual road machines. Unsurprisingly they came in last, almost five minutes down.
With restrictions placed on how much can be lost by each team, the time gaps in the time trial result will not translate into time lost on the overall classification. However, after yesterday's breakaway stage and today's strong performance by both Team High Road and Equipe Nürnberger Versicherung, Arndt and team-mate Luise Keller, plus Worrack and Hausler sit comfortably poised as the race approaches the tough stages in the week ahead.
How it unfolded
Third to set off the United States national team – including two-time winner Amber Neben came home with a scorching time of 36:45.59, taking over two minutes off the previous best set by the Fenixs team.
For a long time it looked as though the US time might hold as strong outfits like Bigla, Menikini-Selle Italia and DSB Bank came close but no one else seemed capable of breaking the 37-minute barrier.
Finally, the Netherlands national team – led by Neben's Flexpoint team-mate Mirjam Melchers Van Poppel and Dutch time trial champion Ellen Van Dijk – came home after starting eleventh and recorded 35:44.89, knocking over a minute off the Americans' time.
With the teams starting five minutes apart, the Dutch had to endure a long wait for favourites like Webcor Builders and Equipe Nürnberger Versicherung, and High Road to come in.
Unfortunately, a crash in the first kilometres from Webcor Builders' Rebecca Much put paid to its chances and they finished over a minute behind.
Equipe Nürnberger Versicherung pushed all the way to the line but their efforts were not quite good enough as it finished in 35.52.82, just over eight seconds behind the Netherlands.
Team High Road came flying in next, but like its German rivals, the effort proved to be just short as they recorded 35:50.43, six seconds off the Dutch time.
The Great Britain team was the last to start and finish, but its time of 37:05.87 was only good enough for fifth place, confirming the Netherlands' victory.
Despite missing out on the stage win, her superior position in the overall classification means that Judith Arndt (High Road) takes the leader's yellow jersey with Trixie Worrack (Nürnberger Versicherung) just 12 seconds behind.
Photography
For a thumbnail gallery of these images, click here
Images by CJ Farquharson/WomensCycling.net
Results

1 Ellen Van Dijk (Ned) Dutch National Team                  35.44 (45.33 km/h)
2 Regina Bruins (Ned) Dutch National Team
3 Mirjam Melchers (Ned) Dutch National Team
4 Loes Gunnewijk (Ned) Dutch National Team                   0.03
5 Ina Teutenberg (Ger) Team High Road Women                  0.06
6 Judith Arndt (Ger) Team High Road Women
7 Linda Villumsen (Ger) Team High Road Women
8 Luise Keller (Ger) Team High Road Women
9 Alexis Rhodes (Aus) Team High Road Women
10 Charlotte Becker (Ger) Equipe Nürnberger Versicherung     0.08
11 Trixi Worrack (Ger) Equipe Nürnberger Versicherung
12 Edita Pucinskaite (Ltu) Equipe Nürnberger Versicherung
13 Claudia Hausler (Ger) Equipe Nürnberger Versicherung
14 Amber Neben (USA) USA National Team                       0.40
15 Alison Powers (USA) USA National Team
16 Amber Rais (USA) USA National Team
17 Nicole Cooke (GBr) Great Britain National Team            0.50
18 Emma Pooley (GBr) Great Britain National Team
19 Jessica Allen (GBr) Great Britain National Team
20 Christine Thorburn (USA) Webcor Builders Cycling Team     1.00
21 Alexandra Wrubleski (Can) Webcor Builders Cycling Team
22 Erinne Willock (Can) Webcor Builders Cycling Team
23 Susanne Ljungskog (Swe) Menikini - Selle Italia           1.05
24 Miho Oki (Jpn) Menikini - Selle Italia
25 Nathalie Bates (Aus) Menikini - Selle Italia
26 Zulfia Zabirova (Kaz) Bigla Cycling Team                  1.10
27 Noemie Cantele (Ita) Bigla Cycling Team
28 Andrea Graus (Aut) Bigla Cycling Team
29 Monica Holler (Swe) Bigla Cycling Team
30 Eva Lutz (Ger) Equipe Nürnberger Versicherung             1.14
31 Adrie Visser (Ned) Team DSB Bank                          1.15
32 Andrea Bosman (Ned) Team DSB Bank
33 Angela Brodtka (Ger) Team DSB Bank
34 Tina Liebig (Ger) Team DSB Bank
35 Katherine Carroll (USA) USA National Team                 1.17
36 Magali Le Floch (Fra) French National Team                1.20
37 Maryline Salvetat (Fra) French National Team
38 Thomas Béatrice (Fra) French National Team
39 Christelle Ferrer-Bruneau (Fra) French National Team
40 Vera Koedooder (Ned) Lotto-Belisol Ladiesteam             1.25
41 Sophie Goor (Bel) Lotto-Belisol Ladiesteam
42 Catherine Delfosse (Bel) Lotto-Belisol Ladiesteam
43 Lieselot Decroix (Bel) Lotto-Belisol Ladiesteam
44 Sara Carrigan (Aus) Lotto-Belisol Ladiesteam
45 Emma Johansson (Swe) AA-Drink Cycling Team                1.30
46 Irene Van Den Broek (Ned) AA-Drink Cycling Team
47 Laure Werner (Bel) AA-Drink Cycling Team
48 Latoya Brulee (Ger) AA-Drink Cycling Team
49 Vicki Whitelaw (Aus) Australian National Team             1.35
50 Katie Mactier (Aus) Australian National Team
51 Nikki Egyed (Aus) Australian National Team
52 Lorain Graham (Aus) Australian National Team
53 Amanda Spratt (Aus) Australian National Team
54 Carla Ryan (Aus) Australian National Team
55 Julia Martisova (Rus) Gauss RDZ Ormu                      1.40
56 Tania Belvederesi (Ita) Gauss RDZ Ormu
57 Tatiana Guderzo (Ita) Gauss RDZ Ormu
58 Diana Ziliute (Ltu) Lithuanian National Team              1.45
59 Rasa Polikeviciute (Ltu) Lithuanian National Team
60 Erika Vilunaite (Ltu) Lithuanian National Team
61 Sanne Van Paassen (Ned) Dutch National Team               1.48
62 Martine Bras (Ned) Dutch National Team
63 Sharon Van Essen (Ned) Team DSB Bank                      1.49
64 Tatiana Antoshina (Rus) Fenixs                            1.50
65 Natalia Boyarskaya (Rus) Fenixs
66 Nadezda Vlasova (Rus) Fenixs
67 Bianca Knopfle (Ger) German National Team                 1.55
68 Elke Gebhardt (Ger) German National Team
69 Romy Kasper (Ger) German National Team
70 Corinna Thumm (Ger) German National Team
71 Toni Bradshaw (NZl) Swift Racing                          2.00
72 Marina Duvnjak (NZl) Swift Racing
73 Debby Van Den Berg (Ned) Swift Racing
74 Emma Davies-Jones (GBr) Swift Racing
75 Helen Wyman (GBr) Swift Racing
76 Gabriella Day (GBr) Swift Racing
77 Sharon Laws (GBr) Great Britain National Team             2.16
78 Marieke Van Wanroij (Ned) Team DSB Bank                   2.17
79 Brooke Miller (USA) USA National Team                     2.30
80 Christina Ruitter (USA) USA National Team
81 Elodie Touffet (Fra) Gauss RDZ Ormu                       2.32
82 Paulina Brzezna (Pol) AA-Drink Cycling Team               2.33
83 Agne Bagdonaviciute (Ltu) Lithuanian National Team        3.06
84 Jolanta Polikeviciute (Ltu) Lithuanian National Team
85 Urte Juodvalkyte (Ltu) Lithuanian National Team
86 Jennifer Hohl (Swi) Bigla Cycling Team                    3.24
87 Silvia Valsecchi (Ita) Menikini - Selle Italia            3.55
88 Olga Slyvisareva (Rus) Menikini - Selle Italia
89 Virginia Hennig (Ger) German National Team
90 Marlen Johrend (Ger) German National Team                 3.56
91 Veronica Andreasson (Swe) Bigla Cycling Team              4.03
92 Anke Wichmann (USA) Team High Road Women                  4.25
93 Florence Girardet (Fra) French National Team              4.54
94 Emilie Blanquefort (Fra) French National Team
95 Emma Mackie (Aus) Lotto-Belisol Ladiesteam                5.05
96 Suzanne De Goede (Ned) Equipe Nürnberger Versicherung     5.08
97 Martina Corazza (Ita) Gauss RDZ Ormu                      5.09
98 Marlijn Binnendijk (Ned) AA-Drink Cycling Team            5.38
99 Catherine Hare (GBr) Great Britain National Team          6.41
100 Leda Cox (GBr) Great Britain National Team
101 Sigrid Corneo (Slo) Menikini - Selle Italia              7.07
102 Rebecca Much (USA) Webcor Builders Cycling Team          7.10
103 Gina Grain (Can) Webcor Builders Cycling Team
104 Amy Dombroski (USA) Webcor Builders Cycling Team
105 Eleonora Suelotto (Ita) Gauss RDZ Ormu                   9.54
DNF Suzie Godart (Lux) Fenixs
 
General classification after stage 2
 
1 Judith Arndt (Ger) Team High Road Women                 3.56.00
2 Trixi Worrack (Ger) Equipe Nürnberger Versicherung         0.12
3 Nicole Cooke (GBr) Great Britain National Team             0.40
4 Susanne Ljungskog (Swe) Menikini - Selle Italia            0.53
5 Claudia Hausler (Ger) Equipe Nürnberger Versicherung       0.56
6 Luise Keller (Ger) Team High Road Women                    0.57
7 Amber Neben (USA) USA National Team                        1.16
8 Christine Thorburn (USA) Webcor Builders Cycling Team      1.40
9 Sharon Laws (GBr) Great Britain National Team              2.21
10 Carla Ryan (Aus) Australian National Team                 2.34
11 Mirjam Melchers (Ned) Dutch National Team
12 Regina Bruins (Ned) Dutch National Team                   2.46
13 Linda Villumsen (Ger) Team High Road Women                2.47
14 Edita Pucinskaite (Ltu) Equipe Nürnberger Versicherung    3.00
15 Emma Pooley (GBr) Great Britain National Team             3.38
16 Jessica Allen (GBr) Great Britain National Team           3.48
17 Alexandra Wrubleski (Can) Webcor Builders Cycling Team    3.49
18 Erinne Willock (Can) Webcor Builders Cycling Team         3.56
19 Noemie Cantele (Ita) Bigla Cycling Team                   3.59
20 Maryline Salvetat (Fra) French National Team              4.00
21 Eva Lutz (Ger) Equipe Nürnberger Versicherung             4.04
22 Andrea Bosman (Ned) Team DSB Bank                         4.11
23 Vicki Whitelaw (Aus) Australian National Team             4.17
24 Emma Johansson (Swe) AA-Drink Cycling Team                4.20
25 Julia Martisova (Rus) Gauss RDZ Ormu                      4.23
26 Tina Liebig (Ger) Team DSB Bank                           4.25
27 Irene Van Den Broek (Ned) AA-Drink Cycling Team           4.27
28 Lorain Graham (Aus) Australian National Team
29 Sophie Goor (Bel) Lotto-Belisol Ladiesteam                4.34
30 Lieselot Decroix (Bel) Lotto-Belisol Ladiesteam           4.37
31 Natalia Boyarskaya (Rus) Fenixs                           4.46
32 Bianca Knopfle (Ger) German National Team                 4.50
33 Nikki Egyed (Aus) Australian National Team                6.05
34 Catherine Delfosse (Bel) Lotto-Belisol Ladiesteam         6.06
35 Jolanta Polikeviciute (Ltu) Lithuanian National Team
36 Ina Teutenberg (Ger) Team High Road Women                 6.16
37 Tatiana Antoshina (Rus) Fenixs                            6.19
38 Rasa Polikeviciute (Ltu) Lithuanian National Team         6.26
39 Charlotte Becker (Ger) Equipe Nürnberger Versicherung
40 Erika Vilunaite (Ltu) Lithuanian National Team            6.33
41 Zulfia Zabirova (Kaz) Bigla Cycling Team                  7.29
42 Sara Carrigan (Aus) Lotto-Belisol Ladiesteam              7.48
43 Christelle Ferrer-Bruneau (Fra) French National Team
44 Diana Ziliute (Ltu) Lithuanian National Team              7.59
45 Miho Oki (Jpn) Menikini - Selle Italia                    8.07
46 Elke Gebhardt (Ger) German National Team                  8.16
47 Tatiana Guderzo (Ita) Gauss RDZ Ormu                      8.26
48 Corinna Thumm (Ger) German National Team                  8.31
49 Romy Kasper (Ger) German National Team                    8.54
50 Elodie Touffet (Fra) Gauss RDZ Ormu                       9.20
51 Suzanne De Goede (Ned) Equipe Nürnberger Versicherung     9.42
52 Alexis Rhodes (Aus) Team High Road Women                  9.55
53 Loes Gunnewijk (Ned) Dutch National Team                 10.02
54 Alison Powers (USA) USA National Team                    10.26
55 Amber Rais (USA) USA National Team                       10.42
56 Nathalie Bates (Aus) Menikini - Selle Italia             11.10
57 Katherine Carroll (USA) USA National Team                11.12
58 Monica Holler (Swe) Bigla Cycling Team                   11.16
59 Andrea Graus (Aut) Bigla Cycling Team
60 Adrie Visser (Ned) Team DSB Bank
61 Angela Brodtka (Ger) Team DSB Bank                       11.28
62 Magali Le Floch (Fra) French National Team               11.35
63 Amanda Spratt (Aus) Australian National Team             11.38
64 Latoya Brulee (Ger) AA-Drink Cycling Team                11.45
65 Laure Werner (Bel) AA-Drink Cycling Team                 11.48
66 Tania Belvederesi (Ita) Gauss RDZ Ormu                   11.55
67 Martine Bras (Ned) Dutch National Team                   12.05
68 Sharon Van Essen (Ned) Team DSB Bank                     12.06
69 Helen Wyman (GBr) Swift Racing                           12.18
70 Toni Bradshaw (NZl) Swift Racing                         12.30
71 Paulina Brzezna (Pol) AA-Drink Cycling Team              12.47
72 Jennifer Hohl (Swi) Bigla Cycling Team                   13.39
73 Ellen Van Dijk (Ned) Dutch National Team                 14.08
74 Veronica Andreasson (Swe) Bigla Cycling Team             14.16
75 Virginia Hennig (Ger) German National Team               14.25
76 Martina Corazza (Ita) Gauss RDZ Ormu                     15.26
77 Emma Mackie (Aus) Lotto-Belisol Ladiesteam               15.37
78 Katie Mactier (Aus) Australian National Team             15.42
79 Thomas Béatrice (Fra) French National Team               15.57
80 Vera Koedooder (Ned) Lotto-Belisol Ladiesteam            15.59
81 Sanne Van Paassen (Ned) Dutch National Team              16.18
82 Brooke Miller (USA) USA National Team                    16.55
83 Christina Ruitter (USA) USA National Team                16.56
84 Marieke Van Wanroij (Ned) Team DSB Bank                  17.00
85 Catherine Hare (GBr) Great Britain National Team         17.02
86 Debby Van Den Berg (Ned) Swift Racing                    17.03
87 Rebecca Much (USA) Webcor Builders Cycling Team          17.09
88 Leda Cox (GBr) Great Britain National Team               17.25
89 Sigrid Corneo (Slo) Menikini - Selle Italia              17.39
90 Marlen Johrend (Ger) German National Team                18.40
91 Anke Wichmann (USA) Team High Road Women                 18.53
92 Silvia Valsecchi (Ita) Menikini - Selle Italia           21.16
93 Gina Grain (Can) Webcor Builders Cycling Team            22.02
94 Emma Davies-Jones (GBr) Swift Racing                     22.38
95 Nadezda Vlasova (Rus) Fenixs                             22.54
96 Marina Duvnjak (NZl) Swift Racing                        22.58
97 Marlijn Binnendijk (Ned) AA-Drink Cycling Team           23.02
98 Gabriella Day (GBr) Swift Racing                        23.10
99 Agne Bagdonaviciute (Ltu) Lithuanian National Team       23.42
100 Olga Slyvisareva (Rus) Menikini - Selle Italia          24.49
101 Florence Girardet (Fra) French National Team            25.45
102 Emilie Blanquefort (Fra) French National Team           25.56
103 Urte Juodvalkyte (Ltu) Lithuanian National Team         25.58
104 Amy Dombroski (USA) Webcor Builders Cycling Team        30.29
105 Eleonora Suelotto (Ita) Gauss RDZ Ormu                  33.46
 
Young rider classificatiton
 
1 Claudia Hausler (Ger) Equipe Nürnberger Versicherung    3.56.56
2 Carla Ryan (Aus) Australian National Team                  1.38
3 Regina Bruins (Ned) Dutch National Team                    1.50
4 Linda Villumsen (Ger) Team High Road Women                 1.51
5 Jessica Allen (GBr) Great Britain National Team            2.52
6 Alexandra Wrubleski (Can) Webcor Builders Cycling Team     2.53
7 Lieselot Decroix (Bel) Lotto-Belisol Ladiesteam            3.41
8 Bianca Knopfle (Ger) German National Team                  3.54
9 Tatiana Guderzo (Ita) Gauss RDZ Ormu                       7.30
10 Corinna Thumm (Ger) German National Team                  7.35
11 Romy Kasper (Ger) German National Team                    7.58
12 Alexis Rhodes (Aus) Team High Road Women                  8.59
13 Monica Holler (Swe) Bigla Cycling Team                   10.20
14 Amanda Spratt (Aus) Australian National Team             10.42
15 Latoya Brulee (Ger) AA-Drink Cycling Team                10.49
16 Jennifer Hohl (Swi) Bigla Cycling Team                   12.43
17 Ellen Van Dijk (Ned) Dutch National Team                 13.12
18 Virginia Hennig (Ger) German National Team               13.29
19 Emma Mackie (Aus) Lotto-Belisol Ladiesteam               14.41
20 Sanne Van Paassen (Ned) Dutch National Team              15.22
21 Rebecca Much (USA) Webcor Builders Cycling Team          16.13
22 Marlen Johrend (Ger) German National Team                17.44
23 Marlijn Binnendijk (Ned) AA-Drink Cycling Team           22.06
24 Gabriella Day (GBr) Swift Racing                        22.14
25 Agne Bagdonaviciute (Ltu) Lithuanian National Team       22.46
26 Florence Girardet (Fra) French National Team             24.49
27 Emilie Blanquefort (Fra) French National Team            25.00
28 Urte Juodvalkyte (Ltu) Lithuanian National Team          25.02
29 Amy Dombroski (USA) Webcor Builders Cycling Team         29.33
30 Eleonora Suelotto (Ita) Gauss RDZ Ormu                   32.50
 
Teams classification
 
1 Team High Road Women                                   11.51.23
2 Equipe Nürnberger Versicherung                             0.40
3 British National Team                                      3.32
4 Webcor Builders Cycling Team                               7.40
5 Australia                                                  8.50
6 Netherlands                                               11.42
7 Lotto-Belisol Ladiesteam                                  12.45
8 Lithuania                                                 17.00
9 Team DSB Bank                                             18.00
10 Menikini - Selle Italia                                  18.17
11 AA-Drink Cycling Team                                    18.32
12 Gauss RDZ Ormu                                           19.50
13 US National Team                                         19.57
14 Bigla Cycling Team                                       20.57
15 France                                                   21.32
16 Germany                                                  23.41
17 Fenixs                                                   34.24
18 Swift Racing                                             45.50