23rd Tour de l'Aude - 2.1
France, May 18-27, 2007
Neben tries for record three Tour l'Aude wins
Neben and Ljungskog celebrate in 2006
Photo ©: CJ Farquharson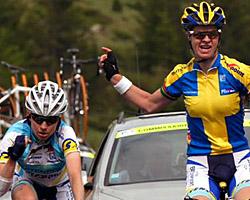 American Amber Neben returns to the Tour l'Aude to shoot for a record three consecutive wins. After squeaking out the win in the 2005 edition by just one second over German Trixi Worrack, Neben held on to win the 2006 Tour l'Aude by only 14 seconds over her team-mate, multiple World Champion Susanne Ljungskog. Neben credited both of her wins to a strong team effort, and she returns with several of the same women who helped her to victory in the past two editions, including Ljungskog and Dutch woman Mirjam Melchers.
The Tour l'Aude is arguably the most difficult women's stage race on the circuit, and this year's edition is no different. The 10 day, 902 kilometre race begins with a short, flat prologue through the streets of Gruissan, and then immediately hits the hills, taking in the category one Col du Pas de l'Escale midway through stage one.
That will certainly wake up the legs for the stage two team time trial in Argèles sur Mer. At 41.6 kilometres in length, this stage is probably the longest team time trial the women will ever face, and will be decisive for the overall classification. This will help World Cup leader Nicole Cooke, who is a strong time trialist, having placed fifth in last year's World Championship and has fourth place finisher Priska Doppmann on her Raleigh Lifeforce Creation squad.
A crowded room watches
Photo ©: CJ Farquharson

Stage three heads back into some hilly terrain, but with a long, downhill to the finish in Lezignan Corbières, should be the domain of sprinters such as World Champion Marianne Vos or T-Mobile's Ina Teutenberg. Stage four, with three short categorized climbs will be a warm up for the challenging stage five which has two long climbs. After a relatively gentle stage six, the seventh stage kicks up into some seriously hard hills, with two category one climbs and an uphill finish guaranteed to put a sting in the legs.
The eighth stage is a split day, with a hard 55 kilometre morning stage containing two category one mountains, but perhaps the most difficult stage will be 8b, where the women will only have a few hours to recover before they set out to conquer the 17 kilometre hors categorie Col du Garavel. Finally, the exhausting week ends with a short but tough final stage of just 68 kilometres with three categorised climbs.
Two time winner Judith Arndt (T-Mobile)
Photo ©: Kristy Scrymgeour

The 2007 edition of this race looks to favour a strong climber with a solid team of time trialists to back her up, and that could very well describe T-Mobile's Judith Arndt. The winner of the 2002 and 2003 Tours, Arndt will have American Kim Anderson and Dane Linda Villumsen, both solid time trialists, as well as German Susanne de Goede, Ina Teutenberg and Anke Wichmann behind her.
Cooke will certainly be in with a chance, but will have to contend with Neben's Flexpoint team and that of Equipe Nürnberger Versicherung. 2004 winner Trixi Worrack has an in-form Edita Pucinskaite, winner of the Tour de Berne World Cup to back her up. But none of the teams should count out Marianne Vos, who has shown superb form as of late, having won the the Omloop van Borsele and the Giro di San Marino.
Photography
For a thumbnail gallery of these images, click here
Images by CJ Farquharson/WomensCycling.net
Mountains
Stage 1
Col du Pas de l'Escale (Cat. 1) km 67.5 - 4 km
Côte de Treilles (Cat. 3) km 85.5 - 1.3 km
Stage 3
Col de Villerouge (Cat. 2) km 68.5 - 4 km
Stage 4
Côte de Labécéde Lauragais (Cat. 2) km 27 - 0.9 km
Côte de Fanjeaux (Cat. 2) km 77.5 - 1.5 km
Côte de la Pierre Levée (Cat. 3) km 88.5 - 1.5 km
Stage 5
Col du Calvaire (Hors catégorie) km 29 - 5 km
Col de la Llose (Hors catégorie) km 80 - 10 km
Stage 7
Col de la Serpent (Cat. 3) km 19.5 - 1.5 km
Col de la Fage (Cat. 1) km 69 - 5 km
Col du Paradis (Cat. 1) km 88 - 6.5 km
Stage 8a
Col de Brenac (Cat. 1) km 10.8 - 5 km
Col de Saint Louis (Cat. 1) km 35 - 8 km
Stage 8b
Col du Garavel (Hors catégorie) km 17 - 11.5 km
Stage 9
Côte du Villar (Cat. 3) km 6.5 - 1.2 km
Col du Pas de la Crousette (Cat. 2) km 18 - 2.1 km
Côte de Villardebelle (Cat. 1) km 27 - 2 km