An interview with Ina-Yoko Teutenberg, June 7, 2008
Aiming for Triple Crown triple
Ina-Yoko Teutenberg
Photo ©: Team High Road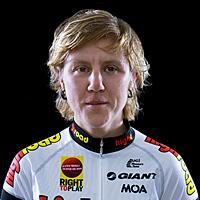 The name Ina-Yoko Teutenberg has become synonymous with winning in the world of women's cycling. The Tom Boonen of the female peloton is virtually unbeatable when it comes to a sprint, and she demonstrated this by once again taking back to back wins in the first two races of the Commerce Bank Triple Crown. Cyclingnews' Laura Weislo had a chat with the German on the eve of her defense of the Liberty Classic.
Reading the down the list of palmares that Ina Teutenberg has accumulated since her first senior year in 1993 takes quite a few taps of the page down key on the computer. The Düsseldorf native displayed her talent at an early age by winning the Junior World Championships in 1990 when she wasn't yet 16 years old.
Being the younger sister of two professional racers, Lars and Sven, she had strong support at home during her formative years as a bike racer. "I started racing at age six," Teutenberg explained. "In Germany, there were races within a couple hours drive about every week. We had to race with the boys, but in the years before puberty we were fairly evenly matched."
That early start prepared Teutenberg for her long career in cycling, which included more than a few trips to the United States - a country which would become her main residence. Now living in San Luis Obispo near her Team High Road headquarters, Teutenberg took her first trips to America to race the now defunct Women's Challenge in Idaho. That race helped solidify her reputation as an unshakable sprinter and consummate team-mate who was equally talented at taking stage wins and playing super-domestique.
"Philly is a different experience for women's racing ... we don't see crowds like this anywhere in the world."
-Ina-Yoko Teutenberg says this weekend's race is one of her favourites
The 34 year-old has been piling on the wins in recent years, taking two World Cups in 2006, and stages of the Tour de l'Aude, Tour of New Zealand, Holland Ladies Tour and the women's Giro d'Italia. A large portion of her victories, however, have come in the United States. In 2005, she took her first win in Philadelphia at the Liberty Classic.
The fans respond to Ina Yoko-Teutenburg (High Road), who offer her congratulations
Photo ©: Jon Devich

The latter has become Teutenberg's favourite race on the calendar, and not just because she's won it twice. "Philly is a different experience for women's racing - aside from the World Championships, we don't see crowds like this anywhere in the world," she said. "You get goose bumps going up the Manayunk Wall."
The million-strong crowd adds extra motivation to get up the kilometre long climb, but the ultimate prize is a major driving force to get to the finish line first. "The money is very good. It used to be $12,500 to win," Teutenberg recalled. While the winner now gets just $5,000, but add in the tallies for winning Allentown and Reading, and it is still a sizeable purse for women.
"We get more for winning here than we did at the Tour de l'Aude - and that was a 10 day stage race," the German revealed.
Teutenberg is now poised to become the first rider to take all three Triple Crown races in consecutive years. Even with that prospect looming overhead, the Team High Road rider seems quite relaxed and calm about the race. After all, she showed in Allentown and Reading that even without team-mates she is capable of out-smarting the other teams.
Ina-Yoko Teutenberg (Team High Road) claims the second Triple Crown race this week
Photo ©: Jon Devich

"Sunday is the most important race for us," said Teutenberg. "So now I really have to concentrate on that. Luckily my team-mates will join me for that after finishing Tour of Montreal.
"For sure I want to win on Sunday, but I don't get too upset if I don't win - unless I make a big mistake - then I get angry with myself," she added.
Teutenberg will once again face her main sprint competition in fellow German Regina Schleicher (Equipe Nuernberger), as well as a host of domestic sprinters like Tina Pic and Laura Van Gilder.
On Sunday the field will be considerably more stacked as riders who are fresh from the Tour du Grand Montreal bring race-ready legs. Working in her favour is the fact that her High Road squad pulled off a hard-fought victory with Judith Arndt taking the overall and three stages.
Teutenberg also has a not-so-secret weapon: the guidance of director sportif Petra Rossner. A former competitor, Rossner won this race seven times during her career. "I've won twice, but I'm never going to break Petra's record!" Teutenberg said.
The American riders have been trying to make it hard for Teutenberg, with little success
Photo ©: Jon Devich

Many riders have been extending their careers to take part in the Olympic Games, but despite Teutenberg's often-demonstrated ability to get uphill fast, she doesn't expect to be chosen for the Beijing, China squad.
"There's only about five percent chance that I'll go to Beijing. There is a lot of politics involved," she sighed. "But the reality is there are only three spots. Obviously Judith will get a pick - she's won two World Cups. Hanka Kupfernagel qualified for the time trial, and then there's Trixi Worrack.
"I was planning on retiring at the end of this year - I'm too old to be away from home for three months," she added. "It's one thing to live the single lifestyle racing around Europe, but relationship-wise, it's hard."
"But depending on how it works out I might race another year or two," Teutenberg concluded.