Commerce Bank Triple Crown
USA, June 3-10, 2007
Racers ready to ring Liberty Bell in Philly
By Mark Zalewski, North American Editor
Ah, June! Bring on the warm weather and let the kids out of school. Oh, and let's sit on a 17% grade, drinking beer and watch the best cyclists in America suffer up said 17% gradient ten times -- handing the ones off the back a beer on the last lap. Yes, it is time once again for Philly week -- now known as the Commerce Bank Triple Crown.
Last years men's field
Photo ©: Jon Devich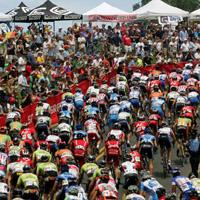 This second year of the current incarnation is lining up to put the racing back to the standards that made the entire twenty-three year history of the race infamous. One indication of this is the return of more ProTour teams -- two this year with CSC and T-Mobile sending squads across the Atlantic. Of course, both of these teams have major sponsor interests and riders from domestic squads, but it is still a doubling of the amount of ProTour teams from last year when the series was fighting to stay alive. By all indications, Philly-week is out of the woods and and ready to go.
Lancaster will again kick-off the series with it's technical and fast course, with only a small climb through a city park on the back half of the course before a downhill run into the finish. Reading is the big change for 2007, with the final three laps going up the steep Mt. Penn before bombing back down into the finish -- ensuring quite a different selection of riders than last year. Finally, Philadelphia will feature the well-known and feared Manayunk Wall -- ten times up for the men and four for the women in the Liberty Classic.
As mentioned above, the two ProTour teams have riders on their squads that used races like Philly to punch their ticket into the top level of cycling. Greg Henderson (T-Mobile) had a breakout series last year, winning both the Reading and Philly races (and likely not winning in Lancaster only because he was racing in Oregon on the same day!) Hendey makes his return this year to race the entire series, looking to make it an official triple crown.
JJ Haedo (Team CSC) wins in Köln
Photo ©: AFP

Another former domestic professional that used big races like this to put his racing resume on top of the pile is sprinter Juan Jose Haedo (Team CSC). The multiple stage winner at the Tour of California is as fast as ever, and with a hors categorie European win under his belt now.
On the domestic side, Sergey Lagutin (Navigators Insurance) is back as the triple crown defending champion, but wanting to do it this year with a race win instead of last year's second, third and sixth placings. However, like Haedo, Lagutin comes into the races with a European win as well as other high finishes across the pond.
The other big domestic guns will be firing as well, trying to look their best on one of the biggest cycling stages in the states. Health Net-Maxxis has a well-rounded squad on hand, with new Aussie acquisition Rory Sutherland already winning twice at Redlands this year, Gloucester boy Shawn Milne who loves to win on the east-coast and big gun Karl Menzies, who will be cursing the promoters for adding to more ascents up Mt. Penn in the Reading Classic.
Toyota-United has more of a sprint team on hand, with Ivan Dominguez, Ivan Stevic and Henk Vogels. However, Stevic proved he can climb when it matters at the Tour de Georgia this year. Also on the team for Philly is Chris Wherry, who has quite fond memories of the final race.
Slipstream-Chipotle's Danny Pate has a love-hate relationship with the races here, coming close on multiple occasions, including Reading last year. Jackson Stewart (BMC) was somewhat of a surprise winner out of a big break in the Lancaster race in 2006, and will be looking to prove that it was not a fluke. His team also has some veteran experience in Scott Moninger and Mike Sayers. Kodak Gallery-Sierra Nevada returns from a good showing in Ireland with Candian champion Dominique Rollin taking the points jersey. Jelly Belly's Andy Bajadali is also on good form this year, having started things off with a good overall win at Redlands.
The women's racing will also be high-quality, with the two criteriums held at Lancaster and Reading before the men's racing as a warm-up for the Liberty Classic. T-Mobile's women's team leads a strong international contingent of racers, with Ina Teutenberg looking to add another Liberty Classic win to her palmares. As always, the domestic women will be representing this side of the ocean as well, with teams like Colavita-Sutter Home, who recently earned a start in the women's Giro d'Italia.