Wachovia Cycling Series
USA, May 31-June 5, 2005
Main Page Results Race Details & Start List Live report Previous Race
Liberty Classic - June 5: Liberty Classic, 90.56km
Teutenberg takes the win herself
A change of strategy for the women's race
By Kristy Scrymgeour
Ina Teutenberg (T-Mobile)
Photo ©: Jon Devich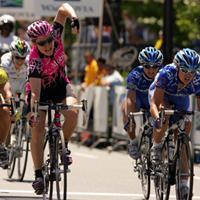 Ina Teutenberg (T-Mobile) has been in the winning team of the Liberty Classic every time she has participated. Starting in 1996 when Petra Rossner won the race for the first of seven years, Teutenberg has been there for five of Rossner's seven wins and was instrumental in the win of Lyne Bessette, who won the race in 2003. This time however, was a little different, as Teutenberg had the chance to win the race herself.
Covering four laps of the course in Philadelphia for a total of 92km, the women's race split up on the very first lap. T-Mobile put the pressure on the first time up the infamous Manayunk wall and a group of 14 riders got a gap on the field.
"I looked back," explained Teutenberg, "and all of a sudden I couldn't see anybody behind me. We had three riders up there so I told the girls we had to work."
Missing the break was Judith Arndt and Regina Schleicher (Nurnberger), as well as other big players. Kristin Armstrong and Kimberly Baldwin set the pace for T-Mobile in the break forcing Nurnberger to chase.
"I wanted to make sure we got over the second climb before anyone could bridge across," said Teutenberg.
On the second climb Arndt attacked taking her teammate Schleicher with her as well as Edita Pucinskaite (Nobili) and Laura Van Gilder and Tina Pic (Quark), and the break became a group of about 20. Holden also came across with this group giving T-Mobile yet another rider to play with. By this time the gap to the rest of the field was over a minute. Victory Brewing has Amy Moore in the break, but knowing that her chances up there alone were slim, it was their job to start the chase. With the help of Colavita Olive Oil, they spend the remainder of the race on the front in attempt to bring things back.
Arndt attacks
Photo ©: Mitch Friedman

With Holden and Bruckner working on the front, as well as Erinne Willock (Webcor) working for her teammate Christine Thorburn and Edita Pucinaskaite and Sigrid Corneo working for their sprinter Joanne Keisanowski, the break never looked like coming back. It was in the last lap, going up Lemon Hill that Nurnberger started to play their cards. Judith Arndt attacked hard getting a convincing gap, but T-Mobile used their horsepower to bring it back. After getting caught, Arndt didn't waste any time and counter attacked her own move, forcing T-Mobile to chase yet again.
When Arndt was caught, Armstrong kept the pace high until they rounded the last bend and Tina Pic started the lead out for Van Gilder. Teutenberg was on the wheel of Van Gilder with Schleicher on her wheel and came around with 100m to go. Schleicher tried to come around her, but Teutenberg held her off to take her first win at the Liberty Classic, clocking a total of ten wins for the year.
"I knew Schleicher was on my wheel, as she was there for the whole last lap, but Tina did a really good job in the leadout," explained Teutenberg. "I hopped on Van Gilder's wheel and with 100m to go I was waiting for her to go and she hesitated, so I went around. She was slightly on the right of Tina's wheel so she had to wait for me to pass. I could see Schleicher closing on me but she didn't make it. Maybe another 30 meters and she would have passed me."
Rarely showing emotion at the end of bike races, this win certainly put a smile on Teutenberg's face. "I'm really happy," she told Cyclingnews after the race. It's really nice to win a big bike race like this."
Ina Teutenberg
Photo ©: Mitch Friedman

"T-Mobile was amazing today," she added. "They did such an amazing job. I felt really good all day and I didn't have to do a thing. It was a good situation that the break went up the road. It made things much safer and I felt comfortable. I was worried the last time up the climb but its seems everyone was tired so nothing went."
Cyclingnews also caught up with Rossner who was very excited by the result, despite the fact that it wasn't a win for her team. "I have won this race seven times and Teutenberg has helped me win it five of those time. During the race I had a feeling she would win it and I'm very happy for her."
Of her teams' tactics, Rossner was also pleased. "We had a perfect race and the girls did everything right, they just didn't have it in the end. It was a good result and I think the girls are happy with it."
Tina Pic was a little disappointed with the finish, but still pleased that her teammate Van Gilder placed third. "I tried to lead Laura out," she explained. "We were both sitting in the wind so I started to lead her out. I think she is a bit bummed but I think she did well. It's a good result.
Kim Baldwin (T-Mobile)
Photo ©: Mitch Friedman

Having just come back from racing in the 10-day Tour de L'Aude in France, Pic said she was a bit worried. "I took two weeks off the bike when I got home because I was so fried. But today I felt good. It was a great race," she added. "I was so surprised that break stayed away."
Van Gilder had more than one word to say when Cyclingnews caught up with her, but the first word was "disappointment."
"I felt like the team had a great ride," she added. "Tina and I made the selection and that was the race, but then there we were sprinting and I guess it just wasn't my day to be on the top spot of the podium. But I guess I was in good company."
In the sprint Van Gilder explained, "I didn't want to go too early because it was windy, but then all of a sudden Ina was sprinting and I though, oh darn I should have gone. But it's a long sprint you know and you can see it from a long way out. The situation in the race came down exactly how I wanted it to, a small group. Maybe I just didn't execute the sprint well enough."
Van Gilder still hopes her performance here will help her get selected for World Championships. "I've been on the podium here more times than anyone except Petra [Rossner], which is a pretty good thing, so I guess third is not too bad."
Photography
For a thumbnail gallery of these images, click here
Images by Jonathan Devich/epicimages.us
Images by Nancy Wright/www.wAbbiOrca.com
Images by Mitch Friedman/www.mitchophoto.com
Images by Todd Leister
Results
Provisional

1 Ina Yoko Teutenberg (Ger) T-Mobile Pro Cycling Team                2.24.47
2 Regina Schleicher (Ger) Equipe Nurnberger
3 Laura Van Gilder (USA) Team Quark
4 Oenone Wood (Aus) Equipe Nurnberger
5 Joanne Kiesanowski (NZl) Nobili Rubinetteri
6 Edita Pucinskaite (Ltu) Nobili Rubinetteri
7 Judith Arndt (Ger) Equipe Nurnberger
8 Sigrid Corneo (Ita) Nobili Rubinetteri
9 Tina Pic (USA) Team Quark
10 Lynn Gaggioli (USA) East Coast Velo
11 Amy Moore (Can) Victory Brewing Cycling Team/Safi Pasta
12 Christine Thorburn (USA) Webcor Builders                             0.03
13 Kimberly Baldwin (USA) T-Mobile Pro Cycling Team                     0.06
14 Kristen Armstrong (USA) T-Mobile Pro Cycling Team                    0.17
15 Rochelle Gilmore (Aus) Victory Brewing Cycling Team/Safi Pasta       0.53
16 Melissa Sanborn (USA) Subway
17 Gina Grain (Can) Victory Brewing Cycling Team/Safi Pasta
18 Olga Slioussareva (Rus) Nobili Rubinetteri
19 Lauren Franges (USA) Victory Brewing Cycling Team/Safi Pasta
20 Kori Seehofer (USA) T-Mobile Pro Cycling Team
21 Daniela Fusar Poli (Ita) Nobili Rubinetteri
22 Kimberly Cunningham (USA) Morgan Stanley 24 Hr Fitness
23 Sarah Bamberger (USA) Touchstone Climbing
24 Nicolle Freedman (Isr) Ford/Basis
25 Katherine Carroll (USA) BMW Bianchi
26 Meredith Miller (USA) Nobili Rubinetteri
27 Kathleen Billington (USA) Diet Cheerwine
28 Allie Warfel (USA) Morgan Stanley 24 Hr Fitness
29 Liza Rachetto (USA) Team Lipton
30 Annette Beutler (Sui) Team Quark
31 Nicole Wangsgard (USA) Subway
32 Kristen Sanders (USA) East Coast Velo
33 Julie Belanger (Can) Diet Cheerwine
34 Michele Beltran (USA) Colavita Cooking Light
35 Nancy Lux (USA) BMW Bianchi
36 Leigh Valetti (USA) Travelgirl Magazine
37 Mari Holden (USA) T-Mobile Pro Cycling Team
38 Rhonda Stickle (Can) Diet Cheerwine
39 Christina Dekraay (USA) Team Fuji
40 Leigh Hobson (Can) Diet Cheerwine
41 Karen Brems (USA) Webcor Builders
42 Iona Wynter (Jam) Travelgirl Magazine
43 Sarah Bresnick Zacchi (USA) Ford/Basis
44 Kristin Lasasso (USA) Team Lipton
45 Catherine Malone (USA) Webcor Builders
46 Hiroko Shimada (Jpn) Velo Bella
47 Jennifer Stephenson (Can) Team Biovail
48 Heidi Goldberg (USA) Easton Specialized
49 Starr Falk (USA) Easton Specialized
50 Katheryn Curi (USA) Webcor Builders
51 Lara Kroepsch (USA) T-Mobile Pro Cycling Team
52 Kate Sherwin (USA) Victory Brewing Cycling Team/Safi Pasta
53 Maggie Shirley (USA) Travelgirl Magazine
54 Katie Mactier (Aus) T-Mobile Pro Cycling Team
55 Kim Anderson (USA) Colavita Cooking Light
56 Felicia Greer (Can) Webcor Builders
57 Erin Mirabella (USA) Bicycle John's
58 Suzanne Macht (Can) Canadian National Team
59 Helen Kelly (Aus) Team Quark
60 Errine Willock (Can) Webcor Builders
61 Audrey Lemieux (Can) Team Quark
62 Sarah Uhl (USA) Team Quark
63 Brenda Lyons (USA) Touchstone Climbing                               1.13
64 Cindy Carroll (USA) Morgan Stanley 24 Hr Fitness
65 Kristen Robbins (Can) Victory Brewing Cycling Team/Safi Pasta
66 Rebecca Much (USA) T-Mobile Pro Cycling Team
67 Sarah Sauvayre (USA) Velo Girls                                      1.27
68 Tammy Sadle (USA) Easton Specialized
69 Kim Geist (USA) Victory Brewing Cycling Team/Safi Pasta
70 Sandra Kolb (USA) Bicycle John's
71 Sima Trapp (USA) Subway
72 Candice Blickem (USA) Team Quark                                     1.30
73 Sarah Tillotson (USA) Velo Girls
74 Mai Britt Hartwell (Nor) Diet Cheerwine
75 Jill Mclaughlin (USA) Velo Bella
76 Megan Esmonde (USA) Colavita Cooking Light
77 Mackenzie Dickey (USA) Verducci Breakaway                            2.02
78 Kristin Caldwell (USA) Morgan Stanley 24 Hr Fitness
79 Dotsie Cowden (USA) Colavita Cooking Light
80 Christina Peick (Den) Colavita Cooking Light
81 Brooke O'Conner (USA) Hub Racing                                     2.22
82 Mo Devlin (USA) Touchstone Climbing
83 Laura Downey (USA) Kenda Tire                                        3.23
84 Kimberly Sawyer (USA) Travelgirl Magazine
85 Daniele Staskal (USA) BMW Bianchi
86 Robin Farina (USA) Ford/Basis
87 Allyson Brandt (USA) Team Fuji
88 Liz Begosh (USA) Velo Bella
89 Jennifer Reither (USA) Bicycle John's
90 Sinead Fitzgibbons (USA) Team Lipton
91 Shawn Heidgen (USA) Amoroso's Bicycle Therapy
92 Sherri Stedje (USA) Bicycle John's
93 Jenette Williams (USA) Easton Specialized                            4.23
DNF Penny Avril (Gbr) Touchstone Climbing
DNF Marie Per Bedard (Can) Canadian National Team
DNF Ann Bell (USA) Kenda Tire
DNF Sarah Bickerstaff (USA) East Coast Velo
DNF Betsey Bloom Galenti (USA) Bicycle John's
DNF Michele Bote (USA) Hub Racing
DNF Kari Bradley (USA) Travelgirl Magazine
DNF Sarah Caravella (USA) Team Fuji
DNF Allison Carter (USA) Kenda Tire
DNF Diane Castor (USA) Velo Bella
DNF Amanda Leigh Cox (Can) East Coast Velo
DNF Dani Dembrak (USA) Ford/Basis
DNF Mary Downing (USA) Kenda Tire
DNF Kristin Drumm (USA) Morgan Stanley 24 Hr Fitness
DNF Debbie Dust (USA) Kenda Tire
DNF Andrea Dvorak (USA) Touchstone Climbing
DNF Deborah Elliott (USA) Ford/Basis
DNF Sandy Espeseth (Can) Victory Brewing Cycling Team/Safi Pasta
DNF Sheba Farrin (USA) Hub Racing
DNF Alison Fischer (USA) East Coast Velo
DNF Grace Fleury (USA) Team Quark
DNF Kim Foland (USA) Travelgirl Magazine
DNF Sami Fournier (USA) Velo Bella
DNF Pauline Frascone (USA) Verducci Breakaway
DNF Elisa Gagnon (Can) Team Lipton
DNF Genevieve Gagon (Can) Canadian National Team
DNF Anna Garnett (Can) Team Biovail
DNF Oliva Gollan (Aus) Equipe Nurnberger
DNF Stefanie Graeter (USA) Webcor Builders
DNF Jenn Green (USA) Travelgirl Magazine
DNF Tracey Grimshaw (Can) Travelgirl Magazine
DNF Caroline Hacker (USA) Velo Bella
DNF Susan Hefler (USA) Easton Specialized
DNF Pam Hinton (USA) Velo Girls
DNF Nonnie Howard (USA) Verducci Breakaway
DNF Shannon Hutchison (USA) BMW Bianchi
DNF Angela Johnson (USA) Bicycle John's
DNF Ashley Kimmet (USA) Colavita Cooking Light
DNF Rebecca Koh (USA) Velo Girls
DNF Katherine Lambden (USA) Team Lipton
DNF Heather Lamson (Can) Canadian National Team
DNF Rebecca Larson (USA) Colavita Cooking Light
DNF Amanda Lawrence (USA) Verducci Breakaway
DNF Madeleine Lindberg (Swe) Equipe Nurnberger
DNF Mandy Lozano (USA) BMW Bianchi
DNF Jennifer Magur (USA) Team Biovail
DNF Lynn Maldonado (USA) Amoroso's Bicycle Therapy
DNF Mindi Martin (USA) Velo Girls
DNF Veronica Martinez (Arg) Amoroso's Bicycle Therapy
DNF Rosy McCall (NZl) Team Fuji
DNF Cara McCauley (USA) BMW Bianchi
DNF Leeanne Menderson (Aus) Hub Racing
DNF Anna Mikowski (USA) Team Lipton
DNF Diane Miller, (USA) Easton Specialized
DNF Elizabeth Morse (USA) Team Fuji
DNF Ellen Moses (USA) Velo Girls
DNF Rebecca Nelson (Can) Team Biovail
DNF Shiela Orem (USA) Kenda Tire
DNF Zoe Owers (USA) Team Lipton
DNF Sue Palmer Komar (Can) Colavita Cooking Light
DNF Lynn Patchett (Can) Amoroso's Bicycle Therapy
DNF Martina Patella (USA) Easton Specialized
DNF Melissa Petty (USA) Team Fuji
DNF Catherine Powers (USA) Amoroso's Bicycle Therapy
DNF Niiki Raspa (USA) Hub Racing
DNF Beth Renaud (USA) Velo Girls
DNF Chrissy Saraceni (USA) Verducci Breakaway
DNF Kristy Scheffenacker (USA) Velo Bella
DNF Patricia Schwager (Sui) Subway
DNF Betsy Sellers (USA) Kenda Tire
DNF Amanda Shaw (Can) Team Biovail
DNF Patty Shoaf (USA) BMW Bianchi
DNF Diana Sosnowski (USA) East Coast Velo
DNF Lisa Sweeney (Can) Canadian National Team
DNF Irene Thomas Johnson (USA) Bicycle John's
DNF Jenney Trew (Can) Canadian National Team
DNF Christine Vardaros (USA) Velo Bella
DNF Tara Walhart (USA) Verducci Breakaway
DNF Emily Westbrook (USA) Subway
DNF Lindsey Wetzel (USA) Velo Girls
DNF Anke Wichmann (Ger) Equipe Nurnberger