Wachovia Cycling Series
USA, May 31-June 5, 2005
Main Page Results Live report Start list Previous Race
Liberty Classic - June 5: Liberty Classic, 90.56km
A plethora of fast legs line up at Philly
By Kristy Scrymgeour
Petra Rossner (Nurnberger) makes it seven in 2004
Photo ©: Jon Devich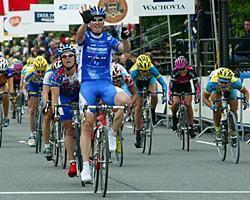 "Someone else will win" the Women's Liberty Classic in Philadelphia this year joked seven-time winner of the event Petra Rossner. A race that she has practically made her own over the years, Rossner added that perhaps "tomorrow will be the first time this year that I will miss racing my bike since I retired." Rossner retired from racing at the end of last year on a winning note with yet another World Cup victory and immediately accepted an offer to be the Director Sportif for the Nurnberger team for 2005. She is back again in Philadelphia, a race that she has always loved, but this time in a different role and as usual she was mysterious about her strategy for the day.
A huge field of women will line up to race four laps of the 22km course for a total of 96km. Traditionally the race has been set up for Rossner by her team (German National Team, Saturn and Nurnberger over the years) and has come down to a bunch sprint at the end of the day. But Lyne Bessette proved in 2003 that a late solo breakaway could also accomplish the result when she attacked on Lemon Hill and held off the chasing bunch for the win. With such a strong field here a few different outcomes are possible but a bunch sprint is very likely with Nurnberger bringing along two very strong sprinters in Regina Schleicher and Oenone Wood, as well as the sprinters dominating the US scene such as Tina Pic and Laura Van Gilder from Quark, Gina Grain (Victory Brewing) and of course Ina Yoko Teutenberg from T-Mobile.
Cyclingnews caught up with riders from the defending team who are confident in their chances. Oenone Wood who has been on fire this year and is leading the World Cup Series for the second year running. She is also coming off two stage wins of Tour of Montreal and three stage wins at Tour de L'Aude. Having never raced this course before she said, "I haven't seen the circuit yet. I'm sure we'll be having a look at in the next couple of days but we've got a great team here so we have every chance of having a great result."
As well as Wood and Schleicher, Nurnberger also has another card to play in World Champion Judith Arndt. Being possibly the strongest rider in the peloton, Arndt has every chance of using the solo attack plan but is also an extremely good team worker and could very well use all of her efforts to keep the race together for the sprinters.
Usually unrivalled as a team worker is Teutenberg, who has been in the winning team of this race every year that she has started, usually working for Rossner and working for Bessette in 2003. This year may be the year that she has the chance to win this race herself. With the strong T-Mobile team behind her, she has every chance. When Cyclingnews caught up with her yesterday she was looking forward to the race and a touch nervous. "I hope I'm ready," she said. "I don't know because I've never raced for myself at this race, so it will be different type of racing on Sunday. I've been winning a lot of races this year, but it's still different when the pressure is on."
She went on to say that the race as a whole would be a little different than in other years that she has done it. It's short this year," she explained. "It has been six laps before when I was a worker and it was more about fitness at the end, but with only 85km I think a lot of people can be at the end that probably wouldn't be there in World Cup race."
Of course T-Mobile also have a few other cards to play if a break gets away with the likes of Kristen Armstrong, Kimberly Bruckner and newly joined member of the team Katie Mactier. Mactier recently arrived from Australia and hasn't done a lot of road racing this year concentrating on the track, where she became World Champion in the pursuit this year. "I'm hoping to find those hill climbing legs again," she said. "I certainly felt the effects in Boulder the first few days." She added, "I've been with on a team with Ina before and she is possibly one of the best people I have worked with. She is just an incredible asset to a team. I would imagine she is one of the favourites for Sunday. If it comes together at the end I would imagine we would be working for her."
After coming second in the sprint last year, Gina Grain from Victory Brewing is hoping to go one better, but is only just recently back on the bike after suffering two broken ribs and three weeks off the bike. "The racing last weekend was a good start to intensity," she said. "I've rested and tried to heal and hopefully I got some speed back in my legs. That's all I can do."
Despite the setback Grain says she is going to go into the race with confidence. "Sprinting is a combination of strength and a bit of luck as well," she explained. "I know the course and the finish. Its just a matter of getting up the hill in the first group. I know where I have to be in the sprint. There are a lot of good contenders and the faster the better."
Victory Brewing Director Sportif, Mike Tamayo is also looking forward to the race. "Second place last year was a milestone for the team," he said. "In Victory Brewing's backyard it's the right way to treat a sponsor. It also adds pressure now because sponsors and riders expect that you can do it."
Victory also has Australian sprinter Rochelle Gilmore racing with them this weekend giving them another sprinting card to play on the day.
Also having placed second is this race before and with three wins in a row last week Laura Van Gilder (Quark) is also going to be one to watch this weekend. "I'm always nervous for that race," she told Cyclingnewsafter her win at Bike Jam on the weekend. "It's a big race," she said. "People have been telling me I can win because Petra is not here this year, but its not that easy. There are some very strong teams out there and a lot of girls who can win. Tina Pic, Oenone Wood, Judith Arndt, Gina Grain and of course Ina Teutenberg. She is riding so well at the moment and in the past she has always been working for other people. She also had a strong climbing team. It's going to be exiting. I love that type of racing."
Quark will also have another sprinter on the line in Tina Pic, who has been having yet another successful season and returns from a stint of racing in Europe to try her hand in Philadelphia, as well as Annette Beutler who comes straight off a stage win in Montreal.
Another US team that will be giving the rest a run for their money is Webcor with 2004 Olympian Christine Thorburn and Canadian Erinne Willock in fine form at the moment. Thornburn took a stage win in Montreal and Willock placed 4th overall in the tour. Cyclingnews talked to Willock who said "the crowd is awesome going up the climb and the adrenalin gets going. Usually it comes down to a field sprint because it's relatively short for a women's race even though the hill is difficult. It's the descent afterwards that brings it back together again. Last year I got Queen Of the Mountain, that's what I went after and that's what I got. I don't know what the plan is for this year because right now we're focused on finishing the Grand Tour."
Of course one can't count out riders such as Olympic Champion Olga Slioussareva and New Zealand sprinter Joanne Kiesanowski from Nobili Rubinetterie who area also both in very good form, but besides the big teams and the favourites listed above, there are many US and domestic riders on the start line just waiting for the chance to prove themselves. A total of 27 teams will line up to make this race as exciting as it always it. Riders such as Shannon Hutchison (BMW Bianchi) will be taking a possible victory very seriously. Cyclingnews caught up with her after her third place at Somerville last weekend. She is confident that she can be up there, but also says, if it doesn't happen she still has something to look forward to, as she leaves the following day with her Fiancé to get married in Italy. Another rider with potential to have a great race is Melissa Sanborn (Subway) who took second place in the final stage of Montreal this week. "I gained a little confidence in Montreal," she told Cyclingnews, "I just have to be patient. I feel confident I can get up the wall. It will be all about positioning and picking the right wheels at the end.
Sadly, after a crash in a stage of Montreal on Tuesday, Lyne Bessette (Canadian National Team) will not line up to give the race another go, but will watch from the sidelines, allowing herself to recover from a concussion.
Race Map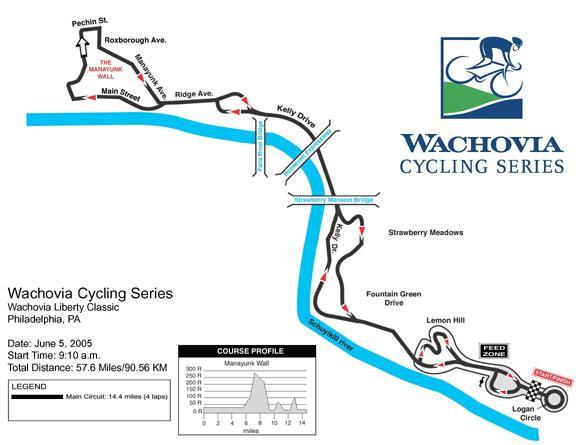 Images ©:www.wachoviacycling.com
Start list
Equipe Nurnberger                  T-Mobile
 
1 Judith Arndt (Ger)               11 Kristen Armstrong (USA)
2 Oliva Gollan (Aus)               12 Kimberly Baldwin (USA)
3 Madeleine Lindberg (Swe)         13 Mari Holden (USA)
4 Regina Schleicher (Ger)          14 Katie Mactier (Aus)
5 Anke Wichmann (Ger)              15 Lara Kroepsch (USA)
6 Oenone Wood (Aus)                16 Brooke Ourada (NZl)
                                   17 Kori Seehofer (USA)
                                   18 Ina Yoko Teutenberg (Ger)
 
Victory Brewing Cycling Team       Nobili Rubinetteri
 
21 Gina Grain (Can)                31 Anna Gusmini (Ita)
22 Lauren Franges (USA)            32 Daniela Fusar Poli (Ita)
23 Amy Moore (Can)                 33 Sigrid Corneo (Ita)
24 Kate Sherwin (USA)              34 Edita Pucinskaite (Ltu)
25 Kristen Robbins (Can)           35 Olga Slioussareva (Rus)
26 Kimberly Geist (USA)            36 Joanne Kiesanowski (NZl)
27 Nicole Demars (USA)             37 Meredith Miller (USA)
28 Sandy Espeseth (Can)            
 
Team Quark                         Colavita Cooking Light
 
41 Tina Pic (USA)                  51 Kim Anderson (USA)
42 Annette Beutler (Swi)           52 Michele Beltran (USA)
43 Laura Van Gilder (USA)          53 Dotsie Cowden (USA)
44 Helen Kelly (Aus)               54 Megan Esmonde (USA)
45 Gracy Fleury (USA)              55 Ashley Kimmet (USA)
46 Sarah Uhl (USA)                 56 Sue Palmer Komar (Can)
47 Candice Blickem (USA)           57 Christina Pieck (Den)
48 Audrey Lemieux (Can)            58 Rebecca Larsen (USA)
 
Team Lipton                        BMW Bianchi
 
61 Kristin Losasso (USA)           71 Shannon Hutchison (USA)
62 Anna Mikowski (USA)             72 Katherine Carroll (USA)
63 Katherine Lambden (USA)         73 Mandy Lozano (USA)
64 Elisa Gagnon (Can)              74 Nancy Lux (USA)
65 Sinead Fitzgibbons (GBr)        75 Patty Shoaf (USA)
66 Lisa Rachetto (USA)             76 Daniele Staskal (USA)
67 Zoe Owens (USA)                 77 Cara McCauley (USA)
68 Andrea Hannos (Can)             78 Laura Weislo (USA)
 
Ford/Basis                         Team Biovail
 
81 Deborah Elliott (USA)           91 Jennifer Stephenson (Can)
82 Sarah Bresnick Zacchi (USA)     92 Amanda Shaw (Can)
83 Robin Fanna (USA)               93 Anna Garnett (Can)
84 Dani Dembrak (USA)              94 Jennifer Masur (USA)
                                   95 Rebecca Nelson (Can)
 
Webcor Builders                    Canadian National Team
 
101 Christine Thorburn (USA)       111 Lyne Bessette (Can)
102 Errine Willock (Can)           112 Anna Trinyek (Can)
103 Felicia Greer (Can)            113 Marie Per Bedard (Can)
104 Katheryn Curi (USA)            114 Genevieve Gagnon (Can)
105 Catherine Malone (USA)         115 Suzanne Macht (Can)
106 Stefanie Graeter (USA)         116 Lisa Sweeney (Can)
107 Karen Brems (USA)              117 Jolie Numanville (Can)
                                   118 Kylie Case (Can)
 
Bicycle John's                     Hub Racing
 
121 Sandra Kolb (USA)              131 Brooke O'Conner (USA)
122 Betsey Bloom Galenti (USA)     132 Michele Bote (USA)
123 Jennifer Keither (USA)         133 Niiki Raspa (USA)
124 Erin Mirabella (USA)           134 Sheba Farrin (USA)
125 Irene Thomas Johnson (USA)     135 Leeanne Menderson (Aus)
126 Sherri Stedje (USA)            136 Cory Beemis (USA)
127 Angela Johnson (USA)           
 
Easton Specialized                 Kenda Tire
 
141 Starr Falk (USA)               151 Betsy Sellers (USA)
142 Martina Patella (USA)          152 Debbie Dust (USA)
143 Susan Hefler (USA)             153 Shiela Orem (USA)
144 Jenette Williams (USA)         154 Mary Downing (USA)
145 Tammy Sadle (USA)              155 Marni Harker (USA)
146 Heidi Goldberg (USA)           156 Ann Bell (USA)
147 Diane Miller (USA)             157 Laura Downey (USA)
148 Gretchen Jacobs (USA)          158 Allison Carter (USA)
 
East Coast Velo                    Team Fuji
 
161 Lynn Gaggioli (USA)            171 Christina Dekraay (USA)
162 Alison Fischer (USA)           172 Nicole Bossie (USA)
163 Diana Sosnowski (USA)          173 Missy Petty (USA)
165 Kristen Sanders (USA)          174 Laura Bowks (USA)
166 Sarah Bickerstaff (USA)        175 Sarah Caravella (USA)
167 Marielle Aunave (Can)          176 Allyson Brandt (USA)
168 Amanda Leigh Cox (Can)         177 Rebecca Conzelman (USA)
 
Velo Girls                         Touchstone Climbing
 
181 Lindsey Wetzel (USA)           192 Brenda Lyons (USA)
182 Pam Hinton (USA)               192 Jill McLaughlin (USA)
183 Sarah Tillotson (USA)          193 Mo Devlin (USA)
184 Sarah Chubb (USA)              194 Penny Avril (GBr)
185 Ellen Moses (USA)              195 Sarah Bamberger (USA)
186 Rebecca Koh (USA)              
187 Beth Renaud (USA)              
188 Mindi Martin (USA)             
 
Velo Bella                         Morgan Stanley 24 Hr Fitness
 
201 Hiroko Shimada (Jpn)           211 Kimberly Cunningham (USA)
202 Christine Vardaros (USA)       212 Kristin Caldwell (USA)
203 Liz Begosh (USA)               213 Kristin Dunn (USA)
204 Kristy Schneffeckner (USA)     214 Helen Drumm (USA)
205 Diane Castor (USA)             215 Kate Maher (USA)
206 Sami Farnier (USA)             216 Cindy Carroll (USA)
207 Caroline Hacker (USA)          
208 Sarah Kerlin (USA)             
 
Travelgirl Magazine                Amoroso's Bicycle Therapy
 
221 Kari Bradley (USA)             231 Susan Duff (USA)
222 Kim Foland (USA)               232 Lynn Maldonado (USA)
223 Jenn Green (USA)               233 Michele Hyland (USA)
224 Tracey Grimshaw (Can)          234 Lynn Patchett (Can)
225 Kimberly Sawyer (USA)          235 Veronica Martinez (Arg)
226 Maggie Shirley (USA)           236 Shawn Heidgen (USA)
227 Iona Wyner (Jam)               237 Catherine Powers (USA)
228 Leigh Valetti (USA)            
 
Subway                             Diet Cheerwine
 
241 Melissa Sanborn (USA)          251 Leigh Hobson (Can)
242 Sima Trapp (USA)               252 Laura Yoisten (Can)
243 Nicole Wangsgard (USA)         253 Mai Britt Hartwell (Nor)
244 Suz Weldon (USA)               254 Kathleen Billington (USA)
245 Crystal Yap (USA)              255 Julie Belanger (USA)
245 Emily Westbrook (USA)          256 Sara Legrand (USA)
                                   257 Rhonda Guzda (USA)
 
Verducci Breakaway                 
 
261 Mackenzie Dickey (USA)         
262 Nonnie Howard (USA)            
263 Amanda Lawrence (USA)          
264 Chrissy Saraceni (USA)         
265 Tara Walhart (USA)