U.S. National Criterium Championships - NE
Downer's Grove Village, Illinois, USA, August 16-17, 2008
Speed and skill at US professional crit nationals
By Mark Zalewski, North American Editor
It was anyone's guess on the line but Martin Gilbert (Kelly Benefit Strategies)
Photo ©: Jon Devich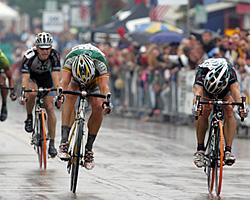 There are more than a few signals that summer is winding down in the US -- back to school sales, the Labor Day holiday, two-a-day football practices... but for cyclists racing in a suburb of Chicago knows as Downers Grove is a fair sign the summer crit season is coming to a close. Some dream of a stars and stripes jersey (stars and bars according to some unwitting announcers) while lower category racers look to make a name for themselves or simply experience racing on the same figure-8 course. Triumph and tragedy combine here every August, specifically in the infamous turn 8 – a place where races, as well as careers, are often defined.
For 2008 one of the stories is the size of the pro men's field, which on the pre-registration lists is slightly smaller than usual at just over 60. Much of this can be attributed to the Tour of Utah happening at the same time, with the climbing specialists happy not to be fighting for wheels over 100 laps. What this has done is slightly boiled down the field to the fast and (for lack of a better term) furious. Former winners on the start sheet include Tony Cruz (BMC), Rahsaan Bahati and Kayle Leogrande (Rock Racing) as amateurs, Brad Huff (Jelly Belly), who won both as an amateur and pro, and defending pro champ Kirk O'Bee (Health Net-Maxxis)
But noticeably off the list is the entire Toyota-United team, except for Aussie Hilton Clarke who eats criteriums for breakfast and is having a fast crit season. No Ivan Dominguez or former winner Henk Vogels on the start. As well, some teams are undermanned, including O'Bee's Health Net team with only three other riders, including Karl Menzies who is coming off a serious injury.
Kelly Benefits Strategies-Medifast is taking the opposite tack, skipping Utah and sending a full squad to support riders like Alex Candelario and Canadian David Vellieux, who recently had a near win at the Chicago Criterium and the overall win at the Tour of Elk Grove. The Kelly Benefits team likes to ride a strong lead-out, but their consistency in this effort has been hit-and-miss of late.
Bahati's sprint is darn fast
Photo ©: Vero Image

When talking favourites, Rahsaan Bahati is at or near the top of most lists. The former amateur winner here at 18-years-old is primed and focused on getting his first professional championship win. Winning races such as the Athens Twilight and Manhattan Beach GP show he has the form, but will he have the luck needed to stay safe? He could make his own luck with strong team-mates such as Superweek overall runner-up Sterling Magnell and former amateur winner Kayle Leogrande.
Bissell is also sending a full squad with former Australian crit champion Richard England and up-and-coming sprinters Graham and Steven Howard (yep, brothers.) Jittery Joe's Chad Hartley comes in having won the sprint jersey at Superweek and is probably the most local having grown up in nearby Hinsdale, Illinois.
And speaking of local boys, the Tour de France's fifth place finisher Christian Vande Velde (Garmin-Chipotle), from nearby Lemont, Illinois, confirmed he will start the race. However, this criterium will be quite different than the post-Tour criteriums of Europe with racing hard from the gun and nobody likely to give Vande Velde a free ride.
Women take their Pic
In the women's race, there are only two words that could begin a preview of this race: Tina Pic. The Colavita-Sutter Home rider has won this race more than anyone and is again the defending champion. A large team is signed-up to help her defend, though that has not ever prevented her from winning on her own in the past.
Not on the early registration list is the Cheerwine team, though their check is probably in the main with the likes of Laura Van Gilder at the top of their list. Look for a strong battle between her and Pic as well as their respective teams.
While that battle is going on a number of other riders will be looking to exploit it for their advantage, as former winner Theresa Cliff-Ryan (Verducci-Breakaway) did a few years ago when Pic and Van Gilder were tangled between turns 7 and 8. Cliff-Ryan jumped on the opportunity and had a sporty stars and stripes jersey to wear for the next year. She comes in with the overall win at Superweek on her 2008 palmarès.
Other riders with potential of upsetting the apple cart include 2007 runner-up Jen McRae (Advil-Chapstick), Chrissy Ruiter (ValuAct Capital) and Kacey Manderfield (Verducci-Breakaway) who won the sprint overall at Superweek.
It all goes down this weekend with half-distance 'warm-up' races on Saturday evening and the full distance championships on Sunday.