Tour of Elk Grove - NE
Illinois, USA, August 1-3, 2008
Main Page Results Overall standings Previous Stage
Stage 2 - August 3: Real time sports bar & grill stage 2 criterium, 80km
Huff wins Elk Grove criterium, Vellieux jumps Clarke for overall win
By Mark Zalewski, North American Editor in Elk Grove Village, Illinois
Brad Huff (Jelly Belly) is back to winning
Photo ©: Mark Zalewski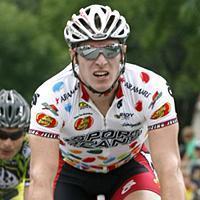 The final criterium stage of the Tour of Elk Grove was one for the bean counters as the bonus seconds on offer, combined with the close overall, had riders and managers doing heaps of math in their heads. A six-rider break got away early and put Toyota-United and race leader Hilton Clarke on the defensive for most of the race, but with two laps to go it was all together. However, all the work took its toll on Toyota, allowing Brad Huff (Jelly Belly) to jump for the stage win and David Veilleux (Kelly Benefits Strategies-Medifast) to take second place and the overall win.
"I am happy with the overall, just finishing ahead of Hilton Clarke for the time bonus," said Veilleux. "Of course I wanted to win the race too, we had a gap but it didn't work out. Toyota is the strongest team out here and sitting in second on GC we just sat back with a guy up the road, taking the time bonuses. Everything worked out for the first part of the race."
Brian Buchholz was their man in the break, and with all the time bonus seconds a wash for the field it was the 20, 12 and 8 seconds on the finish line that would make the difference. "Our lead-out didn't work well because we lost each other out there," said Veilleux. "It was going really fast and every team wanted to take the front. Finally in the last u-turn I was behind Kevin [Lacombe] and Jake Keough was three guys in front. We just yelled at him to go and sprint for the last turn, we came out and Kevin finished it. I tried to do the last 200 meters on my own but Huff was just faster."
When the team jumped on the outside heading for the final turn, everyone in the crowd watching the jumbotron held their collective breath, as yesterday the Alex Candelario in the Kelly Benefits lead-out crashed, causing many top riders to wreck. But today they kept the rubber side down, though Veilleux admitted he was a little nervous. "A little bit!" he laughed. "But I knew the guys were ok. Yesterday was just some bad luck. I know Candelario is a great bike handler... other people crash more often than him, it's just bike racing."
"When I saw the Kelly guys come by on the outside before the final turn I just backed off and said, 'I give up!' " said Freddie Rodriguez (Rock Racing) who took third on the day. "I made sure to give them enough room to make the corner. They took it pretty out of control, but they didn't crash this time. We all gave them a big buffer, but they need to learn when they take control in a corner they don't need to own the corner - just get through it. If you slow the corner it causes problems, and it's still a long way from the line here. I was tenth out of it knowing that I had 600 meters to pass."
The break begins to form.
Photo ©: Mark Zalewski

For Huff, the disorganization of the final lead-out resulted in quick thinking. "Toyota did a great job today, but in the end it was a lot of jockeying for position. The plan was to go for Nic Sanderson but the sprint was so hectic I went just hoping he was on my wheel, me for the sprint and him to move up the GC."
"Kelly did a sit-up that they are now notorious for, but hey, at least it was safe! Toyota was on the front trying to bring them back but Clarke got boxed in, so I went around the outside and ended up sticking it for the win."
Huff has had a tough season, battling an injury, and this was only his second win. But he clearly showed he is coming back on form, just in time for criterium nationals in two weeks. "I beat Menzies in Arkansas so [the win here] might be secondary to that, but a little more money here!"
Hilton Clarke (Toyota-United)
Photo ©: Mark Zalewski

Former race leader Hilton Clarke finished fourth, just out of the time bonuses, but still held onto second place overall ahead of Tom Zirbel (Bissell). His team was a little undermanned in the finale after having to chase the break with Zirbel's teammate Garrett Peltonen virtual race leader on the road for most of the day. "It's definitely hard to predict what will happen anyways, and that group was probably bigger than what we would have liked, but that's what we had to ride with," said Clarke.
"The boys rode awesome but I guess because we had to work so hard we were caught short at the end," he said. "My ride was so cruisy all day and then suddenly it was so hectic! I ridiculed Kelly Benefits from yesterday but today they did a brilliant ride today. They hit it exactly like yesterday but they got around the corner okay. I tried to use my lead-out but maybe I should have played off them. What can I say, you win some, you lose some!"
Clarke and Toyota had a little extra help in the field with some obvious alliances made, including his best mate Aussie Matt Wilson (Team Type 1) riding solo. "I am actually putting him up for the week, so I told him to get on the front for me!"
Despite losing the overall Clarke is definitely riding top form heading into August, with criterium nationals around the corner. "I actually just got the call to do it, so I am flying there solo. Maybe I'll sit on the Kelly Benefits train this time!"
Photography
For a thumbnail gallery of these images, click here
Images by Mark Zalewski/Cyclingnews.com
Results
1 Brad Huff (Jelly Belly)                                 2.30.55 
2 David Veilleux (Kelly Benefits Strategies/Medifast)            
3 Freddie Rodriguez (Rock Racing)                                
4 Nic Sanderson (Jelly Belly)                                    
5 Hilton Clarke (Toyota)                                         
6 Francois Parisien (Team Race Pro)                              
7 Charles Dionne (SuccesFul Living)                              
8 Alex Candelario (Kelly Benefits Strategies/Medifast)           
9 Richard England (Bissell Pro Cycling Team)                     
10 Mark Walter (Team Race Pro)                                   
11 Chad Hartley (Jittery Joe's)                                  
12 Hayden Godfrey (Team Inferno Pro Cycling)                     
13 Tom Zirbel (Bissell Pro Cycling Team)                         
14 Matt Winstead (Team Inferno Pro Cycling)                      
15 Brian Jensen (Successful Living)                              
16 Bradley White (SuccessfulLiving presented by)                 
17 Stephan Kincaid (Rite Aid Pro pb Shebell & Shebell)           
18 Ryan Roth (Team Race Pro)                                     
19 Richard Harper (Team Inferno Pro Cyling)                      
20 Bernard Van Ulden (Jelly Belly)                               
21 Daniel Holloway (Garmin Chipotle)                             
22 Matt Wilson (Team Type 1)                                     
23 Keven LaCombe (Kelly Benefits Strategies/Medifast)            
24 Daniel Timmerman (Team Race Pro)                              
25 Cesar Grajales (Rock Racing)                                  
26 Dominique Rollin (Toyota)                                     
27 Micheal Grabinger (Successful Living P/B Parkpre)         0.12
28 Doug Ollerenshaw (Rock Racing)                                
29 Benjamin Kneller (Jittery Joe's)                              
30 Buck Miller (Team Race Pro)                                   
31 Jake Rytlewski (Rite Aid Pro pb Shebell & Shebell)            
32 Mark Batty (Team Race Pro)                                    
33 Jake Keough (Kelly Benefits Strategies/Medifast)          0.16
34 Tyler Hamilton (Rock Racing)                              0.23
35 Steven Howard (Bissell Pro Cycling Team)                  0.29
36 Reid Mumford (Kelly Benefits Strategies/Medifast)         0.35
37 Graham Howard (Bissell Pro Cycling Team)                  1.27
38 Nick Reistad (Jelly Belly)                                1.55
39 Ivan Doninguez (Toyota)                                   2.21
40 Matty Rice (Jelly Belly)                                  2.54
41 Henk Vogels (Toyota)                                      3.05
42 Ben Day (Toyota)                                          7.10
43 Garrett Peltonen (Bissell Pro Cycling Team)                   
44 Johny Clarke (Toyota)                                         
45 Bryce Mead (Jelly Belly)                                  8.15
46 Brian Buchholz (Kelly Benefits Strategies/Medifast)      10.35
47 Chuck Coyle (Successful Living pb Parkpre)               12.25
 
Final General classification
 
1 David Veilleux (Kelly Benefits Strategies/Medifast)     6.39.29
2 Hilton Claeke (Toyota)                                     0.10
3 Tom Zirbel (Bissell Pro Cycling Team)                      0.13
4 Brad Huff (Jelly Belly)                                    0.16
5 Freddie Rodriguez (Rock Racing)                            0.19
6 Francois Parisien (Team Race Pro)                          0.21
7 Ryan Roth (Team Race Pro)                                  0.29
8 Nic Sanderson (Jelly Belly)                                    
9 Dominique Rollin (Toyota)                                  0.31
10 Bernard Van Ulden (Jelly Belly)                           0.33
11 Matt Wilson (Team Type 1)                                 0.37
12 Bradley White (SuccessfulLiving presented by)                 
13 Keven LaCombe (Kelly Benefits Strategies/Medifast)            
14 Matt Winstead (Team Inferno Pro Cycling)                  0.38
15 Daniel Timmerman (Team Race Pro)                          0.39
16 Charles Dionne (SuccesFul Living)                         0.43
17 Alex Candelario (Kelly Benefits Strategies/Medifast)      0.45
18 Cesar Grajales (Rock Racing)                              0.48
19 Mark Walter (Team Race Pro)                               0.49
20 Daniel Holloway (Garmin Chipotle)                         0.50
21 Brian Jensen (Successful Living)                              
22 Micheal Grabinger (Successful Living P/B Parkpre)         0.54
23 Richard Harper (Team Inferno Pro Cyling)                  1.04
24 Buck Miller (Team Race Pro)                               1.05
25 Reid Mumford (Kelly Benefits Strategies/Medifast)         1.06
26 Jake Rytlewski (Rite Aid Pro pb Shebell & Shebell)        1.15
27 Chad Hartley (Jittery Joe's)                              1.40
28 Hayden Godfrey (Team Inferno Pro Cycling)                 1.48
29 Doug Ollerenshaw (Rock Racing)                            1.51
30 Graham Howard (Bissell Pro Cycling Team)                  2.03
31 Ivan Doninguez (Toyota)                                   3.16
32 Garrett Peltonen (Bissell Pro Cycling Team)               7.45
33 Johny Clarke (Toyota)                                     8.03
34 Ben Day (Toyota)                                          8.58
35 Tyler Hamilton (Rock Racing)                              9.27
36 Benjamin Kneller (Jittery Joe's)                          9.32
37 Jake Keough (Kelly Benefits Strategies/Medifast)          9.35
38 Mark Batty (Team Race Pro)                                9.55
39 Stephan Kincaid (Rite Aid Pro pb Shebell & Shebell)      10.01
40 Matty Rice (Jelly Belly)                                 12.04
41 Henk Vogels (Toyota)                                     12.36
42 Bryce Mead (Jelly Belly)                                 17.37
43 Chuck Coyle (Successful Living pb Parkpre)               21.45
44 Richard England (Bissell Pro Cycling Team)               39.48
45 Steven Howard (Bissell Pro Cycling Team)                 46.24
46 Nick Reistad (Jelly Belly)                               47.46
47 Brian Buchholz (Kelly Benefits Strategies/Medifast)      52.02