Tour of Missouri - 2.1
USA, September 11-16, 2007
Main Page Results Overall standings Stage Details Live report Previous Stage Next Stage
Stage 3 - September 13: Branson (ITT), 29 km
Leipheimer takes tough Time Trial, Hincapie extends lead
Discovery enjoys positive flashbacks of Georgia in Branson
By Mark Zalewski, North American Editor with Kirsten Robbins in Branson, Missouri
Levi Leipheimer (Discovery Channel)
Photo ©: Jon Devich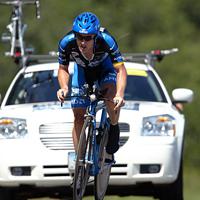 The memories of Georgia keep flowing at the Tour of Missouri, with two races now running simultaneously - the race between yesterday's 12 break riders for the overall win and the 95 other riders now just fighting for stage wins. As in Georgia it was Discovery Channel taking charge of both of these races in the Time Trial, with Levi Leipheimer once again winning the race against the clock. But unlike Georgia, where Janis Brajkovic was the unlikely general classification benefactor for the team, designated leader George Hincapie was 'Johnny-on-the-spot' yesterday and he extended his overall lead with a sixth place finish.
"I definitely felt tired after yesterday because it was 11 guys against me," said the yellow jersey wearer Hincapie. "I had to cover every attack and so I paid a little in today's Time Trial for that effort. It was still good today because I was better than everybody that was in the break so I did all that I needed to do today."
"It was a hard course and the thing about today was that you really had to know when to push and when not to push," said stage winner Levi Leipheimer. "I don't know if you could call it a climb but today was two big rollers that were very hard. I had to go over my limit on those rollers and then try in some places to recover. There was one moment that it was so fast coming down the hill that I had to stop pedaling and tuck.
"I realised [I could win] when I was catching riders and I would make up time on them on the hills and hold them in position on the down hills," he said. "I think that I rode well today but it wasn't my best day even though I was still able to win.
As in Georgia, Leipheimer's dominant Time Trial effort never had a chance to put him in contention for the overall. But unlike last April, Leipheimer was not unhappy about it. "It's okay because we knew that George is the best time trialer in the break," he said. "We wanted someone else to win, especially George who has had a lot of bad luck. I've won a lot of races this year."
Nathan O'Neill (Healthnet-Maxxis)
Photo ©: Jon Devich

Finishing a strong second place was the Australian Time Trial champion Nathan O'Neill (Health Net-Maxxis) who also finished second to Leipheimer in Georgia. However today, on a course that is just about the same distance and difficulty, O'Neill was only 16 seconds slower, compared to 1.18 minutes in April.
"Second and only losing 30 seconds to Levi is pretty good and I am not all crying about that," said O'Neill. "I am crying about the break going up the road yesterday though because the fact that they took 15 minutes on us is ridiculous. So I cant explain that but at the same time it's a bike race and that's why we have a race and why it is called a race."
O'Neill came out to Missouri well in advance to pre-ride three stages, including the Time Trial. "When I came to look at the course I knew right away that it was going to be a good course for me," he noted. "I wanted to go fast today and I was up for it today. I woke up feeling really good and I knew right from the beginning that I was going to have a good day so it is nice to be able to deliver it."
Danny Pate (Slipstream-Chipotle)
Photo ©: Jon Devich

The surprise of the day came early - first, in fact, as the first rider across the line was the seventh rider to start. Matti Helminen (DFL-Cyclingnews-Litespeed) caught and passed all six riders who started at one minute intervals in front of him to set a blazing fast first time. At first the judges thought he may have somehow missed a turn and cut the course, until they realised it was the multiple Finnish Time Trial champion who double-flatted in the closing circuits of the first day.
"I'm focusing on the World Championships," said Helminen. "I wanted to see what I could do on this Time Trial course as an indication of what I am doing for worlds. But this course was really different - it is a lot of climbing. It is sill a good way to open up the legs and get ready for [the worlds.]"
"It is too bad we had such bad luck on stage one," he said. Helminen also commented on why the team decided to do the majority of the work yesterday even after their GC hopes were dashed in the first stage. "We just had the invitation to race here just two weeks ago and we had to split the team to be able to come here."
Navigators Insurance also had a strong showing, putting four in the top 20, with Aussie Ben Day finishing the best at fourth. "I didn't feel bad but I didn't feel great enough to push myself too hard," he said. "Some days you have that feeling and today I didn't. I believe I've done better rides, it wasn't for a win like it was in Beauce. The course was hard, ya know, the first 10 kilometres you just felt like you were going up and up and up!"
George Hincapie (Discovery Channel)
Photo ©: Jon Devich

The overall picture shifted considerably, at least from second place to 12th, with Slipstream-Chipotle rider Will Frischkorn riding a strong second place to take over the second place spot, 1.40 minutes behind Hincapie. Former second place rider Dominque Rollin (KodakGallery-Sierra Nevada) dropped to fourth place, but only by one second behind David Cañada (Saunier Duval-Prodir), setting up a potential intermediate sprint battle over the final three stages.
Slipstream-Chipotle is also performing well beyond the second place overall - the team leads the classification and Steven Cozza took over the best young rider jersey by finishing 15th on the day.
The leader of the bad luck classification continues to be Toyota-United. After losing Ivan Stevic and Jose Garcia to injuries in the first two days, Sean Sullivan was time cut after nobly battling a bad case of asthma. The team's Time Trial hope Chris Baldwin was noticeably cut-up from a crash earlier in the week.
One of the hardest stages looms tomorrow - a 214 km leg with more of the same relentless rolling Missouri hills, two intermediate sprints and a KOM climb before finishing in the University town of Columbia.
Photography
For a thumbnail gallery of these images, click here
Images by Jonathan Devich/

Images by PhotoSport International
Images by Kurt Jambretz/www.actionimages.cc
Results
1 Levi Leipheimer (USA) Discovery Channel                                                39.37 (43.920 km/h)
2 Nathan O'Neill (AUS) Health Net p/b Maxxis                                              0.16
3 Matti Helminen (Fin) DFL - Cyclingnews - Litespeed                                      1.27
4 Ben Day (Aus) Navigators Insurance Cycling Team                                         1.32
5 Danny Pate (USA) Team Slipstream p/b Chipotle                                           2.04
6 George Hincapie (USA) Discovery Channel                                                 2.07
7 Timothy Duggan (USA) Team Slipstream p/b Chipotle                                       2.31
8 Darren Lill (RSA) Navigators Insurance Cycling Team                                     2.39
9 Rory Sutherland (Aus) Health Net p/b Maxxis                                             2.55
10 Alberto Contador Velasco (Spa) Discovery Channel                                       2.57
11 Rubens Bertogliati (Swi) Saunier Duval - Prodir                                        3.07
12 William Frishkorn (USA) Team Slipstream p/b Chipotle                                   3.31
13 Glen Chadwick (Aus) Navigators Insurance Cycling Team                                  3.33
14 Scott Moninger (USA) BMC Professional Cycling Team                                     3.36
15 Steven Cozza (USA) Team Slipstream p/b Chipotle                                        3.48
16 Sergey Lagutin (Uzb) Navigators Insurance Cycling Team                                 3.52
17 Svein Tuft (Can) Symmetrics Cycling Team                                               4.06
18 Chris Wherry (USA) Toyota - United Pro Cycling Team                                    4.12
19 David Canada Gracia (Spa) Saunier Duval - Prodir                                       4.16
20 Huub Duyn (Ned) Team Slipstream p/b Chipotle                                           4.17
21 Anthony Colby (USA) Colavita - Sutter Home p/b Cooking Light                           4.25
22 Dominique Rollin (Can) Kodakgallery.com - Sierra Nevada                                4.26
23 Patrick McCarty (USA) Team Slipstream p/b Chipotle                                     4.28
24 James Meadley (Aus) Jelly Belly Cycling Team                                           4.29
25 Bernard Van Ulden (USA) Navigators Insurance Cycling Team                              4.31
26 Christopher Baldwin (USA) Toyota - United Pro Cycling Team                             4.40
27 Heath Blackgrove (NZl) Toyota - United Pro Cycling Team                                4.41
28 Jeremy Powers (USA) Jelly Belly Cycling Team                                           4.42
29 Michael Friedman (USA) Team Slipstream p/b Chipotle                                        
30 Andy Bajadali (USA) Jelly Belly Cycling Team                                           4.51
31 Zach Bell (Can) Symmetrics Cycling Team                                                    
32 Bernardo Colex Tepoz (Mex) Tecos de la Universidad Autonoma de Guadalajara             4.55
33 Matthew Crane (USA) Health Net p/b Maxxis                                              4.56
34 Frank Pipp (USA) Health Net p/b Maxxis                                                 4.57
35 Valery Kobzarenko (Ukr) Navigators Insurance Cycling Team                              5.01
36 Jeremy Vennel (NZl) DFL - Cyclingnews - Litespeed                                      5.02
37 Ryder Hesjedal (Can) Health Net p/b Maxxis                                             5.03
38 Dan Timmerman (USA) Kodakgallery.com - Sierra Nevada                                   5.05
39 Will Routley (Can) Symmetrics Cycling Team                                             5.15
40 Tim Johnson (USA) Health Net p/b Maxxis                                                5.17
41 John Devine (USA) Discovery Channel                                                        
42 Antonio Cruz (USA) Discovery Channel                                                   5.19
43 Rhys Pollock (Aus) DFL - Cyclingnews - Litespeed                                       5.21
44 Jacob Rosenbarger (USA) BMC Professional Cycling Team                                  5.22
45 Eric Wohlberg (Can) Symmetrics Cycling Team                                            5.23
46 David Vitoria (Swi) BMC Professional Cycling Team                                      5.25
47 Jake Rytlewski (USA) US National Development Team                                      5.29
48 Gregorio Ladino (Col) Tecos de la Universidad Autonoma de Guadalajara                      
49 Joshua Thornton (USA) Kodakgallery.com - Sierra Nevada                                 5.32
50 Phil Zajicek (USA) Navigators Insurance Cycling Team                                   5.36
51 Mark Walters (Can) Kodakgallery.com - Sierra Nevada                                    5.38
52 Andrew Randell (Can) Symmetrics Cycling Team                                           5.42
53 Kari Menzies (Aus) Health Net p/b Maxxis                                               5.44
54 Fausto Esparza (Mex) Tecos de la Universidad Autonoma de Guadalajara                   5.50
55 Benjamin Noval Gonzalez (Spa) Discovery Channel                                            
56 Christian Lademann (Ger) Team Sparkasse                                                    
57 Gert Vanderaerden (Bel) DFL - Cyclingnews - Litespeed                                  5.55
58 Jeff Louder (USA) Health Net p/b Maxxis                                                6.01
59 Brad Huff (USA) Team Slipstream p/b Chipotle                                           6.06
60 Jonathan Garcia (USA) BMC Professional Cycling Team                                    6.11
61 Adam Bergman (USA) Colavita - Sutter Home p/b Cooking Light                            6.15
62 Stefan Parinussa (Ger) Team Sparkasse                                                  6.16
63 Yaroslav Popovych (Ukr) Discovery Channel                                              6.18
64 Daniel Vaillancourt (USA) Colavita - Sutter Home p/b Cooking Light                         
65 Timo Honstein (Ger) Team Sparkasse                                                     6.23
66 Andrew Pinfold (Can) Symmetrics Cycling Team                                           6.29
67 Ben Raby (USA) Kodakgallery.com - Sierra Nevada                                        6.33
68 Hector Rangel (Mex) Tecos de la Universidad Autonoma de Guadalajara                    6.34
69 Jackson Stewart (USA) BMC Professional Cycling Team                                        
70 Kyle Wamsley (USA) Navigators Insurance Cycling Team                                   6.42
71 Davide Frattini (Ita) Colavita - Sutter Home p/b Cooking Light                         6.43
72 Guy East (USA) US National Development Team                                            6.48
73 Tyler Wren (USA) Colavita - Sutter Home p/b Cooking Light                              6.52
74 Chris Monteleone (USA) US National Development Team                                    6.54
75 Cameron Evans (Can) Symmetrics Cycling Team                                            7.02
76 Guido Trentin (Ita) Saunier Duval - Prodir                                             7.03
77 Philipp Mamos (Ger) Team Sparkasse                                                     7.04
78 Francisco Matamoros (Mex) Tecos de la Universidad Autonoma de Guadalajara              7.05
79 Ian McKissick (USA) BMC Professional Cycling Team                                      7.06
80 Juan Pablo Magallanes Aranda (Mex) Tecos de la Universidad Autonoma de Guadalajara     7.18
81 Stefan Löffler (Ger) Team Sparkasse                                                    7.24
82 Ivan Dominguez (Cub) Toyota - United Pro Cycling Team                                      
83 Justin England (USA) Toyota - United Pro Cycling Team                                  7.27
84 Charles Dionne (Can) Colavita - Sutter Home p/b Cooking Light                          7.29
85 Mike Sayers (USA) BMC Professional Cycling Team                                        7.35
86 Matt Rice (Aus) Jelly Belly Cycling Team                                               7.36
87 Jesus Zarate Estrada (Mex) Tecos de la Universidad Autonoma de Guadalajara             7.40
88 Jacob Erker (Can) Symmetrics Cycling Team                                                  
89 Christoph Schweizer (Ger) Team Sparkasse                                               7.43
90 Ben Bradshaw (USA) US National Development Team                                        7.44
91 Fuyu Li (Chn) Discovery Channel                                                        7.47
92 Max Jenkins (USA) US National Development Team                                         7.51
93 John Fredy Parra (Col) Tecos de la Universidad Autonoma de Guadalajara                 7.52
94 Cameron Jennings (Aus) DFL - Cyclingnews - Litespeed                                   7.56
95 Sebastian Frey (Ger) Team Sparkasse                                                    7.59
96 Sven De Weerdt (Bel) DFL - Cyclingnews - Litespeed                                     8.15
97 Kane Oakley (Aus) DFL - Cyclingnews - Litespeed                                        8.19
98 Andrew Guptill (USA) Colavita - Sutter Home p/b Cooking Light                              
99 Nicholas Reistad (USA) Jelly Belly Cycling Team                                        8.27
100 Peter Lopinto (USA) Kodakgallery.com - Sierra Nevada                                  8.28
101 Brian Dziewa (USA) Jelly Belly Cycling Team                                               
102 Luciano André Pagliarini Mendonca (Bra) Saunier Duval - Prodir                        8.32
103 Jesse Anthony (USA) Kodakgallery.com - Sierra Nevada                                  8.36
104 Danilo Wyss (Swi) Saunier Duval - Prodir                                              8.37
105 Sheldon Deeny (USA) US National Development Team                                      8.43
106 Robby Meul (Bel) DFL - Cyclingnews - Litespeed                                        9.05
107 Cody O'Reilly (USA) Kodakgallery.com - Sierra Nevada                                  9.47
HD Jose Manuel Garcia (Mex) Toyota - United Pro Cycling Team                             10.24
HD Luca Damiani (Ita) Colavita - Sutter Home p/b Cooking Light                           10.29
HD Daniel Holloway (USA) US National Development Team                                    11.09
HD Raul Alarcon (Spa) Saunier Duval - Prodir                                             12.07
HD Chad Beyer (USA) US National Development Team                                         15.23

Mountains

1 Levi Leipheimer (USA) Discovery Channel                                                    6 pts
2 Svein Tuft (Can) Symmetrics Cycling Team                                                   5
3 Nathan O'Neill (AUS) Health Net p/b Maxxis                                                 4
4 Jeff Louder (USA) Health Net p/b Maxxis                                                    3
5 Ben Day (Aus) Navigators Insurance Cycling Team                                            1

Best Young Rider

1 Steven Cozza (USA) Team Slipstream p/b Chipotle                                        43.25
2 Huub Duyn (Ned) Team Slipstream p/b Chipotle                                            0.29
3 James Meadley (Aus) Jelly Belly Cycling Team                                            0.41
4 Matthew Crane (USA) Health Net p/b Maxxis                                               1.08
5 John Devine (USA) Discovery Channel                                                     1.29
6 David Vitoria (Swi) BMC Professional Cycling Team                                       1.37
7 Guy East (USA) US National Development Team                                             3.00
8 Chris Monteleone (USA) US National Development Team                                     3.06
9 Cameron Evans (Can) Symmetrics Cycling Team                                             3.14
10 Christoph Schweizer (Ger) Team Sparkasse                                               3.55
11 Ben Bradshaw (USA) US National Development Team                                        3.56
12 Max Jenkins (USA) US National Development Team                                         4.03
13 Sebastian Frey (Ger) Team Sparkasse                                                    4.11
14 Jesse Anthony (USA) Kodakgallery.com - Sierra Nevada                                   4.48
15 Danilo Wyss (Swi) Saunier Duval - Prodir                                               4.49
16 Sheldon Deeny (USA) US National Development Team                                       4.55

Team

1 Discovery Channel Professional Cycling                                               2.03.55
2 Navigators Insurance Cycling Team                                                       2.40
3 Team Slipstream Powered By Chipotle                                                     3.02
4 Health Net Presented By Maxxis                                                          3.03
5 DFL-Cyclingnews-Litespeed                                                               6.46
6 Toyota-United Pro Cycling Team                                                          8.29
7 Jelly Belly Cycling Team                                                                8.58
8 Symmetrics Cycling Team                                                                 9.08
9 BMC Racing Team                                                                         9.19
10 Prodir-Saunier Duval                                                                   9.22
11 KodakGallery Pro Cycling p/b Sierra Nevada Brewing Co.                                 9.59
12 Tecos de la Universidad Autonama de Guadalajara                                       11.10
13 Colavita/Sutter Home p/b Cooking Light                                                11.54
14 Team Sparkasse                                                                        13.25
15 USA Cycling National Development Team                                                 14.07
 
General classification after stage 3

1 George Hincapie (USA) Discovery Channel                                              8.22.34
2 William Frishkorn (USA) Team Slipstream p/b Chipotle                                    1.40
3 David Canada Gracia (Spa) Saunier Duval - Prodir                                        2.22
4 Dominique Rollin (Can) Kodakgallery.com - Sierra Nevada                                 2.23
5 Michael Friedman (USA) Team Slipstream p/b Chipotle                                     2.48
6 Frank Pipp (USA) Health Net p/b Maxxis                                                  2.57
7 Valery Kobzarenko (Ukr) Navigators Insurance Cycling Team                               3.04
8 Andrew Randell (Can) Symmetrics Cycling Team                                            3.48
9 Stefan Parinussa (Ger) Team Sparkasse                                                   4.20
10 Matt Rice (Aus) Jelly Belly Cycling Team                                               6.21
11 Andrew Guptill (USA) Colavita - Sutter Home p/b Cooking Light                          6.25
12 Jonathan Garcia (USA) BMC Professional Cycling Team                                    6.34
13 Levi Leipheimer (USA) Discovery Channel                                               12.23
14 Nathan O'Neill (AUS) Health Net p/b Maxxis                                            12.39
15 Ben Day (Aus) Navigators Insurance Cycling Team                                       13.55
16 Danny Pate (USA) Team Slipstream p/b Chipotle                                         14.27
17 Timothy Duggan (USA) Team Slipstream p/b Chipotle                                     14.54
18 Darren Lill (RSA) Navigators Insurance Cycling Team                                   15.02
19 Rory Sutherland (Aus) Health Net p/b Maxxis                                           15.18
20 Alberto Contador Velasco (Spa) Discovery Channel                                      15.20
21 Rubens Bertogliati (Swi) Saunier Duval - Prodir                                       15.30
22 Glen Chadwick (Aus) Navigators Insurance Cycling Team                                 15.56
23 Scott Moninger (USA) BMC Professional Cycling Team                                    15.59
24 Steven Cozza (USA) Team Slipstream p/b Chipotle                                       16.11
25 Sergey Lagutin (Uzb) Navigators Insurance Cycling Team                                16.15
26 Svein Tuft (Can) Symmetrics Cycling Team                                              16.29
27 Chris Wherry (USA) Toyota - United Pro Cycling Team                                   16.35
28 Huub Duyn (Ned) Team Slipstream p/b Chipotle                                          16.40
29 Anthony Colby (USA) Colavita - Sutter Home p/b Cooking Light                          16.48
30 James Meadley (Aus) Jelly Belly Cycling Team                                          16.49
31 Patrick McCarty (USA) Team Slipstream p/b Chipotle                                    16.51
32 Bernard Van Ulden (USA) Navigators Insurance Cycling Team                             16.54
33 Christopher Baldwin (USA) Toyota - United Pro Cycling Team                            17.03
34 Jeremy Powers (USA) Jelly Belly Cycling Team                                          17.05
35 Zach Bell (Can) Symmetrics Cycling Team                                               17.08
36 Andy Bajadali (USA) Jelly Belly Cycling Team                                          17.14
37 Bernardo Colex Tepoz (Mex) Tecos de la Universidad Autonoma de Guadalajara            17.18
38 Matthew Crane (USA) Health Net p/b Maxxis                                             17.19
39 Jeremy Vennel (NZl) DFL - Cyclingnews - Litespeed                                     17.25
40 Ryder Hesjedal (Can) Health Net p/b Maxxis                                            17.26
41 Dan Timmerman (USA) Kodakgallery.com - Sierra Nevada                                  17.28
42 Matti Helminen (Fin) DFL - Cyclingnews - Litespeed                                    17.31
43 Will Routley (Can) Symmetrics Cycling Team                                            17.38
44 John Devine (USA) Discovery Channel                                                   17.40
45 Antonio Cruz (USA) Discovery Channel                                                  17.42
46 Jacob Rosenbarger (USA) BMC Professional Cycling Team                                 17.45
47 Eric Wohlberg (Can) Symmetrics Cycling Team                                           17.46
48 David Vitoria (Swi) BMC Professional Cycling Team                                     17.48
49 Jake Rytlewski (USA) US National Development Team                                     17.52
50 Gregorio Ladino (Col) Tecos de la Universidad Autonoma de Guadalajara                      
51 Joshua Thornton (USA) Kodakgallery.com - Sierra Nevada                                17.55
52 Phil Zajicek (USA) Navigators Insurance Cycling Team                                  17.59
53 Mark Walters (Can) Kodakgallery.com - Sierra Nevada                                   18.01
54 Kari Menzies (Aus) Health Net p/b Maxxis                                              18.07
55 Fausto Esparza (Mex) Tecos de la Universidad Autonoma de Guadalajara                  18.13
56 Benjamin Noval Gonzalez (Spa) Discovery Channel                                            
57 Christian Lademann (Ger) Team Sparkasse                                                    
58 Gert Vanderaerden (Bel) DFL - Cyclingnews - Litespeed                                 18.18
59 Jeff Louder (USA) Health Net p/b Maxxis                                               18.24
60 Brad Huff (USA) Team Slipstream p/b Chipotle                                          18.28
61 Adam Bergman (USA) Colavita - Sutter Home p/b Cooking Light                           18.38
62 Yaroslav Popovych (Ukr) Discovery Channel                                             18.41
63 Daniel Vaillancourt (USA) Colavita - Sutter Home p/b Cooking Light                         
64 Heath Blackgrove (NZl) Toyota - United Pro Cycling Team                               18.43
65 Timo Honstein (Ger) Team Sparkasse                                                    18.46
66 Andrew Pinfold (Can) Symmetrics Cycling Team                                          18.52
67 Jackson Stewart (USA) BMC Professional Cycling Team                                   18.57
68 Hector Rangel (Mex) Tecos de la Universidad Autonoma de Guadalajara                   18.59
69 Kyle Wamsley (USA) Navigators Insurance Cycling Team                                  19.01
70 Davide Frattini (Ita) Colavita - Sutter Home p/b Cooking Light                        19.06
71 Guy East (USA) US National Development Team                                           19.11
72 Ben Raby (USA) Kodakgallery.com - Sierra Nevada                                       19.16
73 Cameron Evans (Can) Symmetrics Cycling Team                                           19.25
74 Philipp Mamos (Ger) Team Sparkasse                                                         
75 Guido Trentin (Ita) Saunier Duval - Prodir                                            19.26
76 Francisco Matamoros (Mex) Tecos de la Universidad Autonoma de Guadalajara             19.28
77 Ivan Dominguez (Cub) Toyota - United Pro Cycling Team                                 19.37
78 Juan Pablo Magallanes Aranda (Mex) Tecos de la Universidad Autonoma de Guadalajara    19.41
79 Charles Dionne (Can) Colavita - Sutter Home p/b Cooking Light                         19.50
80 Mike Sayers (USA) BMC Professional Cycling Team                                       19.58
81 Jesus Zarate Estrada (Mex) Tecos de la Universidad Autonoma de Guadalajara            20.03
82 Christoph Schweizer (Ger) Team Sparkasse                                              20.06
83 Max Jenkins (USA) US National Development Team                                        20.14
84 John Fredy Parra (Col) Tecos de la Universidad Autonoma de Guadalajara                20.15
85 Sven De Weerdt (Bel) DFL - Cyclingnews - Litespeed                                    20.38
86 Nicholas Reistad (USA) Jelly Belly Cycling Team                                       20.50
87 Peter Lopinto (USA) Kodakgallery.com - Sierra Nevada                                  20.51
88 Luciano André Pagliarini Mendonca (Bra) Saunier Duval - Prodir                        20.52
89 Ben Bradshaw (USA) US National Development Team                                       20.53
90 Tim Johnson (USA) Health Net p/b Maxxis                                               20.54
91 Chris Monteleone (USA) US National Development Team                                   20.56
92 Jesse Anthony (USA) Kodakgallery.com - Sierra Nevada                                  20.59
93 Danilo Wyss (Swi) Saunier Duval - Prodir                                              21.00
94 Sheldon Deeny (USA) US National Development Team                                      21.06
95 Ian McKissick (USA) BMC Professional Cycling Team                                     21.07
96 Rhys Pollock (Aus) DFL - Cyclingnews - Litespeed                                      21.25
97 Fuyu Li (Chn) Discovery Channel                                                       21.48
98 Cody O'Reilly (USA) Kodakgallery.com - Sierra Nevada                                  22.10
99 Tyler Wren (USA) Colavita - Sutter Home p/b Cooking Light                             22.28
100 Robby Meul (Bel) DFL - Cyclingnews - Litespeed                                       22.36
101 Jacob Erker (Can) Symmetrics Cycling Team                                            23.18
102 Brian Dziewa (USA) Jelly Belly Cycling Team                                          24.05
103 Stefan Löffler (Ger) Team Sparkasse                                                  24.14
104 Kane Oakley (Aus) DFL - Cyclingnews - Litespeed                                      24.22
105 Sebastian Frey (Ger) Team Sparkasse                                                  24.49
106 Cameron Jennings (Aus) DFL - Cyclingnews - Litespeed                                 27.04
107 Justin England (USA) Toyota - United Pro Cycling Team                                28.33
 
Sprint classification
 
1 George Hincapie (USA) Discovery Channel Professional Cycling                        20 pts
2 Dominique Rollin (Can) KodakGallery Pro Cycling p/b Sierra Nevada Brewing Co.       18
3 Ivan Dominguez (Cub) Toyota-United Pro Cycling Team                                 15
4 Zach Bell (Can) Symmetrics Cycling Team                                             12
5 Frank Pipp (USA) Health Net Presented By Maxxis                                     12
6 Luciano Pagliarini (Bra) Prodir-Saunier Duval                                       10
7 Kyle Wamsley (USA) Navigators Insurance Cycling Team                                10
8 Valeriy Kobzarenko (Ukr) Navigators Insurance Cycling Team                           9
9 Stefan Parinussa (Ger) Team Sparkasse                                                8
10 Danilo Wyss (Swi) Prodir-Saunier Duval                                              7
11 Michael Friedman (USA) Team Slipstream Powered By Chipotle                          7
12 David Vitoria (Swi) BMC Racing Team                                                 6
13 James Meadley (Aus) Jelly Belly Cycling Team                                        5
14 Charles Huff (USA) Team Slipstream Powered By Chipotle                              5
15 Charles Dionne (Can) Colavita/Sutter Home p/b Cooking Light                         4
16 David Canada (Spa) Prodir-Saunier Duval                                             4
17 Philipp Mamos (Ger) Team Sparkasse                                                  3
18 Juan Pablo Magallanes (Mex) Tecos de la Universidad Autonama de Guadalajara         3
19 Andrew Guptill (USA) Colavita/Sutter Home p/b Cooking Light                         3
20 Andrew Randell (Can) Symmetrics Cycling Team                                        2
21 Luca Damiani (USA) Colavita/Sutter Home p/b Cooking Light                           2
22 William Frischkorn (USA) Team Slipstream Powered By Chipotle                        1
 
Mountain classification

1 Jeff Louder (USA) Health Net p/b Maxxis                                                    9 pts
2 Levi Leipheimer (USA) Discovery Channel                                                    6
3 Darren Lill (RSA) Navigators Insurance Cycling Team                                        5
4 Svein Tuft (Can) Symmetrics Cycling Team                                                   5
5 Nathan O'Neill (AUS) Health Net p/b Maxxis                                                 4
6 Rubens Bertogliati (Swi) Saunier Duval - Prodir                                            4
7 Jesse Anthony (USA) Kodakgallery.com - Sierra Nevada                                       3
8 Ben Day (Aus) Navigators Insurance Cycling Team                                            1
9 David Vitoria (Swi) BMC Professional Cycling Team                                          1
 
Best Young Rider classification

1 Steven Cozza (USA) Team Slipstream p/b Chipotle                                      8.38.45
2 Huub Duyn (Ned) Team Slipstream p/b Chipotle                                            0.29
3 James Meadley (Aus) Jelly Belly Cycling Team                                            0.38
4 Matthew Crane (USA) Health Net p/b Maxxis                                               1.08
5 John Devine (USA) Discovery Channel                                                     1.29
6 David Vitoria (Swi) BMC Professional Cycling Team                                       1.37
7 Guy East (USA) US National Development Team                                             3.00
8 Cameron Evans (Can) Symmetrics Cycling Team                                             3.14
9 Christoph Schweizer (Ger) Team Sparkasse                                                3.55
10 Max Jenkins (USA) US National Development Team                                         4.03
11 Ben Bradshaw (USA) US National Development Team                                        4.42
12 Chris Monteleone (USA) US National Development Team                                    4.45
13 Jesse Anthony (USA) Kodakgallery.com - Sierra Nevada                                   4.48
14 Danilo Wyss (Swi) Saunier Duval - Prodir                                               4.49
15 Sheldon Deeny (USA) US National Development Team                                       4.55
16 Cody O'Reilly (USA) Kodakgallery.com - Sierra Nevada                                   5.59
17 Sebastian Frey (Ger) Team Sparkasse                                                    8.38
  
Team classification

1 Team Slipstream Powered By Chipotle                                                 25.24.26
2 Discovery Channel Professional Cycling                                                 11.12
3 Navigators Insurance Cycling Team                                                      13.52
4 Health Net Presented By Maxxis                                                         14.15
5 Symmetrics Cycling Team                                                                20.20
6 Prodir-Saunier Duval                                                                   20.34
7 Jelly Belly Cycling Team                                                               20.49
8 BMC Racing Team                                                                        21.10
9 KodakGallery Pro Cycling p/b Sierra Nevada Brewing Co.                                 21.11
10 Colavita/Sutter Home p/b Cooking Light                                                23.06
11 Team Sparkasse                                                                        24.37
12 DFL-Cyclingnews-Litespeed                                                             32.15
13 Toyota-United Pro Cycling Team                                                        33.58
14 Tecos de la Universidad Autonama de Guadalajara                                       36.39
15 USA Cycling National Development Team                                                 39.36