Tour of California - 2.HC
USA, February 18-25, 2007
California, here we come...
By Mark Zalewski in San Francisco
Levi Leipheimer is a favourite for this year's event
Photo ©: Russ Wright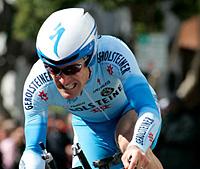 Ralph Waldo Emerson once quipped, "The attraction and superiority of California are in its days. It has better days and more of them, than any other country". This saying rang true for the first edition of the Tour of California in 2006, with the seasonal rain seemingly put on hold for the entire eight days of racing. The sunshine and warm weather are among the many draws for the nine ProTour teams flying around the world to the Golden State, as are the eight stages of good race training as the European season draws near.
The 2007 Tour of California, once again sponsored by the drug company Amgen (one of the world's largest manufacturers of EPO, among other products), will cover 650 miles (1028.1km with a 3.1km prologue) in eight days. The 2007 race is expected to be tougher than last year's event and the last few days of the race, when riders are more fatigued, are likely to be more difficult.
The nine ProTour teams is an increase from last year's eight, and with the likes of Quick Step-Innergetic bringing world champion Paolo Bettini, the word seems to be out in the European peloton that this is a race to make room for on the calendar.
Some will likely use this race for training, as in the aforementioned world champion, while others will be looking to make an early season statement - like the riders new to the ProTour. And then there are the US teams, which run the spectrum from a ProTour squad in Discovery Channel, to Professional Continental and domestic Continental squads, as well as the US National Development Team. All the American riders will be keen on taking wins on home soil - whether they be top tier Euro-pros or US based racers.
A sea of color at the first Tour of California
Photo ©: Mark Johnson

For the second edition, a new rider will claim the final golden jersey, as defending champion Floyd Landis is busy defending his name from last year's Tour de France doping allegations. There are many likely candidates and even more unlikely ones that could emerge over the week.
The obvious leaders of many of the ProTour squads are easy to identify - just look for the Americans. Case in point: Discovery Channel with its five American riders. But which one you ask? Look beyond to the California residents and Levi Leipheimer jumps out as the likely candidate. Last year's prologue winner will have a loaded entourage with riders such as Ivan Basso, 'Captain America' George Hincapie and Tom Danielson working for him, instead of against him.
Team CSC has the next most Americans starting with three, all of whom have GC potential. However, with two time trial stages in eight days, Bobby Julich and US time trial champion David Zabriskie are the top candidates, along with Swiss rider Fabian Cancellara. But outside of the GC race, CSC has added some much needed speed with two-time ToC stage winner, Juan Jose (J.J.) Haedo.
The bunch on the final day of last year's event
Photo ©: Jon Devich

Predictor-Lotto brings two Americans, one of whom is native to the start in the Bay area. Fred Rodriguez is likely to be the team leader, as he is coming off a week-long stage race in the Tour Down Under where he worked for sprinter Robbie McEwen. Chris Horner is also a west coaster who will be working for Fast Freddie along with a sprint-heavy team as they go for stage wins and the points jersey.
The other ProTour team with an American prospect is T-Mobile with Aaron Olsen. But the domestique is less likely to be a GC contender than riders such as Aussie Michael Rogers. The three-time world TT champion is reportedly working on becoming more of an overall rider, and the Tour of California is a good place to work on that form. Another new aspect to the team is Kiwi sprinter Greg Henderson, who makes his ProTour debut after racing for years in the US, and could be keen on trying to repeat the team's two sprint stage wins from last year.
Liquigas and Rabobank are coming across the pond for the first time and with some heavy hitters. Rabobank's Tour de France climbing champion Michael Rasmussen will find the early season hills in California less challenging than the Alps, but a good way to start building form for the racing to come. Liquigas has Luca Paolini, who finished third at Milan-San Remo last year, and climber Manuel Quinziato, who won a stage of the Giro d'Italia in 2006 and could easily contend for the mountains jersey.
Bringing the A-game
Greg Henderson will return in different colours.
Photo ©: Steve Cohen

At the final press conference of last year's race, Bobby Julich threw down the gauntlet to the American teams, saying: "If you have the chance to race against eight ProTour teams and your goal is to be a European pro, you have to bring your A-game, and we didn't see so many guys that jumped out of the woodwork that said, 'Hey, take me to Europe, I'm ready'. I think J.J. Haedo is one of the guys that stood out." And sure enough, Haedo is now racing with Julich for Team CSC in the ProTour.
Prepared to answer Julich's challenge is a host of teams, including a larger contingent of Professional Continental teams, such as Health Net-Maxxis, Navigators Insurance and Slipstream-Chipotle.
As one of the top US teams in recent years, Health Net-Maxxis once again had to replace top talent, following the exit of riders like Greg Henderson to T-Mobile and the retirement of veteran Gord Fraser. But a few key acquisitions in the off season by director Jeff Corbett will make them a threat for the overall. Aussie Rory Sutherland and Canadian Ryder Hesjedal both have ProTour experience, while Aussie sprinter Karl Menzies is coming in with his best form ever, nearly winning the Tour Down Under last month.
Navigators Insurance is bringing its usual band of eastern European threats, with Valeriy Kobzarenko and Uzbekistan champion Sergey Lagutin good picks for a high GC placing. But other riders such as Hilton Clarke and the recently crowned 'New Zealand' time trial champion, Glen Chadwick, have already raced hard Down Under. Slipstream-Chipotle's Danny Pate is always close to a breakthrough performance, especially on the time trials, while Patrick McCarty returns from Europe with ProTour experience.
Back along the coastline in last year's race
Photo ©: Jon Devich

Rounding out the field is a host of domestic teams, led by last year's surprise upstart Toyota-United Pro. Even though it lost its ace sprinter in Haedo, an off season pick-up in veteran Henk Vogels should pay dividends. Also, Ivan Dominguez will be ready to fill the sprinting hole left by Haedo, while Chris Baldwin will look to regain his strong time trial performance after a heartbreak at last year's nationals.
Making its debut will be the BMC Racing Team, which is in part a result of last year's doping scandals. BMC company chairman, Andy Rihs, is taking his sponsorship level a few steps down and making a fresh start with the team. Riding in this race is an interesting mix of young and old, American and Swiss. Alexandre Moos is probably the biggest name, having ridden in the ProTour and helping teammate Floyd Landis to win the inaugural Tour of California on Rihs' last sponsored team, Phonak. Veteran American Mike Sayers joins the team to help bring along a host of younger talent.
Both Jelly Belly and Colavita/Sutter Home have a lot to ride for this week as they race near where their sponsors are headquartered. Finally, Priority Health and the USA Cycling National Development Team have an opportunity to gain experience and maybe, just maybe, some time in the sun and on the television.
As for the parcours of the 2007 event? It starts off in fine style with a 3.1km prologue on the streets of San Francisco at 1pm, this Sunday, February 18. The race itself is not really a continuous tour, where the riders start a stage in one town, and then finish in another, and then start again from that same location the next morning. Rather, the race jumps around northern California as a group of stand-alone stages (see map), visiting towns like Sacramento, San Jose and San Luis Obispo.
However, spectacular scenery will not be in short supply and the race should also prove to be a great advertisement for the natural beauty of California. The stages visit wineries, forests and almost every stage features some climbing, while Stage 4 takes the peloton down the Pacific Ocean coastline.
Overall, it's a tough parcours for this time of year; perhaps too tough? Last year's winner of the ToC went on to hold his form throughout July, even if questions still remain unanswered about Landis's biggest win in 2006.
Related stories:
News - Tour of California gets tougher for 2007
Course preview - Take a stage-by-stage overview of the stages. Check out the stage maps and course profiles to find the best viewing spots.
Cyclingnews' trusty airship dirigible, the Hindenburg V-2, will be on hand as it makes a stop on the way back to Europe from Down Under, bringing you the latest live updates each and every day for the duration of the race.