USA Cycling Pro championships - CN
USA, September 1-3, 2006
Main Page Results Overall standings Race Details Live report Next Race
Race 1 - September 1: USA professional time trial championships, 32.4 km
Zabriskie wins first ever USPRO time trial
Baldwin crashes, loses race in final kilometer
by Mark Zalewski, North American Editor in Greenville, SC
Dave Zabriskie
Photo ©: Jon Devich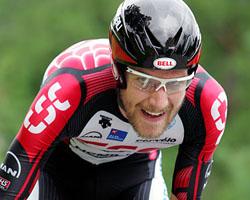 Dave Zabriskie (Team CSC) is known as an easy going guy, hardly ever expressing his emotions outward. So it was surprising to learn that before today's time trial nerves were making him nauseous. "I think I had nerves for the first time in my life today," he said. "Everyone has been saying, 'Zabriskie, Zabriskie, you are going to win.' It got to me a little." But the nerves turned into speed on the race course, with Zabriskie laying down a time nearly a minute faster than the only other ProTour rider, Jason McCartney (Discovery Channel.) But the win was not assured as defending champion Chris Baldwin (Toyota-United) was eight seconds faster at the split -- until Baldwin crashed dramatically in the final 500 meters on a hard 90-degree turn, finishing thirty-two seconds behind Zabriskie for second place.
"A couple of corners were not that tight and then they throw a tight one in there, that's what happened to me," said Baldwin. "I took the three turns before too cautiously on the bull horns where I could have probably stayed in the aero bars. I thought I had to let it go and then there was this 90-degree turn."
The turn came right after a small rise which made the turn blind until it was too late for Baldwin, who locked up his rear wheel enough to blow the tyre and slid into the ditch in the middle of the turn. "I switched bikes with a flat tyre but it was game over, when you do something like that you know you are not going to win," he said. "Some arrows would have helped warn me but so would the proper reconnaissance -- there is no one to blame but myself. I went through [the turn] yesterday but not at forty-five miles per hour."
Baldwin also expressed his disappointment because he felt at top-form today. "It's one of the first times all year I was able to get in my time trial mode. I feel like I am pedaling with my eyes, really relaxed -- and I was in that zone all day today. I was fastest at the turn around and I knew I was holding on to it because I was gaining on Louder." And while second place, between two ProTour riders, is nothing to scoff at, Baldwin was hoping for more. "It is bittersweet. I'm not a sore loser but I am out here to win."
The strain
Photo ©: Mitch Clinton

Furthering the bittersweet taste is that the time lost in the crash and bike change was calculated by many to be the same as the final difference. "It was a good job for him," said Zabriskie about Baldwin's near miss. "He definitely would have deserved [the win.] I wouldn't have been surprised if he had won."
But Zabriskie put in a hard effort on the second-half of the course, knowing that his lead at the time check was not assured with Baldwin following. "When I went through the time check I believed I was twenty seconds ahead, and for me that wasn't enough," said Zabriskie. "I tried to go faster on the way back and I told the guys [following me] to honk a lot, because I didn't have a radio, if the gap was close. They honked on one of the climbs so I started digging as deep as I could go."
Third place went to McCartney who was the sole representative for his team in the time trial, with teammate George Hincapie deciding to focus solely on the road race after crashing at the Eneco Tour. "The course was really suited to me, I just wish I had been a little fresher," he said. "I've been racing a ton and traveling too, but it's great to be here and finish the season here."
Just edged out of a podium spot was Mike Friedman (TIAA-CREF) who surprised everyone, including himself, with a fourth place ride. "I'm always surprised!" Friedman cites his team for his success. "For Brad [Huff]and me it's been an insane season. It's our first year pro and we are so excited just to be part of this team. The development has been unbelievable. It's only my fourth time trial of the year! From November of last year until now we have been going full-tilt, from the track to the road. I'm doing everything I can to take advantage of the situation."
Zabriskie's win gives him an automatic bid to the world championships, something he has been training towards for the past month. "There is a canyon in Salt Lake called Immigration Canyon where the Mormons came over," he said. "I've been going up and down that canyon two or three times a day doing efforts of 21 minutes on average at time trial pace."
After this weekend he plans to return home to Utah before heading to Colorado Springs to do some motor-pacing, and possible a few track workouts. "The Olympics have always been a goal for me," said Zabriskie.
Ad-hoc alliances?
Zabriskie is without official team support here, but was warming-up with McCartney under a Hincapie-logo tent. And driving behind him in the follow car was George's brother Rich, with whom Zabriskie is reportedly staying. Also not racing the time trial was Levi Leipheimer (Gerolsteiner) who was seen out riding with George today. With Levi already signed to Discovery Channel for next year, the ProTour riders could be working together in the road race Sunday to avoid being outnumbered -- at least in the early laps.
However, Zabriskie said he had not heard of any such plans but still responded to the question, "It's possible... it's a good idea!"
Regardless of any impromptu team strategy, Hincapie's official teammate Jason McCartney said he is solidly behind George for Sunday and believes he has the best chance at winning. "George is coming off a great ride an Eneco and he wasn't even working hard there. He should have won it."
Cyclingnews will be there providing up-to-the-minute live coverage from inside the race caravan starting at 10:00 a.m. EST.
Photography
For a thumbnail gallery of these images, click here
Images by John Laninga
Images by Jonathan Devich/epicimages.us
Images by Mitch Clinton/www.clintonphoto.com
Results
Individual time trial, 32.4km
 
1 Dave Zabriskie (CSC)                                   41.49.69 (46.48kph)
2 Chris Baldwin (Toyota United)                           0.31.87
3 Jason Mccartney (Discovery Channel)                     0.52.30
4 Mike Friedman (TIAA Cref)                               1.08.46
5 Bernard Vanulden (Navigators Insurance)                 1.25.37
6 Danny Pate (TIAA Cref)                                  1.29.07
7 Tom Abb Zirbel (Priority Health)                        1.29.58
8 Jeff Louder (Health Net / Maxxis)                       1.37.62
9 Chris Wherry (Toyota United)                            1.47.98
10 Mike Creed (TIAA Cref)                                 2.12.87
11 Daniel Ramsey (Sucessfullliving)                       2.13.13
12 Phil Zajicek (Navigators Insurance)                    2.17.34
13 Zak Grabowski (Colavita Olive Oil - Sutter Home)       2.20.19
14 Scott Moninger (Health Net / Maxxis)                   2.24.39
15 Ben Jacques-Maynes (Kodakgallery.com/Sierra Nevada)    2.29.71
16 Todd Herriott (Colavita Olive Oil - Sutter Home)       2.33.86
17 Craig Lewis (TIAA Cref)                                2.38.58
18 Thornton (Toyota United)                               2.41.03
19 Thad Dulin (Nerac/Outdoorlights.com)                   2.44.21
20 Blake Caldwell (TIAA Cref)                             2.48.96
21 Nick Reistad (Jelly Belly)                             2.49.64
22 Bryan Smith (TIAA Cref)                                2.53.34
23 Tim Johnson (Health Net / Maxxis)                      2.54.25
24 Justin England (Toyota United)                         2.59.63
25 Curtis Gunn (Sucessfullliving)                         3.04.33
26 Will Frischkorn (TIAA Cref)                            3.06.52
27 Tony Cruz (Toyota United)                              3.07.38
28 Doug Ollerenshaw (Health Net / Maxxis)                 3.08.74
29 Brad Huff (TIAA Cref)                                  3.11.13
30 Steven Cozza (TIAA Cref)                               3.11.44
31 Brian Sheedy (Priority Health)                         3.15.31
32 Justin Spinelli (Nerac/Outdoorlights.com)              3.18.54
33 Scott Zwizanski (Kodakgallery.com/Sierra Nevada)       3.21.60
34 Clayton Barrows (PVC)                                  3.22.79
35 Jackson Stewart (Kodakgallery.com/Sierra Nevada)       3.31.27
36 Roman Kilun (Health Net / Maxxis)                      3.41.98
37 Chris Stockburger (Toyota United)                      3.51.75
38 Edward King (Priority Health)                          4.07.53
39 Mike Norton (Nerac/Outdoorlights.com)                  4.12.45
40 Michael Dietrich (Kodakgallery.com/Sierra Nevada)      4.21.68
41 Gaimon Phillip (VMG Racing)                            4.22.18
42 Jake Rytlewski (Priority Health)                       4.34.35
43 Austin King (Jittery Joe's)                            5.20.59
44 Ryan Barnett (CAICO)                                   5.37.26
45 Tony Wells (TIAA Cref)                                 5.38.08
46 Peter Penzell (Rite Aid)                               5.43.15
47 Peter Stetina (TIAA Cref)                              5.43.86
48 Marc Anderson (Jittery Joe's)                          6.12.84
49 Daniel Holt (Nerac/Outdoorlights.com)                  6.24.55
50 Sterling Magnell (Toyota United)                       6.30.09
51 Eric Keim (AEG-TOSHIBA-JetNetwork)                     6.44.22
52 Jake Rubelt (AEG-TOSHIBA-JetNetwork)                   7.23.58
53 Tyson Apostol (Vorarlberg-Volksbank)                   8.02.31
DNS Mariano Friedick (Toyota United)                             
DNS Mike Rap Beers (Rite Aid)                   

Non-championship category competitor

1 AJ Smith (Discovery Channel)                           47.44.21