Tour of California - 2.HC
USA, February 18-25, 2007
Tour of California gets tougher for 2007
By Sue George
The famous Bixby Bridge
Photo ©: Jon Devich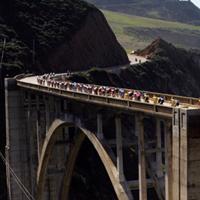 The Tour of California organisers have announced specific route details for the 2007 edition, which will cover 650 miles in eight days in February. The 2007 race is expected to be tougher than last year's event. The last few days of the race, when riders are more fatigued, will likely be more difficult.
The route has been compiled by a committee of three individuals from Medalist Sports including managing partner Jim Birrell, race technical director Chuck Hodge, and competition director and former pro racer Kevin Livingston.
"We created a race that will complement where riders are in their season," said Birrell to Cyclingnews. He observed that while the race is tougher than last year, it is still appropriate for pros building up their race fitness in the early part of their season. The course was modified after input from team directors and spectators.
Michael Roth, Vice President of promoting company AEG, highlighted two key changes to the 2007 edition. "We've taken the race further north this year. The race does go through the state's capitol, Sacramento. In fact, we finish Stage 2 on the steps of the capitol."
Big crowds at this year's event
Photo ©: Jon Devich

Picking the route was not easy. Birrell said, "California has so many gorgeous roads. We've created the route as another beautiful postcard of the state." The team chose routes with one goal in mind: to make the race more exciting.
"We'll get closer to our ultimate goal," said Birrell, "of seeing the jersey change on a nightly basis. So we've moved up the time trial to the end of the race and tightened it up by shortening it from 18 to 15 miles. I think the gaps will be tighter between top GC riders this year."
Birrell said that expects the pros to let it all hang out in the time trial, which will be held in Solvang, in an area of California where some pro teams conduct early season training camps. Many riders will be familiar with portions of the course and should therefore be more comfortable giving it one hundred percent.
"Saturday's Stage 6 is probably the toughest stage of all," said Birrell. "There is a foray into the mountains before the finish in Santa Clarita. It may not be the longest stage, but we have four KOMs, all of which were seen last year in the stage from Santa Barbara to Thousand Oaks, but this year when you look at overall tour and where they will be physically, this stage will be harder, especially after TT on Friday in Solvang."
Organizers declined to select favourites for the 2007 edition because they are still finalizing the teams and riders who will be participating.