Tour of California - 2.1
USA, February 19-26, 2006
Main Page Results Overall standings Stage Details Live report Previous Stage
Stage 7 - February 26: Redondo Beach Circuit Race, 123.1km
Pollack does the back-to-back - Landis King of Cali
by Mark Zalewski, North American Editor in Redondo Beach
Olaf Pollack (T-Mobile)
Photo ©: Jon Devich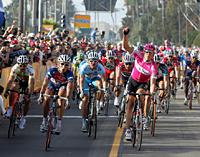 Both Juan Jose Haedo (Toyota-United) and George Hincapie (Discovery Channel) have won two stages of the Tour of California, but only Olaf Pollack managed to win back-to-back stages as he threw his bike across the line to beat Haedo in the final circuit race around Redondo Beach. "It was a nice feeling to win here in L.A. - so many people!" Pollack told Cyclingnews after the race. "What can I say, second one! [My team] made a big effort today. It was unbelievable."
Phonak's Floyd Landis cruised around Redondo Beach to become the first winner of the Tour of California - sitting at the front of the field with his team-mates in control, spent from four days defending the leader's jersey. "Our guys are pretty tired with the amount of work they have done, so we didn't have any plans for a stage win," Landis said. "We rode on the front because it is easier and safer - there was no plan for a lead-out. I had a strong team, but the field didn't make it easy on me. The days following the time trial were more difficult. I think that after a few days the peloton realized our team was stronger than they expected."
The first and only break of the day went at just three kilometers into the race when Glen Chadwick (Navigator's Insurance) attacked. "Ed Beamon said to be pretty aggressive today - if no one is making the moves, make them yourself!" Chadwick said. "Three kilometers into it I thought I would have a go. Then there was a big crash and our GC rider Phil Zajicek crashed and was out, so it was all or nothing then."
Overall winner Floyd Landis (Phonak)
Photo ©: Mitch Friedman

Along with Zajicek, that crash involved the most aggressive rider from yesterday Sebastian Lang (Gerolsteiner) and the best young rider Tom Peterson (TIAA-CREF). Lang abandoned at that point, but Peterson needed to finish the stage in order to keep his jersey and claim the $5,000 prize. Bravely, Peterson rolled along and received treatment from the medical staff and did finish. But the crash did aid the break by slowing the field. Riding away with Chadwick was Aaron Olson (Saunier Duval-Prodir), Davide Frattini (Colavita) and Scott Zwizanski (Kodakgallery.com-Sierra Nevada). The quartet built a lead to nearly eight minutes, which made Chadwick the leader on the road for a lap, before Phonak, Davitamon-Lotto and T-Mobile pushed the pace.
With less than three laps to go, the break was down to just three minutes when bad luck struck Olson. A rear puncture brought the American to the side with the break continuing on without him. But a quick change from Mavic and some smart drafting from the team cars put Olson back into the break without much of a loss.
The early break
Photo ©: Jon Devich

However, after that, Davitamon-Lotto and T-Mobile began to smell a field sprint. "Lotto and my team worked the most today," said Pollack. And on the last lap the field reeled in the break on the small climb up one end of the course. "It was not so flat. On the map it was flat, but the little climb from lap to lap got harder and harder," Pollack commented. "It was hard, but every time over the climb I went a little bit harder to stay near the front," Juan Jose Haedo said. "I went easy early so that in the end I could make it back and was feeling better in the end."
From there the teams with strong sprinters took over, driving the pace to the finish. The final stretch of road was wide and fast, measuring nearly 1,000 meters. "In the last corner I was like twentieth," said Haedo. "It was a like a lottery at that point - really, really fast and hard to get into position. I got in near the T-Mobile train with a few hundred meters to go. I went a little too early, so I rested up a little bit, and then I went again. It was a little bit short, but I am happy."
Pollack had the help of team-mate André Greipel who was able to hang on for third, behind Haedo. Pollack also noted a difference between sprinting in this field to fields in Europe. "It was not the same as in Europe when everybody has a sprinter and everybody goes in front and works." Pollack's win vaulted him in front of Hincapie in the sprint competition, giving him the final green jersey.
A beautiful day
Photo ©: Jon Devich

Even with second today, Juan Jose Haedo was the biggest winner for the domestic teams, and is thinking big things for the future. "I think Europe and the three big tours... but for now I am in a friendly team with Toyota-United - great riders and staff. Right now I am focused on that but looking forward anything can happen." His team's director, Frankie Andreu, is very happy with his team's performance this week and the race itself. "More so than getting the [first] win of the season was getting a win here, that was a priority. J.J. was incredibly fast and it allowed us to bring a lot of exposure to our team immediately. Everyone is super happy, and the race itself was phenomenal. I don't think there has ever been a race like this in America."
As for the other domestic teams, Bobby Julich (CSC) was less than impressed beyond Haedo and Toyota-United, and offered a challenge to those teams. "The Toyota team definitely brought their A-game and won two stages. Everyone else is licking their wounds, maybe waiting for Georgia or Philadelphia. But if you have the chance to race against eight ProTour teams and your goal is to be a European pro, you have to bring your A-game, and we didn't see so many guys that jumped out of the woodwork that said, 'Hey, take me to Europe, I'm ready.' I think J.J. Haedo is one of the guys that stood out - but the other guys, if they are looking for individual results and recognition... we have another month and a half until Tour de Georgia, so bring it there."
Hmm, not much surfing in Germany
Photo ©: Jon Devich

But team-mate David Zabriskie did give credit to one other domestic team. "I think the TIAA-CREF team did it... there was one moment where they didn't make the break and acted very professional and chased it down - like they should because they missed it. I think they are coming along and trying to learn."
One thing was constant this week - thumbs up for the Tour of California, from riders to directors to fans. "When I switched teams to CSC it was a revelation to what a team should be like," said Julich. "And when I came here to the Tour of California I said wow, this is what a race should be like. I am so glad I didn't retire in 2003 and was able to experience these two things."
The final podium
Photo ©: Jon Devich

And for the first time this week, a certain name was finally invoked. "I don't know if this race would have been possible a few years ago - Lance brought a lot of fans to cycling and we are doing our best to keep them by putting on good bike races," said race winner Floyd Landis. "Hopefully we can keep them around."
As for making this race bigger and harder for the future, race owner AEG's Tim Leiweke said that his company's goal is to make this race the biggest in the world. "Tour de France - 20 million people. Until we do that we are not successful." But Landis made an interesting point about making the race harder. "I'm afraid if you made it too hard it would discourage riders who are focusing on the Tour from showing up. This is comparable to the other races in the spring, the shorter stage races."
But Dave Zabriskie certainly enjoyed his time riding in the sunny state of California this week, and is not looking forward to racing Paris-Nice next week. "I would like to extend the race for another twelve weeks! We are going to take a lot of warm clothes and wish that this race was still happening."
Photography
For a thumbnail gallery of these images, click here
Images by Jonathan Devich/epicimages.us
Images by Mitch Friedman/www.mitchophoto.com
Images by Mitch Clinton/www.clintonphoto.com
Images by Mark Zalewski/Cyclingnews.com
Images by Seng Chen/www.iheartbrains.com
Images by Mark Johnson/www.ironstring.com
Images by Steve Cohen/www.sportsshooter.com/STEVEC
Results

1 Olaf Pollack (Ger) T-Mobile Team                              2.50.27
2 Juan José Haedo (Arg) Toyota-United Pro                              
3 André Greipel (Ger) T-Mobile Team                                    
4 René Haselbacher (Aut) Gerolsteiner                                  
5 Alex Candelario (USA) Jelly Belly                                    
6 Gordon Fraser (Can) Health Net p/b Maxxis                            
7 Vladimir Gusev (Rus) Discovery Channel                               
8 Fred Rodriguez (USA) Davitamon-Lotto                                 
9 Sergey Lagutin (Uzb) Navigators Insurance                            
10 Stuart O'Grady (Aus) Team CSC                                       
11 Taylor Tolleson (USA) Team TIAA-CREF                                
12 Viktor Rapinski (Blr) Colavita Olive Oil-Sutter Home Wines          
13 Sébastien Portal (Fra) Credit Agricole                              
14 Brice Jones (USA) Jelly Belly                                       
15 Mark McCormack (USA) Colavita Olive Oil-Sutter Home Wines           
16 George Hincapie (USA) Discovery Channel                             
17 Antonio Cruz (USA) Toyota-United Pro                                
18 Nicolas Jalabert (Fra) Phonak Hearing Systems                       
19 Charles Dionne (Can) Saunier Duval-Prodir                           
20 Vassili Davidenko (Rus) Navigators Insurance                        
21 Mariano Friedick (USA) Toyota-United Pro                            
22 Fausto Esparza (Mex) KB Home Mexican National Team                  
23 Jackson Stewart (USA) Kodakgallery.Com-Sierra Nevada                
24 Floyd Landis (USA) Phonak Hearing Systems                           
25 Josep Jufre Pou (Spa) Davitamon-Lotto                               
26 Nick Reistad (USA) Jelly Belly                                      
27 Michael Barry (Can) Discovery Channel                               
28 Ben Jacques-Maynes (USA) Kodakgallery.Com-Sierra Nevada             
29 Frank Hoj (Den) Gerolsteiner                                        
30 Nicolas Vogondy (Fra) Credit Agricole                               
31 Martin Elmiger (Swi) Phonak Hearing Systems                         
32 Christopher Baldwin (USA) Toyota-United Pro                         
33 Bobby Julich (USA) Team CSC                                         
34 Mads Kaggestad (Nor) Credit Agricole                                
35 Valery Kobzarenko (Ukr) Navigators Insurance                        
36 Christian Vandevelde (USA) Team CSC                                 
37 Michael Friedman (USA) Team TIAA-CREF                               
38 Nathan O'Neill (Aus) Health Net p/b Maxxis                          
39 David Zabriskie (USA) Team CSC                                      
40 André Korff (Ger) T-Mobile Team                                     
41 Paolo Savoldelli (Ita) Discovery Channel                            
42 Cadel Evans (Aus) Davitamon-Lotto                                   
43 Alexandre Moos (Swi) Phonak Hearing Systems                         
44 Rémi Pauriol (Fra) Credit Agricole                                  
45 David Kopp (Ger) Gerolsteiner                                       
46 Mark Walters (Can) Navigators Insurance                             
47 Thomas Danielson (USA) Discovery Channel                            
48 Sven Krauss (Ger) Gerolsteiner                                      
49 Janez Brajkovic (Slo) Discovery Channel                             
50 Jason McCartney (USA) Discovery Channel                             
51 Hayden Roulston (NZl) Health Net p/b Maxxis                         
52 Bernhard Kohl (Aut) T-Mobile Team                                   
53 Christopher Horner (USA) Davitamon-Lotto                            
54 Fabian Cancellara (Swi) Team CSC                                    
55 Viatcheslav Ekimov (Rus) Discovery Channel                          
56 Steve Zampieri (Swi) Phonak Hearing Systems                         
57 Riccardo Ricco (Ita) Saunier Duval-Prodir                           
58 Heath Blackgrove (NZl) Toyota-United Pro                            
59 Timothy Johnson (USA) Health Net p/b Maxxis                         
60 Levi Leipheimer (USA) Gerolsteiner                                  
61 Miguel Angel Martin Perdiguero (Spa) Phonak Hearing Systems         
62 Tyler Wren (USA) Colavita Olive Oil-Sutter Home Wines               
63 Karsten Kroon (Ned) Team CSC                                        
64 Jean Marc Marino (Fra) Credit Agricole                              
65 Mike Sayers (USA) Health Net p/b Maxxis                             
66 Lars Ytting Bak (Den) Team CSC                                      
67 Jens Voigt (Ger) Team CSC                                           
68 Justin England (USA) Toyota-United Pro                              
69 Aaron Olsen (USA) Saunier Duval-Prodir                              
70 José Angel Gomez Marchante (Spa) Saunier Duval-Prodir               
71 Scott Moninger (USA) Health Net p/b Maxxis                          
72 Fabian Wegmann (Ger) Gerolsteiner                                   
73 Arquimides Lam (Mex) KB Home Mexican National Team                  
74 Caleb Manion (Aus) Jelly Belly                                      
75 Thomas Peterson (USA) Team TIAA-CREF                                
76 Kilian Patour (Fra) Credit Agricole                                 
77 Scott Davis (Aus) T-Mobile Team                                     
78 Jesus Zarate (Mex) KB Home Mexican National Team                    
79 Saul Raisin (USA) Credit Agricole                                   
80 Dominique Perras (Can) Kodakgallery.Com-Sierra Nevada               
81 Marco Pinotti (Ita) Saunier Duval-Prodir                            
82 Brian Jensen (USA) Jelly Belly                                      
83 Kyle Wamsley (USA) Colavita Olive Oil-Sutter Home Wines             
84 Gregory Henderson (NZl) Health Net p/b Maxxis                       
85 Michael Rogers (Aus) T-Mobile Team                                  
86 Glen Alan Chadwick (Aus) Navigators Insurance                       
87 José-Manuel Garcia (Mex) Toyota-United Pro                          
88 Torsten Hiekmann (Ger) Gerolsteiner                                 
89 Craig Lewis (USA) Team TIAA-CREF                                    
90 Scott Zwizanski (USA) Kodakgallery.Com-Sierra Nevada                
91 Davide Frattini (Ita) Colavita Olive Oil-Sutter Home Wines          
92 Jonathan Patrick Mc Carty (USA) Phonak Hearing Systems              
93 Danny Pate (USA) Team TIAA-CREF                                     
94 Benjamin Brooks (Aus) Navigators Insurance                          
95 Preben Van Hecke (Bel) Davitamon-Lotto                          0.23
96 Lucas Euser (USA) Team TIAA-CREF                                1.02
97 David O'Loughlin (Irl) Navigators Insurance                     1.51
DNF Robert Hunter (RSA) Phonak Hearing Systems                         
DNF Bart Dockx (Bel) Davitamon-Lotto                                   
DNF Sebastian Lang (Ger) Gerolsteiner                                  
DNF Koldo Gil Perez (Spa) Saunier Duval-Prodir                         
DNF Phil Zajicek (USA) Navigators Insurance                            
DNF Michael Creed (USA) Team TIAA-CREF                                 
 
Sprints
 
1
 
1 Scott Zwizanski (USA) Kodakgallery.Com-Sierra Nevada                5 pts
2 Davide Frattini (Ita) Colavita Olive Oil-Sutter Home Wines          3
3 Glen Alan Chadwick (Aus) Navigators Insurance                       1
 
2
 
1 Glen Alan Chadwick (Aus) Navigators Insurance                       5 pts
2 Scott Zwizanski (USA) Kodakgallery.Com-Sierra Nevada                3
3 Davide Frattini (Ita) Colavita Olive Oil-Sutter Home Wines          1
 
3
 
1 Glen Alan Chadwick (Aus) Navigators Insurance                       5 pts
2 Scott Zwizanski (USA) Kodakgallery.Com-Sierra Nevada                3
3 Davide Frattini (Ita) Colavita Olive Oil-Sutter Home Wines          1
 
Teams
 
1 Toyota-United Pro Cycling Team                                8.31.21
2 T-Mobile Team                                                        
3 Jelly Belly Cycling Team                                             
4 Discovery Channel Pro Cycling Team                                   
5 Navigators Insurance Cycling Team                                    
6 Phonak Hearing Systems                                               
7 Davitamon-Lotto                                                      
8 Credit Agricole                                                      
9 Gerolsteiner                                                         
10 Team CSC                                                            
11 Colavita Olive Oil/Sutter Home Wines Pro Cycling Team               
12 Health Net Presented by Maxxis                                      
13 Team TIAA-Cref                                                      
14 Kodak Gallery.com/Sierra Nevada Pro Cycling                         
15 Prodir-Saunier Duval                                                
16 KB Home Mexican National Team                                       
 
Final general classification
 
1 Floyd Landis (USA) Phonak Hearing Systems                    22.46.46
2 David Zabriskie (USA) Team CSC                                   0.29
3 Bobby Julich (USA) Team CSC                                      0.34
4 George Hincapie (USA) Discovery Channel                          0.45
5 Nathan O'Neill (Aus) Health Net p/b Maxxis                       1.08
6 Levi Leipheimer (USA) Gerolsteiner                               1.10
7 Cadel Evans (Aus) Davitamon-Lotto                                1.29
8 Thomas Danielson (USA) Discovery Channel                         1.49
9 Christian Vandevelde (USA) Team CSC                              1.55
10 Jason McCartney (USA) Discovery Channel                         1.58
11 Nicolas Vogondy (Fra) Credit Agricole                           2.14
12 Bernhard Kohl (Aut) T-Mobile Team                               2.15
13 Christopher Horner (USA) Davitamon-Lotto                        2.17
14 Josep Jufre Pou (Spa) Davitamon-Lotto                           2.20
15 Rémi Pauriol (Fra) Credit Agricole                              2.52
16 Michael Barry (Can) Discovery Channel                           2.56
17 Saul Raisin (USA) Credit Agricole                               3.11
18 Alexandre Moos (Swi) Phonak Hearing Systems                     3.22
19 José Angel Gomez Marchante (Spa) Saunier Duval-Prodir               
20 Riccardo Ricco (Ita) Saunier Duval-Prodir                       4.10
21 Hayden Roulston (NZl) Health Net p/b Maxxis                     4.31
22 Viatcheslav Ekimov (Rus) Discovery Channel                      5.30
23 Christopher Baldwin (USA) Toyota-United Pro                     6.13
24 Ben Jacques-Maynes (USA) Kodakgallery.Com-Sierra Nevada         6.20
25 Glen Alan Chadwick (Aus) Navigators Insurance                   6.32
26 Valery Kobzarenko (Ukr) Navigators Insurance                    6.49
27 Paolo Savoldelli (Ita) Discovery Channel                        6.52
28 Danny Pate (USA) Team TIAA-CREF                                 7.34
29 Janez Brajkovic (Slo) Discovery Channel                         7.36
30 Vladimir Gusev (Rus) Discovery Channel                          7.39
31 Heath Blackgrove (NZl) Toyota-United Pro                        7.46
32 Torsten Hiekmann (Ger) Gerolsteiner                             7.52
33 Karsten Kroon (Ned) Team CSC                                    8.26
34 Scott Moninger (USA) Health Net p/b Maxxis                      8.56
35 Mads Kaggestad (Nor) Credit Agricole                            9.11
36 Antonio Cruz (USA) Toyota-United Pro                            9.13
37 Marco Pinotti (Ita) Saunier Duval-Prodir                        9.23
38 Thomas Peterson (USA) Team TIAA-CREF                            9.35
39 Steve Zampieri (Swi) Phonak Hearing Systems                    10.17
40 Scott Davis (Aus) T-Mobile Team                                11.09
41 Sergey Lagutin (Uzb) Navigators Insurance                      12.26
42 Stuart O'Grady (Aus) Team CSC                                  12.29
43 Jens Voigt (Ger) Team CSC                                      12.39
44 Nicolas Jalabert (Fra) Phonak Hearing Systems                  12.48
45 Brian Jensen (USA) Jelly Belly                                 13.01
46 Arquimides Lam (Mex) KB Home Mexican National Team             14.15
47 Miguel Angel Martin Perdiguero (Spa) Phonak Hearing Systems    14.43
48 Dominique Perras (Can) Kodakgallery.Com-Sierra Nevada          16.35
49 Lucas Euser (USA) Team TIAA-CREF                               16.49
50 André Korff (Ger) T-Mobile Team                                16.50
51 André Greipel (Ger) T-Mobile Team                              17.22
52 Sébastien Portal (Fra) Credit Agricole                         17.50
53 Michael Rogers (Aus) T-Mobile Team                             18.04
54 Fred Rodriguez (USA) Davitamon-Lotto                           18.21
55 Davide Frattini (Ita) Colavita Olive Oil-Sutter Home Wines     18.47
56 Olaf Pollack (Ger) T-Mobile Team                               18.57
57 Martin Elmiger (Swi) Phonak Hearing Systems                    19.08
58 Kilian Patour (Fra) Credit Agricole                            19.25
59 Jonathan Patrick Mc Carty (USA) Phonak Hearing Systems         19.37
60 Jean Marc Marino (Fra) Credit Agricole                         19.58
61 Taylor Tolleson (USA) Team TIAA-CREF                           20.17
62 Craig Lewis (USA) Team TIAA-CREF                               20.21
63 Justin England (USA) Toyota-United Pro                         20.24
64 Mark Walters (Can) Navigators Insurance                        20.30
65 Sven Krauss (Ger) Gerolsteiner                                 21.19
66 Viktor Rapinski (Blr) Colavita Olive Oil-Sutter Home Wines     21.20
67 Gordon Fraser (Can) Health Net p/b Maxxis                      21.36
68 Fabian Cancellara (Swi) Team CSC                               21.56
69 Caleb Manion (Aus) Jelly Belly                                 23.10
70 David O'Loughlin (Irl) Navigators Insurance                    23.24
71 Scott Zwizanski (USA) Kodakgallery.Com-Sierra Nevada           24.38
72 Mariano Friedick (USA) Toyota-United Pro                       24.41
73 David Kopp (Ger) Gerolsteiner                                  24.50
74 Frank Hoj (Den) Gerolsteiner                                   25.01
75 Timothy Johnson (USA) Health Net p/b Maxxis                    25.07
76 Fausto Esparza (Mex) KB Home Mexican National Team             25.18
77 Kyle Wamsley (USA) Colavita Olive Oil-Sutter Home Wines        25.42
78 Nick Reistad (USA) Jelly Belly                                 25.59
79 René Haselbacher (Aut) Gerolsteiner                            26.10
80 Fabian Wegmann (Ger) Gerolsteiner                              26.13
81 Benjamin Brooks (Aus) Navigators Insurance                     26.39
82 Alex Candelario (USA) Jelly Belly                              27.01
83 Michael Friedman (USA) Team TIAA-CREF                          27.52
84 Preben Van Hecke (Bel) Davitamon-Lotto                         28.03
85 Charles Dionne (Can) Saunier Duval-Prodir                      28.16
86 José-Manuel Garcia (Mex) Toyota-United Pro                     28.22
87 Aaron Olsen (USA) Saunier Duval-Prodir                         28.55
88 Lars Ytting Bak (Den) Team CSC                                 28.57
89 Gregory Henderson (NZl) Health Net p/b Maxxis                  29.25
90 Vassili Davidenko (Rus) Navigators Insurance                   29.31
91 Jesus Zarate (Mex) KB Home Mexican National Team               30.05
92 Juan José Haedo (Arg) Toyota-United Pro                        31.04
93 Jackson Stewart (USA) Kodakgallery.Com-Sierra Nevada           31.05
94 Mike Sayers (USA) Health Net p/b Maxxis                        31.28
95 Mark McCormack (USA) Colavita Olive Oil-Sutter Home Wines      32.05
96 Brice Jones (USA) Jelly Belly                                  32.07
97 Tyler Wren (USA) Colavita Olive Oil-Sutter Home Wines          40.45
 
Sprints classification
 
1 Olaf Pollack (Ger) T-Mobile Team                                   47 pts
2 Juan José Haedo (Arg) Toyota-United Pro                            42
3 George Hincapie (USA) Discovery Channel                            40
4 Fred Rodriguez (USA) Davitamon-Lotto                               26
5 René Haselbacher (Aut) Gerolsteiner                                23
6 Christopher Horner (USA) Davitamon-Lotto                           23
7 Gordon Fraser (Can) Health Net p/b Maxxis                          22
8 Josep Jufre Pou (Spa) Davitamon-Lotto                              19
9 André Greipel (Ger) T-Mobile Team                                  18
10 Fabian Wegmann (Ger) Gerolsteiner                                 18
11 Riccardo Ricco (Ita) Saunier Duval-Prodir                         18
12 Stuart O'Grady (Aus) Team CSC                                     13
13 Alex Candelario (USA) Jelly Belly                                 12
14 Glen Alan Chadwick (Aus) Navigators Insurance                     11
15 Scott Zwizanski (USA) Kodakgallery.Com-Sierra Nevada              11
16 André Korff (Ger) T-Mobile Team                                   10
17 Jackson Stewart (USA) Kodakgallery.Com-Sierra Nevada               8
18 David Kopp (Ger) Gerolsteiner                                      8
19 Ben Jacques-Maynes (USA) Kodakgallery.Com-Sierra Nevada            7
20 Bobby Julich (USA) Team CSC                                        7
21 Levi Leipheimer (USA) Gerolsteiner                                 7
22 Mads Kaggestad (Nor) Credit Agricole                               6
23 Sven Krauss (Ger) Gerolsteiner                                     5
24 Benjamin Brooks (Aus) Navigators Insurance                         5
25 Davide Frattini (Ita) Colavita Olive Oil-Sutter Home Wines         5
26 Vladimir Gusev (Rus) Discovery Channel                             5
27 Cadel Evans (Aus) Davitamon-Lotto                                  5
28 Viktor Rapinski (Blr) Colavita Olive Oil-Sutter Home Wines         5
29 Sergey Lagutin (Uzb) Navigators Insurance                          5
30 Martin Elmiger (Swi) Phonak Hearing Systems                        4
31 Floyd Landis (USA) Phonak Hearing Systems                          4
32 Hayden Roulston (NZl) Health Net p/b Maxxis                        4
33 Steve Zampieri (Swi) Phonak Hearing Systems                        3
34 Lars Ytting Bak (Den) Team CSC                                     3
35 José-Manuel Garcia (Mex) Toyota-United Pro                         3
36 Jean Marc Marino (Fra) Credit Agricole                             3
37 David Zabriskie (USA) Team CSC                                     2
38 Scott Davis (Aus) T-Mobile Team                                    2
39 Antonio Cruz (USA) Toyota-United Pro                               2
40 Thomas Danielson (USA) Discovery Channel                           1
41 Dominique Perras (Can) Kodakgallery.Com-Sierra Nevada              1
42 Jens Voigt (Ger) Team CSC                                          1
43 Alexandre Moos (Swi) Phonak Hearing Systems                        1
44 Nicolas Vogondy (Fra) Credit Agricole                              1
45 Gregory Henderson (NZl) Health Net p/b Maxxis                      1
 
Mountains classification
 
1 Levi Leipheimer (USA) Gerolsteiner                                 31 pts
2 Bernhard Kohl (Aut) T-Mobile Team                                  22
3 Riccardo Ricco (Ita) Saunier Duval-Prodir                          17
4 Floyd Landis (USA) Phonak Hearing Systems                          10
5 Sebastian Lang (Ger) Gerolsteiner                                  10
6 Marco Pinotti (Ita) Saunier Duval-Prodir                            9
7 Jens Voigt (Ger) Team CSC                                           7
8 David Zabriskie (USA) Team CSC                                      6
9 Fabian Wegmann (Ger) Gerolsteiner                                   6
10 André Greipel (Ger) T-Mobile Team                                  6
11 Christopher Horner (USA) Davitamon-Lotto                           6
12 Scott Davis (Aus) T-Mobile Team                                    6
13 Viatcheslav Ekimov (Rus) Discovery Channel                         5
14 Thomas Danielson (USA) Discovery Channel                           5
15 Sven Krauss (Ger) Gerolsteiner                                     5
16 Dominique Perras (Can) Kodakgallery.Com-Sierra Nevada              5
17 Cadel Evans (Aus) Davitamon-Lotto                                  4
18 Paolo Savoldelli (Ita) Discovery Channel                           4
19 George Hincapie (USA) Discovery Channel                            4
20 Glen Alan Chadwick (Aus) Navigators Insurance                      4
21 Michael Creed (USA) Team TIAA-CREF                                 4
22 Bobby Julich (USA) Team CSC                                        2
23 Vladimir Gusev (Rus) Discovery Channel                             2
24 Mads Kaggestad (Nor) Credit Agricole                               2
25 Jean Marc Marino (Fra) Credit Agricole                             2
26 Nathan O'Neill (Aus) Health Net p/b Maxxis                         1
27 Alexandre Moos (Swi) Phonak Hearing Systems                        1
28 Thomas Peterson (USA) Team TIAA-CREF                               1
29 Justin England (USA) Toyota-United Pro                             1
 
Young riders classification
 
1 Thomas Peterson (USA) Team TIAA-CREF                         22.56.21
2 Taylor Tolleson (USA) Team TIAA-CREF                            10.42
3 Craig Lewis (USA) Team TIAA-CREF                                10.46
 
Teams classification
 
1 Team CSC                                                     68.22.28
2 Discovery Channel Pro Cycling Team                               1.40
3 Davitamon-Lotto                                                  3.58
4 Phonak Hearing Systems                                           5.59
5 Credit Agricole                                                  6.07
6 Prodir-Saunier Duval                                             7.35
7 Health Net Presented by Maxxis                                  11.34
8 Navigators Insurance Cycling Team                               12.41
9 Gerolsteiner                                                    17.34
10 T-Mobile Team                                                  17.51
11 Toyota-United Pro Cycling Team                                 19.57
12 Team TIAA-Cref                                                 25.38
13 Kodak Gallery.com/Sierra Nevada Pro Cycling                    43.16
14 Colavita Olive Oil/Sutter Home Wines Pro Cycling Team          48.03
15 Jelly Belly Cycling Team                                       48.17
16 KB Home Mexican National Team                                1.03.28