2006 Commonwealth Games - JR
Melbourne, Australia, March 16-26, 2006
Main Page Results Previous event Next Event
March 17: Men's 40km points race
Finning completes Aussie clean sweep
By Mal Sawford, with additional reporting from Rob Jones
A very happy Sean Finning
Photo ©: AFP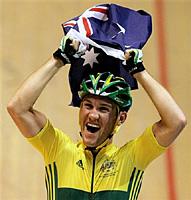 21 year-old Sean Finning lapped the field an amazing five times on his way to winning the men's 40 kilometre points race, to cap off a clean sweep of gold medals by the Australian team on the second night of the track competition. Finning finished on a mind-blowing 137 points, well clear of Hayden Roulston (New Zealand) with 119 and Geraint Thomas (Wales) on 110.
The win was clearly the biggest of the youngster's career. After some promising junior results, Finning's previous best was at the nationals 12 months ago, "but this is a bit of a step up compared to that!"
Kate Bates, winner of the women's points race earlier in the evening agreed. "For Sean to get up in the points race was really, really amazing. I think the whole team was very happy to see him have a win here," she said.
How it unfolded
Finning started the day as he would finish, winning his qualifying heat after taking a lap in the 60 lap preliminary, then joining an attack only four laps into the 200 lap final. That first attack saw him gain his first lap along with Mark Kelly (Isle of Man), Evan Oliphant (Scotland), Thomas and Roulston. Once the first lap had been taken, the bunch was rarely intact, with the five early leaders each looking to gain an advantage on the others.
Kelly (Mark Cavendish and Jonathan Bellis), Thomas (Matthew Brammeier and Ross Sander) and Roulston (Greg Henderson and Richard Bowker) both had two team mates for support, while Finning and Oliphant relied on the services of only one - Peter Dawson for Finning and James McCallum for the Scot.
The men's points podium
Photo ©: AFP

The non-stop attacks played to Finning's strength. "I knew if I raced well I could get a good result," he said. "The crowd were right behind us as they always are. It came off that way, and worked out well." As the exciting race unfolded, it was clear that Finning was the strongest man on the track as he matched every attack from his opponents and led on points, but still had the strength to earn a lap buffer.
Well positioned for the final sprint behind the Kiwi lead out train in the final laps, Finning elected not to contest the final points, but sat up a lap from home and celebrated with his hard working teammate Dawson.
Unsurprisingly, though, the winner admitted after the race, "I'm a little bit tired now. I just think I'll go home now and get some rest for Sunday.
"It's absolutely awesome in the village there, we're all in training together and we've got a great atmosphere, and I'm sure the success will just roll on now. It's great to be a young guy in the team among so many experienced riders who keep you in line and help pick you up."
Sean Finning (Australia)
Photo ©: AFP

Finning had thought the main danger would come from defending champion, Henderson, "but he ended up working for his teammate, Roulston...[winning] means a great deal to be able to pay back the people who've helped me get here, such as the Victorian Institute of Sport and the AIS."
His parents were also proud spectators: "They're in as much shock as I am!"
With six cycling events decided at the Commonwealth Games so far, Australia has an huge tally of five golds and one silver medal, with England the only other nation to win a gold medal.
Photography
For a thumbnail gallery of these images, click here
Images by AFP Photo
Images by Shane Goss/www.licoricegallery.com
Images by Rob Jones/www.canadiancyclist.com
Results
Qualification

Heat 1
 
1 Sean Finning (Australia)                 34 pts
2 Mohd Jasmin Bin Ruslan (Malaysia)        30
3 Ian Stannard (England)                   27
4 Mark Richard Kelly (Isle of Man)         25
5 Greg Henderson (New Zealand)             23
6 Martin Gilbert (Canada)                  23
7 James McCallum (Scotland)                21
8 Durwan Benjamin (South Africa)           20
9 Ross Sander (Wales)                      12
10 Jonathan Matthew Bellis (Isle of Man)    7
11 Emile Abraham (Trinidad)                 4
12 Jason Perryman (Barbados)                 
 
Heat 2
 
1 Evan Oliphant (Scotland)                 29 pts
2 Richard Bowker (New Zealand)             28
3 Mark Cavendish (Isle of Man)             25
4 Matthew Brammeier (Wales)                25
5 Hayden Roulston (New Zealand)            23
6 Zack Bell (Canada)                       11
7 Andy Tennant (England)                    7
8 Peter Dawson (Australia)                  6
9 Geraint Thomas (Wales)                    6
10 Edward Clancy (England)                  5
11 Garth Conrad Thomas (South Africa)       1
12 Oniel Samuels (Jamaica)                -20

Final

1 Sean Finning (Australia)                 137 pts
2 Hayden Roulston (New Zealand)            119
3 Geraint Thomas (Wales)                   110
4 Evan Oliphant (Scotland)                 109
5 Mark Richard Kelly (Isle of Man)         106
6 Peter Dawson (Australia)                  70
7 Edward Clancy (England)                   66
8 Zack Bell (Canada)                        60
9 James McCallum (Scotland)                 43
10 Andy Tennant (England)                   43
11 Mark Cavendish (Isle of Man)             38
12 Richard Bowker (New Zealand)             27
13 Jonathan Matthew Bellis (Isle of Man)    26
14 Greg Henderson (New Zealand)             24
15 Matthew Brammeier (Wales)                20
16 Ross Sander (Wales)                      13
17 Martin Gilbert (Canada)                   5
18 Ian Stannard (England)                     
19 Garth Conrad Thomas (South Africa)      -20
20 Mohd Jasmin Bin Ruslan (Malaysia)       -20
21 Durwan Benjamin (South Africa)          -20