2006 Commonwealth Games - JR
Melbourne, Australia, March 16-26, 2006
Main Page Results Previous event Next Event
March 17: Men's keirin
Bayley does it again
By Mal Sawford with additional reporting by Rob Jones
Ryan Bayley (Australia)
Photo ©: AFP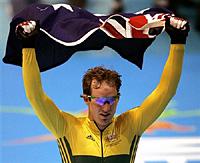 Olympic and past world champion Ryan Bayley has triumphed again in the keirin, winning the final in a time of 10.515 seconds from Canadian Travis Smith and Ross Edgar (Scotland) after second placed Ben Kersten (Australia) was relegated for moving into fellow Australian rider Shane Kelly's way in the last 200m.
"My form was good," Bayley said after three very dominant rides. "I had a lot of top end, my acceleration was not as good as I had hoped. The top six were damn good riders. But once I hit the front through the back straight I was confident I could win.
"I wanted to go out and win a Commonwealth Games gold and I just needed the motivation to do that. You just need to be inspired. It's not just a case of turning your legs over, you need to push your limits. When I fire up I go past my limits, way past my limits. It's just good that I worked it out."
Since winning two gold medals at the Olympic Games in Athens, Bayley admitted he has struggled with motivation. "A few crashes, a few injuries, a few personal things and the way people saw me as an Olympic champion," he explained. "By the age of 22, I'd won a world championship, a Commonwealth gold medal and an Olympic gold medal. It's hard to go back and do it again. But now I've re-set my goals, now I'm just going out to win races."
The men's keirin podium (L to R):
Photo ©: AFP

But tonight he got it right. "I'm very happy now. It used to be Martain (Barras - coach) dragging me out on the bike and now it's me dragging him out. I saw it as a weakness to see a psychologist, or to talk to friends. I wanted to do it all myself. Martain had been a great help."
Bayley also commented on how he doesn't believe cycling enjoys the support it deserves. "We have so many good people in the sport. People are now seeing how good we are and how much we sacrifice. It does get difficult because we don't get the support that say, swimming does, but we battle through because we love it, and we love winning."
Bayley was unable to comment on the relegation of Kersten as he was in the lead. "I'm a little bit disappointed for Kell's (Shane Kelly) he's probably one of the most talented keirin riders in the world. I feel privileged to be in a team with him. He's amazing and inspirational. I'm disappointed that they both weren't up there."
Second placed Travis Smith (Canada) said that he found himself in the right position at the right time: "When the moto pulled off I just rushed to the front and all of a sudden I was on the Aussie train. I thought Ben was going to crash...he came down on Shane and I heard their pedals clip but I just kept going. "I started shaky because I was nervous which is always a sign I'm going to do well.
Bayley on the front
Photo ©: Shane Goss

In the repechage, Smith said, "I was almost disqualified because the New Zealand guy moved up. So I shot the hole then he came down and I bumped shoulders with him. But they revised it and it was OK.
Ben Kersten finished second, just behind Bayley, but the judges relegated him for interfering with Shane Kelly. "I'm more concerned that I interfered with Shane's race," he said. "I thought I rode a really clean race but then I looked back, and I'm more disturbed that I interfered with Shane than losing my medal."
Yet to speak to Kersten about the incident, Kelly was clearly not happy with his team-mate. "I'll cool down. I'm a big boy. I'll sort it out," he said.
How it unfolded
All three Australian riders qualified for the keirin final after winning their heats, with kilo winner Ben Kersten saying after his heat that "I started a bit heavy this morning, but that was to be expected. All of the guys won their heats, so it's looking good for us."
Ryan Bayley and Shane Kelly were also untroubled in winning the second round heats, while Kersten was the final qualifier in the second heat behind Kelly and world cup champion Josiah Ng (Malaysia).
Kelly drew the number one position for the final, with Kersten starting against the fence, but it was Edgar who pounced first to claim the sit behind the derny when the starter's whistle blew. Settling in behind Edgar was Kelly, followed by Smith, Ng (Malaysia), Bayley and Kersten, and all were content to maintain their positions when the derny swung off.
Ryan Bayley (Australia)
Photo ©: AFP

With two laps to go, Ng was the first to step off the wheel, but as he moved onto Smith's hip, Bayley flew around the outside towing Kersten with him. Kelly made his move down the back straight as Bayley loomed over his right shoulder, but Bayley was simply too fast. Kersten was still in his teammate's slip stream at the bell, but incurred the commissaires' wrath when he dropped in front of Kelly entering the back straight.
Bayley and Kersten drag raced to the line to fight out the win, with the Olympic champion holding on in a quick final 200 metres of 10.515 seconds. Kersten's hold on the silver medal was short lived, with commissaires relegating him for interference, lifting Travis Smith into the silver medal position and Ross Edgar (Scotland) the bronze.
Photography
For a thumbnail gallery of these images, click here
Images by AFP Photo
Images by Shane Goss/www.licoricegallery.com
Images by Rob Jones/www.canadiancyclist.com
Results
Round 1
 
Heat 1
 
1 Ryan Bayley (Australia)       
2 Jamie Staff (England)         
3 Josiah Ng (Malaysia)          
4 Jason Forde (Barbados)        
5 Adam Stewart (New Zealand)    
 
Heat 2
 
1 Shane Kelly (Australia)        
2 Ross Edgar (Scotland)          
3 Justin Grace (New Zealand)     
4 Travis Smith (Canada)          
5 Mohd Rizal Tisin (Malaysia)    
 
Heat 3
 
1 Ben Kersten (Australia)        
2 Ricardo Lynch (Jamaica)        
3 Nathan Seddon (New Zealand)    
4 John Cumberbatch (Barbados)    
DSQ Matthew Crampton (England)  

Round 1 repechage

Heat 1

1 Travis Smith (Canada)          
2 Josiah Ng (Malaysia)
3 John Cumberbatch (Barbados)    
4 Adam Stewart (New Zealand)    

Heat 2

1 Nathan Seddon (New Zealand)    
2 Justin Grace (New Zealand)  
3 Mohd Rizal Tisin (Malaysia)    
4 Jason Forde (Barbados)        

Round 2

Heat 1

1 Ryan Bayley (Australia) 
2 Travis Smith (Canada) 
3 Ross Edgar (Scotland)        
4 Justin Grace (New Zealand)   
5 Ricardo Lynch (Jamaica)     
6 John Cumberbatch (Barbados) 

Heat 2

1 Shane Kelly (Australia)  
2 Josiah Ng (Malaysia)        
3 Ben Kersten (Australia)   
4 Mohd Rizal Tisin (Malaysia)    
5 Jamie Staff (England)   
6 Nathan Seddon (New Zealand) 

Finals

For 7th-12th

7 Justin Grace (New Zealand)   
8 John Cumberbatch (Barbados) 
9 Ricardo Lynch (Jamaica)     
10 Nathan Seddon (New Zealand) 
11 Jamie Staff (England)   
12 Mohd Rizal Tisin (Malaysia)    

For 1st-6th
 
1 Ryan Bayley (Australia)        10.515
2 Travis Smith (Canada) 
3 Ross Edgar (Scotland)        
4 Shane Kelly (Australia)  
5 Josiah Ng (Malaysia)        
DSQ Ben Kersten (Australia)