Tattersall's Cup Series Tour of Gippsland - NE
Australia, August 2-6, 2006
Main Page Results Overall standings Previous Stage Next Stage
Stage 7 - August 5: Traralgon, 45kms
Sulzberger dominates criterium
By Rod Morris in Traralgon
Wes Sulzberger (SA.com)
Photo ©: Shane Goss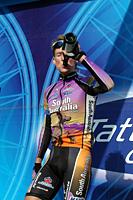 Wesley Sulzberger (SouthAustralia.com) took out the morning's criterium stage in Traralgon in dominating style, winning 11 intermediate sprints and the final dash to the line ahead of Scott Peoples and Darren Lapthorne. In doing so, he moved himself up to second on the general classification behind Drapac-Porsche's Dean Windsor, with 54 seconds separating the two.
The criterium was raced at a blistering speed, averaging 40 kph on a 30-lap 1.5 km circuit. Sulzberger was joined by Shepparton youngster Scott Peoples and Patrick Shaw – and then later by Canberra ace Robert McLachlan – to form a pretty handy breakaway group. They were able to establish a formidable lead of more than 40 seconds over the peloton, which included the other general classification challengers.
Sulzberger crossed the intermediate sprint ahead of his fellow escapees 11 times to establish a tour winning lead in the Sprint Championship and his victory in the stage also gave success in the Criterium Championship.
On top of that, Sulzberger has one hand on the Most Aggressive Rider Championship and is greedily eyeing off the tour's most cherished reward – overall victory. "I'll be giving it my best shot, don't worry about that," he said.
Photography
For a thumbnail gallery of these images, click here
Images by Shane Goss/www.licoricegallery.com
Results
1 Wesley Sulzberger                           1.07.19 (40.11 km/h)
2 Scott Peoples                                      
3 Darren Lapthorne                               0.08
4 Mark O'Brien                                   0.33
5 Brendan Brooks                                     
6 Richie Porte                                   0.36
7 Cody Stevenson                                 0.38
8 Robert McLachlan                                   
9 Dean Windsor                                       
10 Jason Hegert                                      
11 Robert Cater                                      
12 Jacob Sutherland                                  
13 Chris Jongewaard                                  
14 Tim Hucker                                        
15 Julian Dutton                                     
16 Nick Both                                         
17 Tim Buchanan                                      
18 Jack Alexander                                    
19 Fabio Calabria                                    
20 David Pell                                        
21 Cameron Peterson                                  
22 Peter Milostic                                    
23 Matthew Delahunty                                 
24 Andrew Ward                                       
25 Michael Tolhurst                                  
26 Aaron Wheeler                                     
27 Tom Middleton                                     
28 Miles Olman                                       
29 Michael Ford                                      
30 Edwin Crossling                                   
31 Stephen Isbel                                     
32 Mitchell Docker                                   
33 Chris Jory                                        
34 Lachlan Norris                                    
35 Tony Mann                                         
36 George Bunt                                       
37 Stephen Wooldridge                                
38 Bradley Clarke                                    
39 Daniel McConnell                                  
40 Stuart Shaw                                       
41 Patrick Shaw                                      
42 Benjamin Juzwin                                   
43 Alistair Crossling                            1.42
44 Damien Turner                                     
45 Chris Steffanoni                                  
46 Stephen Cunningham                                
47 Brad Edmunds                                      
48 Peter Smith                                       
49 Vaughan Bowman                                2.15
50 Peter Ladd                                        
51 Timothy Walker                                    
52 Daniel Furmston                                   
53 Casey Munro                                       
54 Allan Sieper                                      
55 Mitchell Vervaart                                 
56 Brett Franklin                                    
57 Christopher Fry                                   
58 William Zammit                                4.30
59 Grant Webster                                     
60 Simon Pearson                                     
61 Kym Howard                                        
62 Matthew Jensen                                    
63 Trent Stevenson                                   
64 Will Dickeson                                     
65 David Hiley                                       
66 Jarrod Harman                                     
67 Heath Keenan                                  6.45
68 James Henry                                       
69 Phillip Stokes                                    
70 Mitch Chapman                                     
71 Samuel Rix                                        
72 Jack Hudson                                       
73 Damon De Angelis                                  
74 Glen Peterson                                     
75 Michael Gallagher                             9.00
76 Stephen Price                                     
77 Will Wettenhall                                   
78 Steven Pilson                                     
79 Simon Van Der Aa                                  
80 Kyle Marwood                                      
81 William Murray                                    
82 Steven Robb                                  13.30
83 Malcolm Hart                                      
84 Andrew Hanigan                                    
DNF Daniel Newnham                                   
 
Sprints
 
Sprint 1 - end of lap 6
1 Wesley Sulzberger                                 3 pts
2 Robert Cater                                      2
3 David Pell                                        1
 
Sprint 2 - end of lap 8
1 Wesley Sulzberger                                 3 pts
2 Patrick Shaw                                      2
3 Robert Cater                                      1
 
Sprint 3 - end of lap 10
1 Wesley Sulzberger                                 3 pts
2 Scott Peoples                                     2
3 Robert Cater                                      1
 
Sprint 4 - end of lap 12
1 Wesley Sulzberger                                 3 pts
2 Scott Peoples                                     2
3 Robert McLachlan                                  1
 
Sprint 5 - end of lap 14
1 Wesley Sulzberger                                 3 pts
2 Scott Peoples                                     2
3 Robert McLachlan                                  1
 
Sprint 6 - end of lap 16
1 Wesley Sulzberger                                 3 pts
2 Scott Peoples                                     2
3 Robert McLachlan                                  1
 
Sprint 7 - end of lap 18
1 Wesley Sulzberger                                 3 pts
2 Robert McLachlan                                  2
3 Scott Peoples                                     1
 
Sprint 8 - end of lap 20
1 Wesley Sulzberger                                 3 pts
2 Robert McLachlan                                  2
3 Scott Peoples                                     1
 
Sprint 9 - end of lap 22
1 Wesley Sulzberger                                 3 pts
2 Scott Peoples                                     2
3 Miles Olman                                       1
 
Sprint 10 - end of lap 24
1 Wesley Sulzberger                                 3 pts
2 Scott Peoples                                     2
3 Mitchell Docker                                   1
 
Sprint 11 - end of lap 26
1 Wesley Sulzberger                                 3 pts
2 Scott Peoples                                     2
3 Patrick Shaw                                      1
 
General classification after stage 7
 
1 Dean Windsor                               10.28.30
2 Wesley Sulzberger                              0.54
3 Cody Stevenson                                 1.08
4 Chris Jongewaard                               1.32
5 Tony Mann                                      2.01
6 Miles Olman                                    2.09
7 Fabio Calabria                                 2.29
8 Darren Lapthorne                               2.46
9 Mitchell Docker                                3.48
10 Patrick Shaw                                  4.25
11 David Pell                                    4.28
12 Robert McLachlan                              4.29
13 Peter Milostic                                4.38
14 Tim Buchanan                                  4.40
15 Daniel McConnell                              4.49
16 Robert Cater                                  5.00
17 Brendan Brooks                                5.10
18 Mark O'Brien                                  5.17
19 Jacob Sutherland                              5.20
20 Lachlan Norris                                    
21 Stuart Shaw                                   5.28
22 Edwin Crossling                               5.30
23 Michael Tolhurst                              5.33
24 Tim Hucker                                    5.46
25 Scott Peoples                                 6.23
26 Casey Munro                                   7.03
27 Jason Hegert                                  7.22
28 Michael Ford                                  7.28
29 Nick Both                                     7.44
30 Chris Steffanoni                              8.46
31 Mitch Chapman                                12.01
32 Bradley Clarke                               12.35
33 Stephen Isbel                                12.48
34 Vaughan Bowman                               14.42
35 Benjamin Juzwin                              15.35
36 Richie Porte                                 20.45
37 Cameron Peterson                             20.49
38 Jack Alexander                               21.39
39 Tom Middleton                                22.05
40 Matthew Delahunty                            22.08
41 Will Dickeson                                22.34
42 Julian Dutton                                22.47
43 Allan Sieper                                 23.22
44 Andrew Ward                                  23.45
45 Chris Jory                                        
46 Aaron Wheeler                                     
47 George Bunt                                  24.34
48 Peter Smith                                  24.44
49 Brad Edmunds                                 24.49
50 Timothy Walker                               25.52
51 Daniel Furmston                              26.29
52 Peter Ladd                                   27.16
53 Jarrod Harman                                27.32
54 Alistair Crossling                           28.01
55 Trent Stevenson                              28.25
56 Stephen Cunningham                           29.13
57 Stephen Wooldridge                           30.05
58 Brett Franklin                               30.07
59 Kym Howard                                   32.22
60 Christopher Fry                              33.37
61 Simon Pearson                                33.54
62 Matthew Jensen                               33.58
63 Grant Webster                                34.43
64 Damien Turner                                34.51
65 David Hiley                                  35.27
66 Steven Robb                                  35.50
67 Jack Hudson                                  40.10
68 Andrew Hanigan                               42.08
69 Phillip Stokes                               47.38
70 Glen Peterson                                48.21
71 William Zammit                               48.30
72 Heath Keenan                                 49.18
73 Steven Pilson                                55.35
74 Samuel Rix                                 1.01.51
75 Michael Gallagher                          1.01.53
76 Will Wettenhall                            1.05.25
77 Damon De Angelis                           1.16.29
78 Malcolm Hart                               1.16.33
79 Kyle Marwood                               1.17.35
80 William Murray                             1.22.44
81 Mitchell Vervaart                          1.27.52
82 James Henry                                1.33.05
83 Stephen Price                              1.43.11
84 Simon Van Der Aa                           1.57.44
 
Mountains classification
 
1 Tony Mann                                        36 pts
2 Darren Lapthorne                                 33
3 Brendan Brooks                                   25
4 Will Dickeson                                    14
5 David Pell                                       13
6 Wesley Sulzberger                                12
7 Richie Porte                                      7
8 Simon Pearson                                     6
9 Scott Peoples                                     6
10 Michael Tolhurst                                 5
11 Miles Olman                                      5
12 Jason Hegert                                     2
13 Bradley Clarke                                   2
14 Peter Ladd                                       2
15 Daniel McConnell                                 2
16 Chris Jongewaard                                 2
17 Stuart Shaw                                      1
 
Sprints classification
 
1 Wesley Sulzberger                                84 pts
2 Dean Windsor                                     48
3 Patrick Shaw                                     27
4 Mitchell Docker                                  25
5 Chris Jongewaard                                 20
6 Scott Peoples                                    17
7 Julian Dutton                                    15
8 Robert McLachlan                                 11
9 Michael Tolhurst                                  8
10 Mark O'Brien                                     8
11 David Pell                                       8
12 Tony Mann                                        8
13 Cody Stevenson                                   7
14 Will Dickeson                                    7
15 Darren Lapthorne                                 6
16 Robert Cater                                     6
17 Vaughan Bowman                                   4
18 Brendan Brooks                                   4
19 Peter Ladd                                       4
20 Tim Buchanan                                     3
21 Cameron Peterson                                 3
22 Nick Both                                        2
23 Richie Porte                                     2
24 Steven Robb                                      2
25 Simon Pearson                                    1
26 Michael Ford                                     1
27 Jason Hegert                                     1
28 Stuart Shaw                                      1
29 Miles Olman                                      1
30 Trent Stevenson                                  1
 
Criterium Championship
 
1 Wesley Sulzberger                                35 pts
2 Dean Windsor                                     27
3 Cody Stevenson                                   20
4 Scott Peoples                                    13
5 Darren Lapthorne                                 13
6 Patrick Shaw                                     10
7 Mitchell Docker                                  10
8 Robert McLachlan                                 10
9 Miles Olman                                       9
10 Mark O'Brien                                     7
11 Chris Jongewaard                                 7
12 Tim Buchanan                                     7
13 Peter Milostic                                   6
14 Brendan Brooks                                   6
15 David Pell                                       5
16 Cameron Peterson                                 5
17 Richie Porte                                     5
18 Will Dickeson                                    4
19 Stuart Shaw                                      3
20 Tom Middleton                                    3
21 Robert Cater                                     2
22 Michael Ford                                     1
23 Jason Hegert                                     1
24 Stephen Wooldridge                               1
 
Most aggressive rider classification
 
1 Wesley Sulzberger                                 6 pts
2 Sean Finning                                      2
3 Tony Mann                                         2
4 Mitchell Docker                                   2
5 Scott Peoples                                     2
6 Mark O'Brien                                      2
7 Darren Lapthorne                                  2