Rund um die Nürnberger Altstadt - CDM / 1.3
Germany, August 31, 2003
Main Page Results World Cup Standings
Ziliute wins mass sprint, as Cooke clinches World Cup
By Jeff Jones
Cooke does enough to clinch the World Cup
Photo: © Mario Stiehl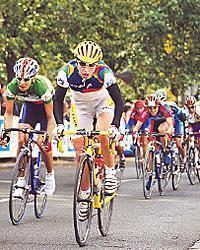 Lithuanian Diana Ziliute (Acca Due O) made a return to the top of the podium today by winning the eighth round of the women's World Cup held in Nürnberg, Germany. Ziliute beat Regina Schleicher (German National Team) and Arenda Grimberg (Farm Frites-Hartol) in a bunch sprint, after racing over 117 kilometres. In fifth place was World Cup leader Nicole Cooke (Ausra Gruodis-Safi), who secured more than enough points to clinch the World Cup jersey for 2003, with just one round remaining.
The women's peloton lined up at 9:30am for the start of the race, which was held over nine laps of a fairly flat 13 km course around Nürnberg's 'old city'. The course was not particularly selective and was expected to favour the likes of Petra Rossner, riding for the home team, Equipe Nürnberger Versicherung. The team however did not get off to a great start, with Trixi Worrack and Cornelia Cyrus crashing in the first 100 metres, together with Canadian Lyne Bessette.
The peloton stayed together for the duration of the race, despite an attempt by Alessandra Capellotto (Team Conero-Valenti) to escape after five laps. Ina-Yoko Teutenberg (German National Team) managed to win the two intermediate sprints on lap 3 and lap 6, and there were enough teams working to ensure that the pack stayed together for a bunch sprint.
Surprisingly, Rossner could only finish eighth in the rush for the line, which was won by Diana Ziliute from Schleicher and Grimberg. Nicole Cooke's closest challengers Mirjam Melchers and Sara Carrigan needed to win today to have any hope of taking the World Cup, but the best they could do was 6th (Melchers) and 12th (Carrigan) as Cooke extended her lead to an uncatchable 126 points.
Next weekend the Women's World Cup will finish with another sprinters race, the Rotterdam Tour in the Netherlands. Look for Petra Rossner to try and exact revenge for today.
Photos
Images by Mario Stiehl/www.world-of-cycling.com
Results - 117 km
1 Diana Ziliute (Ltu) Acca Due O Pasta Zara Lorena Camicie    2.53.49 (40.39 km/h)
2 Regina Schleicher (Ger) German National Team                       
3 Arenda Grimberg (Ned) Farm Frites-Hartol Cycling Team              
4 Anita Valen (Nor) Bik-Powerplate                                   
5 Nicole Cooke (GBr) Ausra Gruodis-Safi                              
6 Mirjam Melchers (Ned) Farm Frites-Hartol Cycling Team              
7 Rochelle Gilmore (Aus) Ausra Gruodis-Safi                          
8 Petra Rossner (Ger) Equipe Nürnberger Versicherung                 
9 Rachel Heal (GBr) British National Team                            
10 Tanja Hennes (Ger) Team Next 125                                  
11 Priska Doppmann (Swi) Swiss National Team                         
12 Sara Carrigan (Aus) Bik-Powerplate                                
13 Alessan Cappellotto (Ita) Team Conero-Valenti arge                
14 Katia Longhin (Ita) Acca Due O Pasta Zara Lorena Camicie          
15 Susanne Ljungskog (Swe) Bik-Powerplate                            
16 Isabella Wieser (Aut) Charly Lietzsport                           
17 Mette Fischer (Den) Team S.A.T.S                                  
18 Malgorzata Wysodka (Pol) Bonda-Lukowski                           
19 Miho Oki (Jpn) Farm Frites-Hartol Cycling Team                    
20 Deirdre Demet-Barry (USA) Team S.A.T.S                            
21 Christiane Soeder (Aut) Austrian National Team                    
22 Frances Newstead (GBr) British National Team                      
23 Sarah Düster (Ger) Equipe Hamburg-Mannheimer                      
24 Ghita Beltman (Ned) Acca Due O Pasta Zara Lorena Camicie          
25 Andrea Graus (Aut) Austrian National Team                         
26 Erika Vilunaite (Ltu) Ausra Gruodis-Safi                          
27 Aud Kari Berg (Nor) Norwegian National Team                       
28 Annette Beutler (Swi) Swiss National Team                         
29 Bettina Kuhn (Swi) Swiss National Team                            
30 Zita Urbonaite (Ltu) Acca Due O Pasta Zara Lorena Camicie         
31 Anna Skawinska (Pol) Bonda-Lukowski                               
32 Charlotte Goldsmith (GBr) British National Team                   
33 Madeleine Sandig (Ger) Team TEAG Euregio Egrensis                 
34 Bogumila Matusiak (Pol) Bonda-Lukowski                            
35 Paulina Brzezna (Pol) Bonda-Lukowski                              
36 Jane Kientzsch (Ger) Team TEAG Euregio Egrensis                   
37 Susanne Beyer (Ger) Team Stuttgart                                
38 Meredith Miller (USA) Team S.A.T.S                                
39 Tania Belvederesi (Ita) Team Conero-Valenti arge                  
40 Katrin Beilharz (Ger) Team Stuttgart                              
41 Ina-Yoko Teutenberg (Ger) German National Team                    
42 Petra Pilz (Aut) Charly Lietzsport                                
43 Mode Vzesniauskaite (Ltu) Ausra Gruodis-Safi                      
44 Chantal Beltman (Ned) Acca Due O Pasta Zara Lorena Camicie        
45 Nicole Hofer (Swi) Swiss National Team                            
46 Theresa Senff (Ger) German National Team                          
47 Anna Sipurzynska (Pol) Bonda-Lukowski                             
48 Liane Bahler (Ger) German National Team                           
49 Francis Linthorst (Ned) Bik-Powerplate                            
50 Verena Jooss (Ger) Equipe Hamburg-Mannheimer                      
51 Sarah Grab (Swi) Swiss National Team                              
52 Laura Lange (Ger) Team TEAG Euregio Egrensis                      
53 Doreen Weise (Ger) Equipe Hamburg-Mannheimer                      
54 Catherine Hare (GBr) British National Team                        
55 Trine Hansen (Den) Team S.A.T.S                                   
56 Irene Hostettler (Swi) Team Next 125                              
57 Kerstin Sosnowski (Ger) Equipe Hamburg-Mannheimer                 
58 Barbara Heeb (Swi) Swiss National Team                            
59 Angela Brodtka (Ger) German National Team                         
60 Claudia Hecht (Ger) Team TEAG Euregio Egrensis                    
61 Susan Smith (Can) Canadian National Team                          
62 Linn Torp (Nor) Norwegian National Team                           
63 Indre Januleviciute (Ltu) Acca Due O Pasta Zara Lorena Camicie    
64 Tina Liebig (Ger) German National Team                            
65 Manon Jutras (Can) Canadian National Team                         
66 Sharon Van Essen (Ned) Bik-Powerplate                             
67 Annette Griner (Ger) Team Stuttgart                               
68 Susan Palmer-Komar (Can) Canadian National Team                   
69 Marion Brauen (Swi) Team Next 125                                 
70 Christina Peick (Den) Team S.A.T.S                                
71 Soledad Fernandez (Arg) Team Conero-Valenti arge                  
72 Johanna Stephan (Ger) Team Stuttgart                          0.17
73 Bernadette Schober (Aut) Austrian National Team                   
74 Hnda Larsen (Nor) Norwegian National Team                         
75 Madeleine Lindberg (Swe) Equipe Nürnberger Versicherung       0.24
76 Judith Arndt (Ger) Equipe Nürnberger Versicherung             0.28

World cup standings after round 8

Unofficial
1 Nicole Cooke (GBr) Ausra Gruodis-Safi                          309 pts
2 Mirjam Melchers (Ned) Farm Frites-Hartol                       183
5 Regina Schleicher (Ger)                                        181
3 Sara Carrigan (Aus) Powerplate Bik                             173
4 Judith Arndt (Ger) Nurnberger                                  157
6 Anita Valen (Nor) Powerplate Bik                               127