Tour de France News for July 14, 2003
Edited by Jeff Jones & Chris Henry
Iban Mayo: First objective achieved
Next stop: The Podium
By Gabriella Ekström in l'Alpe d'Huez
Iban Mayo
Photo: © Sirotti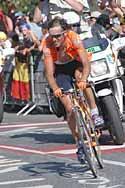 The Tour's eighth stage from Sallanches went over the Télégraphe and the magnificent Galibier before presenting the legendary climb of Alpe d'Huez to the riders. Closed since early this morning, the Alpe was absolutely packed with thousands of spectators and a whole bunch of tifosi gone bad. Their expectations were high, and once the riders reached the foot of the climb, it was clear that some serious selection would take place.
Iban Mayo is the rising star of Euskaltel-Euskadi, and became known to his fans when he won the Midi Libre and the stage to Briançon in the Dauphiné Libéré in 2001. This year, he used the Dauphiné Libéré to test his strength against Armstrong.
Click here for the full interview
The armada finds form on stage eight
The Tour's eighth stage was one of the most exciting in years, where contenders for the podium repeatedly attacked four-time TdF winner Lance Armstrong on l'Alpe d'Huez. First it was Joseba Beloki (ONCE-Eroski), then Iban Mayo (Euskaltel-Euskadi), while Team Telekom's Alexandre Vinokourov (Kaz) also charged ahead.
Tyler Hamilton (Team CSC) put in an awe-inspiring ride to stay with the lead group and even test his former team-mate on the final kilometres of the legendary climb by putting in a few charges from the front. Behind this group, Jan Ullrich (Team Bianchi) ground away at the pedals, trying to limit his deficit.
The stage also heightened the importance of a solid team time trial in the Tour. Mayo and his EE team management can only rue their poor performance on the fourth stage, where they lost 3.22 to Armstrong's blue train. In our stage eight report, Armstrong indicates he was prepared to let Mayo go. "I decided to let Mayo go and cover Beloki and limit my losses because he's close to me on GC. That worked out OK," he said.
Fans and experts alike will debate for years if Armstrong could have covered Mayo's attack had he been closer on GC, as Mayo went into stage eight with a deficit of over three and half minutes to the American rider. In the past, Armstrong has reacted swiftly to gain a psychological advantage over his rivals by sweeping up any attacks from his lead group.
Stage eight was different. Armstrong collided with team-mate Roberto Heras on the descent of the Galibier and they both crashed. They were quickly back on the road but it certainly didn't help his goals. The four-time winner had to be patient and it set up a Tour stage which cycling fans had not witnessed in years. There was always the chance that Armstrong and his team would use stage eight to assert their authority by snuffing out any serious attacks, as they have done in previous years. But as the Tour heads into the ninth stage, the race is more open than it has been since the last decade.
Post-stage quotes
Alexandre Vinokourov (Telekom, 2nd at 1'45)
Yesterday: "When I attacked on the climb of the Col de la Ramaz I hoped to take some riders with me, because it wasn't possible to go alone. Cycling is an attacking sport."
Today: "I'm glad I could come back to the group with Armstrong and recuperate a little bit because the pace wasn't too high. Then I decided to go on the attack. I'm very happy with the result."
Michael Rogers (Quick.Step-Davitamon, 34th at 9'29
Michael Rogers
Photo: © C.Henry/CN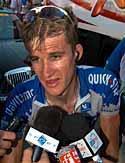 "It's a bit disappointing, but we took the yellow jersey for a day and had a stage win. I feel tired. It's been so hard... I'll sleep well tonight."
"Obviously [Virenque] wanted to go to Bastille Day wearing the yellow jersey. It didn't work, but the same time he's real happy. He got the stage win and the yellow jersey. I think it's been a good Tour for us."
"I surprised myself a little bit as well [yesterday]. I'll take every day as they come, and try to get to Paris in the best shape I can."
Rolf Aldag (Telekom, 123rd at 42'19)
Yesterday: "I'm very proud to wear the polka dot jersey on the slopes of Alpe d'Huez. It was completely crazy to attack after 800m.
Today: "I started the day with the same legs I finished with yesterday."
Baden Cooke (FDJeux.com, 146th at 42'19 and Green Jersey)
"All the climbing training I did before the Tour is certainly paying off now and I think that I have proved I have the legs to defend it for a while. It's too bad I only got third in the first sprint, but I misjudged it a little."
Santiago Botero (Telekom, 147th at 42'19)
Yesterday: "I exploded. I didn't have good legs. I gave everything I had. I always have one bad day in the Tour. Hopefully it was today."
Today: "I'm not going well, and I don't know why."
Axel Merckx (Lotto-Domo, 157th at 42'19)
"I felt really good in the break but I'm suffering from knee problems so there was nothing I could do. I had to let them drop me."
More quotes from stage 7 (yesterday)
Joseba Beloki (ONCE)
"There will be better days for trying to surprise Armstrong. On the climb on La Ramaz I saw that Armstrong was good and Ullrich was even better. For me, nothing has changed. Sooner or later I'll have to take my chance. Virenque proved it was possible."
Christophe Moreau (Credit Agricole)
Christophe Moreau
Photo: © C.Henry/CN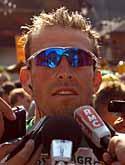 Yesterday: "I'm far from being disappointed. I finished with the best and the Tour is following its rhythm. I have to try to rest because a tough stage is waiting for us at Alpe d'Huez. As far as Richard Virenque is concerned, he's the only rider capable of that type of exploit. I think there is a star above his head and he deserves this new victory."
Jan Ullrich (Team Bianchi)
Yesterday: "I had a good day, fairly calm which was reassuring. Now I have to see how Armstrong will react [today]. To make an impact I'll have to hit hard. "
Juan Miguel Mercado (iBanesto.com)
For several days I've had intestinal problems but it went well today. I'll try to take the polka dot jersey, even if Virenque will be a tough rival.
No love lost: Armstrong slams Simoni and Gonzalez
By Tim Maloney, European Editor in Alpe d'Huez
Gilberto Simoni
Photo: © Jeff Tse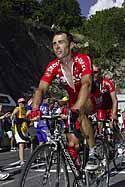 Lance Armstrong had hard words for Giro d'Italia winner Gilberto Simoni (Saeco) and Aitor Gonzalez (Fassa Bortolo) at today's post race press-conference, following his capture of the Maillot Jaune on Alpe d'Huez.
"Simoni definitely underestimated the Tour De France," said Armstrong. "As he'll now know, the Giro is not the Tour and a rider like Aitor Gonzalez will now know, the Vuelta is not the Tour. These were the two biggest mouths before the Tour."
"I respect Simoni a lot. I think he rode a helluva Giro, he deserved to win and demolished the competition, but for him to say that there are no climbers in the Tour is a disrespect to everyone in the Tour. This is a very different bike race. It's intense the first week; in the Giro, you hit the mountains after having done 7 or 8 days where the average speed is 32km/h. At the Tour, you hit the mountains where the average speed is 47km/h and there's wind and there's fights and there's crashes.
"So for Simoni to say that there are no climbers at the Tour without much experience here takes some nerve. I think those guys (Gilberto Simoni & Aitor Gonzalez) will probably realize the situation in the Tour now, and riders like that can still be a factor in the Tour De France, but not this year."
Cyclingnews sources at the Tour report that Simoni finished stage eight feeling bad and may not start tomorrow, while Aitor Gonzalez (Fassa Bortolo) and two teammates didn't start due to an overnight virus that decimated the Italian squad. With four stage sprint wins by Alessandro Petacchi, Fassa Bortolo has had a good Tour so far, but with Fassa down to three riders, it's up to Ivan Basso, currently in 9th on GC to uphold Fassa's chances at the 2003 Tour.
Hamilton does more than survive
Hamilton hangs tough
Photo: © AFP

Tyler Hamilton (CSC) is still very much in the Tour de France, finishing seventh in today's Alpe d'Huez stage and able to put in several attacks on the climb, despite his cracked collarbone. At the end of the stage, Hamilton was in pain but was very satisfied with his effort. "Today's stage was very important and the entire team came through. I was able to profit from the steady pace on the Col du Télégraphe and the Col du Galibier and I had a good feeling in my legs before the final climb. I was prepared for US Postal's tactics on the L'Alpe D'Huez and I tried to save as much strength as possible when the race was blown apart in the beginning."
Hamilton continued, "I still have problems with the accelerations because of my collarbone and my own attacks were partly launched in an effort to keep a steady and high pace. It looked as though Mayo and Armstrong were playing a little cat and mouse game and I was afraid that I would not be able to survive if the accelerations kept coming. As long as I am able to stay in the saddle, I can deal with the pain but whenever I have to stand up in the pedals and pull with my right arm, it is extremely painful."
"Tomorrow's stage may not look difficult on paper, but the penultimate climb has a very steep section where I will have to stand up in the pedals and I am a bit anxious about that. At the moment, I choose to be happy about my performance today and I hope that I will be able to maintain my current level all the way to Paris."
Hamilton is now sixth on GC, 1'52 behind Armstrong.
Incidentally, during today's eighth stage the Imax crew that is filming the CSC team during the Tour had a camera positioned on a motorbike behind a "body double" of Hamilton, who was riding some hours ahead of the main peloton. Presumably a broken collarbone wasn't a requirement for the body double.
Communique medical
Andreas Klöden (Telekom): Back pain Pablo Lastras (iBanesto.com): Digestive trouble Leonardo Bertagnolli (Saeco): Digestive trouble Médéric Clain (Cofidis): Cuts and contusions on right hand, left elbow and right knee Julian Usano (Kelme): Superficial cut on left hip Andrej Hauptman (Caldirola-SO.DI.): Digestive trouble Steve Zampieri (Caldirola-SO.DI.): Insect bite Samuel Sanchez (Euskalt-Euskadi): Digestive trouble
Abandon:
Ignacio Gutierrez (Kelme): Sinus infection and respiratory difficulties
Commmissaire's decisions
The following riders were each fined 100 Swiss francs for failing to sign in at the stage start: Christensen (CSC), Rebellin, Haselbacher, Peschel, Totschnig, and Zberg (all Gerolsteiner).
The following riders were fined 50 Swiss francs, penalised 10" and lost 5 points in the points competition for holding onto their team cars: Boogerd, Nierman (Rabobank), Glomser (Saeco), Clain (Cofidis), Parra (Kelme), Zampieri (Caldirola-SO.DI.), Landaluze (Euskaltel-Euskadi), Nazon (Brioches La Boulangère), Schmidt (Gerolsteiner).
Gilberto Simoni (Saeco) was fined 50 Swiss francs for being pushed by a spectator, while Jimmy Casper (FDJeux.com) was fined 60 francs for multiple pushes.
Sylvain Chavanel (Brioches La Boulangère) was fined 50 Swiss francs for drafting behind a car.
The following riders were fined 50 Swiss francs for receiving unauthorised feeds: Heras, Rubiera (US Postal), Lelli (Cofidis), Etxebarria (Euskaltel-Euskadi), Dufaux (Alessio), Lefevre (Jean Delatour).
Each rider's directeur sportif was also fined for the same infraction.
The directeurs sportifs of US Postal, Team CSC, and Team Bianchi were also fined 100 Swiss francs for failing to follow the instructions of the commissaires during the race.
(All rights reserved/Copyright Knapp Communications Pty Limited 2003)