Tour de France News for July 14, 2003
Edited by Jeff Jones & Gerard Knapp
French can't hold the Mayo
Translated by Melanie Leveau
How did the French media view yesterday's dramatic stage and the all-important team time trial? Melanie Leveau checks out some leading French outlets on the eighth stage, as well as Petacchi's withdrawal and the blue train's performance in the team time trial.
About l'Alpe d'Huez - stage eight
Iban Mayo shines in l'Alpe d'Huez, Armstrong is a raged (baited) leader
Iban Mayo
Photo: © AFP

The American had a hard day. He conceded more than two minutes showing he is not invulnerable in the mountains after four years of absolute domination. It happened as if the Tour 2003 outsiders, aware of the decisive importance of the stage, leagued together to sap the boss' energy and authority.
Le Monde, 14 July
Meanwhile, "Armstrong is not in the same dominant position as the last few years," reported www.lequipe.fr, while www.france2.fr said "Mayo tamed Armstrong in l'Alpe d'Huez".
About Petacchi's withdrawal
Alessandro Petacchi did not make the effort to get over the first difficulty of the Tour. If Mario Cipollini was in front of his TV sure he would have enjoyed it. The World champion has obviously found his dignified successor.
Ouest-France, 13 July
About the team time trial
Photo: © J.Devich/CN

Is the Tour over yet? Has it been achieved at the top end of a long straight street in St Dizier? Has it already found its man just after stage four? Has Lance Armstrong already been enthroned? The question is judicious.
It was said the American was more vulnerable and his opponents more motivated, more united, more skilled than in the last few years. The team time trial proved the four-time TdF winner has never had so many trump cards in his hand. It is very true that he does not yet wear the yellow jersey. But just for one short second he let Victor Hugo Peņa become the first Colombian yellow jersey.
It is really true, too, that his opponents are only a handful of seconds late: 32 for Beloki and 38 for Ullrich. But on Wednesday, Armstrong added one new card to his pack: eight brave companions. Neither the US Postal team neither the Texan had won this event before. Spaniard Manuel Beltran joined the American team this winter weakening Ullrich's team and completing the US Postal climbers trio (Peņa, Heras and Rubiera). And with experienced Ekimov and Hincapie who did a great job as well as their leader, Lance Armstrong now knows he can count on tireless riders.
A great performance
Result: on Thursday morning, the "postmen" took over the top eight of the GC. "It is the best team in the world" said the new yellow jersey. Who could dispute this? If US Postal flew over the team time trial, it might be because nothing is left to chance. The stage profile had been reviewed three times: once in May, once the day before and once the morning of the race. For the occasion, the nine riders were wearing a new skin suit concocted by Nike.
Two years of work and about 50 tested materials for a new aerodynamic skin suit that, according to Nike, allows to win 1min and 10 sec for 55 km with 53 kph as an average speed. With or without skin suit, American's opponents have been impressed by the collective strength performance of the US Postal squad.
With "sherpas" as Peņa, Heras, Beltran and Rubiera, the American looks well shepherded to get over the Alps.
Le Monde, 10 July
The spectacular attack of the US Postal train
Lance Armstrong is punctual. The team time trial was the first rendezvous before the mountain. With an average speed of 52 kph, the American lead his squad to the victory and imposed seven of his teammates in the CG top ten. In an ideal waiting position Armstrong can take out the telescope and control.
Le Figaro, 10 July
Cohesion
Knowing the attention Armstrong turns to the team cohesion, it is easy to guess the moral benefit as well as chronometric he got after his stage victory in the team time trial.
www.sport24.fr, 10 July
Beloki finds renewed confidence
Photo: © C.Henry/CN

Joseba Beloki (ONCE) is in second on GC at just 40" behind Lance Armstrong, who he was not afraid of attacking in yesterday's Alpe d'Huez stage. The Basque rider intends to continue, as he wants to win the Tour this time, not finish second or third.
"The new Beloki is born," he said following the stage. "I have been able to keep my word and I'm happy about that. To finish second or fifth again doesn't interest me. Saturday evening [after stage 7] I had a discussion with my team director Manolo Saiz. He didn't like it that I hadn't attacked. But I was the one in the race and I felt what was happening, on top of that I didn't have a good day. I thought it was poor that Armstrong only followed me and didn't have any ambitions to attack himself. He should be very grateful to Heras. Until the moment he fell he did a great job for his team leader."
Armstrong's main mountain lieutenant Roberto Heras crashed on the run in to Bourg d'Oisans, causing Armstrong to run into the gutter as well. Once they returned, Heras was still able to do his job for Armstrong on the final climb, however it wasn't the same Heras that towed Armstrong and Beloki to the top of La Mongie last year.
Simoni not recovered from TTT
"The Team Time Trial killed me," Saeco's Gilberto Simoni told the press after yesterday's stage, in which he finished 12 minutes down. "Before that I felt good. After, I couldn't shake those heavy legs. At first I thought that the US Postals were dictating a devilish speed. But I was wrong. It was just me going really badly. In the end Virenque fulfilled the dream I had."
"It's hard to stay motivated now," said a visibly tired Simoni, stress-cold sores on the lips. "I did everything to stay with the big guys. Don't say I didn't fight, it's just been hopeless. The future? I don't know..."
Ullrich admits Stage 5 stomach trouble
Photo: © J.Devich/CN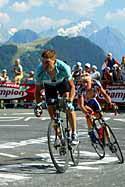 Jan Ullrich has revealed that he almost dropped out of the Tour de France last Thursday. According to a story on German website www.radsport-aktiv.de, Ullrich had a stomach infection and a temperature of 39.5 degrees (103 F) on Wednesday night (after the team time trial) last week, and was complaining of severe pain in the joints.
Ullrich's team manager Rudy Pevenage said he had kept the problem secret to prevent revealing Ullrich's weakness to his rivals. "Jan woke me around midnight [on Wednesday}" said Pevenage. "He was complaining of shivering and had a fever of 39.5." Ullrich's temperature had dropped to 37.9 by the morning, but that was still too high for him to start the stage. Nevertheless he took the bus to the start and at 10 o'clock the fever had dropped to 37.1 degrees. Despite developing a severe headache 80km from Nevers, he was able to finish with the bunch.
"He had probably eaten something bad," said Pevenage, "because he was still suffering with stomach and intestine problems on Friday. But now everything seems fine."
Ullrich admitted he had been worried about being unable to start the stage, but added, "In the heat of the last few days I have probably sweated everything out."
Belgians criticised at home
"Belgium is in a deep valley as far as the big Tours are concerned," says Belgian IOC chairman Jacques Rogge, who shook Armstrong's hand on the podium yesterday. "I was very happy to be able to accept the invitation Jean-Marie Leblanc sent me, to follow the big Alpine stage to Alpe d'Huez at his side. I really enjoyed it. I'm a big cycling fan, from when I was a kid. On top of that I saw a fellow countryman attacking, Axel Merckx. I think it's terrible we don't play a significant role in the big tours at the moment. We are in a deep valley I'm afraid. Of course we have a few riders who can't perform at their true level because of different circumstances but anyway..."
The Lotto-Domo team counts most Belgians in the Tour. Baguet, De Clercq, Merckx, Brandt have been working very hard the first week to keep things together for their sprinter McEwen. They all have worked very hard and of course that takes its toll. Although the riders have been told by manager Sercu that he still expects them to work for McEwen in every flat stage to come, he has also mentioned that they now get the chance to show their qualities in the Alps...a bit demanding?
In the first mountain stages, where riders like Baguet (winner of stage 17 Brive-la-Gaillarde to Montluįon, 2001), and Merckx normally are able to show themselves, we have only seen Merckx. Axel attacked strongly yesterday but two very sore knees messed up his plans and he finished in the last bus, over 40 minutes down from winner Iban Mayo.
Only Verbrugghe, (who won stage 24, Pau to Lavaur, 2001), who got "Carte Blanche" for this Tour, and does not have to worry about the sprints or the Green Jersey, has not pulled his weight so far.
This certainly can't be said about Marc Wauters, domestique to Michael Boogerd in the thinned out Rabobank team. Van De Wouwer is part of the very successful Quick Step-Davitamon team, and is doing his bit for the team leaders, in particular Richard Virenque.
Mario Aerts is not at his best level as yet but is expecting to improve. We should see more of him in the coming weeks.
(All rights reserved/Copyright Knapp Communications Pty Limited 2003)