Tour de France News for July 13, 2003
Edited by Jeff Jones & Chris Henry
"When you stop thinking of it, the yellow jersey comes by itself"
Richard Virenque takes the big prize
By Gabriella Ekström in Morzine-Avoriaz
Easy as pie
Photo: © Sirotti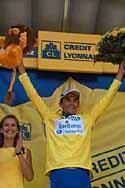 Unlike other riders who are often in a hurry to get to their hotels after the race, you can trust that Richard Virenque will always be available for an interview, and then another one if you ask him. It has been eleven years since the last time Virenque pulled the yellow jersey over his head. Only 22 years old, he was then overwhelmed and in tears, and even though he is soon to turn 34, he still hasn't lost that dramatic sense. Never shy of the attention from his fans and the cameras, Richard brought his two kids, Clara and Dario, to the podium where he received three bouquets of flowers and the two jerseys that his career has always been concentrated around.
"I knew I had to attack today, because I wanted to collect as many points as possible in the mountains competition," the Quickstep-Davitamon rider explained after the seventh stage. "When Paolo Bettini attacked, I had to sit up for a while, because I couldn't be the one who brought him back. When a Kelme rider attacked shortly after, I was quick on his wheel. It was not an easy task to bridge up to Bettini, even after I told him to stop working at the front."
Click here for the full interview.
Belgians on Armstrong's Alpe d'Huez chances
Can anyone beat the blue train?
Photo: © J.Devich/CN

The Belgian riders believe - for the most part - that Lance Armstrong will try to make tomorrow's Alpe d'Huez stage as decisive as possible for the outcome of the Tour. In 2001, Armstrong made his mark on l'Alpe, and this year should be no exception. Today's stage showed the strength of his blue train, which rode tempo from the start of the stage without concern for who was in front or behind it. With riders like Peña, Rubiera, Beltran and Heras, Armstrong shouldn't have any problems getting a good lead out on the climb.
In today's Het Laatste Nieuws, some of the Belgian riders in the race were asked about what they thought Armstrong's chances were of taking control on Sunday. Mario Aerts (Telekom) said that "Winning with a small lead can be a mental blow for his most important rivals. But not decisive: Armstrong doesn't like the heat. Ullrich does. And us too."
Christophe Brandt (Lotto-Domo) believes that Armstrong will go for everything. "Yes, he will attack on Sunday: the stage win and the yellow jersey. That one and only mountain stage will decide the Tour."
Axel Merckx (Lotto-Domo) said that "He will try to settle with Ullrich, Beloki and co. as soon as possible. Each second brings him closer to his fifth victory of the Tour."
These words were echoed by teammate Rik Verbrugghe, "Yes, he can not bear to wait to turn the Tour to his advantage. In the mountains he can take away the illusions of all his competitors."
However Kurt van de Wouwer thinks that it will be "Too early. Armstrong is in a extremely comfortable position. He doesn't have to attack, he can control the race quietly and wait what his competitors do."
All or nothing for Beloki
Joseba Beloki (ONCE) believes that this year's Tour could make or break him, if he doesn't win it this time. "I've said it before and I'll say it again, I'm here at the Tour with a real intention to make an impression," he told L'Equipe. "I already know what it's like to finish second. I need to do something else. It's my last chance this year to be able to win the race, and in order to do so, I have to attack. I don't know if that will be Saturday or Sunday, but I will attack. If I fail this year it'll be time to reconsider my presence at the Tour."
Mayo feels good
Iban Mayo (Euskaltel-Euskadi) says he's looking forward to the mountains in the Tour, having been able to successfully do battle with Lance Armstrong during the Dauphine Libere. "We'll see soon enough how Armstrong is doing," Mayo was quoted in L'Equipe. He's our barometer for the Tour. If anyone has real objectives for this Tour, he needs to show it, and quickly. I feel very good right now, and we have a team that's strong enough to try something in the mountains."
Petacchi packs
Bye bye Petacchi
Photo: © Olympia

Green jersey wearer Alessandro Petacchi is no longer in the Tour de France, having abandoned after 52 km on the first climb of stage 7, the Col des Portes. Petacchi, who came to the Tour without having raced since the Giro, was one of the first riders dropped on the climb, and despite being accompanied by two Fassa Bortolo teammates, he had no desire to continue.
Petacchi won all four of the sprint stages that he contested this week, and equalled Bernard Hinault's feat of winning six stages in the Giro and four stages in the Tour. His next aim is the Vuelta, where he will try and win at least one stage and, if successful will become the first rider in nearly 50 years to win stages in all three grand tours.
Petacchi's abandonment leaves Australian Baden Cooke in the green jersey on 118 points.
Legalize My Cannondale
Weighted down
Photo: © C.Henry/CN

American bicycle maker Cannondale joined with Saeco on Saturday at the Tour de France to protest the UCI's minimum weight limit for road bikes. UCI Rule #1.3.019 states that a bike must weigh a minimum of 6.8kg (14.99 pounds), and Cannondale's new carbon/aluminium frame, ridden this Tour by Gilberto Simoni and Danilo Di Luca, comes in under that limit.
Not satisfied with the blanket ruling by the UCI concerning bike weight, Cannondale has outfitted the Saeco team with distinctive uniforms bearing the "Legalize My Cannondale" slogan. As part of this attention-getter, team mechanics also attached small weights to the top tube of Simoni's machine in order to bring it into UCI compliance.
Cannondale insists that the new bike, which features carbon fibre seat, top, and down tubes, can be both light and strong. Saskia Stock, the company's vice president of marketing in Europe, does not expect any special favours from the UCI.
Simoni falls back
Photo: © Olympia

"But we'd like the UCI to consider changing the basic regulation," Stock said in a written statement. "We'd certainly support a rule that protected riders by requiring frames of any weight to meet sensible strength and durability standards. But to select an arbitrary minimum weight requirement discourages innovation, and it does little to protect the riders."
Unfortunately for Simoni, his legs were also full of lead on the Col de la Ramaz today, as he was dropped and finished 77th at 10'21 down.
O'Grady's long day out
Stuart O'Grady
Photo: © C.Henry/CN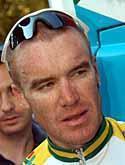 Australian champion Stuart O'Grady (Credit Agricole) had a very long day in the saddle yesterday to Lyon, after breaking away for over 190 km with Frenchman Anthony Geslin (Brioches la Boulangère). The pair rode out to an 18 minute lead before they were hunted down by the peloton, being caught in sigh of the finish line with less than one kilometre to go.
"The initial attack was for the bonus sprint," said O'Grady. "But the three kilometre attack I was planning ended up being nearly 200k. It wasn't quite what I had planned but then it became a race for the stage (win)."
"When we got away though we had good rhythm and it felt comfortable," said O'Grady, who enjoyed the searing French summer temperatures reminiscent of his hometown of Adelaide. "We were hooting along and I knew we had to get around 20 minutes to have a chance. We had a decent crack and 25km to go we only had 3 minutes and I think we had done pretty well to hold them off that long."
O'Grady realises that it will hurt him in today's stage, but he doesn't regret it. "I know I'll pay for my effort today further down the road; but you don't knock back stage winning opportunities and it was one," he said. "It was a pretty hard core day and to come so close (to winning) was pretty devastating."
However O'Grady did win all three intermediate sprints of the day and hung on to pick up more points by finishing 20th across the line, so he has now moved into sixth place in the green sprinter's jersey competition.
McEwen's forgettable day
Former green jersey wearer, Robbie McEwen (Lotto-Domo) had a day he'd rather forget in stage 6. As the chase intensified in the twisting, technical approach to the finish line, a touch of wheels caused a crash eight kilometres from home and both McEwen and rival sprinter, Erik Zabel (Team Telekom) hit the deck.
"We were in the city streets and going round a right hand turn and two riders in front went down," said McEwen who suffered a bruised hip and right elbow and lost some skin. "I didn't have time to brake. "There must have been something on the road and the first thing I knew, I was lying on the ground with someone on top of me and I copped something in the mouth."
It was a blow for McEwen, who has not won a stage yet in the Tour. "I was really hoping to win today and felt good until I crashed," he said. "I tried to get back on (after the crash) but the chain came off and I couldn't."
"I can't seem to take a trick here," he added. "It is disappointing and not good for the morale that we have had five sprint finishes and Petacchi has won four of them. I feel that I have not done one good sprint so far and now we are heading into the mountains. I haven't had any real results, except to leave a lot of skin on the road and I had hoped to have better morale going into the second week of the tour."
With Petacchi's abandonment on the first mountain stage, McEwen may find renewed morale.
Dutch likely to host Tour in 2005
There's a strong chance that the 2005 Tour de France will visit the Netherlands, with Tour boss Jean-Marie Leblanc giving it his support on Friday. Valkenburg or Zeeland are the two places most likely to host a Tour stage, and there's even a possibility that a stage will take place between those two towns.
"The chance is relatively high that the Tour will come to the Netherlands," said Bennie Ceulen, the Dutch Tour delegate, to De Telegraaf. "Leblanc is happy for it to happen. It remains for him to fit it into the puzzle of the route plan at the beginning of next year."
Medical communique
Jorg Jaksche (ONCE-Eroski): Digestive troubles
Pablo Lastras (iBanesto.com): Cuts to right thigh and contusion on right knee
Michael Blaudzun (Team CSC); Superficial cuts and bruises
Baden Cooke (FDJeux.com): Superficial cuts and bruises
Anthony Tauler (Kelme-Costa Blanca): Cuts and contusions on left hip and knee
David Canada (Quick.Step-Davitamon): Cuts on left knee and both elbows
Damien Nazon (Brioches La Boulangère): Left knee pain
Jérôme Pineau (Brioches La Boulangère): Cut on left hip
Alessandro Bertolini (Alessio): Cut to left knee
Abandons:
Olaf Pollack (Gerolsteiner): Abandoned due to pain in right knee
Michael Rich (Gerolsteiner): Abandoned due to pain in left knee Jesus Manzano (Kelme): Sick but did not lose consciousness at km 50 on the Col de Portes. He was airlifted to the hospital in Belley.
Fines:
Each Saeco rider was fined 200 FS for irregular uniforms. The team was also fined 500 FS for each rider for the same reason.
(All rights reserved/Copyright Knapp Communications Pty Limited 2003)