Recently on Cyclingnews.com
90th Tour de France - July 5-27, 2003
"When you stop thinking of it, the yellow jersey comes by itself"
Richard Virenque takes the big prize
By Gabriella Ekström in Morzine-Avoriaz
Easy as pie
Photo: © Sirotti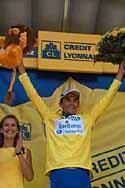 Unlike other riders who are often in a hurry to get to their hotels after the race, you can trust that Richard Virenque will always be available for an interview, and then another one if you ask him. It has been eleven years since the last time Virenque pulled the yellow jersey over his head. Only 22 years old, he was then overwhelmed and in tears, and even though he is soon to turn 34, he still hasn't lost that dramatic sense. Never shy of the attention from his fans and the cameras, Richard brought his two kids, Clara and Dario, to the podium where he received three bouquets of flowers and the two jerseys that his career has always been concentrated around.
"I knew I had to attack today, because I wanted to collect as many points as possible in the mountains competition," the Quickstep-Davitamon rider explained after the seventh stage. "When Paolo Bettini attacked, I had to sit up for a while, because I couldn't be the one who brought him back. When a Kelme rider attacked shortly after, I was quick on his wheel. It was not an easy task to bridge up to Bettini, even after I told him to stop working at the front."
"When I finally did reach the front group, he put in a tremendous effort to help me. I was never afraid I would lack any strength today, because I rode on a good feeling and fought very hard. I received so much support from my fans along the roads, and that encouraged me tremendously. I wasn't really sure what to do with Rolf Aldag, because I could see that he was riding very strongly and I did not wish to end up in a sprint with him, so I decided I would let him go for a while."
Richard did just that, and sent a gasp of disbelief through the masses and the press in Morzine. The climber who had been looking so focused just minutes ago took a zip of water, looked at Aldag and then went after him again. It took a while, but surely, he closed the gap to the German Telekom rider. "I always made sure that I had him within reach. I decided that I would attack again just after I caught him and I did just that. I'm not a rider who is afraid to ride alone at the front, and I am very happy over the way I won the stage."
Although comfortable in the yellow jersey, which he favours over the pois rouge for now, Richard is honest when he talks about his ambitions for the rest of the race.
Follow the signs
Photo: © Olympia

"I am realistic and that means I know the difference between what I can do and what I can not do. I came here to be the best climber, and that is still my intention. It will be a magic moment to climb Alpe d'Huez with the yellow jersey on my shoulders, and although I will try and defend it as long as I can, I do not believe it is mine to keep. I am no big threat to the US Postal-Berry Floor team, and they know that. I would have needed to win by at least ten minutes today to be a serious contender, for even though I think I can defend the jersey reasonably well in the mountains, I will lose five minutes as soon as the first time trial comes up. I also spent a lot of energy today, and I might very well find myself in difficulties tomorrow because of that."
During the Dauphiné Libéré, critics were quick to raise their voices when Richard could not follow with the front riders in the mountains, but here in Morzine, Richard is just as quick to defend himself. "It is true that I didn't ride so good at that race, but I only rode the race as a preparation for the Tour. I was shocked by the level that some of the guys were riding at, but they are also the same riders who are being dropped first here. I am an experienced rider, and when I prepare to do well at the Tour, I will do just that."
Surrounded by his family and his fans, Richard is once again the centre of everyone's attention, a position he has fought hard to regain. "During the last eight years I have been trying so hard to once again wear the yellow jersey. In the last few years, I have had serious doubts weather I would actually be able to do it again. Today I attacked with the polka dot in mind, and ended up with not only that and the stage, but also with the yellow jersey. Now I can end my career if I want, and I won't have any regrets. I started this morning, not thinking of the yellow jersey, but then when you stop thinking of it, it seems the yellow jersey comes by itself."
Other Talking Cycling Interviews
Cyclingnews' live coverage of the 90th Tour de France is powered by