90th Tour de France - July 5-27, 2003
Iban Mayo: First objective achieved
Next stop: The Podium
By Gabriella Ekström in l'Alpe d'Huez
Iban Mayo
Photo: © Sirotti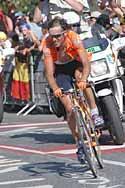 The Tour's eighth stage from Sallanches went over the Télégraphe and the magnificent Galibier before presenting the legendary climb of Alpe d'Huez to the riders. Closed since early this morning, the Alpe was absolutely packed with thousands of spectators and a whole bunch of tifosi gone bad. Their expectations were high, and once the riders reached the foot of the climb, it was clear that some serious selection would take place.
Iban Mayo is the rising star of Euskaltel-Euskadi, and became knownwhen he won the Midi Libre and the stage to Briançon in the Dauphiné Libéré in 2001, as well as dropping the field in the Classique des Alpes to convincingly win that one-day alpine jaunt in the same year. This year, he used the Dauphiné Libéré to test his strength against Armstrong.
"After I attacked Lance in Dauphine, I was told that it would be very different and much harder for me to do the same thing in the Tour," the 25 year old rider smiled behind the podium at the top of the Alpe. "Now I have done just that, and my attack carried me all the way to the finish. It is true though that my team lost a lot of time in the team time trial, and because of that I don't think I was considered a big threat to Lance today and that might have been a reason that they let me have a go here. I am sure I will be more controlled by the other teams after today."
Mayo who has been a pro since 2000 and is riding his second Tour de France, came to the start in Paris with a very specific goal. "I told journalists before the Tour that I wanted to win a stage, and that it should be this specific stage. I think Alpe d'Huez is the most beautiful of all stages and it is certainly an important one, both historically and for the general classification."
Similin' Mayo
Photo: © AFP

While taking on the 21 serpentines of the Alpe, and fighting his way through the sometimes over enthusiastic crowds, Mayo also climbed high on the general classification. When taking the start in Sallanches, he was 40th and over six minutes down on Virenque. During the stage, he bettered that to a mere 1'10 behind Armstrong, who took over the yellow jersey, as Richard Virenque finished over nine minutes down on Mayo. Mayo could have been even closer to Armstrong, had he not been sitting up before the finish.
"Yes, it is true that I lost time while I was celebrating my win on the way to the line, but I was just thinking of the stage at that moment. I wasn't sure if I would ever be able to repeat it, so I took my chance to enjoy the moment there and then."
His initial goal might not have been the general classification, but with pre-race favourites like Ullrich, Simoni, and Garzelli struggling to keep up in the mountains, Mayo's aggressive riding style suddenly becomes very interesting.
"Because of my determination to win today, I'm also holding a good position in the general classification now. When I started today, I did not think about that and I certainly didn't come to the Tour to defeat Lance. However, it is so easy to set new goals once you have reached your old ones, and it is true that I am now thinking about the possibility of ending up on the podium in Paris. It is a long way to go still and there will be some very hard stages, but I will certainly keep the podium in mind."
After having expressed some promising thoughts, Mayo admits that there is actually another stage on this year's route that interests him a lot. "I think Luz d'Ardiden will be a magnificent stage, and a very emotional day for all the riders in my team. I am pretty confident that one of us will win on that day."
Other Talking Cycling Interviews
Cyclingnews' live coverage of the 90th Tour de France is powered by