90th Tour de France - July 5-27, 2003
An Interview with Iban Mayo
Leading the orange charge
With breakthrough performances at Liège-Bastogne-Liège, the Tour of the Basque Country and the Dauphiné, Euskaltel-Euskadi's Iban Mayo has emerged as one of the strongest riders of 2003. With his orange team determined to do better this year than last and a Tour route that dips into his native Basque Country, Mayo talked to Cyclingnews about his podium chances, the other favourites and his and his team's future.
By Eloi Corres and Martin Hardie, translated from Castellano by Martin Hardie
On the attack: Galibier during the Dauphiné
Photo: © Jeff Tse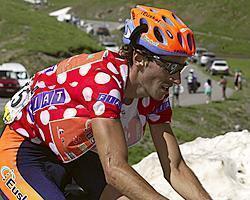 Cyclingnews: You have been the revelation of the season, with your performances in the Vuelta a Pais Vasco, Liège and the Dauphiné. Did you think at the beginning of the year that you would deliver results of this level?
Iban Mayo: I was confident that I would go well. But this year it has been more than good. I have delivered much more than I hoped, but, well... it's happened and it's better to try and take advantage of the moment and try and continue this way.
CN: Do you think that you can improve much more or have you reached your peak?
IM: I couldn't say. The truth is that I wouldn't mind staying like this, I believe that I have already arrived at a level that is more than competitive and I hope to maintain it. To improve it? I don't know, I am very happy to ride at this level.
CN: Being the world peloton's man of the moment means you have been surrounded by rumours about possible contracts for the next season. You and Euskaltel manager Julian Gorospe have both made comments that you are on the market and are seeking a longer-term contract than the one available to you at the moment. It is also common knowledge that the current arrangement with Euskaltel terminates next year, and so Fundacion Euskadi chief, Miguel Madriaga is trying to secure a long-term sponsorship for the team. Given the important role you play in the team do you think the statements that your are "for sale" help the Fundacion in its attempts to secure the right sponsor?
IM: I don't know. I don't usually get involved in these things, and I don't know anyway. I believe that the important thing is that it, Euskaltel, continues and also that they have some institutional support. I don't know the exact situation, but I believe that there will be an announcement concerning the future of the team soon. There are several riders whose contracts will come to an end, and we are waiting, we do not know anything for sure right now. I do not intrude into these management issues.
CN: All things being equal, that is if the right sponsor was found and the choice about your future was not a matter of who could pay the most, would you be more likely to stay with the Euskadi squad or move as you have hinted to be another well-paid domestique for Armstrong?
IM: You never know, to go outside [of Euskadi] doesn't scare me but the truth is that at home it is very good; I am very happy, so I don't know. Money is not the only thing that matters in life and I am 26 years old so I am not looking for a contract to set me up for life; right now it is more about sport.
CN: Are you ready to stay with Euskaltel even if the money is not as good as other offers? What are your plans?
Just before the Tour
Photo: © AFP

IM: It could be, why not? With whom I race depends on many factors, not just economics; it's complicated. I am enjoying my racing, in that I feel confident. I would like to carry on as I have this year; when something is going well why change it?
CN: Speaking of the coming Tour, do you see yourself aspiring to the podium?
IM: A lot of people are saying that, but it's not that simple. It's one thing to go well in week-long races but it's very different to go well in a three week tour. The fact is that good form in races that last one week does not imply that you are going to continue like that in the Tour. I don't see myself as an aspirant for the Tour.
CN: In that case who do you see as the favourites for the podium in Paris?
IM: The usual ones. Ullrich, Simoni, but I don't know how he will be after the Giro, and of course not we must not forget Beloki. There is always some revelation, but the usual ones are the favourites.
CN: You have just fought with Armstrong for the victory in the Dauphine. Although the final victory was his, you showed that you were as strong in the mountains. Do you think that the American is beatable in this Tour?
IM: At the level he has been at in the last few years it is difficult to beat him. He is the best in the mountain and in the time trial and you ask me where are we going to attack him. If he has his form, he is the best by far. Another thing is he may be below form and then he might be susceptible, as happened with Indurain, but if he has the form of the other years... it is very difficult. He doesn't show weakness on any terrain, and unless he shows some weakness, it will be difficult to beat him.
CN: What's your opinion of this year's Tour route? Do you think that it benefits you or that it harms you?
IM: The route is as always. They say that it is the Centennial Tour, and they have looked for mythical mountains, but for me the route is like it always is. The only difference is that the first long time trial comes after the mountains. To me the route doesn't matter, because I am only going to look for a stage victory. There is a difference for the climbers because there are mountains before the first chrono, but my objective is a stage and the route does not matter to me much.
CN: At first glance the team time trial does not benefit Euskaltel. Have you prepared especially for it?
La Vuelta 2002
Photo: © Unipublic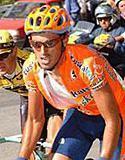 IM: To tell the truth, we haven't done a thing. We haven't prepared for the team time trial in any way. I don't know how it will turn out, last year we went better in this stage, and we hope to do well, but we will have to do it to find out.
CN: The mountains are where you'll have the best chance to take that longed-for stage victory. Do you have a particular stage marked in red?
IM: No, I never do that. As the race progresses, you see how you are feeling and on that basis you decide to attack or not. If you are going well, any stage is good.
CN: If it rains on a key day, does that add to your chances?
IM: Well, the rain always helps me! [The Basque country is noted for its rain - Ed]. Nevertheless, I believe that first you have to have good form, and that is when you can attack. But I don't think the rain will give me the ability to attack.
CN: Would you sacrifice a good position in the general classification for a stage win?
IM: If it is not a podium position, yes. Also you have to think about the particular stage. If it is a mountain stage won in front of a lot of people in a spectacular manner, maybe I will exchange it.
CN: Do you think that people value a stage win more than a good position in the general classification? What do you value more?
IM: Yes, the people value a stage win higher than say 6th in the GC. I personally believe that there could be more merit in being 10th in the GC, because you have to have ridden well in the mountains and the time trials and been in the top every day. Nevertheless, to win a stage, is to be the strongest in one race, and it could be more beautiful. I believe that the two things are very important, and now I believe that if they were given a choice they would take the stage.
CN: Over the last years, mainly because of Armstrong's superiority the candidates to the podium of the Tour have demonstrated a mainly defensive attitude. Have you thought about confronting the Tour with a more offensive attitude?
IM: Whether your attitude is offensive or defensive depends totally on how strong you are feeling. The first thing is to see how you feel. If you feel strong then you can think about attacking. It is all about strength.
CN: Your team seems to be coming to this great engagement in good form. Last year the team's performance was not very good. Has the team changed something in its preparation?
Who's that bloke with Iban?
Photo: © Jeff Tse

IM: No, the team hasn't changed anything. Last year we had two important riders injured, Laiseka and myself. That put us in a position where we came to the Tour without form. Those injuries changed the plans of the team. Still we had a brush with victory in the stage when David [Etxebarria] was second in that escape. If he had won, the team would have accomplished our objective. This year things have gone better, we haven't had problems and we come to the start better, we haven't prepared things in a particular manner, but we have had more luck that the past year.
CN: Do you think that one of your team mates will be able to shine this edition of the Tour?
IM: Any of them. Anyone could win a stage or get into a breakaway, and just to do that means you stand out; to win a stage in the Tour is very important. I believe that any member of the team is capable of doing that. It is necessary to be able to get into a good escape. Riders like Laiseka and David Etxebarria already know what it is like to win here, and maybe they have more options, but always there is a first time, isn't there? At any moment there could be a victory for anyone.
CN: Finally, this is another year when the Pyrenees will be covered in orange shirts and Ikurriñas [Basque flags]. What does it feel like as a cyclist and a Basque to ride between all of these people?
IM: Obviously it is exciting to see the fans from home. Any cyclist gets excited to see their country's fans so animated, and it's the same for us. It motivates me a lot and raises my spirits to do well and to finish at the top.
CN: After seven years, one of the Grands Tours returns to Euskal Herria. [This year stage 16 finishes in Bayonne; the last occasions when the Tour entered the Basque Country were in 1996, when a stage finished in Pamplona and in 1992 the Tour started in San Sebastian/Donostia. The Vuelta a España has not come into the Basque Country for many years.] What do you think about this?
IM: When did it start in Donostia (San Sebastian)?
CN: In 1992.
IM: Bloody hell, how time flies! Well it's beautiful that the Tour will come to the Basque Country. The fans will pour out for this race in the Pyrenees, and I believe that that is why the Tour comes to the Basque Country. We will have to try and do well in our country.
Other Talking Cycling Interviews
Cyclingnews' live coverage of the 90th Tour de France is powered by