Jayco Tour of Queensland - 2.5
Australia, November 3-8, 2003
Stage 1 - November 3: Bundaberg criterium, 42 km
Wohlberg claims opening stage
By Rod Morris in Bundaberg
30 laps to go
Photo ©: Shane Goss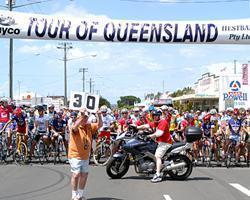 International cycling hit Bundaberg in a big way today with Canadian veteran Eric Wohlberg claiming opening stage honours in the inaugural $60,000 Jayco Tour of Queensland. Wohlberg (38) took both the stage - a 42 km criterium in the busy heart of Bundaberg - and the prized leader's jersey in general classification honours. A former Commonwealth Games rider and the oldest man in this week's tour, Wohlberg upstaged his many younger rivals in a fantastic opening day race. Sydney Gold Medal Olympian Brett Aitken took second place Wohlberg in the stage, some four seconds adrift, but because of intermediate sprint time bonuses, will enter today's second stage, just 1 second behind the Canadian. In good news for the Bundaberg locals, Aaron Kemps, a 20 year-old riding for the all Queensland Cabe team, shared the podium with Wohlberg and Aitken after finishing third.
Wohlberg said he was looking forward to the Tour of Queensland after finishing off strongly in the Herald Sun Tour. "This is not just a win for me, its also a win for the team, the staff, the sponsor and the shire council we are riding for," Wohlberg said.
Wearing the colours of the Marybough City - Isis Shire team, Wohlberg received great support on the road from Herald Sun Tour winning teammate Tim Johnson, Victorian Chris Bradford, New South Welshman, Peter Milostic and local Queensland rider, Bart Duraj. "Our team has gelled well together and I'm pretty confident for the rest of week, I'm sure there's plenty of horsepower left in the tank," he said.
The Tour is hot
Photo ©: Shane Goss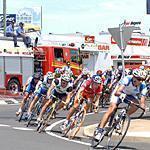 Going into the Tour of Queensland with good form - he won a stage of the recent Herald Sun Tour - Wohlberg played a patient game early in the race before showing his hand. Aitken was the main attacker in the opening laps, winning the first two intermediate sprints before settling into a rhythm inside the peloton.
With time bonuses and Sprint Championship points on offer every second lap, there was no shortage of attacking moves before 19 year-old Tasmanian Mark Jamieson declared "catch me if you can." Jamieson kicked away on the 17th lap and stayed out front for six more circuits of the 1.4 km course. Along the way, Jamieson, riding for the Emu Spirit - Tasmanian Institute of Sport team, picked up three intermediate sprints to give him the opening day's lead in the Yamaha Sprint Championship. The reigning World Junior Individual Pursuit champion was also judged the most aggressive rider for stage one.
Eric Wohlberg
Photo ©: Shane Goss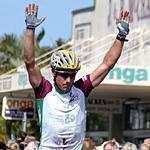 Wohlberg admitted that Jamieson had made a bold move so early in the tour, but added "Good luck to him, he's a good young kid and a ride like that will have everyone sitting up and taking notice."
But Wohlberg was quickly back to business, warning others that his team intends to be at the front of the peloton most days. "We are in front now and intend to stay there," he declared.
South Australian, Brett Aitken, who seems desperate to pinch a stage win somewhere was philosophical. "I seem to be sprinting for second a lot lately, but I'm not overly disappointed, its obviously very early in the race and a lot of things can happen yet," he said.
Affable Bundaberg cyclist Aaron Kemps was stoked to have clinched third spot in the criterium, which also gave him third on GC. "Having my hometown crowd cheering me on made a big difference," he said. "This is the biggest thing to have happened in Bundaberg for a while, so I want to really enjoy the atmosphere of it all."
The Tour of Queensland will include a total of eight stages, finishing back in Bundaberg next Saturday with a repeat criterium on the same course. Stage 2 will continue tomorrow with a 100.8 km road race from Rosedale to the historic port town of 1770.
Photos
Images by Shane Goss/licoricegallery.com
Results
1 Eric Wohlberg (Can) Maryborough City/Isis Shire       58.18
2 Brett Aitken (Aus) Miriam Vale/Kolan/Perry Shires      0.04
3 Aaron Kemps (Aus) Cabe                                     
4 David McKenzie (Aus) Jayco                                 
5 Bart Heirewegh (Bel) Bundaberg Sugar                       
6 Hector Morales (Uru) Caravello                             
7 Kjell Carlstrom (Fin) Europcar                             
8 Karl Menzies (Aus) Emu Spirit/Tis                          
9 Milton Wynants (Uru) Sea Fm                                
10 Michael Sayers (USA) Bundaberg City/Burnett Shire         
11 Alex Candelario (USA) Bundaberg City/Burnett Shire        
12 Jamie Drew (Aus) Jayco                                    
13 Jonas Ljungblad (Swe) Bundaberg Sugar                     
14 Tim Johnson (USA) Maryborough City/Isis Shire             
15 Stephen Pearce (Aus) Mirvac                               
16 Jorge Libonatti (Uru) Caravello                           
17 Scott Moninger (USA) Bundaberg City/Burnett Shire         
18 Alvara Tardaguila (Uru) Sea Fm                            
19 Kristian House (GBr) Miriam Vale/Kolan/Perry Shires       
20 Hilton Clarke (Aus) Barloworld                            
21 Tiaan Kannemeyer (RSA) Barloworld                         
22 Tony Mann (Aus) Caravello                                 
23 Michal Precechtel (Cze) Mirvac                            
24 Danny In't Ven (Bel) Bundaberg Sugar                      
25 Ashley Hutchinson (Aus) Cabe                              
26 Jarron Poad (NZl) Bundaberg Sugar                         
27 Darren Young (Aus) Emu Spirit/Tis                     0.07
28 Mark Jamieson (Aus) Emu Spirit/Tis                    0.14
29 Troy Glennan (Aus) Caravello                          0.32
30 Alejandro Acton (Arg) Sea Fm                              
31 Pavel Zerzan (Cze) Mirvac                                 
32 Jonathan Cantwell (Aus) Bundaberg Sugar                   
33 Jamie Burrow (GBr) Europcar                               
34 Trent Wilson (Aus) Jayco                                  
35 Mateo Sasso (Uru) Sea Fm                                  
36 Gerado Castro (Uru) Sea Fm                                
37 Chris Bradford (Aus) Maryborough City/Isis Shire          
38 Peter Milostic (Aus) Maryborough City/Isis Shire          
39 Marek Wesoly (Pol) Europcar                               
40 Dominique Perras (Can) Jayco                              
41 Jindrich Vana (Cze) Mirvac                                
42 Ivan Fanelli (Ita) Europcar                               
43 Chris Wherry (USA) Bundaberg City/Burnett Shire           
44 James Perry (RSA) Barloworld                              
45 Ashley Humbert (Aus) Caravello                            
46 Ryan Sullivan (Aus) Emu Spirit/Tis                        
47 Russell Van Hout (Aus) Miriam Vale/Kolan/Perry Shires     
48 Matthew Goold (Aus) Miriam Vale/Kolan/Perry Shires        
49 Scott Davis (Aus) Cabe                                    
50 David Betts (Aus) Cabe                                    
51 Miles Olman (Aus) Cabe                                    
52 Sean Sullivan (Aus) Barloworld                            
53 Bernard Sulzberger (Aus) Emu Spirit/Tis                   
54 Jacobus de Witt (RSA) Barloworld                          
55 Mateusz Mroz (Pol) Europcar                               
56 Bart Duraj (Aus) Maryborough City/Isis Shire          1.59
57 Luke Bettany (Aus) Mirvac                                 
58 Tomas Buchacek (Cze) Jayco                                
59 Ben Van Derkamp (Aus) Bundaberg City/Burnett Shire    4.45
60 Jeremy Hunt (GBr) Miriam Vale/Kolan/Perry Shires     10.49
 
Sprints
 
Sprint 1 - End of Lap 6
 
1 Brett Aitken (Aus) Miriam Vale/Kolan/Perry Shires         3 pts
2 Karl Menzies (Aus) Emu Spirit/Tis                         2
3 Russell Van Hout (Aus) Miriam Vale/Kolan/Perry Shires     1
 
Sprint 2 - End of Lap 8
 
1 Brett Aitken (Aus) Miriam Vale/Kolan/Perry Shires         3 pts
2 Karl Menzies (Aus) Emu Spirit/Tis                         2
3 Russell Van Hout (Aus) Miriam Vale/Kolan/Perry Shires     1
 
Sprint 3 - End of Lap 10
 
1 Troy Glennan (Aus) Caravello                              2 pts
2 Kjell Carlstrom (Fin) Europcar                            2
3 David McKenzie (Aus) Jayco                                1
 
Sprint 4 - End of Lap 12
 
1 Aaron Kemps (Aus) Cabe                                    3 pts
2 Peter Milostic (Aus) Maryborough City/Isis Shire          2
3 Marek Wesoly (Pol) Europcar                               1
 
Sprint 5 - End of Lap 14
 
1 Marek Wesoly (Pol) Europcar                               3 pts
2 Hector Morales (Uru) Caravello                            2
3 Brett Aitken (Aus) Miriam Vale/Kolan/Perry Shires         1
 
Sprint 6 - End of Lap 16
 
1 Kristian House (GBr) Miriam Vale/Kolan/Perry Shires       3 pts
2 Eric Wohlberg (Can) Maryborough City/Isis Shire           2
3 Pavel Zerzan (Cze) Mirvac                                 1
 
Sprint 7 - End of Lap 18
 
1 Mark Jamieson (Aus) Emu Spirit/Tis                        3 pts
2 Alex Candelario (USA) Bundaberg City/Burnett Shire        2
3 David McKenzie (Aus) Jayco                                1
 
Sprint 8 - End of Lap 20
 
1 Mark Jamieson (Aus) Emu Spirit/Tis                        3 pts
2 Kjell Carlstrom (Fin) Europcar                            2
3 Stephen Pearce (Aus) Mirvac                               1
 
Sprint 9 - End of Lap 22
 
1 Mark Jamieson (Aus) Emu Spirit/Tis                        3 pts
2 Tim Johnson (USA) Maryborough City/Isis Shire             2
3 David McKenzie (Aus) Jayco                                1
 
Sprint 10 - End of Lap 24
 
1 Stephen Pearce (Aus) Mirvac                               3 pts
2 Tim Johnson (USA) Maryborough City/Isis Shire             2
3 Jonas Ljungblad (Swe) Bundaberg Sugar                     1
 
Sprint 11 - End of Lap 26
 
1 Kjell Carlstrom (Fin) Europcar                            3 pts
2 Tim Johnson (USA) Maryborough City/Isis Shire             2
3 Kristian House (GBr) Miriam Vale/Kolan/Perry Shires       1
 
General classification after stage 1
 
1 Eric Wohlberg (Can) Maryborough City/Isis Shire       57.56
2 Brett Aitken (Aus) Miriam Vale/Kolan/Perry Shires      0.01
3 Aaron Kemps (Aus) Cabe                                 0.07
4 David McKenzie (Aus) Jayco                             0.09
5 Kjell Carlstrom (Fin) Europcar                         0.11
6 Hector Morales (Uru) Caravello                         0.14
7 Bart Heirewegh (Bel) Bundaberg Sugar                       
8 Karl Menzies (Aus) Emu Spirit/Tis                      0.16
9 Tim Johnson (USA) Maryborough City/Isis Shire          0.20
10 Milton Wynants (Uru) Sea Fm                           0.22
11 Stephen Pearce (Aus) Mirvac                               
12 Kristian House (GBr) Miriam Vale/Kolan/Perry Shires       
13 Michael Sayers (USA) Bundaberg City/Burnett Shire     0.24
14 Alex Candelario (USA) Bundaberg City/Burnett Shire        
15 Jonas Ljungblad (Swe) Bundaberg Sugar                 0.25
16 Alvara Tardaguila (Uru) Sea Fm                        0.26
17 Michal Precechtel (Cze) Mirvac                            
18 Hilton Clarke (Aus) Barloworld                            
19 Tiaan Kannemeyer (RSA) Barloworld                         
20 Tony Mann (Aus) Caravello                                 
21 Jorge Libonatti (Uru) Caravello                           
22 Jarron Poad (NZl) Bundaberg Sugar                         
23 Danny In't Ven (Bel) Bundaberg Sugar                      
24 Scott Moninger (USA) Bundaberg City/Burnett Shire         
25 Jamie Drew (Aus) Jayco                                    
26 Ashley Hutchinson (Aus) Cabe                              
27 Mark Jamieson (Aus) Emu Spirit/Tis                    0.27
28 Darren Young (Aus) Emu Spirit/Tis                     0.29
29 Marek Wesoly (Pol) Europcar                           0.50
30 Peter Milostic (Aus) Maryborough City/Isis Shire      0.52
31 Troy Glennan (Aus) Caravello                              
32 Russell Van Hout (Aus) Miriam Vale/Kolan/Perry Shires     
33 Pavel Zerzan (Cze) Mirvac                             0.53
34 Bernard Sulzberger (Aus) Emu Spirit/Tis               0.54
35 Ryan Sullivan (Aus) Emu Spirit/Tis                        
36 Mateo Sasso (Uru) Sea Fm                                  
37 Gerado Castro (Uru) Sea Fm                                
38 Alejandro Acton (Arg) Sea Fm                              
39 Chris Bradford (Aus) Maryborough City/Isis Shire          
40 Jindrich Vana (Cze) Mirvac                                
41 Sean Sullivan (Aus) Barloworld                            
42 Jacobus de Witt (RSA) Barloworld                          
43 James Perry (RSA) Barloworld                              
44 Ashley Humbert (Aus) Caravello                            
45 Jonathan Cantwell (Aus) Bundaberg Sugar                   
46 Matthew Goold (Aus) Miriam Vale/Kolan/Perry Shires        
47 Jamie Burrow (GBr) Europcar                               
48 Mateusz Mroz (Pol) Europcar                               
49 Ivan Fanelli (Ita) Europcar                               
50 Chris Wherry (USA) Bundaberg City/Burnett Shire           
51 Dominique Perras (Can) Jayco                              
52 Trent Wilson (Aus) Jayco                                  
53 Miles Olman (Aus) Cabe                                    
54 David Betts (Aus) Cabe                                    
55 Scott Davis (Aus) Cabe                                    
56 Bart Duraj (Aus) Maryborough City/Isis Shire          2.21
57 Luke Bettany (Aus) Mirvac                                 
58 Tomas Buchacek (Cze) Jayco                                
59 Ben Van Derkamp (Aus) Bundaberg City/Burnett Shire    5.07
60 Jeremy Hunt (GBr) Miriam Vale/Kolan/Perry Shires     11.11
 
HESTBARB Pty Ltd Aggressive Rider Awards
 
1 Mark Jamieson (Aus) Emu Spirit/Tis                        2 pts
 
Yamaha Sprint Championship
 
1 Mark Jamieson (Aus) Emu Spirit/Tis                        9 pts
2 Brett Aitken (Aus) Miriam Vale/Kolan/Perry Shires         7
3 Kjell Carlstrom (Fin) Europcar                            7
4 Tim Johnson (USA) Maryborough City/Isis Shire             6
5 Kristian House (GBr) Miriam Vale/Kolan/Perry Shires       4
6 Stephen Pearce (Aus) Mirvac                               4
7 Marek Wesoly (Pol) Europcar                               4
8 Karl Menzies (Aus) Emu Spirit/Tis                         4
9 Troy Glennan (Aus) Caravello                              3
10 Aaron Kemps (Aus) Cabe                                   3
11 David McKenzie (Aus) Jayco                               3
12 Alex Candelario (USA) Bundaberg City/Burnett Shire       2
13 Russell Van Hout (Aus) Miriam Vale/Kolan/Perry Shires    2
14 Hector Morales (Uru) Caravello                           2
15 Eric Wohlberg (Can) Maryborough City/Isis Shire          2
16 Peter Milostic (Aus) Maryborough City/Isis Shire         2
17 Pavel Zerzan (Cze) Mirvac                                1
18 Jonas Ljungblad (Swe) Bundaberg Sugar                    1
 
Polar Heart Rate Monitors - Criterium Championship
 
1 Eric Wohlberg (Can) Maryborough City/Isis Shire          10 pts
2 Brett Aitken (Aus) Miriam Vale/Kolan/Perry Shires         9
3 Aaron Kemps (Aus) Cabe                                    8
4 David McKenzie (Aus) Jayco                                7
5 Bart Heirewegh (Bel) Bundaberg Sugar                      6
6 Hector Morales (Uru) Caravello                            5
7 Kjell Carlstrom (Fin) Europcar                            4
8 Karl Menzies (Aus) Emu Spirit/Tis                         3
9 Milton Wynants (Uru) Sea Fm                               2
10 Michael Sayers (USA) Bundaberg City/Burnett Shire        1

Teams classification
 
1 Bundaberg Sugar                                        2.54.53
2 Caravello                                                 0.01
3 Emu Spirit / Tis                                          0.07
4 Bundaberg City / Burnett Shire                            0.09
5 Maryborough City / Isis Shire                                 
6 Miriam Vale / Kolan / Perry Shires                        0.10
7 Cabe                                                      0.22
8 Jayco                                                     0.24
9 Mirvac                                                    0.36
10 Sea Fm                                                   0.37
11 Barloworld                                               0.41
12 Europcar                                                 0.50