Jayco Tour of Queensland - 2.5
Australia, November 3-8, 2003
Main Page Results Previous Stage Next Stage
Stage 2 - November 4: Rosedale - 1770, 100.8 km
Sullivan triumphs in 1770
By Rod Morris in 1770
Sean Sullivan
Photo ©: Shane Goss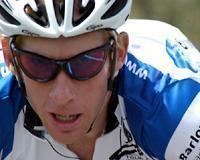 Australia's tiniest State - Tasmania - was put on the international stage in today's second stage of the $60,000 Jayco Tour of Queensland. Sean Sullivan, from the little Northern Tasmanian hamlet of Evandale, stole the show in a tough 101 km stage from Rosedale to the historic port Town of 1770, scene of Captain Cook's first Australian landing, more than 230 years ago.
Sullivan, riding for the South African based Barloworld team, was part of a small but smooth five man breakaway, which gained a clear advantage with approximately 26 km of the stage remaining. Along with Belgian Bart Heirewegh (Bundaberg Sugar), Victorian David McKenzie (Jayco), Czechoslovakian Jindrich Vana (Mirvac) and fellow Tasmanian Mark Jamieson (Emu Spirit - Tasmanian Institute of Sport), Sullivan established a solid break of more than a minute in the closing stages of the race, which stretched even further as the finish line loomed closer.
Wohlberg leads
Photo ©: Shane Goss

"The breakaway group worked well together and this win is a credit to all of them," Sullivan said. "It was tough with the wind and the heat, but the weather conditions were still much more enjoyable than what we experienced in the Herald Sun Tour. I didn't expect the tough little hill climbs at the finish of the stage, particularly that last bit, it seemed to go straight up."
Sullivan broke clear of his four pursuers with about 700 m remaining and in the home straight gained a 4-second advantage, which he was able to hold onto till the end. Heirewegh took second in the stage, but more importantly moved into the leader's jersey, overcoming an overnight deficit of 14-seconds to Canadian Eric Wohlberg (Maryborough City - Isis Shire) and turning into a 6-second advantage over Jayco rider David McKenzie, with the Tasmanian duo, Sullivan and Jamieson in third and fourth at 38 and 41 seconds down respectively.
How it unfolded
The Rosedale to Town of 1770 stage saw numerous early attacks before a group of 11 riders established a lead of just over a minute. That group included most of the big names of this inaugural Tour of Queensland, namely Jonas Ljungblad (Bundaberg Sugar), Hector Morales (Caravello), Jamie Drew (Jayco), overnight leader Eric Wohlberg (Maryborough City - Isis Shire), his teammate, the recent Herald Sun Tour winner, Tim Johnson, Sydney gold medal Olympian Brett Aitken (Miriam Vale - Kolan - Perry Shires) and South African Tiann Kannemeyer (Barloworld).
The break presses on
Photo ©: Shane Goss

But with every kilometre travelled, the breakaway group were reeled in by the peloton before the eventual five riders made their winning move. The picturesque township of Agnes Waters hosted the last four intermediate sprints, with McKenzie grabbing two of them, Jamieson and Heirewegh sharing honours in others. Jamieson also extended his lead in the Yamaha Sprint Championship, while stage winner, Sullivan took the opening lead in the FADL King of the Mountain Championship.
"Its nice to have finally won a stage after knocking on the door in recent weeks," Sullivan said. "Its also nice to pick up the KOM jersey, as it will give our team a lot of confidence for the days to come."
Sullivan said he felt tired on the opening day - legacy of a hard Herald Sun Tour where he finished a highly credible 6th overall. "That race took a lot out of me and I'm only now starting to recover," he explained. "But to win a stage, any aches and pains are soon forgotten."
New tour leader Bart Heirewegh does have some aches and pains however. Upon arriving at the stage start in Rosedale, Heirewegh stepped in a pothole and twisted his ankle. Some expert strapping from a therapist travelling with a rival team, Heirewegh was able to take his place at the start line. Two hours later he was standing on the podium.
"It hurts to walk and stand on, but the therapist did a good job strapping my ankle and I don't feel much pain on the bike," he said. "Our team has been looking forward to this race, we have been in Queensland for a week training and with some success early in the tour, we hope to maintain some pressure on the General Classification."
The big losers in today's stage included the overnight leader Eric Wohlberg, who slipped to 12th and 2.02 minutes behind Heirewegh and Brett Aitken, who fell from second place to 11th. Pre-race favourite, Tim Johnson is 16th and 2.24 minutes behind the leader, but already the GC standings have taken a firm shape.
The third stage of the Tour of Queensland will be held tomorrow with a "gentle" 107.4 km trek from Woodgate to Childers.
Photos
Images by Shane Goss/licoricegallery.com
Results
1 Sean Sullivan (Aus) Barloworld                         2.18.48
2 Bart Heirewegh (Bel) Bundaberg Sugar                      0.03
3 Jindrich Vana (Cze) Mirvac                                    
4 David McKenzie (Aus) Jayco                                0.06
5 Mark Jamieson (Aus) Emu Spirit/Tis                        0.24
6 Michael Sayers (USA) Bundaberg City/Burnett Shire         0.50
7 Danny In't Ven (Bel) Bundaberg Sugar                      0.53
8 Dominique Perras (Can) Jayco                                  
9 Kristian House (GBr) Miriam Vale/Kolan/Perry Shires       0.57
10 Milton Wynants (Uru) Sea Fm                              1.11
11 Troy Glennan (Aus) Caravello                             1.14
12 Jonas Ljungblad (Swe) Bundaberg Sugar                    1.52
13 Michal Precechtel (Cze) Mirvac                               
14 Stephen Pearce (Aus) Mirvac                                  
15 Brett Aitken (Aus) Miriam Vale/Kolan/Perry Shires            
16 Jamie Drew (Aus) Jayco                                       
17 Tim Johnson (USA) Maryborough City/Isis Shire                
18 Eric Wohlberg (Can) Maryborough City/Isis Shire              
19 Kjell Carlstrom (Fin) Europcar                               
20 Scott Moninger (USA) Bundaberg City/Burnett Shire            
21 Pavel Zerzan (Cze) Mirvac                                    
22 Tiaan Kannemeyer (RSA) Barloworld                            
23 Alex Candelario (USA) Bundaberg City/Burnett Shire           
24 Hilton Clarke (Aus) Barloworld                           2.00
25 Chris Bradford (Aus) Maryborough City/Isis Shire             
26 Jorge Libonatti (Uru) Caravello                              
27 Hector Morales (Uru) Caravello                               
28 Bernard Sulzberger (Aus) Emu Spirit/Tis                      
29 Peter Milostic (Aus) Maryborough City/Isis Shire             
30 Karl Menzies (Aus) Emu Spirit/Tis                            
31 Tony Mann (Aus) Caravello                                2.05
32 James Perry (RSA) Barloworld                             2.07
33 Jonathan Cantwell (Aus) Bundaberg Sugar                  2.09
34 Matthew Goold (Aus) Miriam Vale/Kolan/Perry Shires       2.12
35 Ashley Humbert (Aus) Caravello                           2.14
36 Aaron Kemps (Aus) Cabe                                       
37 Gerado Castro (Uru) Sea Fm                               2.19
38 Jacobus de Witt (RSA) Barloworld                         2.22
39 Ben Van Derkamp (Aus) Bundaberg City/Burnett Shire       2.31
40 Jamie Burrow (GBr) Europcar                                  
41 Ivan Fanelli (Ita) Europcar                                  
42 Ashley Hutchinson (Aus) Cabe                             2.43
43 Russell Van Hout (Aus) Miriam Vale/Kolan/Perry Shires    2.47
44 Darren Young (Aus) Emu Spirit/Tis                            
45 Ryan Sullivan (Aus) Emu Spirit/Tis                           
46 Trent Wilson (Aus) Jayco                                     
47 Chris Wherry (USA) Bundaberg City/Burnett Shire              
48 David Betts (Aus) Cabe                                       
49 Marek Wesoly (Pol) Europcar                              2.57
50 Mateusz Mroz (Pol) Europcar                              3.16
51 Alejandro Acton (Arg) Sea Fm                                 
52 Jarron Poad (NZl) Bundaberg Sugar                        3.26
53 Jeremy Hunt (GBr) Miriam Vale/Kolan/Perry Shires         3.28
54 Tomas Buchacek (Cze) Jayco                               3.41
55 Mateo Sasso (Uru) Sea Fm                                 5.54
56 Alvara Tardaguila (Uru) Sea Fm                           6.00
57 Scott Davis (Aus) Cabe                                   6.53
58 Luke Bettany (Aus) Mirvac                               14.40
59 Bart Duraj (Aus) Maryborough City/Isis Shire            14.43
60 Miles Olman (Aus) Cabe                                  14.48
 
Sprints
 
Rosedale State School (4)                                       
1 Mark Jamieson (Aus) Emu Spirit/Tis                           3 pts
2 Brett Aitken (Aus) Miriam Vale/Kolan/Perry Shires            2
3 Kjell Carlstrom (Fin) Europcar                               1
 
Paulownia Forests Sign (10)                                     
1 Tony Mann (Aus) Caravello                                    3 pts
2 Bart Heirewegh (Bel) Bundaberg Sugar                         2
3 Scott Davis (Aus) Cabe                                       1
 
Tablelands Station (14)                                         
1 Tony Mann (Aus) Caravello                                    3 pts
2 Brett Aitken (Aus) Miriam Vale/Kolan/Perry Shires            2
3 Eric Wohlberg (Can) Maryborough City/Isis Shire              1
 
Forrest Lodge (21)                                              
1 Jonas Ljungblad (Swe) Bundaberg Sugar                        3 pts
2 Karl Menzies (Aus) Emu Spirit/Tis                            2
3 Hector Morales (Uru) Caravello                               1
 
Agnes Water Bush Retreat (26)                                   
1 Brett Aitken (Aus) Miriam Vale/Kolan/Perry Shires            3 pts
2 Jonas Ljungblad (Swe) Bundaberg Sugar                        2
3 Eric Wohlberg (Can) Maryborough City/Isis Shire              1
 
Billabong Surf Shop (34)                                        
1 David McKenzie (Aus) Jayco                                   3 pts
2 Sean Sullivan (Aus) Barloworld                               2
3 Tiaan Kannemeyer (RSA) Barloworld                            1
 
Billabong Surf Shop (44)                                        
1 Mark Jamieson (Aus) Emu Spirit/Tis                           3 pts
2 Bart Heirewegh (Bel) Bundaberg Sugar                         2
3 David McKenzie (Aus) Jayco                                   1
 
Billabong Surf Shop (54)                                        
1 David McKenzie (Aus) Jayco                                   3 pts
2 Mark Jamieson (Aus) Emu Spirit/Tis                           2
3 Sean Sullivan (Aus) Barloworld                               1
 
Billabong Surf Shop (64)                                        
1 Bart Heirewegh (Bel) Bundaberg Sugar                         3 pts
2 Mark Jamieson (Aus) Emu Spirit/Tis                           2
3 David McKenzie (Aus) Jayco                                   1
 
Hill Climbs
 
4 Mocka No. 12                                                  
1 Brett Aitken (Aus) Miriam Vale/Kolan/Perry Shires            3 pts
2 Jonas Ljungblad (Swe) Bundaberg Sugar                        2
3 Hector Morales (Uru) Caravello                               1
 
2 Mocka No. 86                                                  
1 Sean Sullivan (Aus) Barloworld                               5 pts
2 Bart Heirewegh (Bel) Bundaberg Sugar                         4
3 Jindrich Vana (Cze) Mirvac                                   3
 
General Classification after stage 2
 
1 Bart Heirewegh (Bel) Bundaberg Sugar                   3.16.32
2 David McKenzie (Aus) Jayco                                0.06
3 Sean Sullivan (Aus) Barloworld                            0.38
4 Mark Jamieson (Aus) Emu Spirit/Tis                        0.41
5 Jindrich Vana (Cze) Mirvac                                0.50
6 Michael Sayers (USA) Bundaberg City/Burnett Shire         1.16
7 Danny In't Ven (Bel) Bundaberg Sugar                      1.23
8 Kristian House (GBr) Miriam Vale/Kolan/Perry Shires       1.27
9 Milton Wynants (Uru) Sea Fm                               1.43
10 Dominique Perras (Can) Jayco                             1.53
11 Brett Aitken (Aus) Miriam Vale/Kolan/Perry Shires        1.55
12 Eric Wohlberg (Can) Maryborough City/Isis Shire          2.02
13 Kjell Carlstrom (Fin) Europcar                           2.14
14 Troy Glennan (Aus) Caravello                             2.17
15 Jonas Ljungblad (Swe) Bundaberg Sugar                    2.22
16 Tim Johnson (USA) Maryborough City/Isis Shire            2.24
17 Hector Morales (Uru) Caravello                               
18 Karl Menzies (Aus) Emu Spirit/Tis                        2.26
19 Stephen Pearce (Aus) Mirvac                                  
20 Alex Candelario (USA) Bundaberg City/Burnett Shire       2.28
21 Tiaan Kannemeyer (RSA) Barloworld                        2.29
22 Michal Precechtel (Cze) Mirvac                           2.30
23 Scott Moninger (USA) Bundaberg City/Burnett Shire            
24 Jamie Drew (Aus) Jayco                                       
25 Aaron Kemps (Aus) Cabe                                   2.33
26 Tony Mann (Aus) Caravello                                2.37
27 Hilton Clarke (Aus) Barloworld                           2.38
28 Jorge Libonatti (Uru) Caravello                              
29 Pavel Zerzan (Cze) Mirvac                                2.57
30 Peter Milostic (Aus) Maryborough City/Isis Shire         3.04
31 Bernard Sulzberger (Aus) Emu Spirit/Tis                  3.06
32 Chris Bradford (Aus) Maryborough City/Isis Shire             
33 James Perry (RSA) Barloworld                             3.13
34 Jonathan Cantwell (Aus) Bundaberg Sugar                  3.15
35 Matthew Goold (Aus) Miriam Vale/Kolan/Perry Shires       3.18
36 Ashley Humbert (Aus) Caravello                           3.20
37 Ashley Hutchinson (Aus) Cabe                             3.21
38 Gerado Castro (Uru) Sea Fm                               3.25
39 Darren Young (Aus) Emu Spirit/Tis                        3.28
40 Jacobus de Witt (RSA) Barloworld                             
41 Jamie Burrow (GBr) Europcar                              3.37
42 Ivan Fanelli (Ita) Europcar                                  
43 Russell Van Hout (Aus) Miriam Vale/Kolan/Perry Shires    3.51
44 Ryan Sullivan (Aus) Emu Spirit/Tis                       3.53
45 Chris Wherry (USA) Bundaberg City/Burnett Shire              
46 Trent Wilson (Aus) Jayco                                     
47 David Betts (Aus) Cabe                                       
48 Marek Wesoly (Pol) Europcar                              3.59
49 Jarron Poad (NZl) Bundaberg Sugar                        4.04
50 Alejandro Acton (Arg) Sea Fm                             4.22
51 Mateusz Mroz (Pol) Europcar                                  
52 Tomas Buchacek (Cze) Jayco                               6.14
53 Alvara Tardaguila (Uru) Sea Fm                           6.38
54 Mateo Sasso (Uru) Sea Fm                                 7.00
55 Ben Van Derkamp (Aus) Bundaberg City/Burnett Shire       7.50
56 Scott Davis (Aus) Cabe                                   7.58
57 Jeremy Hunt (GBr) Miriam Vale/Kolan/Perry Shires        14.51
58 Miles Olman (Aus) Cabe                                  15.54
59 Luke Bettany (Aus) Mirvac                               17.13
60 Bart Duraj (Aus) Maryborough City/Isis Shire            17.16
 
HESTBARB Pty Ltd Aggressive Rider Awards
 
1 Tony Mann (Aus) Caravello                                    3 pts
2 Mark Jamieson (Aus) Emu Spirit/Tis                           2
 
YAMAHA  Sprint Championship
 
1 Mark Jamieson (Aus) Emu Spirit/Tis                          19 pts
2 Brett Aitken (Aus) Miriam Vale/Kolan/Perry Shires           14
3 David McKenzie (Aus) Jayco                                  10
4 Tony Mann (Aus) Caravello                                    9
5 Kjell Carlstrom (Fin) Europcar                               8
6 Bart Heirewegh (Bel) Bundaberg Sugar                         7
7 Jonas Ljungblad (Swe) Bundaberg Sugar                        6
8 Karl Menzies (Aus) Emu Spirit/Tis                            6
9 Tim Johnson (USA) Maryborough City/Isis Shire                6
10 Stephen Pearce (Aus) Mirvac                                 4
11 Kristian House (GBr) Miriam Vale/Kolan/Perry Shires         4
12 Marek Wesoly (Pol) Europcar                                 4
13 Sean Sullivan (Aus) Barloworld                              4
14 Eric Wohlberg (Can) Maryborough City/Isis Shire             4
15 Aaron Kemps (Aus) Cabe                                      3
16 Hector Morales (Uru) Caravello                              3
17 Russell Van Hout (Aus) Miriam Vale/Kolan/Perry Shires       2
18 Alex Candelario (USA) Bundaberg City/Burnett Shire          2
19 Peter Milostic (Aus) Maryborough City/Isis Shire            2
20 Tiaan Kannemeyer (RSA) Barloworld                           1
21 Pavel Zerzan (Cze) Mirvac                                   1
22 Scott Davis (Aus) Cabe                                      1
 
FADL Group of Companies King Of The Mountain Championship
 
1 Sean Sullivan (Aus) Barloworld                               7 pts
2 Bart Heirewegh (Bel) Bundaberg Sugar                         5
3 Jindrich Vana (Cze) Mirvac                                   3
4 Brett Aitken (Aus) Miriam Vale/Kolan/Perry Shires            3
5 Jonas Ljungblad (Swe) Bundaberg Sugar                        2
6 Hector Morales (Uru) Caravello                               1
 
Polar Heart Rate Monitors - Criterium championship
 
1 Eric Wohlberg (Can) Maryborough City/Isis Shire             10 pts
2 Brett Aitken (Aus) Miriam Vale/Kolan/Perry Shires            9
3 Aaron Kemps (Aus) Cabe                                       8
4 David McKenzie (Aus) Jayco                                   7
5 Bart Heirewegh (Bel) Bundaberg Sugar                         6
6 Hector Morales (Uru) Caravello                               5
7 Kjell Carlstrom (Fin) Europcar                               4
8 Karl Menzies (Aus) Emu Spirit/Tis                            3
9 Milton Wynants (Uru) Sea Fm                                  2
10 Michael Sayers (USA) Bundaberg City/Burnett Shire           1

Teams classification
 
1 Bundaberg Sugar                                        9.53.21
2 Jayco                                                     0.44
3 Barloworld                                                2.00
4 Mirvac                                                        
5 Emu Spirit / Tis                                          2.03
6 Bundaberg City / Burnett Shire                            2.29
7 Miriam Vale / Kolan / Perry Shires                        2.53
8 Caravello                                                 3.09
9 Maryborough City / Isis Shire                             3.47
10 Sea Fm                                                   5.17
11 Europcar                                                 5.39
12 Cabe                                                     6.02