Samuel Sanchez
Photo: © samuelsanchez.es.kz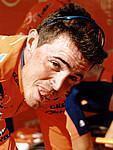 Samuel Sanchez Gonzalez
Date of Birth: 05/02/1978
Place of Birth: Oviedo (Asturias)
Turned pro: 2000
Teams: Euskaltel-Euskadi, Olarra-Ercoreca
Web site: samuelsanchez.es.kz/
Results
2002 Euskaltel-Euskadi
2nd, Stage 2, Vuelta al Algarve
5th, Stage 5, Vuelta al Algarve
4th overall, Vuelta al Algarve
19th, Stage 1, Vuelta a Valencia
17th, Stage 2, Vuelta a Valencia
5th, Stage 3, Vuelta a Valencia
11th, Stage 4, Vuelta a Valencia
24th overall, Vuelta a Valencia
3rd, Stage 6, Paris-Nice
12th overall Paris-Nice
20th, Milan-San Remo
10th overall, Vuelta al Pais Vasco
2001 Euskaltel-Euskadi
3rd, Stage 3, Tour Del Porvenir
104th, Stage 1, Volta A Portugal
2000 Euskaltel-Euskadi
21st, Stage 4, Vuelta a Andalucía
86th overall, Vuelta a Andalucía
81st overall Vuelta a Asturias
5th, Stage 2, G.P. Telekom
5th, stage 5, Vuelta al Alentejo
6th, Stage 2, Vuelta al Alentejo
25th, Stage 1 Vuelta al Alentejo
Amateur
1999 Olarra-Ercoreca
13 amateur victories: Villaba, Lizarza, Villamayor de Monjardin, Elgoibar, stage of Vuelta al Bidasoa, stage of la Vuelta a Vetusta, Urdiain, Overall victories in Clásicas del Norte (Rodríguez Inguanzo y Memorial Txuma), Cto. Asturias Sub-23, Cancienes, Vuelta a las Regueras and two stages
An interview with Samuel Sanchez
Euskaltel-Euskadi's Tour de France debutant
Twenty-four year-old Samuel Sanchez will ride his first Tour de France this year for the warriors in orange, Euskaltel-Euskadi. As he told Martin Hardie and Eloi Corres, the team's not expecting much of him, but he has his own ideas about his debut in the Grand Boucle.
[In a first for Cyclingnews, this interview is available in both English and Spanish. The English version, follows and Samuel's original Spanish words are here - Ed]
Samuel Sanchez has been the revelation of Euskaltel Euskadi for the 2002 season. He has not yet achieved a victory like those of Iban Mayo in last year's Midi Libre or Classique des Alpes, but he has burst on to the scene with a string of noticeable results during the first half of the year. He was the first to make a real go of it on the Poggio in this year's Milan-San Remo; he was up there in Paris-Nice; and he shone in the Euskaltel-Euskadi team during their home tour, the Vuelta a Pais Vasco.
As a neo-pro in 2000
Photo: © samuelsanchez.es.kz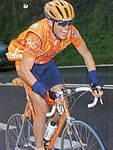 This year's Tour de France may be the place where Samuel gets his first victory as a pro and is able to fulfil his wish of finally dedicating a stage to his mother who sadly died last year.
Samuel spoke to Cyclingnews about his impressions, fears and illusions as he faces his first Tour de France. Here's what he had to say:
"I am very excited about riding the Tour, but at the same time it has given me many fears, wariness and respect. Overall I do not think that I am at the peak of form that I had at the Vuelta a Pais Vasco or at Paris Nice. After seeing the speed that they go in at the Dauphine I don't want to think how they will go in the Tour, but, well, I believe that for me to attend the appointment in France is all about learning and gaining experience.
"Inside the team I suppose that they do not expect too much from me, even though I might insist upon something myself. Now, what can or will happen, that is another thing, altogether.
"The most dangerous parts of this year's Tour will be those two weeks in which there are no mountains, neither the Pyrenees or the Alps. These will be stages that are very nervous and in which the peloton on many occasions will be broken up, and if the wind appears, well, look out!
"Later, we have the mountains without a break and this is where the race will take its toll, as well as in the time trials, as much in the team time trial as in the individual. From my point of view, the two finishes in the Pyrenees, with our orange-coloured fans who come to see us there, will be very decisive, the riders will not only have to speak about these finishes but they will also have to pedal and suffer much to be able to finish.
"Then with the passing by of Ventoux it will be very hard and the heat will be felt and after that the scary Alps where the battle will return without mercy.
"My principal objective is to arrive in Paris, but depending on my state, I would like to help Roberto, Mayo, David or Haimar to win a stage in the Pyrenees, that is where the Basque public most like to go and enjoy the race."
Castellano version
Entrevista con Samuel Sanchez
Un debutante de Euskaltel Euskadi para el Tour de Francia
Warriors in orange
Photo: © Euskaltel-Euskadi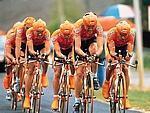 Samuel Sanchez que tiene 24 años, correrá su primer Tour de Francia este año con "los guerreros de naranja", el Euskaltel Euskadi. El contò a Martin Hardie y Eloi Corres, que el equipo no va a exigirle mucho, pero que el tiene sus propias ideas sobre su debut en la Grand Boucle.
[Por primera vez,Cyclingnews publica una entrevista en Ingles y Castellano. Sigue la versión en Ingles y el original de Samuel está aqui- Ed].
Samuel Sanchez ha sido la revelación de Euskaltel Euskadi durante la presente temporada 2002. El no ha logrado victorias como consiguió Iban Mayo en 2001, ganando Midi Libre o la Clasica de los Alpes, pero irrumpió en la escena con una serie de puestos notables. Fue el primero en fugarse este año en el Pogiio, durante la Milan San Remo, estuvo alli en la Paris-Niza; y el brilló en casa de Euskaltel Euskadi, en la Vuelta al Pais Vasco.
El Tour de este año puede ser el lugar donde Samuel logre su primer triunfo como profesional y pueda cumplir finalmente su deseo de dedicar una etapa a su madre, quien desgraciadamente falleció el año pasado.
Samuel habló con Cyclingnews acerca de sus impresiones, miedos y sus ilusiones acerca de su primer Tour de Francia. Esto es lo que nos contó:
"Me hace mucha ilusión correr el Tour, pero a la vez me da mucho miedo y respeto, sobre todo por q no creo que alcance un pico de forma como el de País Vasco o Paris-Niza. Viendo a la velocidad q se iba en el Dauphine, no quiero ni pensar como se ira en el Tour, pero bueno yo creo que acudo a la cita francesa sobre todo a aprender y coger experiencia.
"Dentro del equipo supongo q no se me exigirá mucho, aunque yo a mi mismo si me lo exija. Ahora, que pueda rodar adelante o no, eso es otra cosa, je,je.
"Lo mas peligroso de este año van a ser esas casi dos semanas en las cuales no va haber montaña pirenaica ni alpina. Serán etapas muy nerviosas en las cuales el pelotón en muchas ocasiones se cortará, y si el viento aparece ¡¡¡ojo!!!
"Luego la montaña la tenemos muy seguida y eso va a pasar factura, aparte de las cronos, tanto por equipos como individual. Las dos etapas pirenaicas con el color naranja de nuestra afición, vera salir de allí, a mi modo de ver a un líder sólido, ya q las dos llegadas en alto darán q hablar y pedalear mucho.
"Luego el paso por el Ventoux, que es durísimo y el calor se hará notar, y luego los temidos Alpes, donde volverá la batalla sin cuartel.
"Mi principal objetivo es llegar a Paris, pero según mi estado me gustaría ayudar a Roberto, Mayo, David o Haimar a ganar una etapa en los Pirineos, que es donde el publico vasco mas la va a disfrutar."
Editor's note: This interview was conducted by Eloi Corres of the Euskaltel Euskadi Unofficial web site and translated into English by Cyclingnews correspondent Martin Hardie.