89th Tour de France - Grand Tour
France, July 6-28, 2002
Interview with Stuart O'Grady
Aussie Assault
Preface by Anthony Tan, interview by Gerard Knapp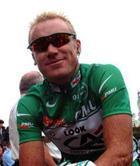 I want green!
Photo: © Sirotti
With O'Grady, McGee, McEwen and "Cookie" in Le Tour, you've certainly got your fair share of Aussie firepower lurking within the peloton. And given three of the four larrikins will be striving for the maillot vert, it's not going to be the same two-man battle like it was last year either.
When you add Steels, Hunter and Rodriguez to the mix, TdF fans are going to be treated to the most awesome display of sprinting prowess since the days of the Abdoujaparov, Cipollini, Nelissen and Jalabert era, where they'll tearing up the streets of France like there's no tomorrow. Good thing we can hide behind our pillows!
Well after another strong start to the season, O'Grady had to take almost two months rest from racing after an operation to correct a problem with his iliac artery. That's all fixed now, and Stuey's back on his bike with all guns blazing, ready to do everything he can to "keep the green jersey until AFTER the line on the Champs-Elysées!"
Cyclingnews: The season didn't get off to a great start with the surgery - but you were in there sprinting against Erik Zabel in the Tour of Germany earlier this month - do you think you're back to full speed now?

Hungry anyone?
Photo: © Stuart O'Grady
Stuart O'Grady: I think I'm now ready to tackle the TdF. Of course, for my third race since the operation I wasn't going to be able to come out and beat Zabel, but since then the training has been a bit fine tuned, and I'm ready.
CN: I assume your objective for the TdF is the green jersey and helping Moreau, in that order - correct? Any more details?
SO'G: Something like that! It (helping Christophe Moreau) won't really change my TdF a lot - I wont be guiding him up any mountains! But of course, if he needs a hand and I can do something, I will. We both have our objectives and I don't think it will cause any dramas.
CN: In the green jersey comp, your main rival will once again be Erik Zabel. Telekom have said that Zabel's 7th green jersey is the main objective following Ullrich's withdrawal. How will you and Credit Agricole deal with the Telekom lead-out train?
SO'G: It's always tough to beat Zabel, mainly because of the strength of his train. It's something that you have to have a team especially 'made' for. You need a unit of very fast guys; not every team can get up there and fight for position. I've learnt to deal with, collaborating with a couple of allies, and to be honest there's not a lot more we can do about it. I've got a few different ideas for this year, and after last year I've learnt a lot.
CN: Does CA have any plans to counter this? Can we expect to see Moreau working on the front to help you with the points jersey?

Tough to beat, but it can be done.
Photo: © Sirotti
SO'G: Maybe, if he wants, but I'm not going to ask him to lead me out - I'd prefer to see him on the podium in Paris. I don't want to get our goals mixed up and lose energy over helping each other. We both know what we have to do, and we have enough team mates to help us out along the route.
CN: Mountains. While they are not your forte, you always finish in Paris (unless injured). Do you think you are coping better with the big climbs? On that topic and as one of his contemporaries, how do you view the relative transformation of Jalabert from sprinter to climber?
SO'G: I think I'm definitely coping with the mountains better - its an experience thing. I suffered like a three legged dog in my first couple of tours, and now its just a matter of knowing when and when not to expend energy... a big factor in making it to Paris.
CN: We all know Lance Armstrong is looking strong after his performance in the Dauphiné - does he have any weak points?
SO'G: I think you could beat him... if you're riding a Ducati Monster!
CN: On other stuff, what do you do to relax in between stages? Are there any particular items you often take, such as some favourite CDs or books? Or is it just too busy?
SO'G: You try and relax, but its hard - especially going for the Green; even on the mountain days we have sprints to go for. If there's a breakaway up the road for the win, we still have to sprint for 10th or 20th - there's never a day to chill out!
I have my laptop with a few DVD's and plenty of CD's to keep me geed for the race; a couple of "Crusty Demon" videos in the motor home, full of crazy moto crashes to give the boys a laugh. I just bought the new Stephen King Book "BlackHouse" - hopefully I can get through that during the lap!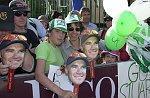 Just a few fans back home...
Photo: © Tom Balks
CN: Will you guys be testing any new equipment during the Tour - frames, wheels - any super light bits and pieces?
SO'G: No real new bits, just my Look carbon bike, some cool new Carnac shoes, wicked Oakley glasses - but no bits to make me climb any quicker!
CN: Looking ahead, do you want to enter the Worlds this year - it's said to have a parcours that may suit the fast finishers?
SO'G: Yes - I will be aiming at Zolder, all guns firing. You wait to see the "equipe" that Oz is going to send there... it's going to be huge!