89th Tour de France - Grand Tour
France, July 6-28, 2002
2002 Tour de France journals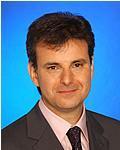 TV Guy
Photo: © SBS
Mike Tomalaris, SBS broadcaster
Nationality: Australian
Mike Tomalaris is the producer and sometimes presenter of SBS TV's Toyota World Sports, the only daily prime time sports show on Australian TV. Mike has covered the Tour de France for SBS Sport since 1996, and always brings a distinct Australian perspective to the network's coverage of the world's biggest annual sporting event.
Stage 7 - Saturday, July 13: Bagnoles De l'Orne - Avranches, 176 km
McGee makes the history books
Was it a premonition?
Maybe, but I'm sure Brad McGee had no idea how his day would end when we spoke to him at the team hotel before he and his FDJeux.com team drove to the race start.
Brad told me team director Marc Madiot was happy to give him a free reign. If fellow Aussie Baden Cooke had managed to tag along for the final sprint up the climb into Avranches, then he would give the young another opportunity to go for the stage win.
As it turned out, the solo breakaway with one kilometre to go gave Brad himself the opportunity to go for glory. With 800 metres to go, I didn't think he was going to do it.
And with 200 metres remaining, I still had my doubts.
But what a stunning turn of speed Brad produced to overpower Pedro Horillo! Celebrations and interviews out of the way, it was time to reflect back to the team meeting earlier in the day.
Is Madiot a genius? Or was it simply a case of Brad and the boys following instructions perfectly?
Whatever, his name is etched in the annals of Tour de France history - Brad McGee, Tour de France stage winner.