89th Tour de France - Grand Tour
France, July 6-28, 2002
Interview with Robert Hunter
"I'm on the market right now"
By Jacques Spyros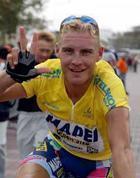 Anyone interested?
Photo: © Yuzuru Sunada
A few days before the start of the Tour de France, Cyclingnews caught up with Mapei rider Robert Hunter. The 25 year-old South African sprinter muses about his team's withdrawal from pro cycling at the end of the year, the fact that he's now "on the market" and his recent discussions with US Postal and some French teams.
However life has been good in his first season at Mapei, and after his strong performances at Langkawi, Hunter would prefer to remain with the Italo-super squadra if a new sponsor were to come along. But it better be in a hurry, because it sounds like he's been hunted down.
Cyclingnews: What was your initial reaction to the Mapei's withdrawal?
Robert Hunter: It was a bit of a shock to the team, especially for myself. I haven't been in the team for that long but Doctor Squinzi was very passionate man about cycling - I think he still is. Everyone had the idea that he would never actually leave the sport in such a hurry, and everyone was expecting him to carry on one more year and than call it quits at the end of next year. So it was a bit of a shock, but at the end of the day, he's been in the sport for ten years, that's his decision. The team's going to close at the end of the year for his side of things as a sponsor. I think people should actually say thank you very much for everything that he's done for the sport. He's sponsored so many teams from amateur all the way to the professional level. People should thank him and not just criticise him all the time.
CN: Were you expecting this decision?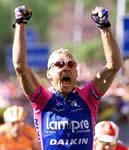 Vuelta victory was sweet
Photo: © AFP
RH: It had been discussed that he was looking at pulling out of the sport and maybe trying to get in something else. It was something we knew. But we really didn't expect to pull out of the sport on such short notice. We heard that they were still busy discussing these matters in meetings. All of a sudden, one morning we had a quick meeting on the bus and the manager told us that there had been a call from Dr Squinzi and the team is going to close at the end of the year. So everyone was a bit shocked in that way to say the least.
CN: The decision appears to have come after the problems in the Giro?
RH: Yes, that could be the most likely reason. His outlook towards the sport on that side of things was very clear: he didn't want to be involved (in doping scandals). I think he firmly believes that what happened with Mapei at the Giro was no fault of our own. I think he still stands behind that; he got a lot of criticism from what happened and he basically just said 'enough is enough' and decided to carry on with his company and pull out of cycling.
CN: How's the atmosphere in the team at the moment?
RH: It's not bad. The riders are obviously still a bit shocked but the team consists of some really great riders. So I think a lot of the riders won't have a problem in getting another team. If the team definitely does close, some riders will be left without a contract. But as far as I understand, the team is looking at getting another sponsor involved and they want to continue in cycling. But obviously things would have to be decided within the next week because riders are already speaking to other teams.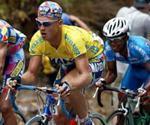 Super form at Langkawi
Photo: © Yuzuru Sunada
CN: So what's your situation right now?
RH: My situation is that I'm on the market as well as it stands right now; I've spoken to some teams and had a few responses.
CN: Any names?
RH: Well I've been speaking to US Postal. I've also had some discussion with some French and Italian teams. Lampre have also contacted me to have me back there again for next year. I don't think I'll have a problem in finding another team but at the end of the day, I would prefer if the management would find a sponsor to continue with Quickstep. It makes life easier for everybody out there and the cycling world in general if the team does continue. There are a few good teams that are closing at the moment and it makes life hard for everybody in the sport, not just for the riders. The market will just get smaller if that happens.